This quick and delicious Almond Butter Banana Smoothie will quickly become a breakfast or snack favorite.  Using just three ingredients, it takes just minutes to prepare.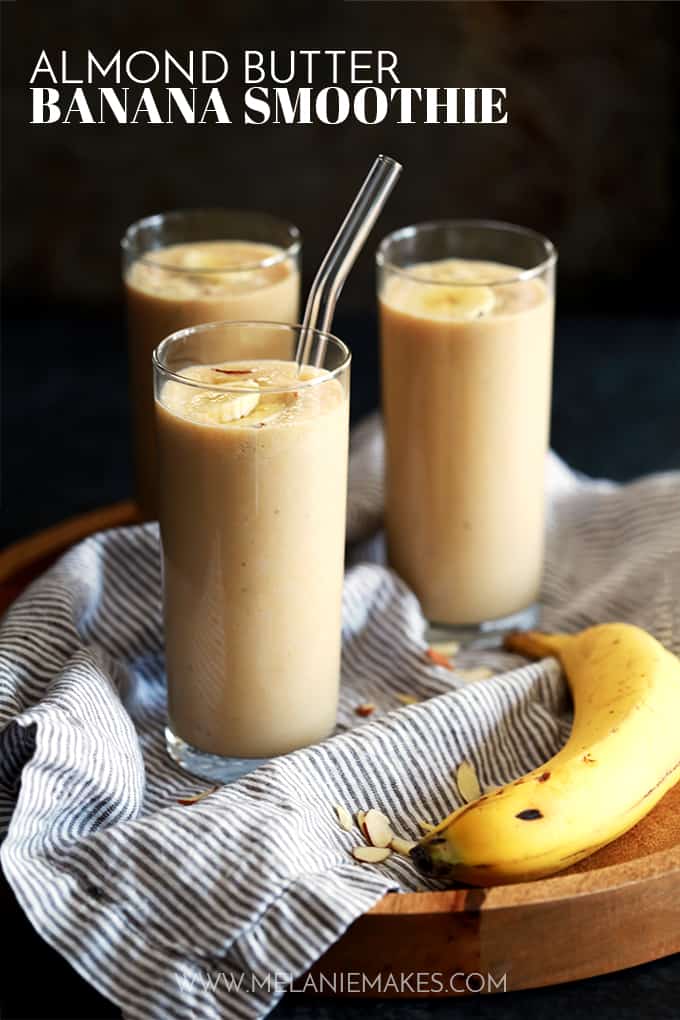 Keep in touch!  Subscribe to receive Melanie Makes recipes direct to your inbox.
With school starting again next week, it's back to my mama breakfasts on the go.  You know, the one I barely have enough time to swirl together in the blender before we're out the door?  This three ingredient Almond Butter Banana Smoothie has been my go-to this summer for quick breakfasts and I have no doubt it will continue to be in heavy rotation as the mornings become even busier as I rush to get everyone out the door in time.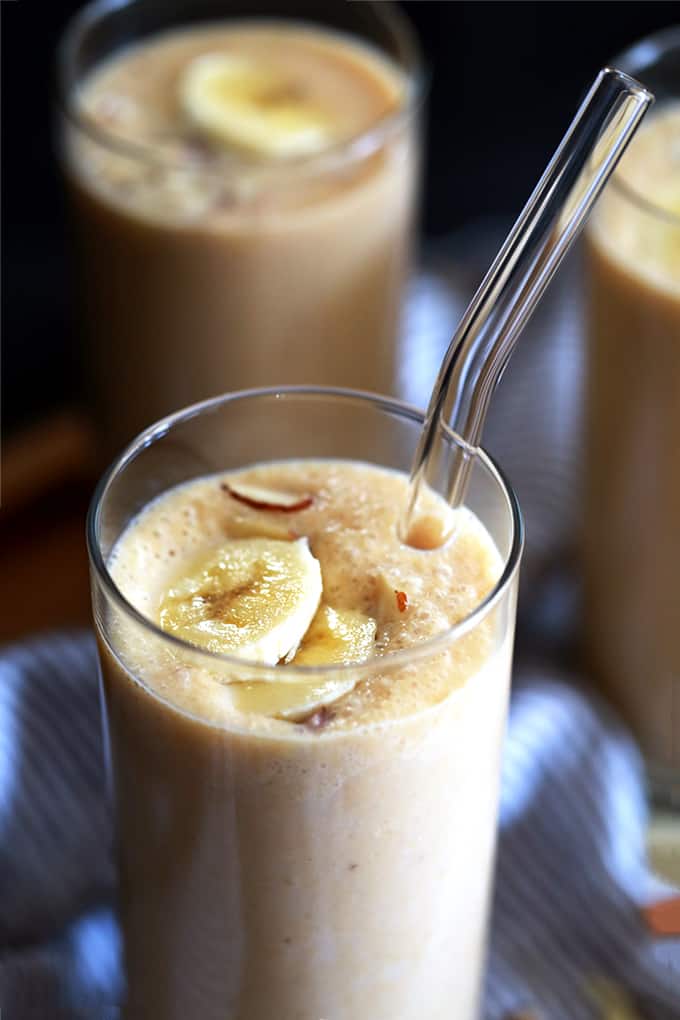 These Almond Butter Banana Smoothies are low maintenance.  As in I always have the ingredients on hand and they don't go bad or spoil quickly.  Almond butter?  Check!  Always in the fridge and ready to go.  Bananas?  In the bowl on the counter.  If they are getting a little too ripe, into the freezer they go, still perfect for smoothie prep.  If you like milkshake consistency smoothies, you'll love blending your smoothie with frozen bananas anyway!  And last but not least, almond milk.  Always on the weekly grocery list.  In other words, there's no need for a producer drawer full of fruit that will quickly spoil or any special ingredients for this smoothie.  No matter it has quickly become my new favorite!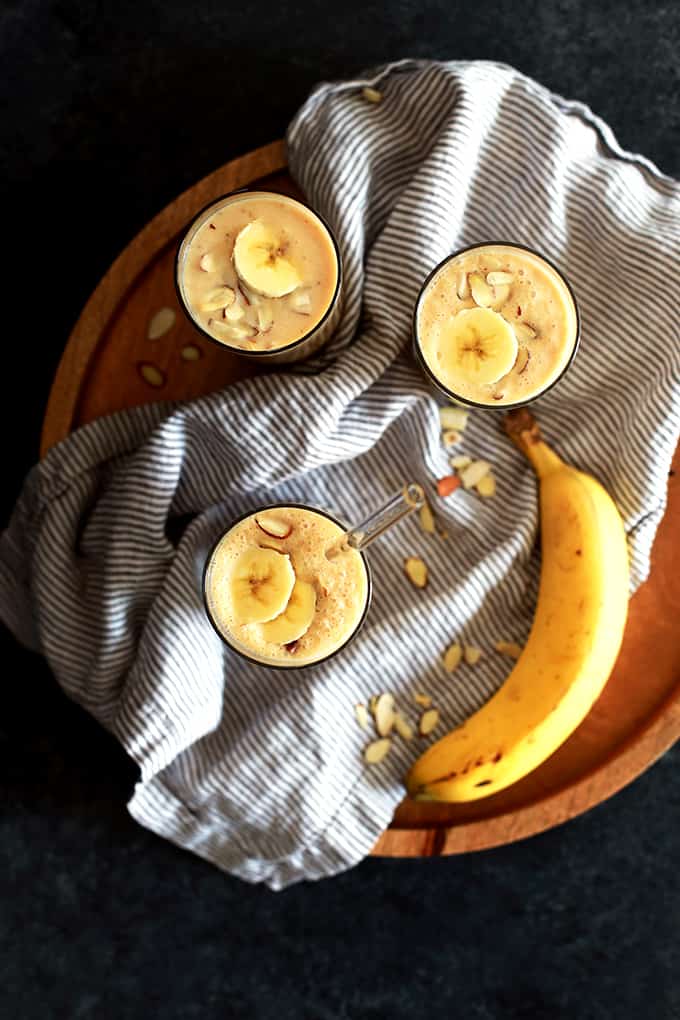 That doesn't mean that I've replace my other favorites like my Strawberry Grapefruit Smoothie, Strawberry Almond Smoothie or even my super fun Chocolate Covered Strawberry Pudding Smoothies.  No way!  It just means that a new favorite has joined my smoothie lineup and this Almond Butter Banana Smoothie is definitely the easiest one yet!  So easy you can make your own substitutions if necessary.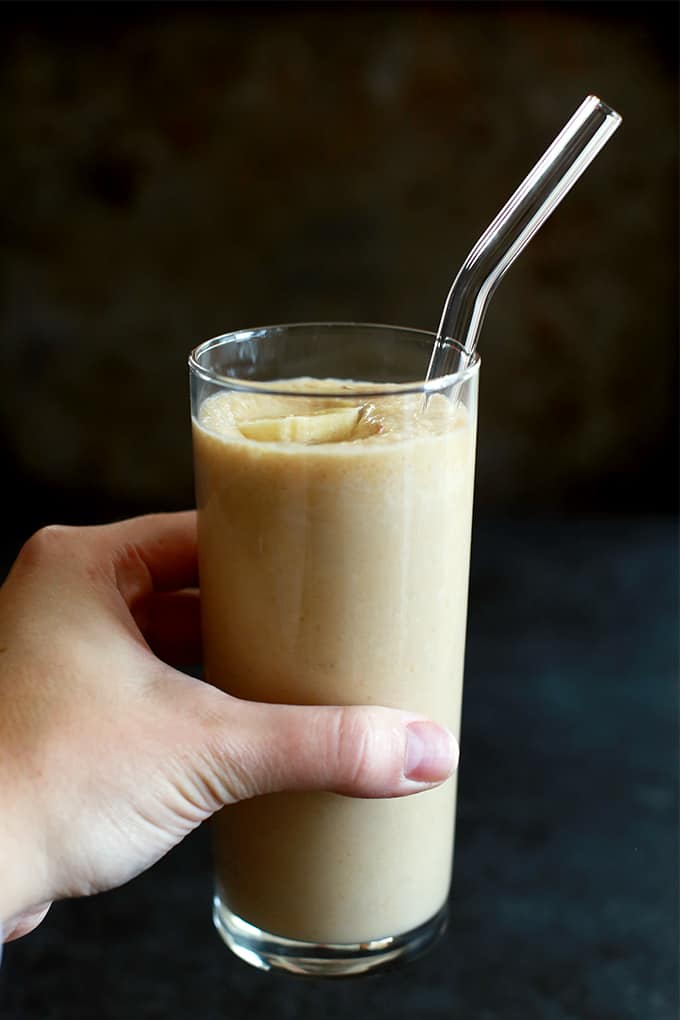 Out of almond butter?  Feel free to substitute your favorite nut butter.  Fan of cow milk?  I mean, I do order five gallons a week from our local dairy!  No worries, it works just as well in this smoothie.  While I prefer my 365 Creamy Almond Butter from Whole Foods and Califia Unsweetened Almond Milk, if I make this Almond Butter Banana Smoothie for any of my children, they prefer cow's milk and Jif.  To each their own!
SIDE NOTE: I'm in love with this nut butter mixer that I use every time I open a new jar of nut butter.  I simply mix the jar and then put the jar in the fridge.  No more separated nut butter!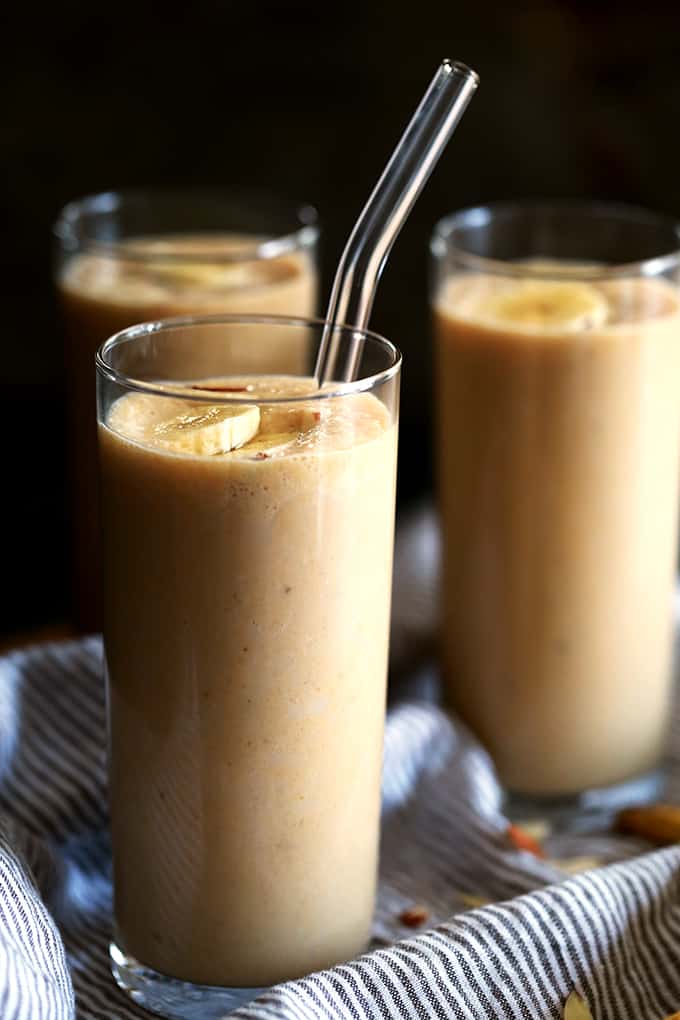 If you really want shake things up the next time you make an Almond Butter Banana Smoothie, you might try making your own flavored almond butter.  Something tropical like this Coconut Almond Butter or autumn infused like this Maple Cinnamon Almond Butter.  Better yet, get a true jumpstart to your morning with this Espresso Almond Cashew Butter.  Delicious!
Melanie Bauer | Melanie Makes
Yields 1 smoothie
Almond Butter Banana Smoothie
5 minPrep Time
5 minTotal Time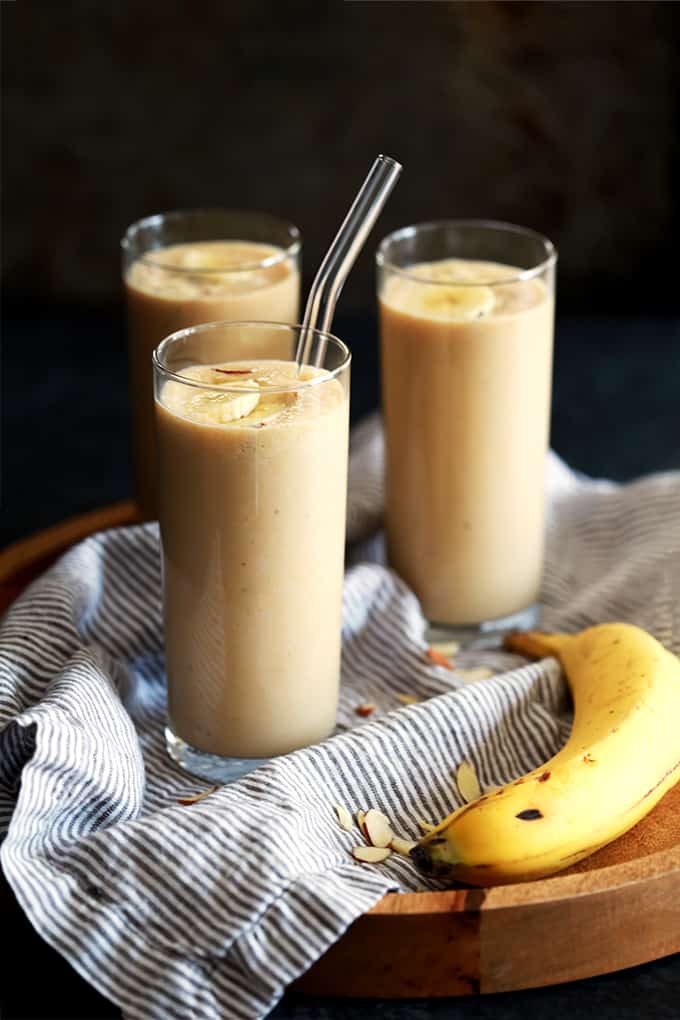 Ingredients
1 banana
2 tablespoons almond butter
1 cup almond milk
Instructions
In a blender carafe, add all ingredients.
Blend until smooth.
7.8.1.2
422
https://melaniemakes.com/almond-butter-banana-smoothie/
Melanie Bauer | Melanie Makes