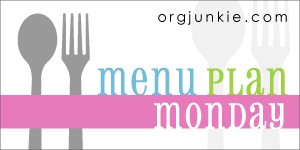 three new recipes this week and i'm even planning on cooking on saturday night.  crazy, you say?  pretty much.  i think i'm trying to make up for the time post-baby when i won't want to cook anything.  which speaking of, i need to start making some meals for the freezer in the very near future…
monday : buffalo chicken spaghetti.  gabby had this on her menu a couple of weeks ago and i'm hoping it met with her approval.  sounds downright tasty to me!  i have buffalo hot wing sauce in the fridge so am going to make a substitute for this and won't need anything from the store.  go me.
tuesday : brown sugar chicken.  yes, chicken two days in a row, but this was a request from andy.  super easy and everyone always enjoys it.  and plus, nobody but me will notice that we had chicken both nights.
wednesday : cherry tomato + ravioli soup.  our meatless meal for the week.  and one of my favorites from when i participated in environmom.com's meatless supper club.  super easy and makes great leftovers.
thursday : bbq meatballs.  when andy saw what we were having this day, he said i was being really nice this week.  i'm always nice though, right?  lisa tweeted about this last week and i filed the idea away to use soon.  this is the day.
friday : pizza.
saturday : hungarian beef stew.  for my husband, the meat eater.  he happened to be watching the episode of america's test kitchen with me and was oohing and ahhing all the way through.  let's hope it lives up to all the hype.
last week's new recipe review :
sweet mustard roast. beyond easy.  if there is a word that means easier than easy, it would be used to describe this.  i threw this together without any prep the night before and we had a yummy – and easy, did i mention that? – dinner.