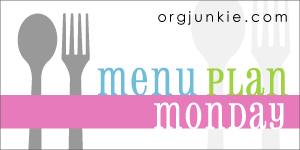 i'll admit, not much to share this week either.  next week will be better, i promise.  or i might just have a mental breakdown for trying to figure out how to cook dinner with two little ones.  others have done it though, so i know it's possible.  regardless, i'm so grateful for the chance to ease back into everyday life and a new routine thanks to my friends.
you should see the meals they've brought me.  i will never ever turn down another meal again.  why i didn't take advantage of this when i had C is beyond me.  have a friend that will soon be having a baby?  bring them a meal.  they'll be so appreciative!
and both meals last week included fresh fruit.  i like fruit, i do.  but most of it is high maintenance.  if you cut up fruit for me, i'll love you forever.  we've been enjoying fresh strawberries and pineapple the past week.  SO GOOD.  fresh and in season and even better because i didn't have to clean or cut anything.
monday : dinner from a friend.  my bible study group is keeping me well fed. 
tuesday: dinner from a friend.  another resident's wife that i've gotten to know through play group and story time at the library.  she's expecting her second in june.  definitely will be bringing her dinner then!
wednesday : dinner from a friend.  excited to see my friend becky who will be bringing us dinner.  her daughter is two weeks younger than C and her son was just born in november so our littles are very close in age.  she's also a wife to a resident and seriously the nicest person i've ever met.
thursday : dinner from a friend.  coming from another resident's wife, a fellow resident of andy's.  they had their first child in january which finally meant that C wasn't the only baby in the department.  again, excited to see her and catch up a bit.
friday : pizza friday.  i say it every week, but i love pizza friday.  when i feel that i can tackle it, i really want to make this into a more family themed night with homemade pizza so that C can help out.  although papa john's would likely call us to see if something had happened if they didn't receive our weekly order.
a note from last week
although brown sugar chicken wasn't a new recipe for last week, i did want to comment on it.  this is such an easy recipe and andy really likes it as well.  i enjoyed it more this week because i insured i had the correct amount of pepper in the recipe.  it gives a bit of spice with the sweetness of the sugar.  just a note to insure you use all that it calls for and not to skimp.