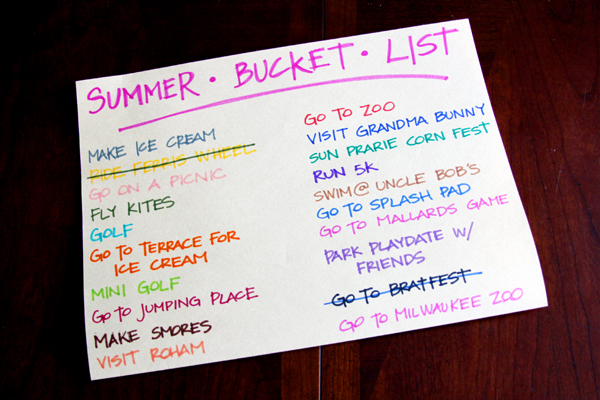 last week while reading my friend sara's blog, she mentioned the happy family movement's summer bucket list challenge.  "this free, fun for all ages challenge is based on a simple premise: time spent together as a family is time well spent."
i promptly signed us up.  as this is our last summer in town, we're going to make the most of it.  even if it could be interesting with a new baby in tow.  so after breakfast yesterday, we each added things we wanted to do to our master family list.  some are super simple and others will take a bit more planning but no doubt many memories will be made.
yesterday we crossed two items off our list.  in 90+ degree temps no less.  we headed to bratfest and as we went later in the evening to try and not melt in the heat, we decided to attempt to stay late enough for the fireworks.  SO glad we did.  although the girls were a bit scared at first, they had a great time at the end and the fireworks finale was the best i've ever seen.
i'll also take a moment to point out that i look shocked in this photo as my crazy soon to be middle child was lunging at the camera and was trying to take me down with her.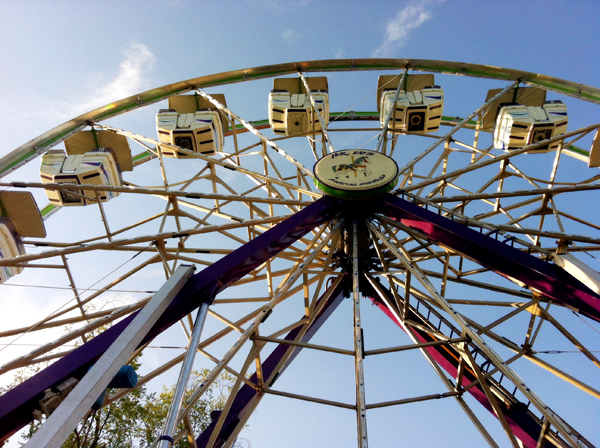 also checked off the list?  C's desire to ride a "big wheel."  granted, she had this desire last year but balked upon seeing just how big the big wheel was last year.  this year she wanted it on the list but i figured we might have the same outcome.  turns out, she loved it.  she took a few spins with daddy and cuckoo while L and i enjoyed the view from below.
two items checked off our list and numerous memories yet to be made.  hello, summer!