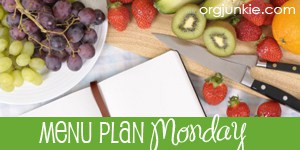 i feel like things should be a little calmer this week… and thus i probably just jinxed everything. selling our house here and buying there is really just paperwork to get finished at this point. now i need to get back to packing. i haven't packed a box in a month or more. with just two months left until our move, i need to make sure that things start disappearing into boxes!
here's what we'll be eating this week :
meatless monday : grilled cumin-lime zucchini quesadillas. my way of ushering in spring, even when our forecast doesn't show a hint of warmer weather. i'll likely be making an indoor version of this but it looks so good i couldn't resist adding it to our menu this week.
i've selected monday as a night of the week for our family to eat a meatless meal as it tends to be more budget friendly as well as a friendlier option for the environment. my meat and potato eating husband tends to go along with this idea because i also make him a yummy dessert in addition to his meatless meal. what can i say, i'm nice like that.
tuesday : crockpot sesame honey chicken. i've seen this recipe making the rounds online and want to see what all the fuss is all about. hopefully it lives up to the hype!
wednesday : asian bbq turkey lettuce wraps. andy's pick for the week. we haven't had these in quite some time so it'll be great to introduce them to carson. i usually serve them with brown rice and fresh pineapple.
thursday : albondigas soup. originally on last week's menu but it was bumped, so here's a second attempt at getting it made. a mexican meatball soup from the march issue of clean eating magazine – looks promising!
friday : thai chili peanut meatballs. camryn's choice for the week. or at least what i'm assuming was her choice. she told me she wanted "regular" meatballs. as these are the meatballs we have most often, this is the recipe i'm going with! two meatball recipes in one week, oh my!
new recipe reviews
chickpea ratatouille. i love roasted vegetables and this was basically a mix of a handful of roasted veggies + chickpeas. it was great to be able to prepare everything while the kids ate lunch and then have it ready to go come dinner time. great just out of the oven, room temp, or cold.
spinach pesto & sausage strata. eh. i was excited to use the last of the pesto that i had stored in the freezer from last summer and at first, i thought this was good. but with each bite, i became a little less enthralled. let's just say the magazine page featuring this recipe has already been recycled.
chicken tikka masala. winner! i made this saturday night for dinner, glad i moved it to another night as it did take more attention than i can usually give something on a weeknight. the aroma was amazing and it tasted just as good. everyone enjoyed it, including the 10 month old. baby's first indian food!