Hearty Blueberry Muffins
A hearty use for my family's - minus the middle child - love of blueberries. Whole wheat flour, oats and wheat germ set these muffins apart from those other sugar laden muffins you'll see when out grabbing your favorite cup of coffee. Make these and your stomach won't be rumbling until lunch, instead of an hour or two later.
20Prep Time
20Cook Time
40Total Time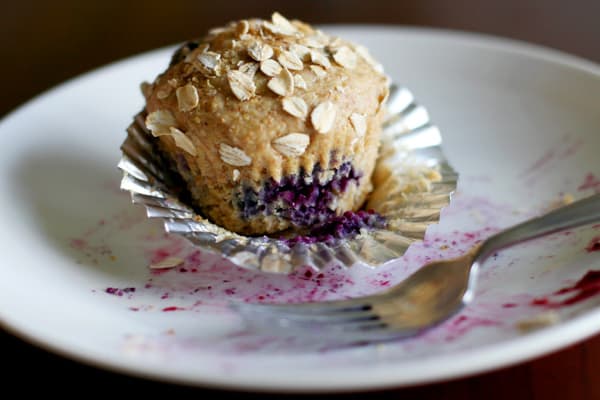 Ingredients
3/4 cup whole wheat flour
3/4 cup all-purpose flour
1/2 cup + 2 tablespoons toasted wheat germ
2 teaspoons baking powder
1/4 teaspoon salt
2/3 cup + 2 tablespoons brown sugar
3/4 cup milk
1/4 cup canola oil
2 eggs
1 teaspoon vanilla
1-1/2 cups blueberries
1/4 cup rolled oats
Instructions
Preheat oven to 375 degrees. Line muffin tin with paper liners or lightly spray with oil.
In a bowl, whisk together flours, 1/2 cup wheat germ, baking powder, salt and 2/3 cup brown sugar. Make well in center of bowl and add milk, oil, eggs and vanilla. Mix until just combined. Fold in blueberries. Divide batter evenly among muffin cups.
In small bowl, combine remaining wheat germ, brown sugar and rolled oats. Sprinkle over tops of muffins.
Bake for 20-22 minutes. Let rest in pan for 10 minutes and then transfer rack to cool.
7.6.4
384
https://melaniemakes.com/blog/2013/08/hearty-blueberry-muffins.html
Melanie Bauer | Melanie Makes