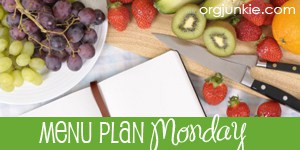 After a modified schedule last week – and lots of trips back and forth made by chauffeur mama! – this week begins our regular school schedule for my two oldest children in preschool and kindergarten. I'm tired just thinking about it! I'm not quite sure how my schedule of getting dinner on the table after arriving home from school will be, so we'll have to wing it and hope for the best!
Here's what we'll be eating this week :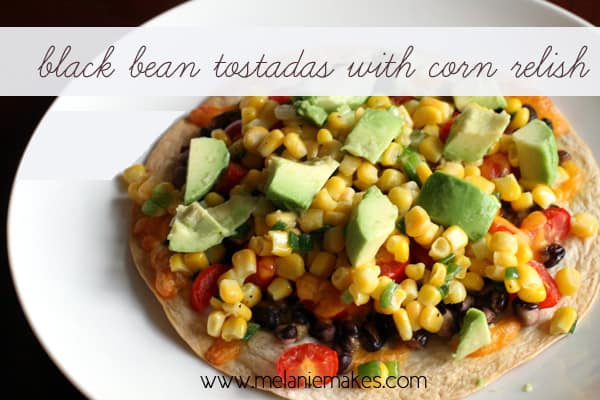 Meatless Monday : Black Bean Tostadas with Corn Relish. A meal I know I can easily get on the table after the first full day of school. To make things super easy, I can take care of most of the prep work during nap time, if needed.

I've selected Monday as a night of the week for our family to eat a meatless meal as it tends to be more budget friendly as well as a friendlier option for the environment. My meat and potato eating husband tends to go along with this idea because I also make him a yummy dessert in addition to his meatless meal. What can I say? I'm nice like that!
Tuesday : OMG Chicken. A Pinterest find that I've added to my aresenal of quick and easy meals. I do a few variations to this recipe and really should write my version down and share it with you. Note to self.
Wednesday : Slow Cooker Chicken Puttanesca. I made this once before this summer and really enjoyed the saltiness the kalamata olives lend to this dish. This is one of those great, throw everything into the slow cooker and you're done with dinner kind of recipes!
Thursday : Lentil and Brown Rice Tacos. My meat and potatoes eating husband loves these as much as the rest of the family does. That review says it all! It'll be a game time decision whether we'll enjoy the filling for tacos or nachos as they're both equally delicious!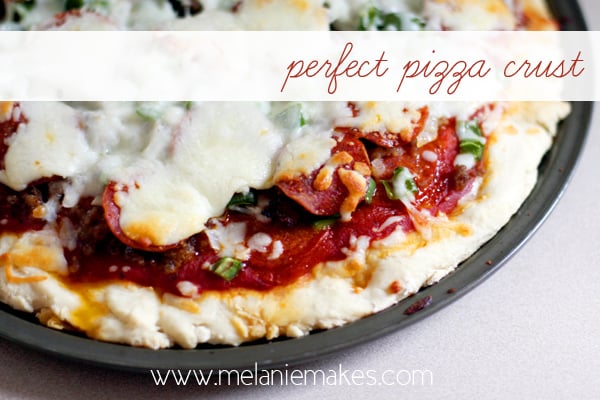 Friday : Pizza. Friday night is pizza night at our house. There's no better way to start the weekend and you can easily change things up simply by what you use for toppings. No matter what you like on your pie, this Perfect Pizza Crust is what you'll want holding everything together.
—–
Looking for additional recipes or menu ideas? You can check out past menu plans here.