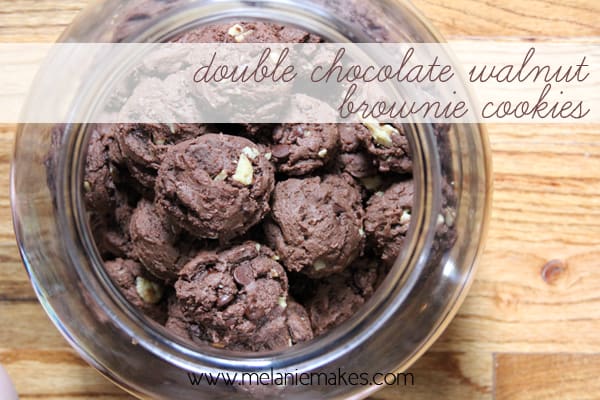 Since the first full week of school this year, I've taken it upon myself to insure the cookie jar is full and ready to offer a sweet treat when everyone arrives back home. So far so good! Each Monday when the youngest two are enjoying lunch, I start a fresh batch. I usually have to make a second batch mid-week as well as we tend to go through cookies like nobody's business. Especially the daddy of the house. Ahem.
This week I was craving something more than the usual chocolate chip and this was the end result. I'm a sucker for brownies although they can't be grabbed on the go and usually need to be eaten served on a plate. Not these cookies! They make it easy – too easy?! – to grab a cookie and go!
Yields 42
Double Chocolate Walnut Brownie Cookies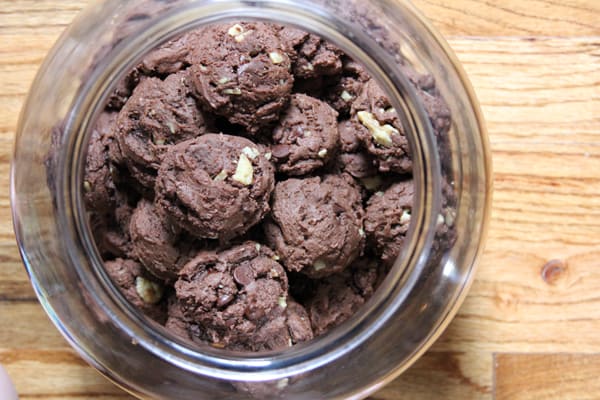 Ingredients
1 cup shortening
1 cup brown sugar
1 cup sugar
2 eggs
4 tablespoons hot water
2 teaspoons vanilla
3 cups flour
2/3 cup cocoa
1 teaspoon baking soda
1 cup chocolate chips
1 cup walnuts, chopped
Instructions
Cream together shortening, brown sugar and sugar.
Add eggs, water and vanilla and beat together until fluffy.
Add flour, cocoa, salt and baking soda and mix until just combined.
Stir in chocolate chips and walnuts.
Using a cookie sized scoop, form and drop dough onto baking sheet with silicone mat. A dozen cookies will fit perfectly on one baking sheet. Don't crowd.
Bake at 375 degrees for 10-12 minutes. Allow to cool on cookie sheet 5 minutes before transferring to wire rack to cool completely.
Notes
I can not lie... I may have added a heaping cup of chocolate chips to my batter because, why shouldn't I?
7.6.4
382
https://melaniemakes.com/blog/2013/09/double-chocolate-walnut-brownie-cookies.html
Melanie Bauer | Melanie Makes