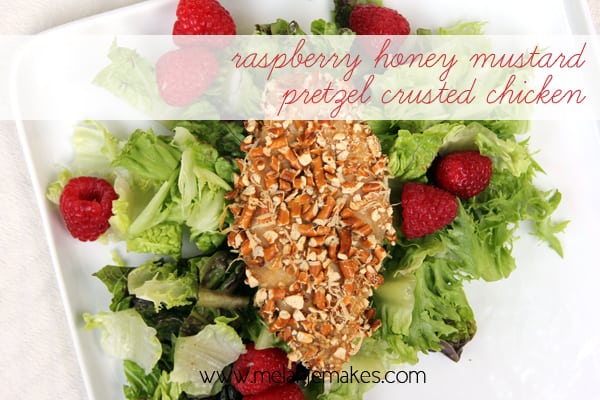 Raspberry Honey Mustard Pretzel Crusted Chicken
A sweet, tangy marinade that makes a second appearance a the perfect finishing glaze. This chicken is amazing on a bed of lettuce and surrounded by fresh raspberries. If you're lucky enough to have any leftover, slices of chicken in a wrap would make for an amazing lunch.
15Prep Time
15Cook Time
30Total Time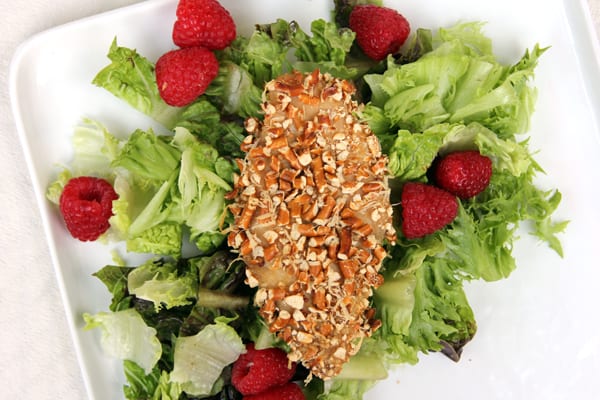 Ingredients
Instructions
ChickenIn a bowl, combine Robert Rothschild Raspberry Honey Mustard Pretzel Dip and chicken. Reserve 1/4 cup of Dip to use for glaze. Cover and refrigerate two to four hours.

Remove chicken from fridge and set aside. Preheat oven to 425 degrees.
Crush pretzels in food processor. There will likely be a few larger pieces of pretzel remaining - that's okay! Combine crushed pretzels and grated cheese in shallow container.
Remove chicken from marinade and dredge in pretzel and cheese mixture, coating on all sides. Place on baking sheet covered with foil. Repeat process for each cutlet.
Bake for 15 minutes or until pretzels are crisp and juices from chicken run clear.
While chicken bakes, wash and cut lettuce and arrange on plates.
Place each chicken cutlet on bed of lettuce and garnish with fresh raspberries.

Raspberry Honey Mustard GlazeWhisk together remaining 1/4 cup of Robert Rothschild Honey Mustard Pretzel Dip with hot water. Drizzle over top of chicken and lettuce.
7.6.4
385
https://melaniemakes.com/blog/2013/09/raspberry-honey-mustard-pretzel-crusted-chicken.html
Melanie Bauer | Melanie Makes
Disclosure : I partnered with Robert Rothschild Farm to create this recipe. In exchange, I received a sampling of their products. All thoughts are my own