Forget the traditional pecan pie! Dark chocolate chips, dark chocolate brownie batter and dark chocolate sauce combine to form the base of this absolutely amazing Dark Chocolate Brownie Pecan Pie. It's then topped with the traditional pecan pie filling and baked to pie perfection before being drizzled with even more dark chocolate sauce and topped with whipped topping and chocolate shavings.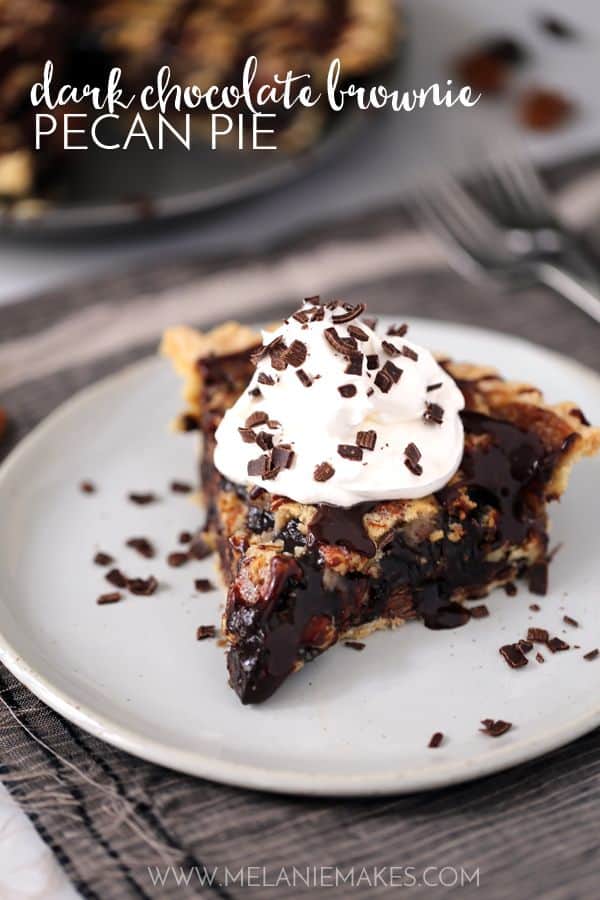 If someone doesn't nominate me for president of Chocoholics Anonymous soon, I might be offended. Seriously, is there anything better than a deliciously decadent dessert? This time around I've taken a holiday favorite and given it a chocolate twist. Now, I'm not the biggest fan of pecan pie – I can take it or leave it, honestly – but when it's transformed into a Dark Chocolate Brownie Pecan Pie? Well, let's just say a single slice simply won't do!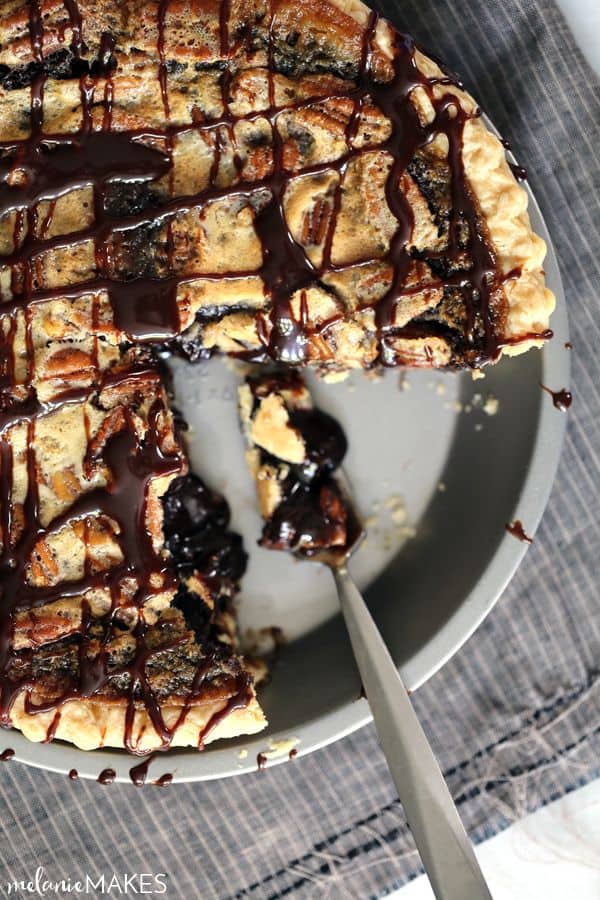 For the last two Thanksgivings, this pie has graced our dessert table. And I do mean table. Although it's always a small crowd for our Thanksgiving, I tend to go a little – read A LOT – overboard with how much food I prepare. If my husband has anything to say about it, this pie will continue to be served each and every year until Thanksgiving no longer exists. I'm thinking because the recipe makes two pies. I made the mistake of sharing one with a friend last year and was immediately reprimanded. I kid. Although he did lament the fact that he didn't have any leftover pie for the entire week following Thanksgiving.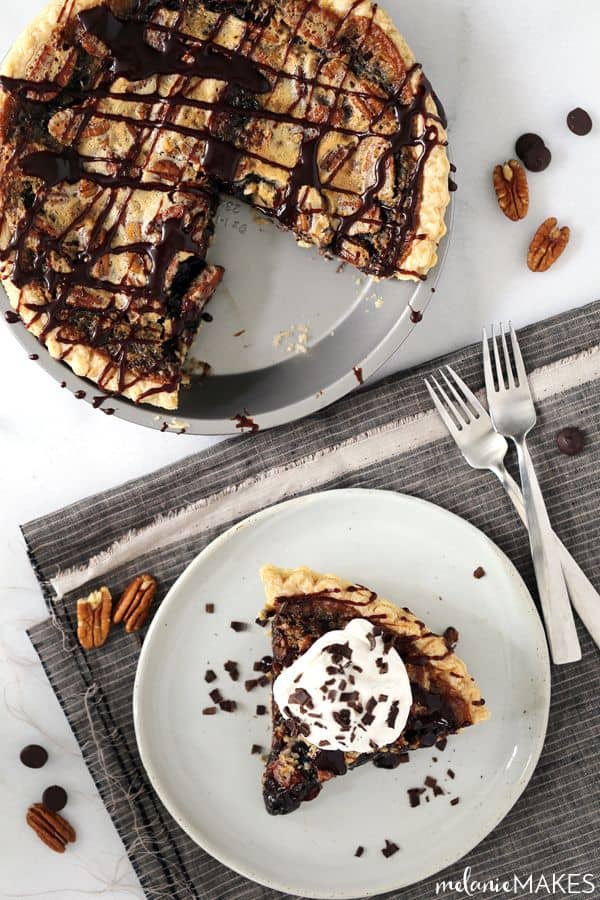 Dark chocolate chips, dark chocolate brownie batter and dark chocolate sauce combine to form the base of this absolutely amazing pie. It's then topped with the traditional pecan pie filling to create a one of a kind holiday treat. But really, with a pie like this, I'd be more than happy to enjoy it any day of the year.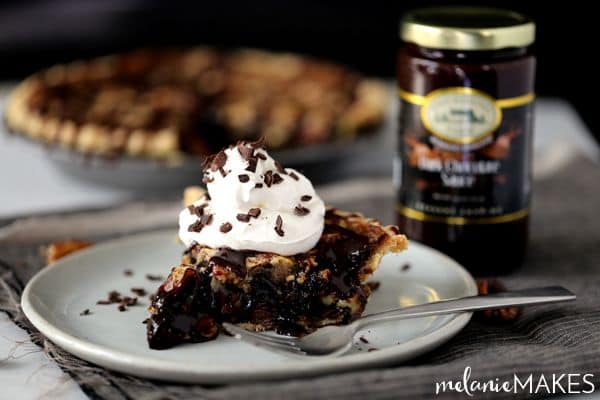 The secret to making this a restaurant quality dessert is Robert Rothschild's Dark Chocolate Sauce. Made from scratch, this all natural, small batch style chocolate starts with sweet butter, pure chocolate liquor and fresh cream. It is then expertly blended and finished with pure vanilla. The chocolate liquor definitely makes this sauce. Don't make the mistake of thinking it's a hot fudge type of sauce. This dark chocolate sauce is supreme in every way!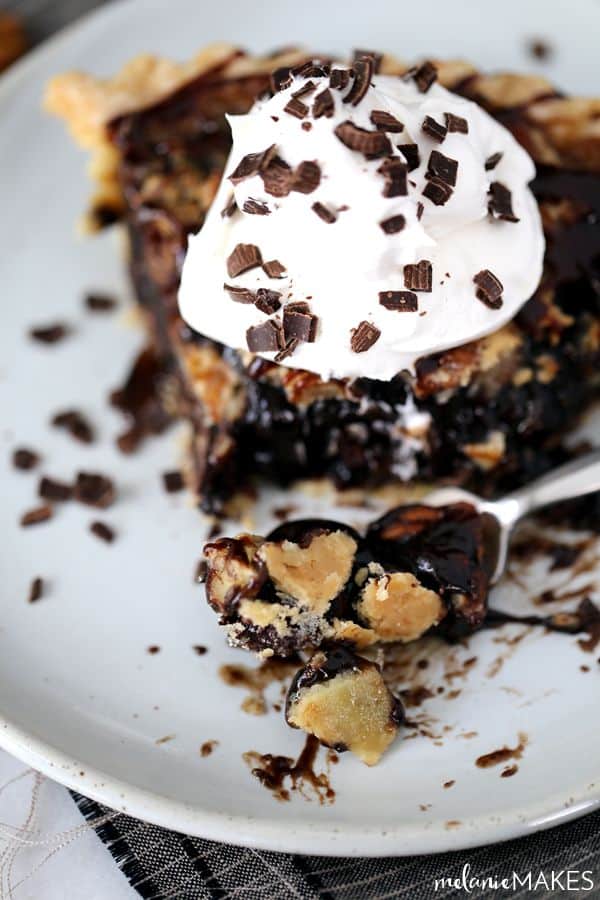 We enjoy this pie after it's been stored in the fridge. It's thick and fudgy and the pie's center tastes just like a spoonful of brownie batter. Not that I know what that tastes like, mind you, it's pure speculation on my part! I take it a step further by drizzling the pie with even more Dark Chocolate Sauce and then topping each piece with a dollop of whipped topping and chocolate shavings. Please tell me I'm not the only one that things a holiday dessert isn't complete without whipped topping!

Melanie Bauer
Yields 8 slices per pie, 16 slices total
Dark Chocolate Brownie Pecan Pie
Forget the typical pecan pie that normally graces Thanksgiving dinners! This version has a rich, decadent dark chocolate brownie center under hiding under that layer of pecans. You'll never look at pecan pie the same way again!
15 minPrep Time
45 minCook Time
1 hrTotal Time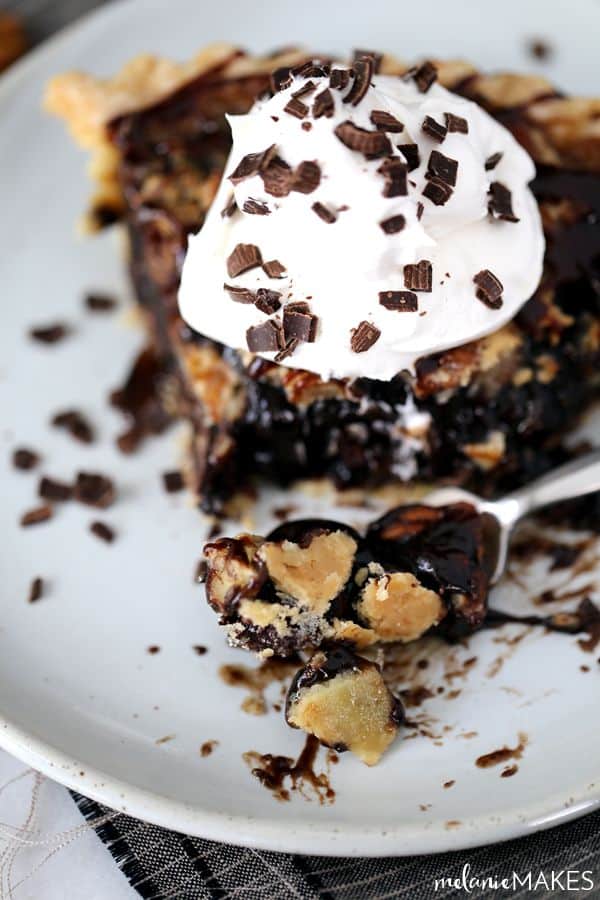 Ingredients
3/4 cup melted butter
3/4 cup packed brown sugar
1 Tablespoon flour
1 teaspoon vanilla
3/4 cup corn syrup
2 eggs, beaten
2 cups pecans
2 cups dark chocolate chips
1 package 9x13 dark chocolate brownie mix + ingredients listed on back of box
3/4 cup Robert Rothschild Farm Dark Chocolate Sauce , divided
2 frozen deep dish pie shells
16 ounces whipped topping
8 ounce dark chocolate bar, cut into shavings
Instructions
Preheat oven to 350 degrees.
In a medium bowl, whisk together melted butter, brown sugar, flour and vanilla.
Add corn syrup and eggs and whisk together until combined.
Stir in pecans and set aside.
In a separate bowl, prepare brownie batter as instructed by package instructions and stir in 1/4 cup Dark Chocolate Sauce. If given the option, prepare to create "fudgy" brownies, NOT "cakelike."
Spread an even layer of 1 cup chocolate chips on the bottom of each pie shell.
Pour half of brownie batter over chocolate chips in each pie shell.
Pour half of pecan mixture over brownie batter over brownie batter in each pie shell.
Bake pies for 40-45 minutes. When you remove pies from oven the pie will NOT be set. This is what you want!
Let pies cool completely before storing in refrigerator.
Before serving, drizzle 1/4 cup Dark Chocolate Sauce over each pie.
Serve each slice with whipped topping and dark chocolate shavings, if desired.
Notes
7.6.4
77
https://melaniemakes.com/blog/2013/11/dark-chocolate-brownie-pecan-pie.html
Melanie Bauer | Melanie Makes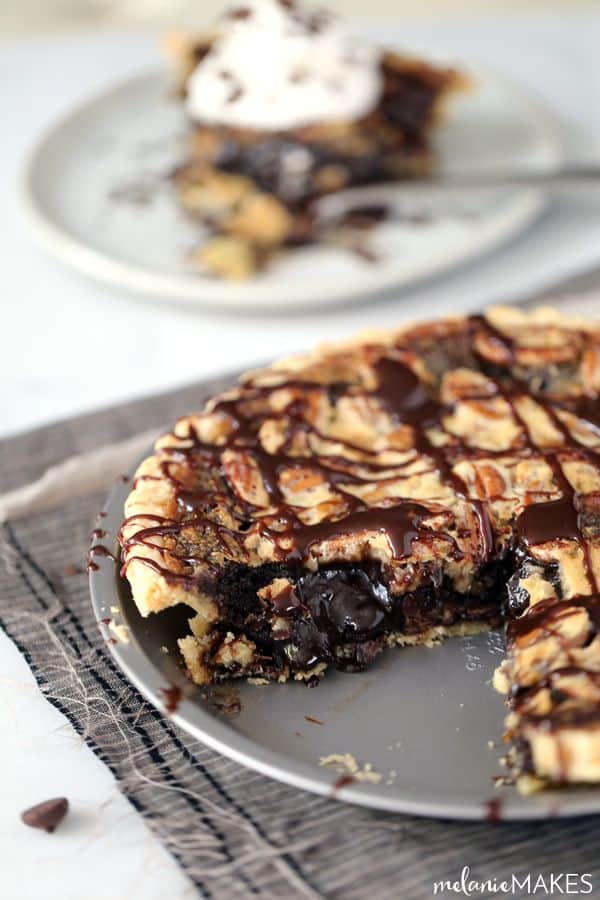 Sure, you could try and half this recipe to make just one pie, but believe me, you do NOT want to do this. Slices of this Dark Chocolate Brownie Pecan Pie disappear at lightening speed once they're discovered sitting in the fridge. It's like the light that comes on each time you open the door is the pie's personal spotlight. A very much well deserved spotlight.
Looking for more great dark chocolate recipes?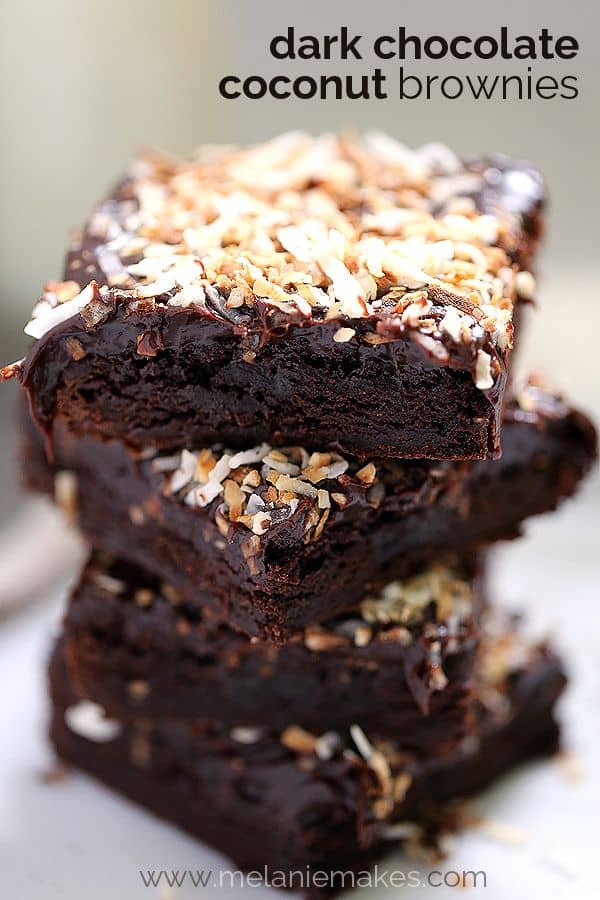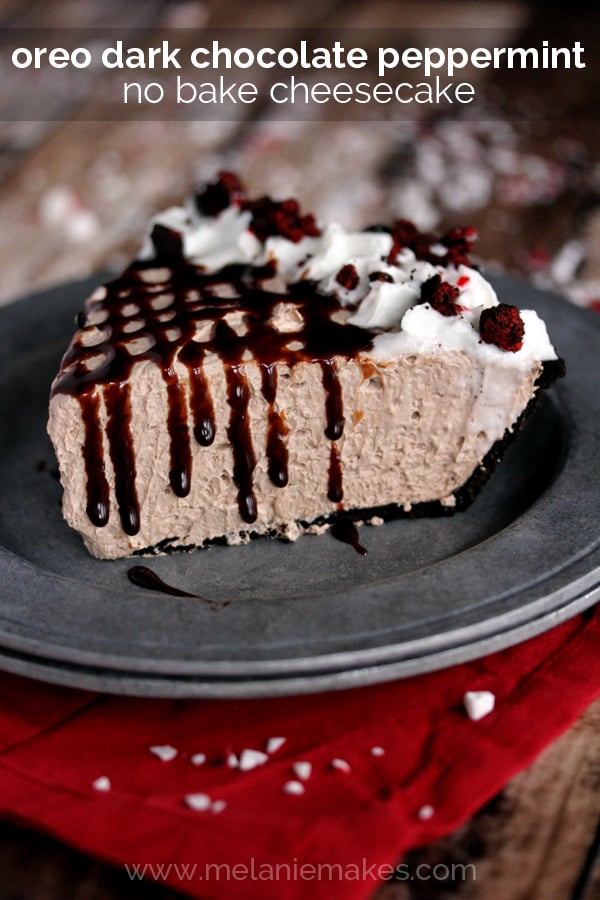 —–
I was compensated by Robert Rothschild Farm to create a recipe featuring their product. As always, all thoughts and opinions are my own. Thank you for supporting this sponsor that allows me the opportunity to create content, such as this, for Melanie Makes.