As part of a sponsored post for Collective Bias®, I created this easy Christmas dessert recipe utilizing Kraft ingredients that I typically have on hand.
This German Chocolate Pecan Pie is, simply put, one of your favorite cakes in pie form. Chocolate, pecans and coconut meld together in a deep dish pie crust to form a memorable holiday treat.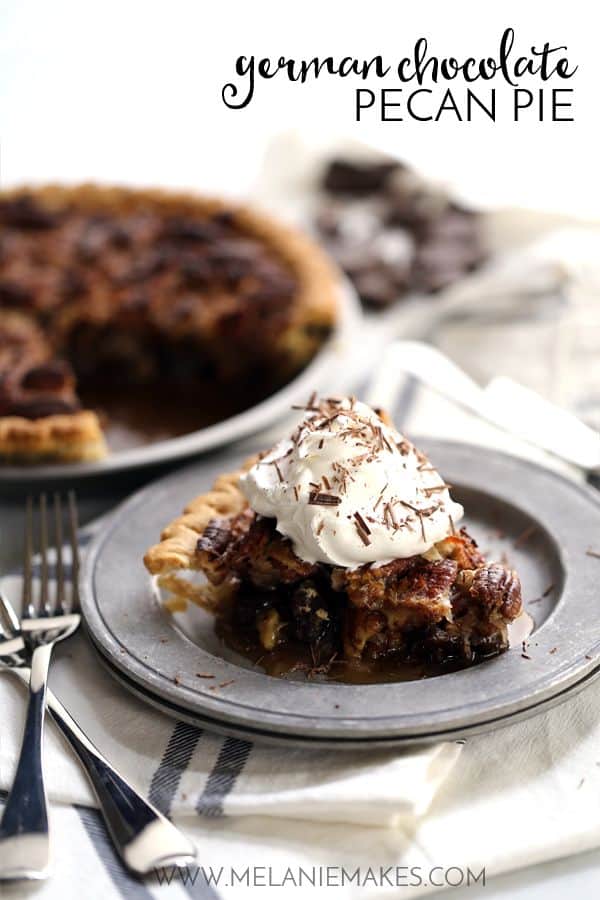 With Thanksgiving falling later this year, the amount of time to prepare for Christmas next week has been a bit daunting. There's been gifts to buy, cards to send, goods to bake. WHEW! In the midst of all of the holiday preparations, I wanted to create an easy dessert recipe and make something special for my family. After looking through my fridge and pantry, I came up with this German Chocolate Pecan Pie. An amped up version of a holiday staple that was sure to be a sweet surprise as a weekday dessert.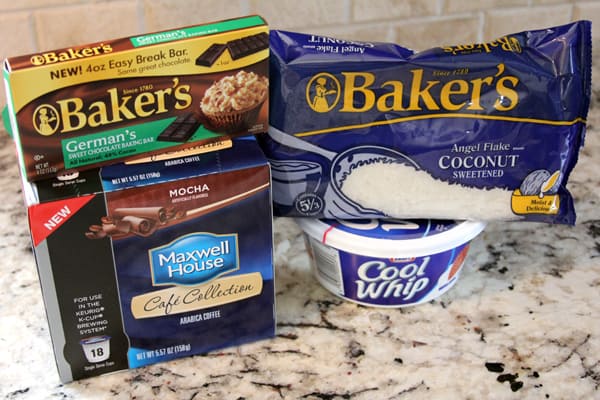 These ingredients are ones that I typically have on hand – because I have an insatiable sweet tooth and love baking treats – and were easily found at Walmart during a previous shopping trip. The Maxwell House Mocha Kcups were an impulse purchase and I'm so glad I grabbed them. They gave an extra depth of flavor to the chocolate layer within the pie.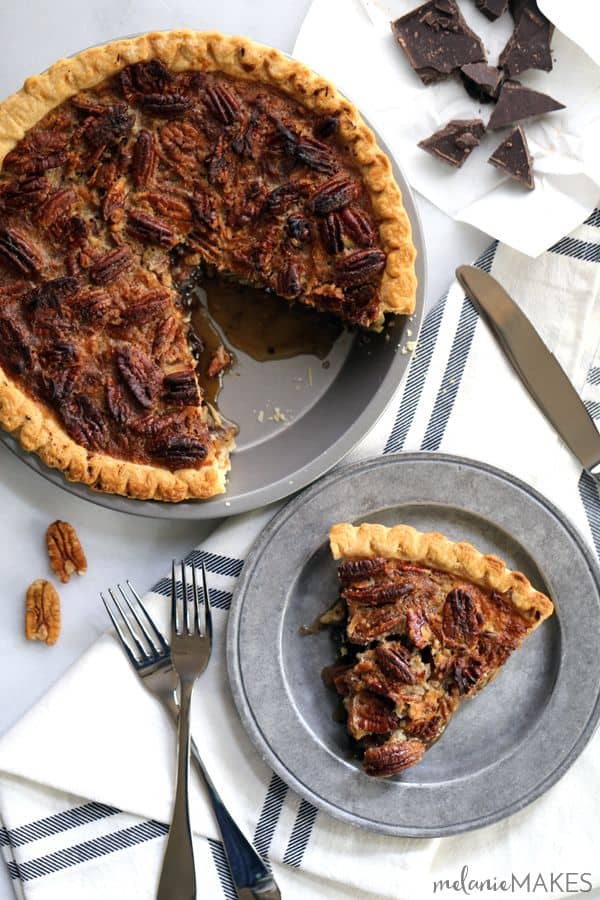 This recipe comes together quickly. It's as easy as utilizing a frozen pie crust, layering chopped chocolate along the bottom and stirring the other ingredients together to create the delicious filling. I love that I was able to assemble the pie and get it in the oven while feeding my two youngest lunch and still had time to clean up the kitchen before they were done. A sign of a great recipe if you ask me!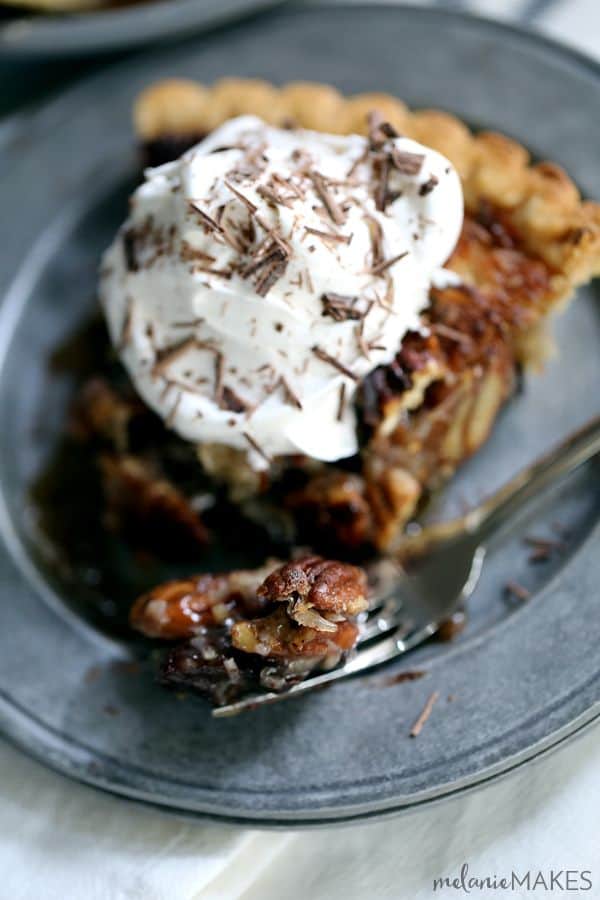 And let's just be frank shall we? Nothing says holiday dessert like Cool Whip! I remember growing up how special it made any treat and now my own children are just as enchanted by it. All three were excited to try the pie but when I served them a small slice topped with a white cloud of Cool Whip? Ooohs and ahhs all around! Of course, that was the first thing they ate on the plate as well. Like mother, like children.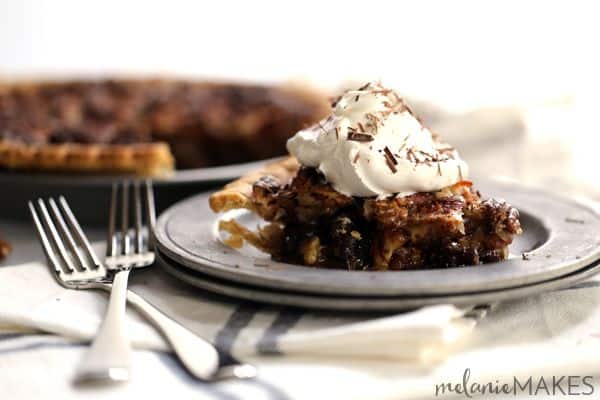 Melanie Bauer
German Chocolate Pecan Pie
10 minPrep Time
25 minCook Time
35 minTotal Time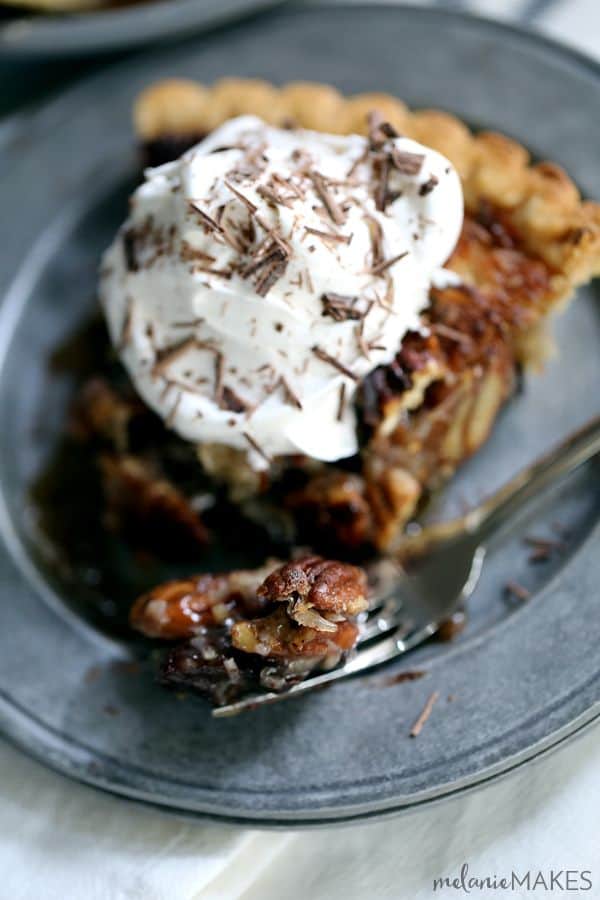 Ingredients
1 frozen deep dish pie crust
6 oz. Baker's German's Sweet Chocolate
2 eggs
5 tablespoons butter, melted
1/2 teaspoon salt
1/2 cup brown sugar
1/2 cup corn syrup
2 tablespoons flour
2 tablespoons Maxwell House Mocha coffee, prepared
3/4 cup Baker's Shredded Coconut
2-1/2 cups pecans
8 ounces Cool Whip
Instructions
Preheat oven to 400
Coarsly chop Baker's German Chocolate and layer in bottom of pie crust.
In a medium bowl, lightly beat eggs and set aside.
In another medium bowl, whisk together melted butter, salt, brown sugar, corn syrup, flour and Maxwell House Mocha coffee.
Whisk butter mixture into eggs until just combined. Stir in pecans and Baker's Shredded Coconut and then pour into pie crust.
Bake 25 minutes or until filling is set. During the last 10 minutes of cooking, if pie is browning too fast, cover loosely with aluminum foil.
Let pie cool completely before slicing. Garnish with Cool Whip before serving.
7.6.4
88
https://melaniemakes.com/blog/2013/12/german-chocolate-pecan-pie.html
Melanie Bauer | Melanie Makes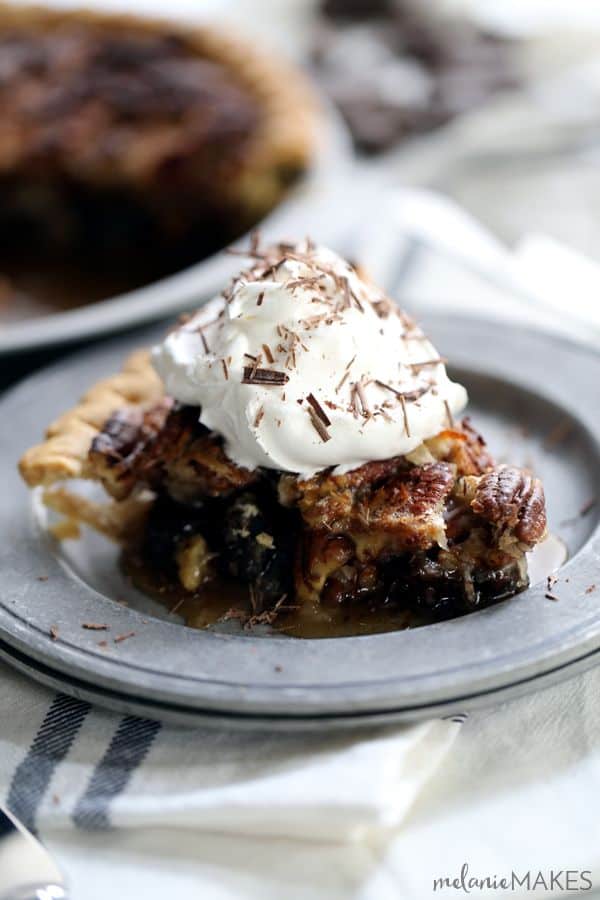 Easy enough for a special weeknight dessert to treat your family and absolutely special enough for your holiday table as well. In fact, I see making another German Chocolate Pecan Pie for Christmas in my future next week.