As part of a sponsored post for Collective Bias® I made these Sausage Sliders with Beer Braised Onions and Soda Sauce as an easy and amazingly delicious Super Bowl appetizer.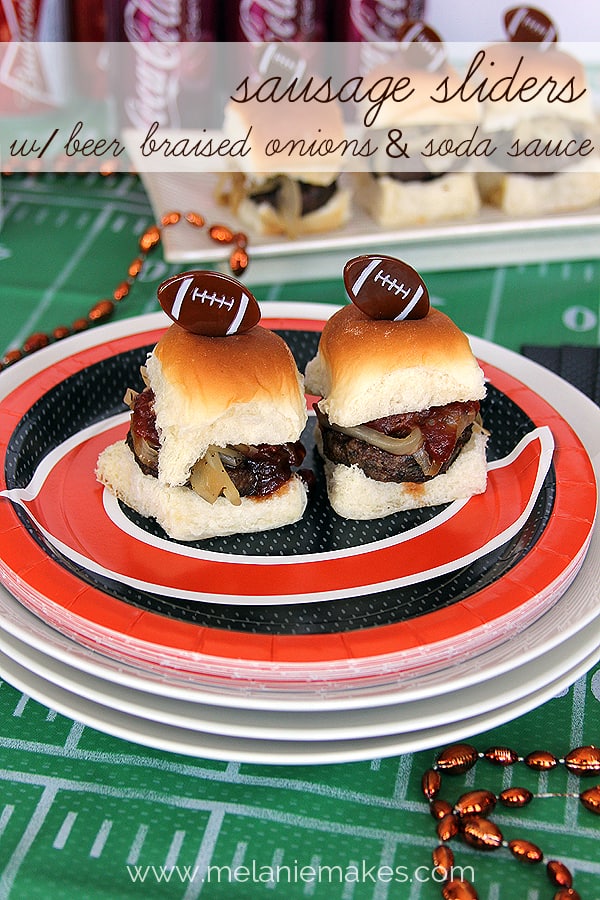 After braving temps in the 20s, snow and howling winds blowing in off of Lake Erie Sunday to watch our beloved Chicago Bears trounce the Browns, I'm ready to host a Super Bowl party. I figure it's the least the team can do for me since I think my toes are just beginning to thaw. (Seriously, I don't think I've ever been that cold in my entire life.)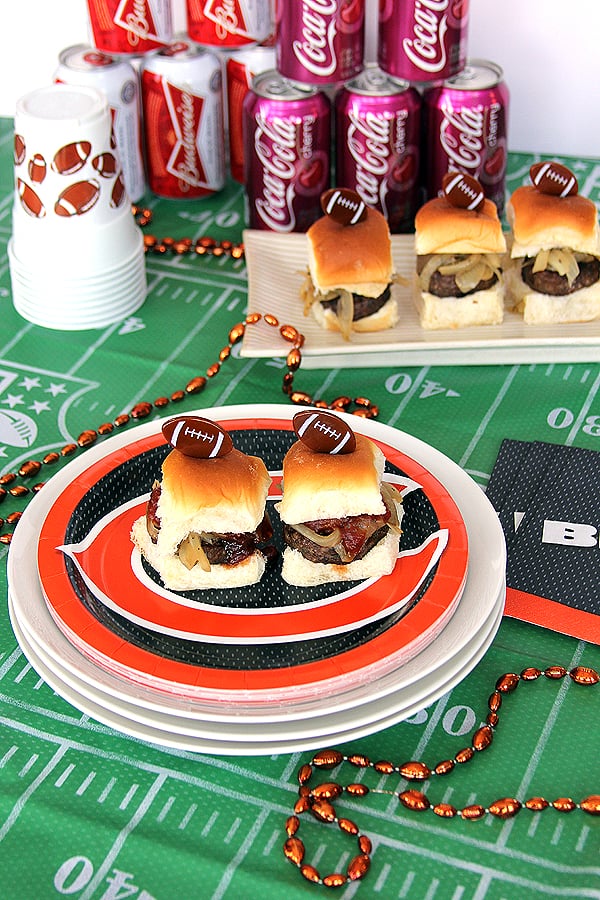 Super Bowl parties mean one thing. Appetizers! Lots of hand held grub that you can nosh on while watching the game, checking out the crazy commercials or taking in the halftime show. These Sausage Sliders easily fit the bill for each! You know when you create something you're really proud of and can't wait to show off? I feel the same way about these small scale sandwiches!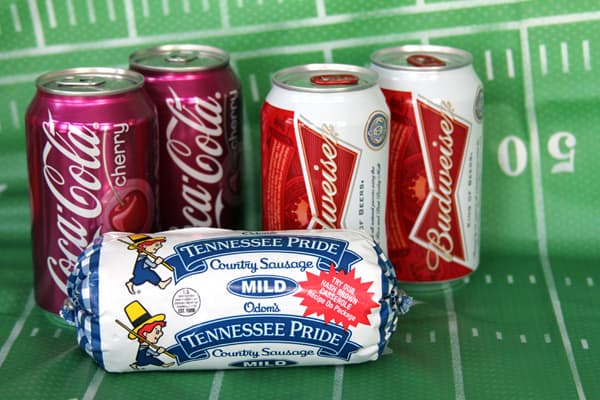 Three main ingredients create three unique layers of flavors: Cherry Coke, Budweiser beer and Tennessee Pride pork sausage.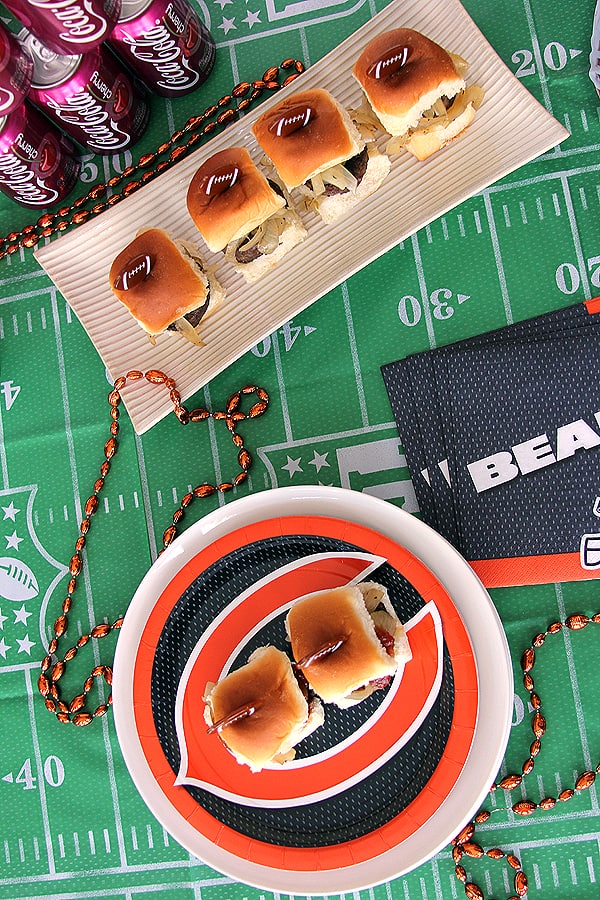 Cherry Coke stars as the main ingredient to my aptly named Soda Sauce. I *heart* Cherry Coke so I loved finding a way to make it a star in this recipe. A quick combo of this sweet soda with crushed tomatoes makes the perfect sauce.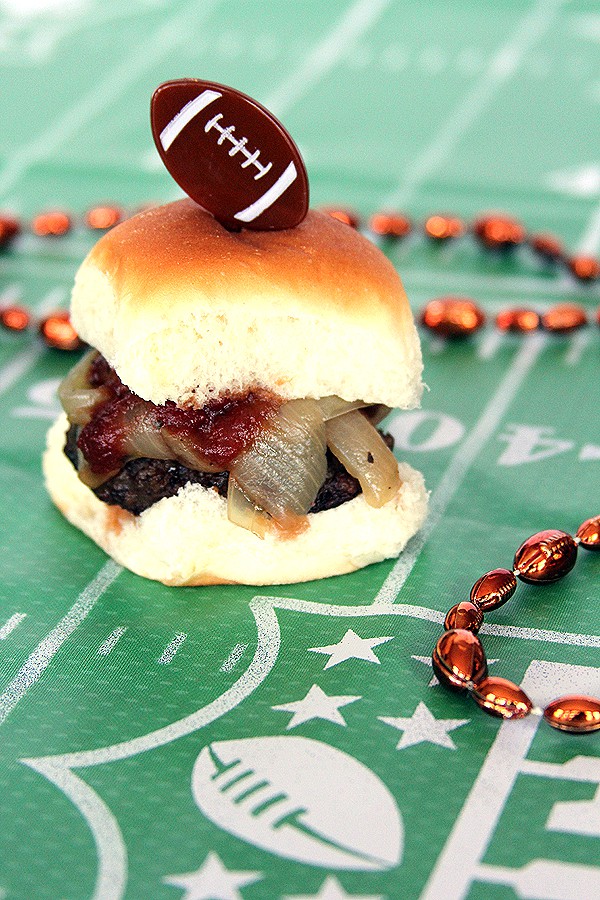 How can you go wrong with Beer Braised Onions? Beer AND onions together? Sign me up! The addition of thyme puts this slider topping through the uprights. It's good!
I love so many aspects of this recipe but one of the highlights is that you can actually make the onions and sauce ahead of time and simply warm them through before serving.
Sausage Sliders with Beer Braised Onions and Soda Sauce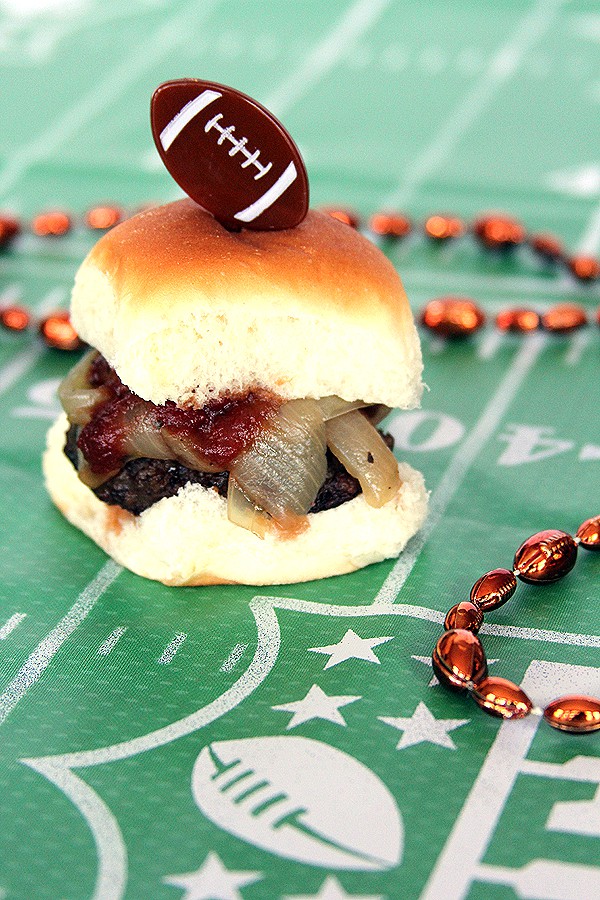 Ingredients
3 onions
12 oz. Budweiser beer
1/2 teaspoon dried thyme
salt
pepper
24 oz. Cherry Coke
1/2 cup apple cider vinegar
3 cups brown sugar
3/4 teaspoon red pepper flakes
28 oz. crushed tomatoes
2 pounds Tennessee Pride Mild Roll Sausage
16 King's Hawaiian Rolls
Instructions
Beer Braised Onions:

Slice onions thinly and add to large pan over high heat until beginning to sweat and brown.
Season with salt and pepper.
Add beer and thyme and reduce heat to medium.
Cook until liquid has completely cooked into onions.

Soda Sauce:

In a large pan over high heat, stir together Cherry Coke, apple cider vinegar, brown sugar, red pepper flakes and crushed tomatoes.
Bring to a boil and then reduce to simmer to reduce to sauce consistency.

Sausage Sliders:

Cut sausage into 16 equal pieces and form into patties.
Cook over medium heat, 3-4 minutes on each side, until browned and no longer pink.

Assembling Slider Sandwiches:

Cut rolls in half and place sausage on bottom bun.
Top with Beer Braised Onions and Soda Sauce and replace roll or bun top.
7.6.4
6
https://melaniemakes.com/blog/2013/12/sausage-sliders-with-beer-braised-onions-and-soda-sauce.html
Melanie Bauer | Melanie Makes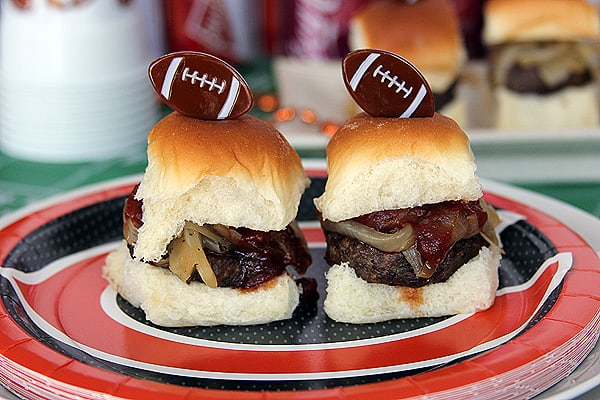 Three cheers to an easy and knock your cleats off appetizer. Here's hoping the Bears actually making it to the big game, too!