Perfect for the big game! Carmelized onions, beer braised bratwurst and a beer mustard cheese dip are enveloped in crisp, wonton wrappers. The perfect, portable snack!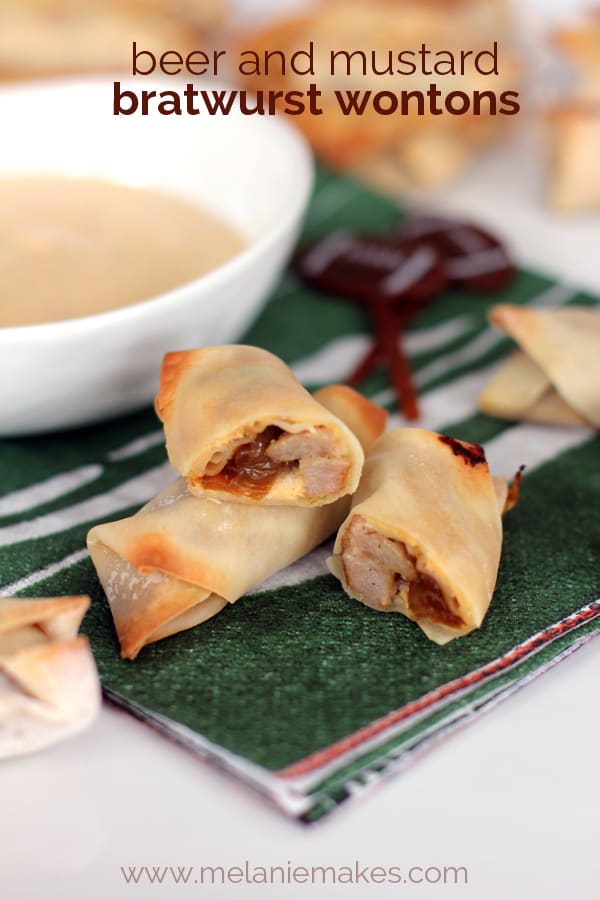 They always say a way to a man's heart is through his stomach and I one million percent agree. Serving Andy these Beer and Mustard Bratwurst Wontons is likely the equivalent of him letting me sleep in every day for a week. Pure bliss!
This game day snack is a total homage to our seven years living in Madison where each May he'd eagerly anticipate the end of the month and the arrival of the world's largest Brat Fest to the city. A festival complete with a grill as large as a semi-truck. Oh yes, my husband was in heaven.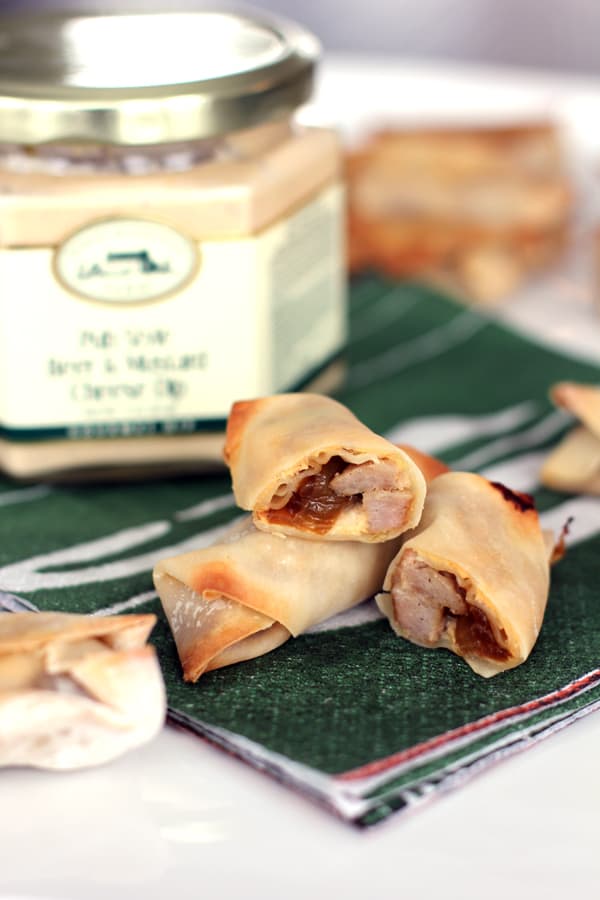 Brats are always his go-to concession treat when we attend a ball game but I was looking to create something a bit more portable, a little less messy and perhaps a bit more refined. I think these wontons are just that! Caramelized onions, beer braised bratwurst and Robert Rothschild Farms' Pub Style Beer and Mustard Cheese Dip are all contained within the crispy envelope of a baked wonton. Still my husband's beating heart, already.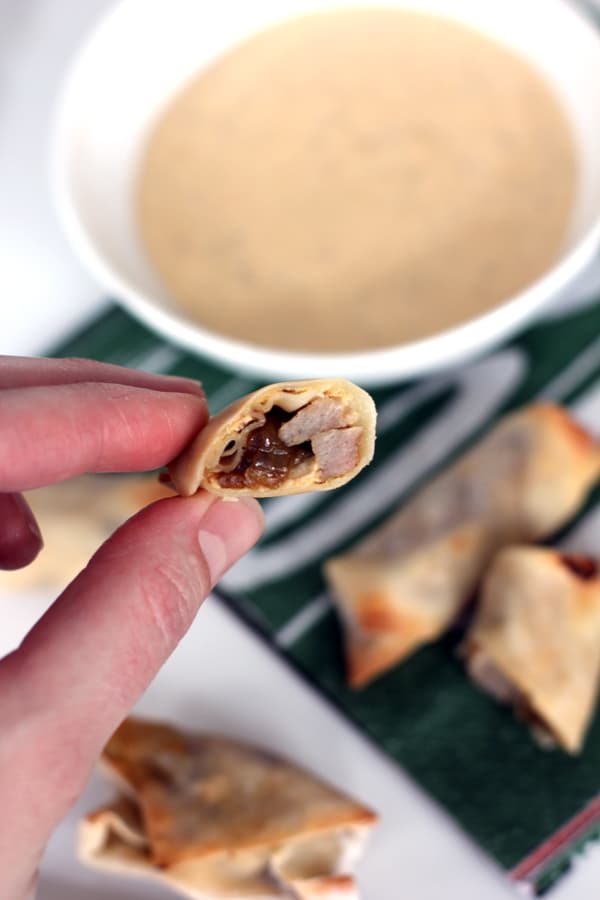 Beer and Mustard Bratwurst Wontons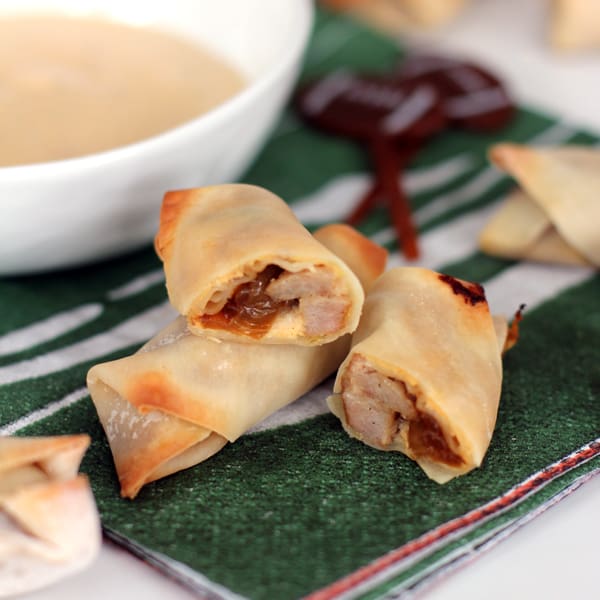 Ingredients
Instructions
In a large pan, melt butter over medium heat.
Add onions and stir to coat. Stir every 5 minutes for 30-40 minutes and onions are caramelized. If onions are browning too fast, turn heat down.
Meanwhile, in a small saucepan heat 12 oz. beer to a simmer and add bratwurst. Cook 8-10 minutes or warmed through. Remove from heat.
Deglaze pan of onions with 1/4 cup beer, scrapping browned bits from bottom of pan. Remove from heat and season with salt to taste.
Preheat oven to 400 degrees.
Dice bratwurst into small, bit size pieces.
To assemble wontons, on a baking sheet covered with a silicone baking mat or parchment paper, position a wrapper with one point towards you. Spread 1/2 teaspoon of Pub Style Beer and Mustard Cheese Dip evenly over wrapper. Top with 1 teaspoon diced bratwurst and 1 teaspoon caramelized onions.
Fold bottom corner over filling and then fold sides toward center over filling. Roll toward the remaining point.
Repeat with remaining wrappers and filling and spray tops of wontons lightly with cooking spray.
Bake for 10-12 minutes or until browned, turning halfway through cooking.
To create a dipping sauce, whisk together 1/4 cup Pub Style Beer and Mustard Cheese Dip with a tablespoon milk.
7.6.4
20
https://melaniemakes.com/blog/2014/01/beer-and-mustard-bratwurst-wontons.html
Melanie Bauer | Melanie Makes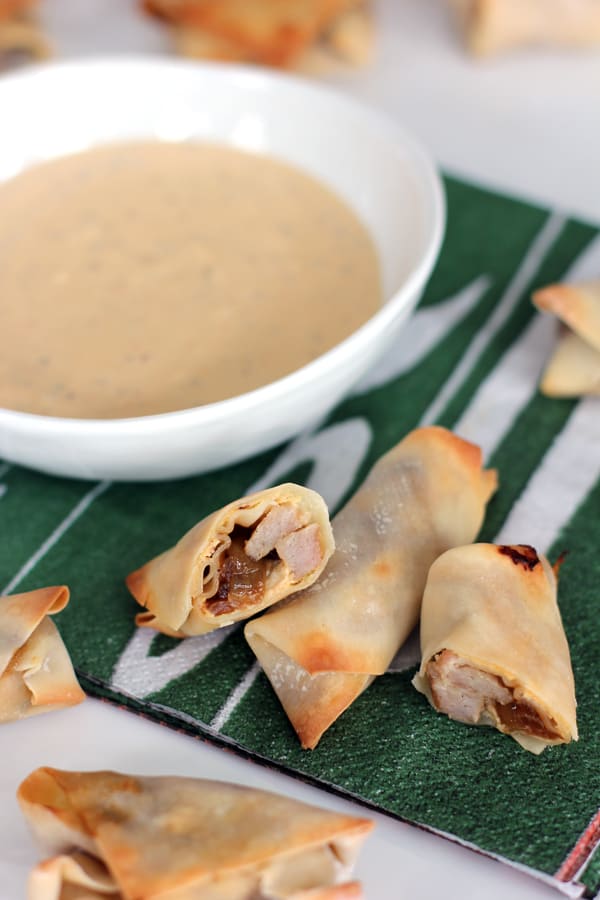 This is a recipe where you can make the onions and bratwurst ahead of time and then simply warm before preparing the wontons. I'm all for prepping ahead of time. I want to watch the game, too!
—–
I was compensated by Robert Rothschild Farm to create this recipe. As always, all thoughts and opinions are my own.