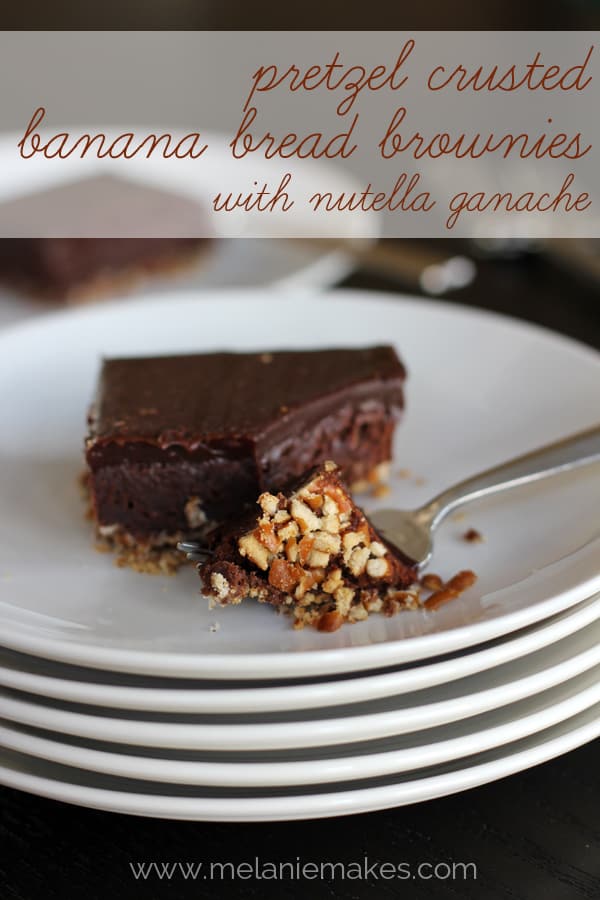 Over. The. Top. Yep, that's what these Pretzel Crusted Banana Bread Brownies with Nutella Ganache are. And you know what? It totally works! I puffy heart love when things I've been thinking about creating actually live up to their expectations. A salty, crunchy pretzel crust. A dense, fudgy banana brownie. The most heavenly hazelnut chocolate ganache ever created thanks to a jar of Nutella. Yes, an entire jar of Nutella!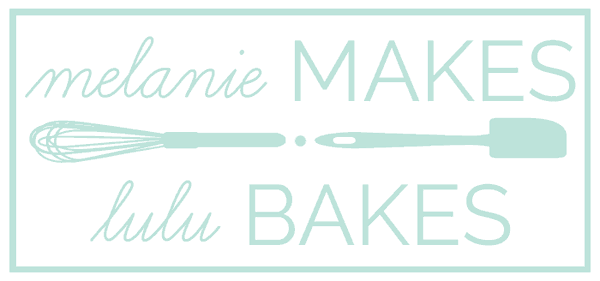 This recipe totally came about thanks to a new blog series that I'm so excited to bring to my blog in 2014 – Melanie Makes, Lulu Bakes. Who is this Lulu I type of? That would be Melissa of Lulu Bakes. I first came across her on Twitter, then advertised on her blog late last year and found some gumption and approached her about working together on a blog series. Lucky for me – and you! – she said yes!
Each month, we'll each be sharing a recipe that we created that includes three key ingredients. This month's featured ingredients are pretzels, banana and Nutella as selected by me. We're keeping what we create a secret until we reveal the recipe on our blogs. You can check out Melissa's drool inducing recipe, here.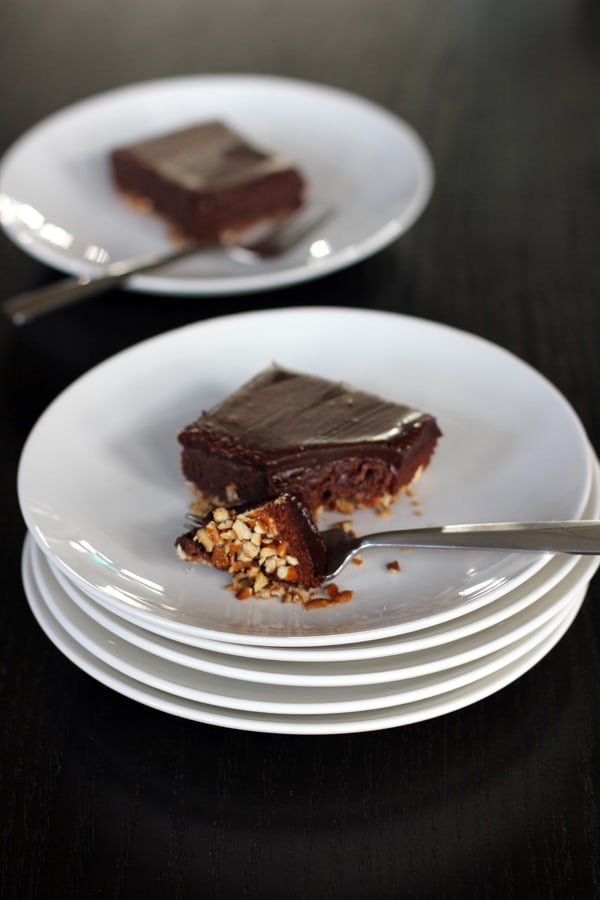 This recipe is the definition of ooey, gooey goodness. You can never go wrong with a sweet and salty flavor combination in my book!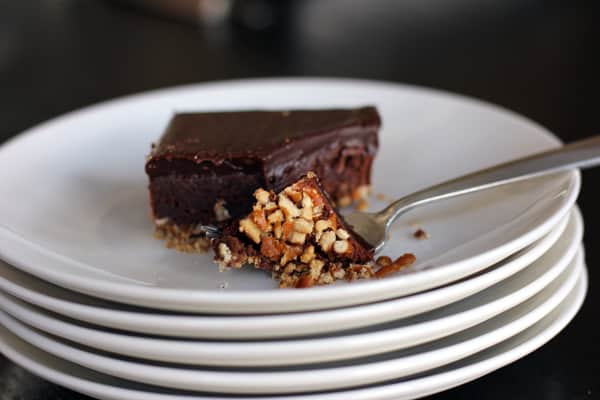 Pretzel Crusted Banana Bread Brownies with Nutella Ganache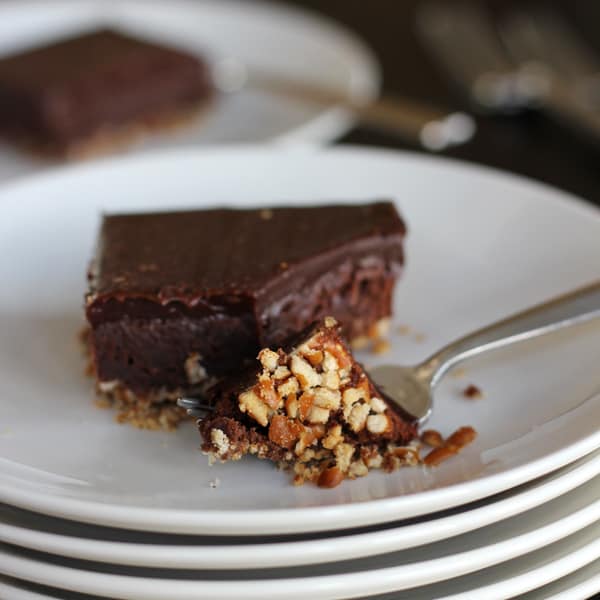 Ingredients
3 cups pretzels
5 tablespoons, melted
3/4 cup butter
3/4 cup cocoa
2 tablespoons coffee, prepared
1-2/3 cups sugar
2 teaspoons vanilla
1 banana, mashed
2 eggs, beaten
1-1/3 cups flour
1/2 teaspoon baking powder
1/4 teaspoon salt
13 oz. Nutella
3/4 cup heavy whipping cream
Instructions
Preheat oven to 350 degrees.
In a large food storage bag, add pretzels and seal. Crush into small pieces with rolling pin or heavy spoon.
Add pretzel crumbs to 9x13 pan and drizzle with 5 tablespoons melted butter. Stir to combine and then press onto bottom of pan to form crust. Set aside.
In a large bowl, melt 3/4 cup butter. Stir in cocoa, coffee, sugar, vanilla, banana and eggs.
Stir in flour, baking powder and salt until just combined.
Pour brownie batter on top of pretzel crust and carefully spread to edges.
Bake for 20-25 minutes or until brownies are set.
Let brownies cool completely.
In medium bowl, add Nutella and whipping cream and microwave for one minute.
Whisk together and then spread on top of cooled brownies.
Refrigerate 3-4 hours prior to serving. The longer the brownies are refrigerated, the more set the ganache will be.
Notes
7.6.4
9
https://melaniemakes.com/blog/2014/01/pretzel-crusted-banana-bread-brownies-with-nutella-ganache.html
Melanie Bauer | Melanie Makes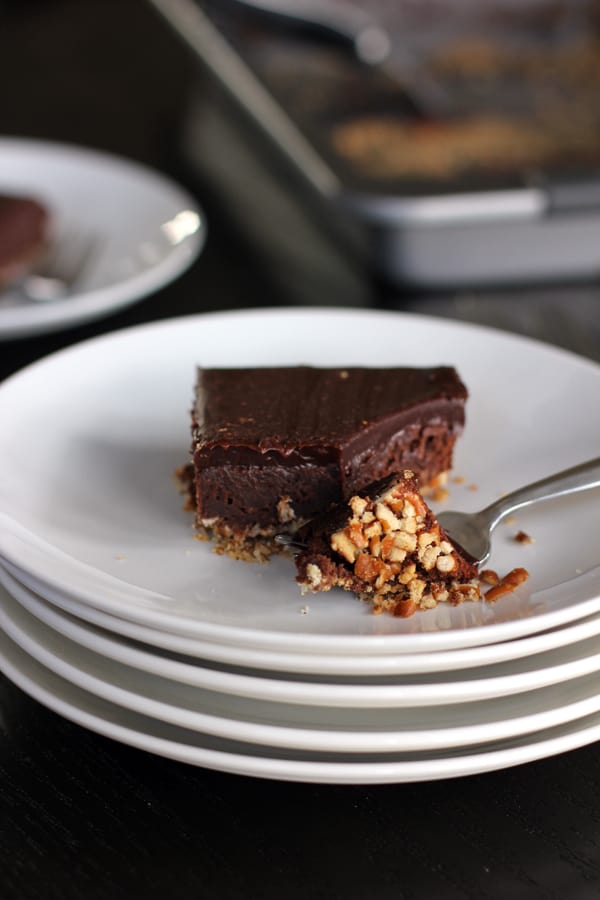 I can't think of a better way to start your week than whipping up a batch of these brownies. The 9×13 pan that I made on Saturday? GONE.