As part of a sponsored post for Collective Bias®, I made this Raspberry Cashew Chicken Quinoa Bowl with Tyson's Grilled and Ready Fully Cooked Chicken Breast Strips for a fresh and easy meal.
If I've figured out one thing in the last couple of months of healthy eating it's that I require protein at all meals and snacks to feel satisfied. Why it took so long for me to figure out something that, in reality, is so easy is beyond me. Chicken happens to be my favorite lean protein. It's so versatile that although I eat it almost every day, I never tire of it. This Raspberry Cashew Chicken Quinoa bowl is loaded with protein and will easily get you from one meal to the next without a second thought.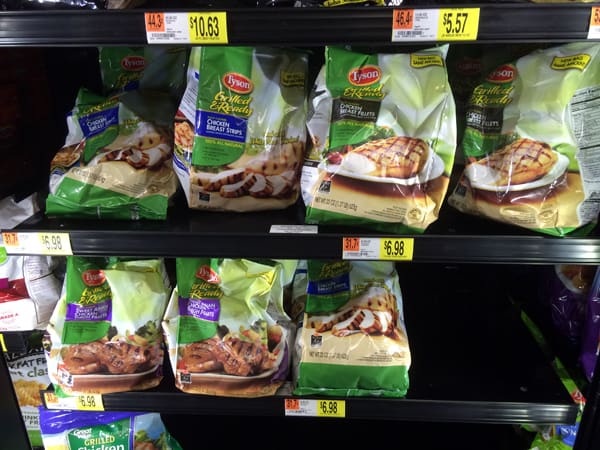 At the beginning of each week, I try to grill several chicken breasts to have on hand for salads at lunch. The keyword in that sentence is TRY. Sometimes life just gets in the way and then I'm left scrambling to try and figure out some type of healthy lunch choice on the fly. Enter the Tyson Grilled and Ready products that I found on a recent trip to Walmart. Found in both the refrigerated and freezer section on rollback for only $5.87, they're completely cooked and ready to add to your next meal. Lunch is saved!
Over 1000 Walmart stores will be hosting in-store demos of Tyson Grilled and Ready products January 16th-18th. Check to see if your local store is participating for your chance to try them for yourself!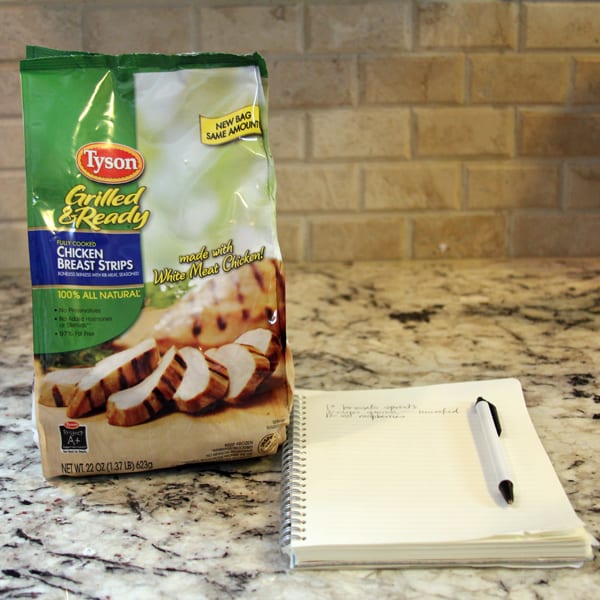 Although I have grand plans to add these to my next lunch salad, I also wanted to create a recipe with these fully cooked chicken breast strips. My thought process was what would happen if I combined all of my favorite healthy ingredients in one dish? Chicken, quinoa, brussels sprouts, raspberries and cashews. Foods I eat nearly every day, but reinvented into a single dish.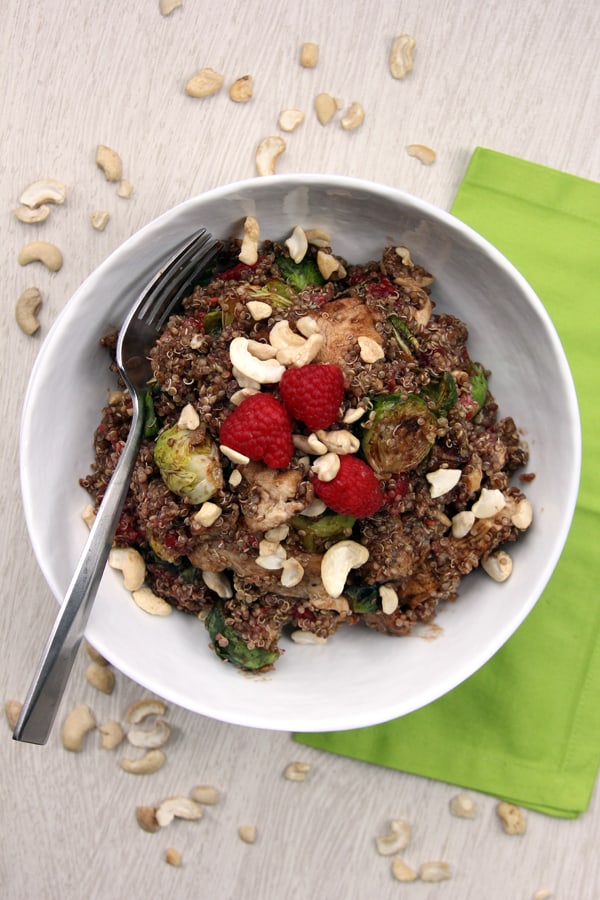 I couldn't be happier with the end result, this Raspberry Cashew Chicken Quinoa Bowl. A bowl packed with protein and highlighted by tart raspberries, roasted brussels sprouts and a sweet balsamic glaze. Delicious both hot or cold, this makes several servings so you can prepare lunch once and then enjoy it for several days.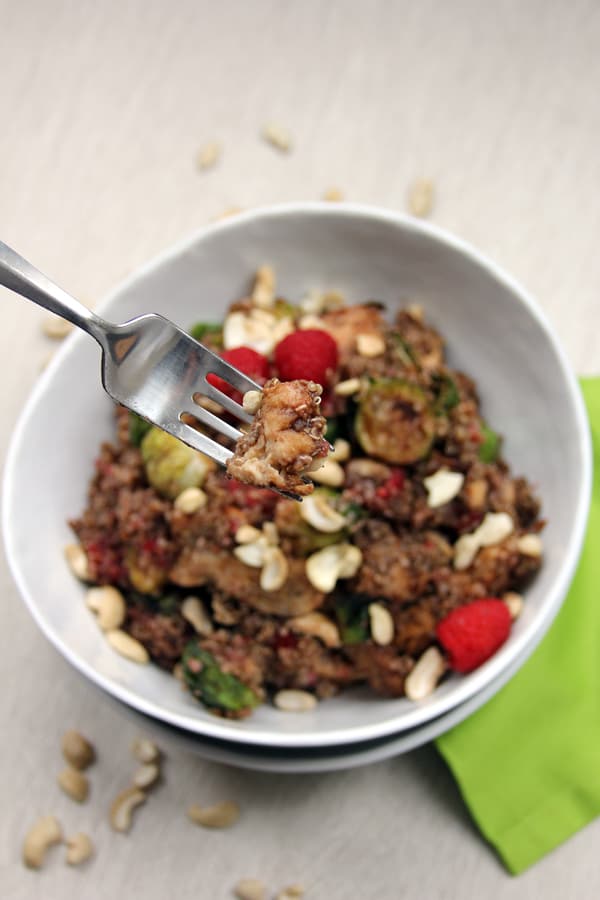 Raspberry Cashew Chicken Quinoa Bowl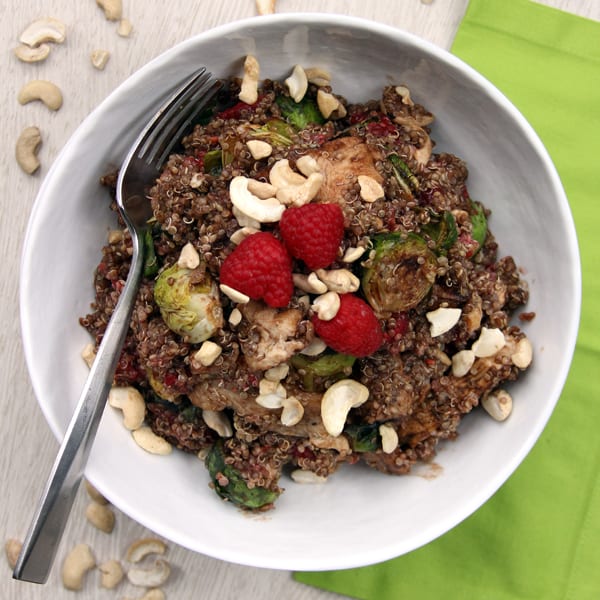 Ingredients
1 pound brussels sprouts
1 tablespoon extra virgin olive oil
2 cups quinoa
2 cups Tyson Grilled and Ready Chicken Breast Strips
1 cup unsalted raw or roasted cashew pieces
12 ounces raspberries
1 cup balsamic vinegar
Instructions
Preheat oven to 425 degrees.
Trim and halve brussels sprouts and spread in a single layer on a baking sheet. Toss with oil to coat and season with salt and pepper. Bake for 20-25 minutes or until tender.
Prepare quinoa by rinsing in cold water to remove bitter outer coating.
Combine quinoa and 4 cups water in sauce pan. Bring to a vigorous boil and then lower eat to simmer, covered, until quinoa is tender but still chewy and white spiral-like threads appear around each grain, about 15 minutes.
In a small sauce pan, heat balsamic vinegar to a boil and then reduce to a simmer for 10 minutes or until vinegar is thickened and coats the back of a spoon.
Heat Tyson Grilled and Ready Chicken Breast Strips in microwave for three minutes or until heated through.
In a large bowl, add brussels sprouts, quinoa, chicken, cashew pieces and raspberries. Drizzle reduced balsamic vinegar over chicken mixture and lightly toss to combine.
Garnish with additional cashew pieces, if desired.
7.6.4
10
https://melaniemakes.com/blog/2014/01/raspberry-cashew-chicken-quinoa-bowl.html
Melanie Bauer | Melanie Makes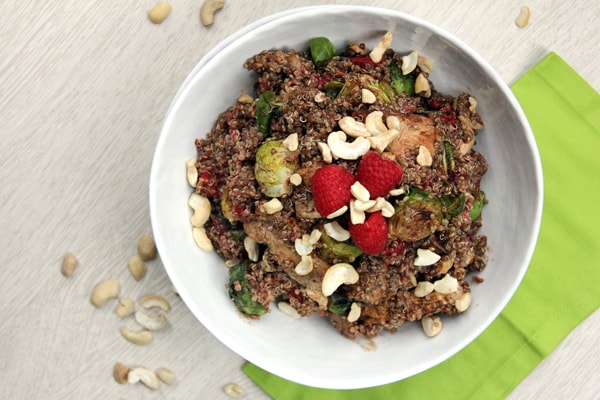 I love how the simple addition of this grilled chicken helps create an easy yet full of flavor dish in no time. I'm already looking forward to leftovers!
—–
Want to learn more about what to add to your day – recipes, healthy living tips and PRIZES! – to create a healthy lifestyle? Visit the Tyson Just Add This tab on their Facebook page.
Join the #JustAddTyson Twitter Party on Thursday, January 9th at 1p EST for more recipe ideas and additional store demo information. $500 of Walmart gift cards will also be given away! RSVP here.