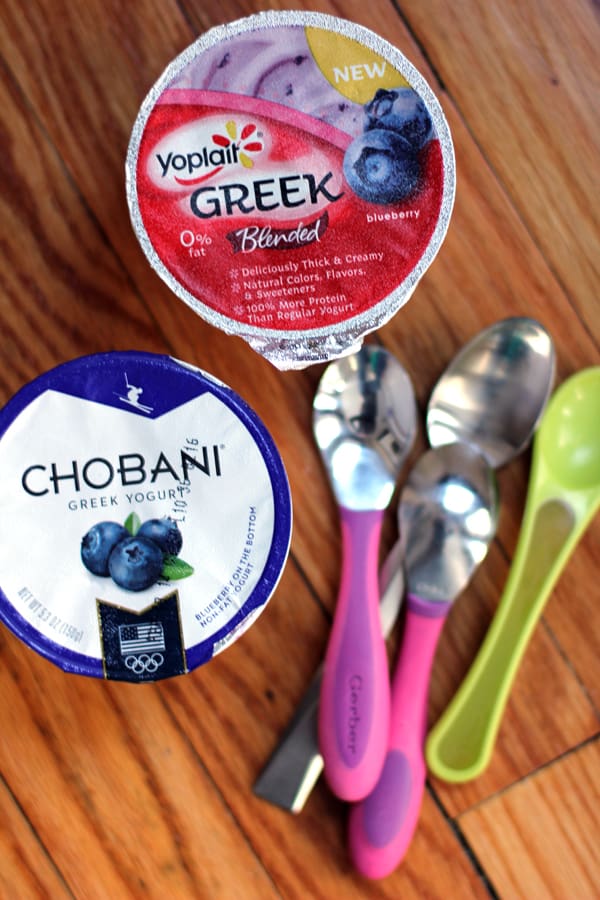 We're big yogurt eaters in our house. HUGE yogurt eaters. As in, I have a bin on the top shelf in our fridge that contains only yogurt. I have a tub of plain fat free yogurt for snacks and a tub of plain non-fat yogurt for cooking and baking that I use as a substitute for sour cream and the kids have their favorites as well. Of course, we all prefer different brands and flavors.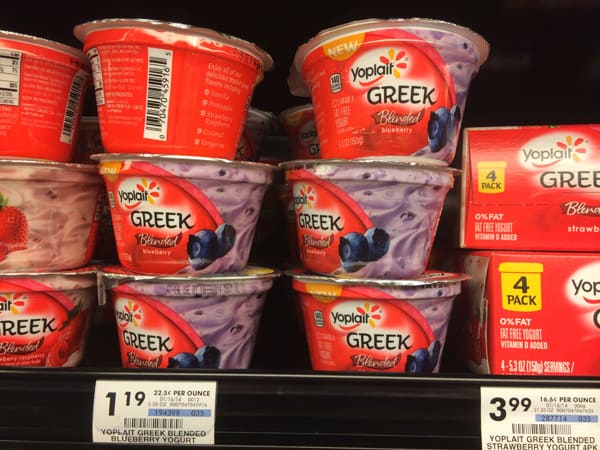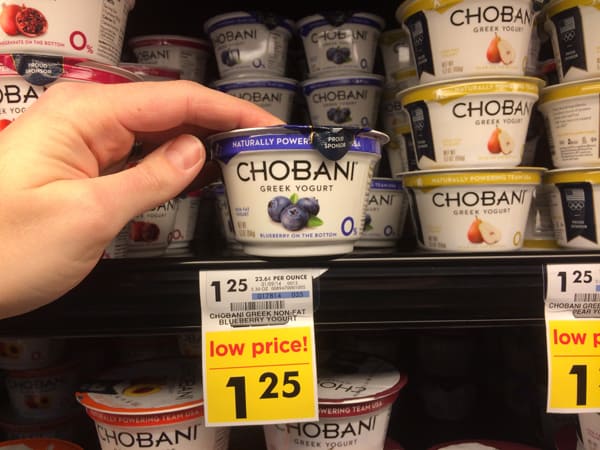 When Yoplait asked if our family would take the Yoplait Greek Taste-Off and taste test their Yoplait Greek Blueberry to Chobani Blueberry Fruit on the Bottom, I didn't hesitate. I don't typically purchase either brand and was eager to give them both a try.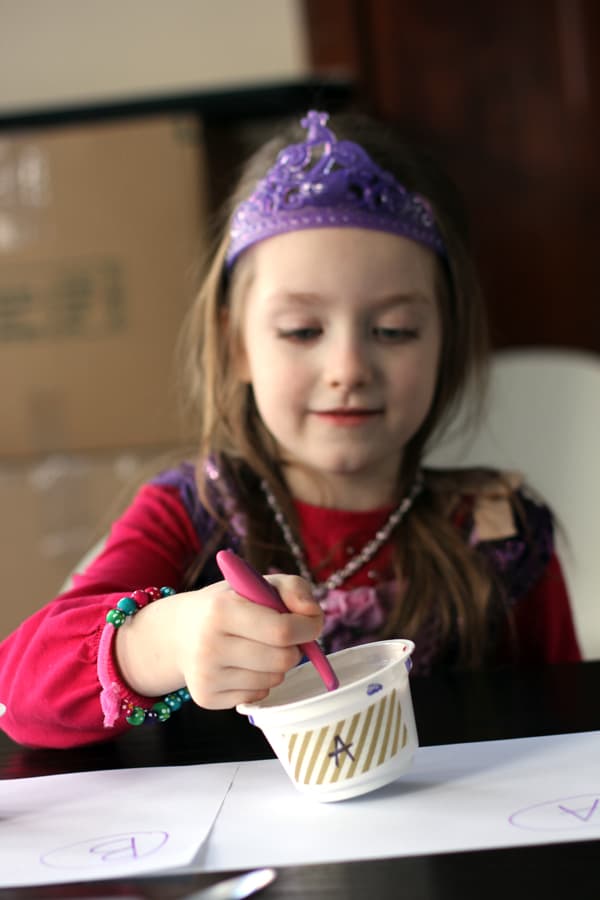 Oh, and I suppose I should mention that this somehow turned into a princess yogurt taste test. Labels were removed and the girls were bejeweled and eager to get started.
She tasted the Chobani Blueberry Fruit on the Bottom (Yogurt A) first and deemed it good, but upon tasting a spoonful of the Yoplait, she exclaimed, "This is gooder! It's so juicy!"
I'm willing to overlook the choice of verbiage but had to laugh as she was so excited about the Yoplait she took several bites before being scolded by her younger sister that there wouldn't be any left for her to taste.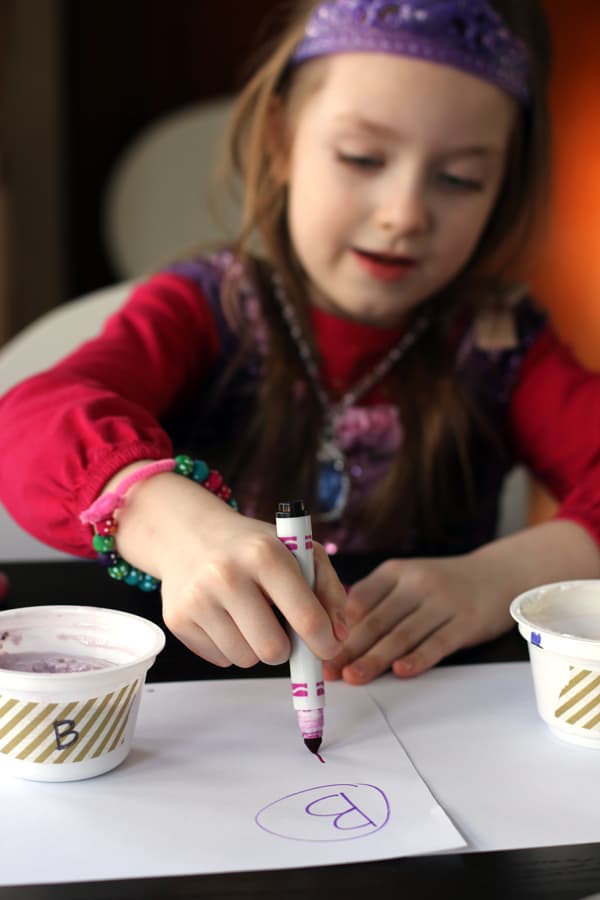 Score one point for the Yoplait Greek Blueberry!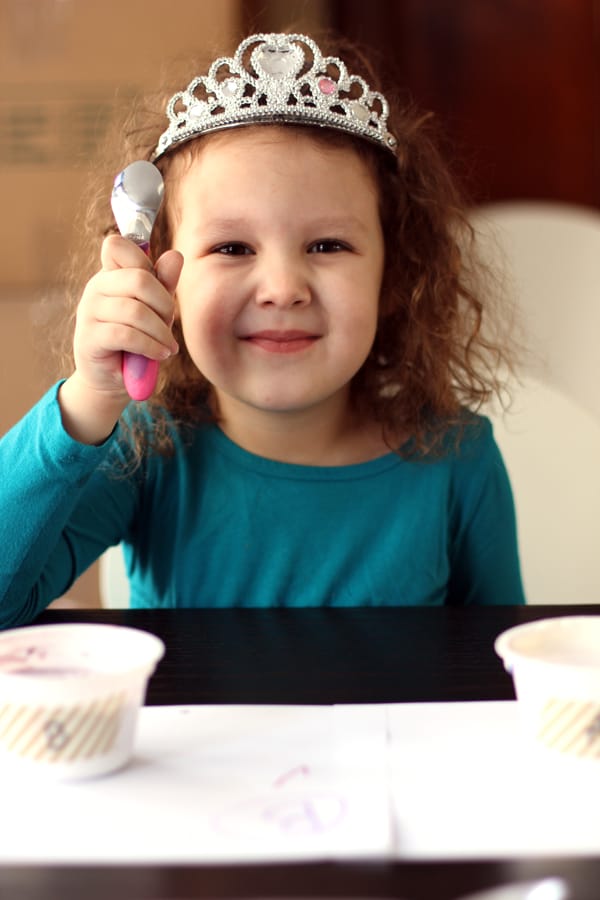 Next up, the middle child and second princess, reporting for taste test duty!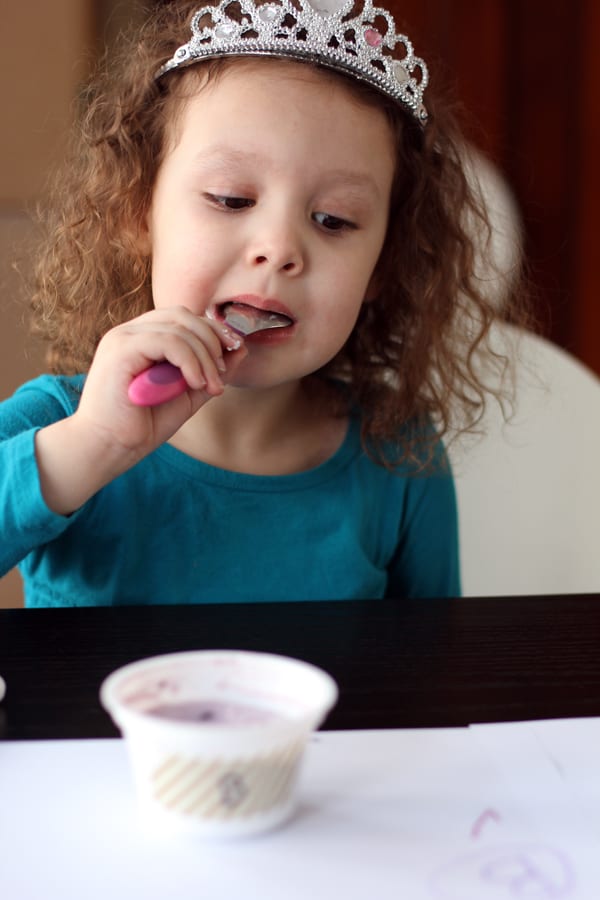 Just like her sister, she tasted the Chobani and seemed indifferent but immediately perked up after trying the Yoplait. She deemed it "juicy and fruity-er."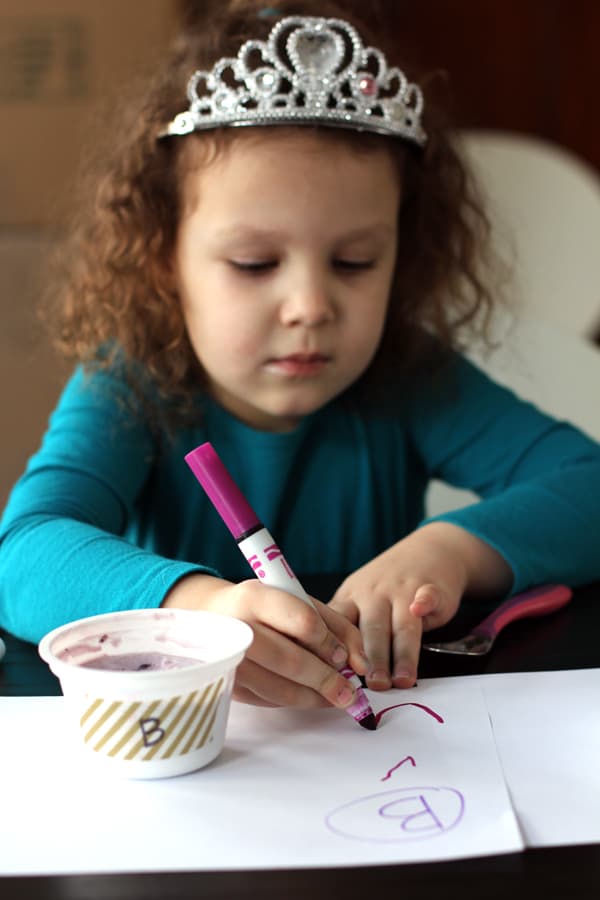 Another vote for the Yoplait!
For those of you keeping score, that's two votes for Yoplait Greek Blueberry. Zero votes for the Chobani Blueberry Fruit on the Bottom.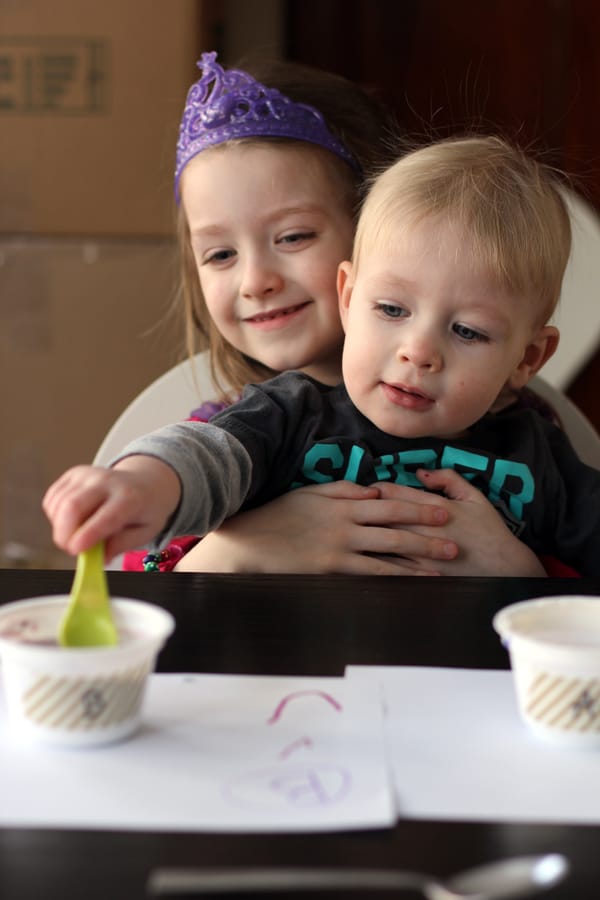 Although not really of the princess mindset and technically too young to vote as he refuses to talk unless it's about dogs, the littles wanted to try a taste as well.
He refused to try them both but selected the Yoplait, enjoyed his bite and then headed toward the living room to play with his trains. For scientific purposes, his vote was not included in our taste test.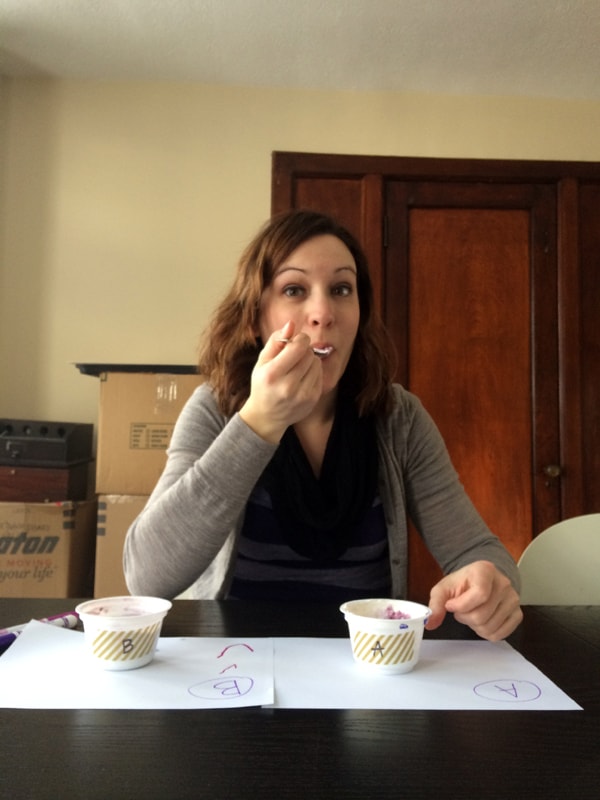 Last but not least, the mama of the household. Because don't mamas always go last? (The injustice!)
Like the girls, I tasted the Chobani first and was surprised at how much I liked it. It was smooth in texture and the fruit on the bottom was substantial in size and reminded me of blueberry muffin batter which I may or may not absolutely love. I've purchased Chobani in the past and wasn't a fan so I was surprised that I liked this.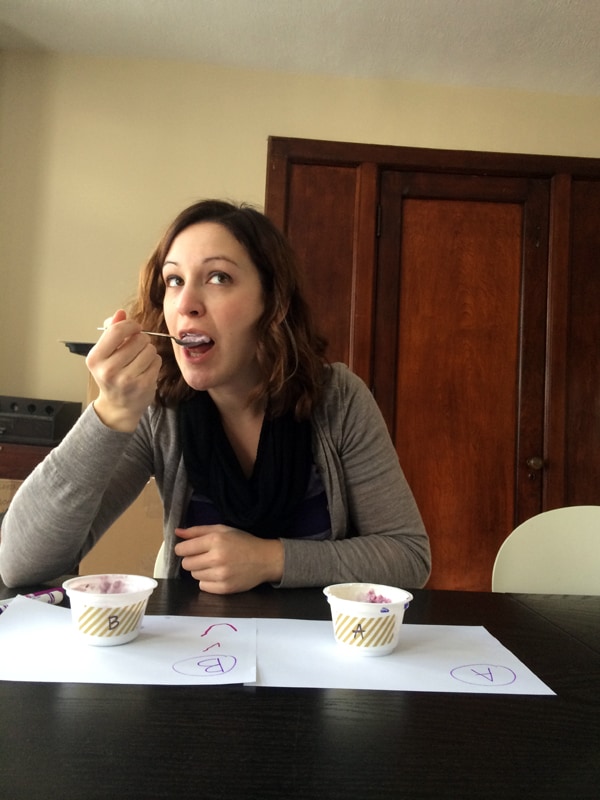 In comparison, the Yoplait was definitely sweeter. I checked labels afterwards and it does contain 3g more of sugar than the Chobani but does NOT contain any artificial sweeteners or flavors. It wasn't offensively sweet, just more so than the yogurt I typically enjoy.
I did however like that it was blended instead of the fruit being on the bottom as the Chobani was.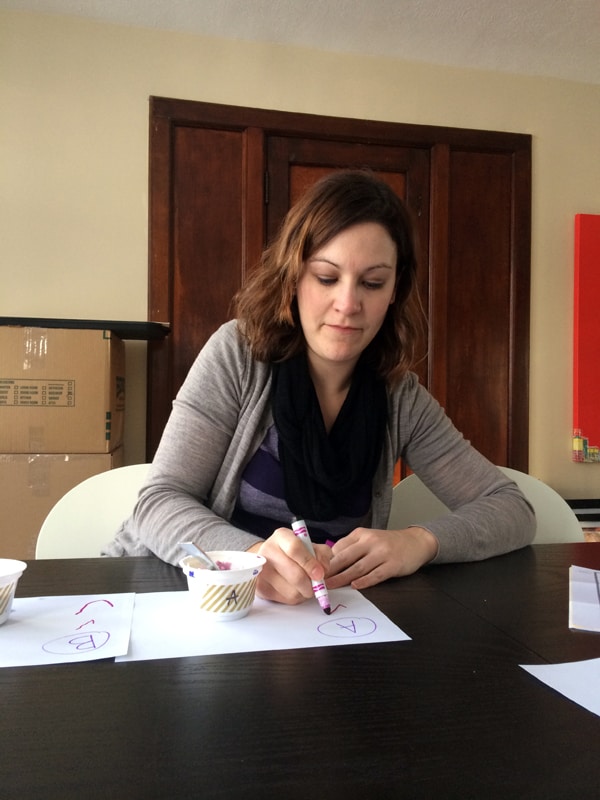 In the end, I gave my vote to the Chobani as I could see myself eating it more frequently than the Yoplait.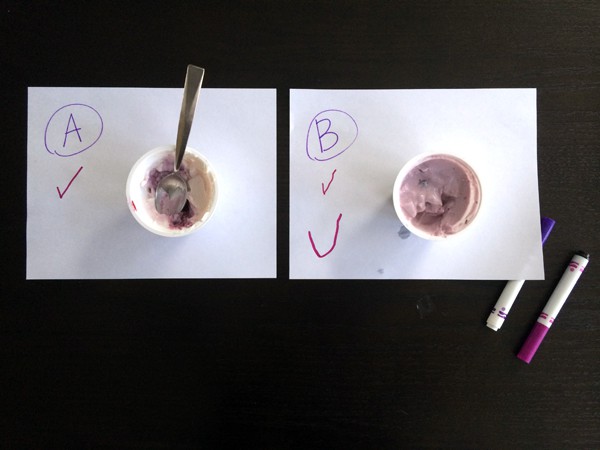 Final result? The winner is the Yoplait! So much so that Camryn immediately lay claim to the remaining yogurt in the cup, she enjoyed it so much.
I was definitely surprised by the final vote count as Yoplait isn't a name I would normally associate with Greek yogurt. I think it's earned a spot in our yogurt fridge bin!
I've taken the Yoplait Taste-Off, now it's your turn! Grab a coupon for 50 cents off a single cup of Yoplait Greek and let me know who won your Taste-Off.


—–
Disclosure : This post was sponsored by Yoplait. All thoughts and opinions, as always, are my own.