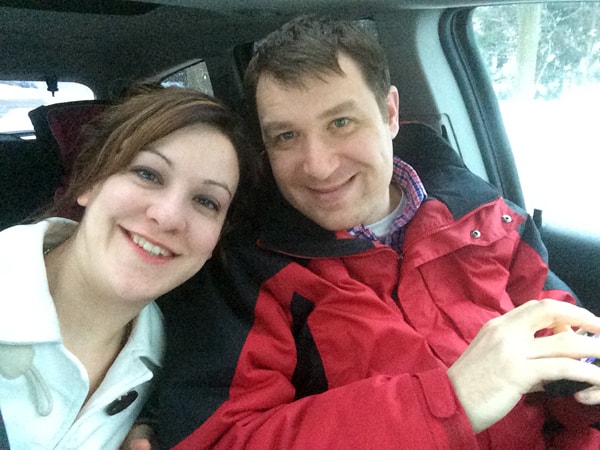 Date night on a Thursday? YES.
Last week, after a crazy day filled with early school release, dentist appointments for the girls and two parent teacher conferences, Andy and I headed to the Cleveland Metroparks Zoo for a very rare weeknight date.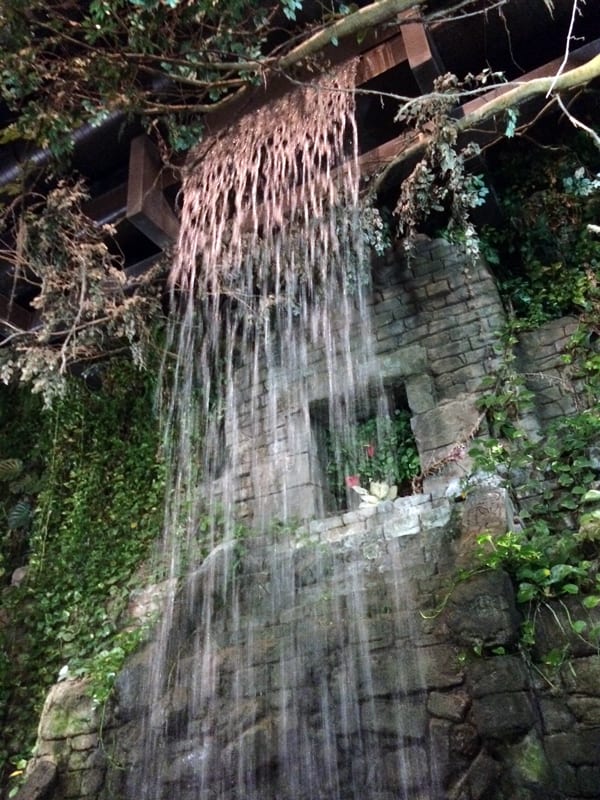 The zoo isn't just for kids! If you're in Northeast Ohio and haven't yet been to an event presented by the Cleveland Zoological Society, you must add it to your local bucket list. To say they know how to throw a party would be quite the understatement.
Their 11th Animal Attractions event was held in the zoo's RainForest. During our two previous visits, we hadn't ventured in and I was in awe of the large waterfall that greets you as soon as you entered. What Polar Vortex? It was 80 degrees in the RainForest!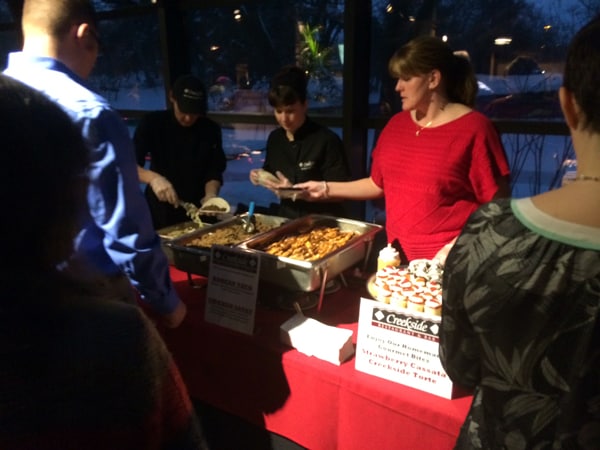 There were 11 different stations scattered throughout offering hors d'oeuvres and samplings. My favorite happened to be from this table manned by Creekside Restaurant & Bar. Their Korean Tacos were amazing!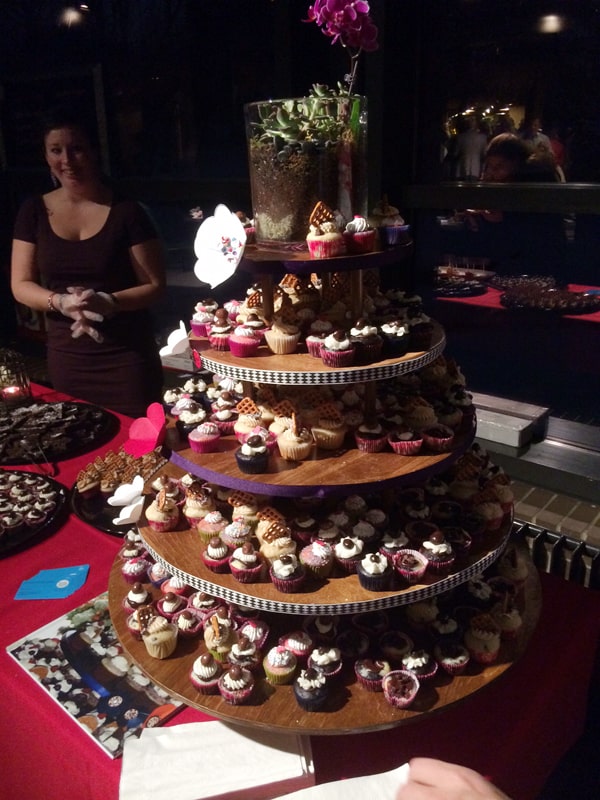 For dessert, I snagged a couple – okay, three! – cupcakes from the Cleveland Cupcake Company: Silly Monkey, Happy Hour and The Pixie. The perfect bite size treat.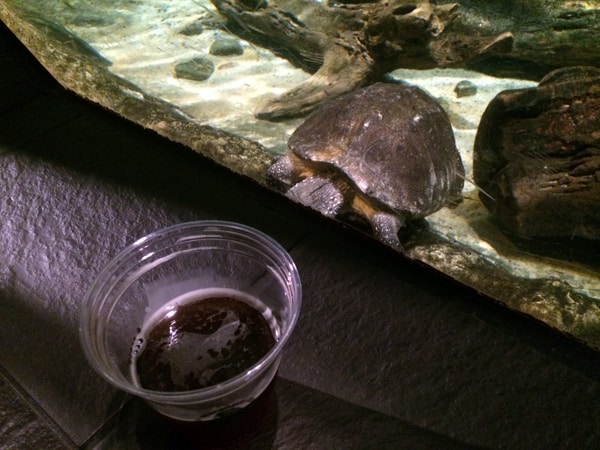 On the first floor, near The Rainstorm, Andy had set his beer down on this ledge and soon a turtle was near attempting to investigate.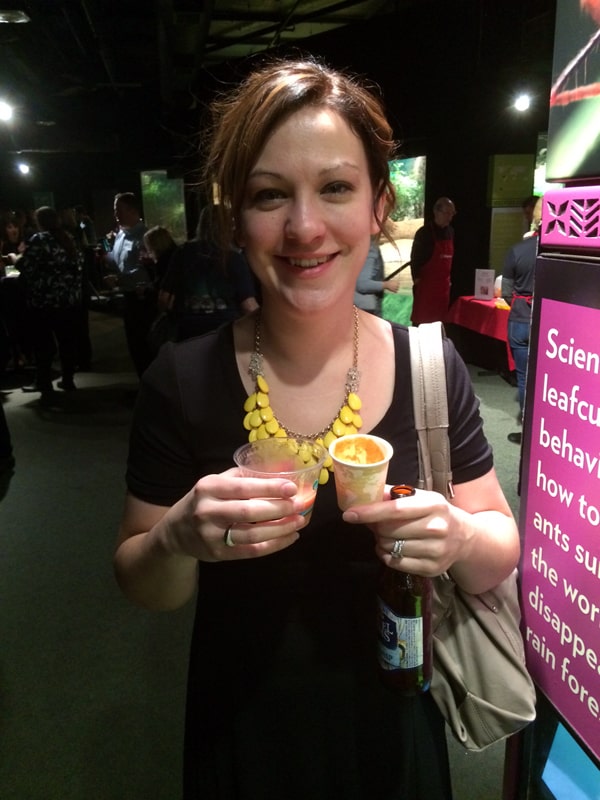 At one point, I was holding three different beverages – a smoothie from the awesome – and local! – folks at Vitamix, a cup of Roasted Red Pepper Soup from AMP150 and a bottle of Sam Adams Cold Snap (which I really need to find and buy for myself!).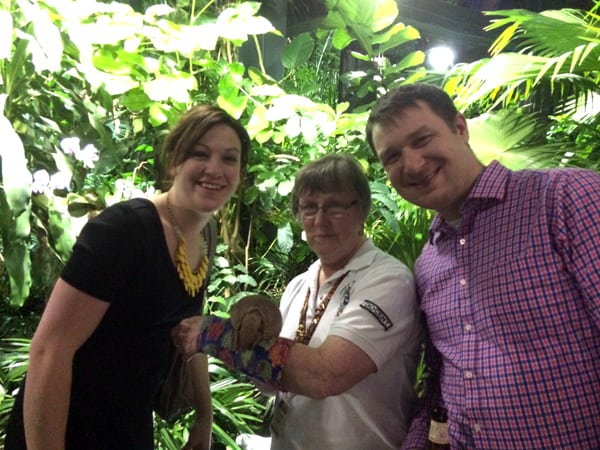 Just a typical date night with a 17 year old armadillo named Ken. No big deal.
The docents at the zoo are amazing and always have a plethora of information to share. Apparently Ken's mother is also at the zoo. Definitely an unheard of lifespan for animals living in the wild. Lucky armadillos, indeed!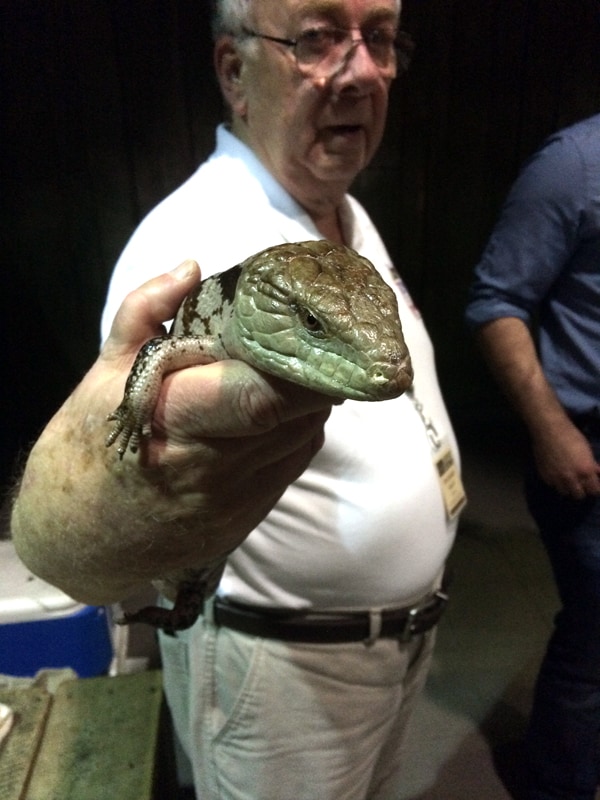 A blue tongued skink. I knew that a certain five year old at our house was going to be more than a bit jealous about missing this interaction.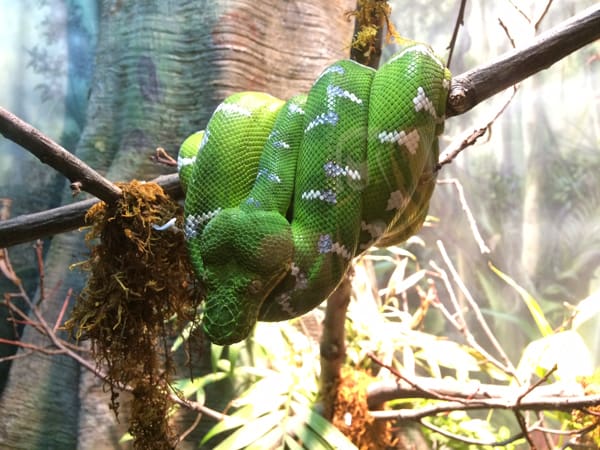 This guy was right up next to the glass in his exhibit. A little too close for comfort for this scaredy cat!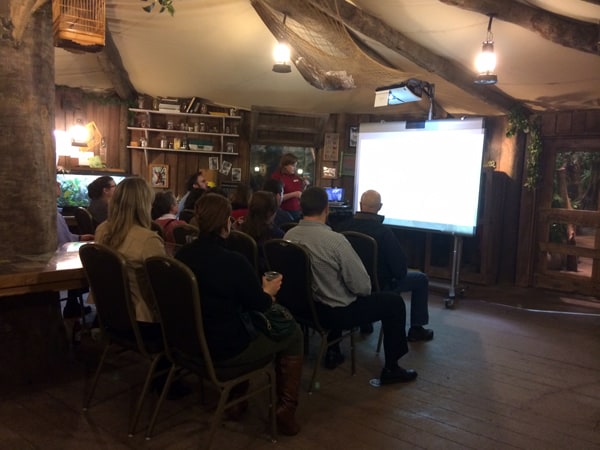 Along with getting up close and personal with several animals, there were also four presentations scattered throughout the RainForest. We hit three out of the four during the three hour event, electing to only skip the wine education themed talk for those that were animal themed.
This presentation was by one of the zoo's general curators on the social dynamics among African elephants. Basically their mating behaviors. VERY interesting.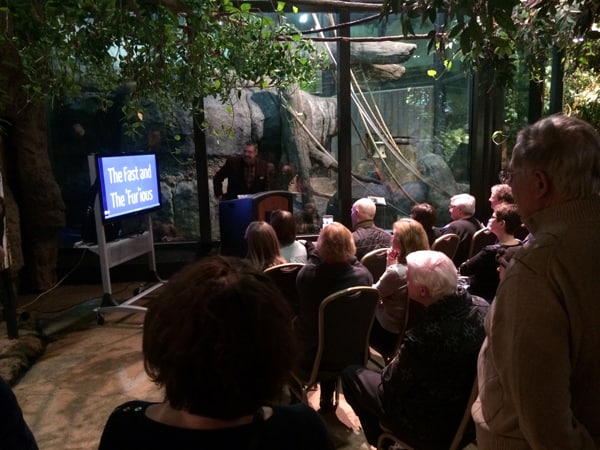 Our second presentation was titled "Bear Foot and Pregnant," and was interactive in that it was presented in a Jeopardy format.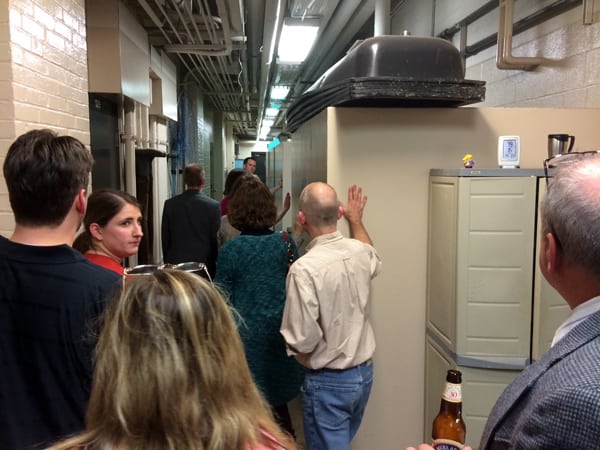 But wait! There was more! Food, drinks, presentations AND there were also two behind-the-scenes opportunities – one with amphibians and the other with reptiles. Andy and I were lucky enough to snag a spot in the last group for the reptile experience. We literally walked through a door in the RainForest and were behind the actual exhibits.
The large tanks that the other guests have their hands on? Large cisterns of water that are being prepped for use with the animals. It's a lengthy process – like two weeks!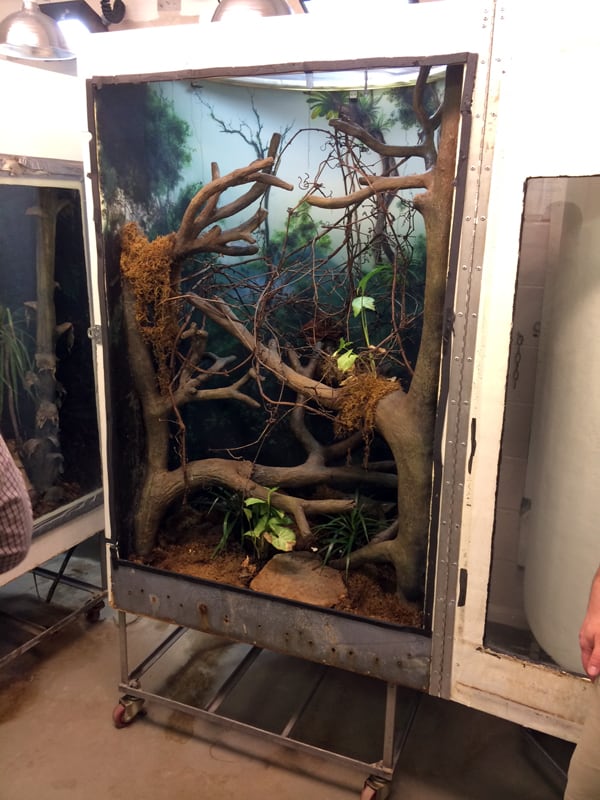 This is one of the snake exhibits, rotated to the back for us to view. Note that it's on wheels to allow the caretakers to easily manage them. The door was wide open but the snake inside wasn't going anywhere.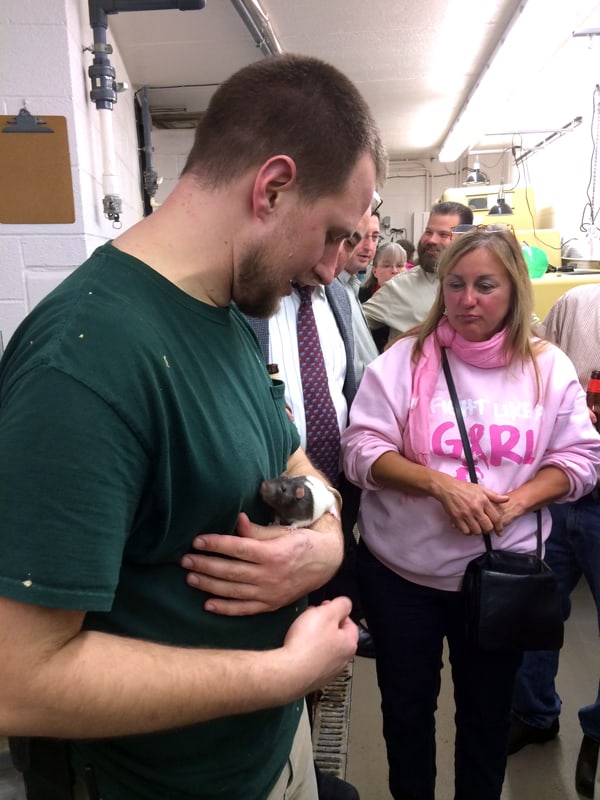 My favorite story from the night was about Mr. Pickles, a large rat.
Apparently one of the zoo's snakes was in declining health and was refusing to eat. They're usually fed frozen and then thawed rats but in attempt to get the snake to eat, they offered it this live rat instead. Unfortunately, the snake still was not interested and his health declined further and passed away. The rat was too large to feed some snakes and too small to feed others so instead, the zookeepers put him in his own cage as their unofficial mascot.
The care given to all of the animals – even one like Mr. Pickles who was originally going to be someone's meal – is amazing.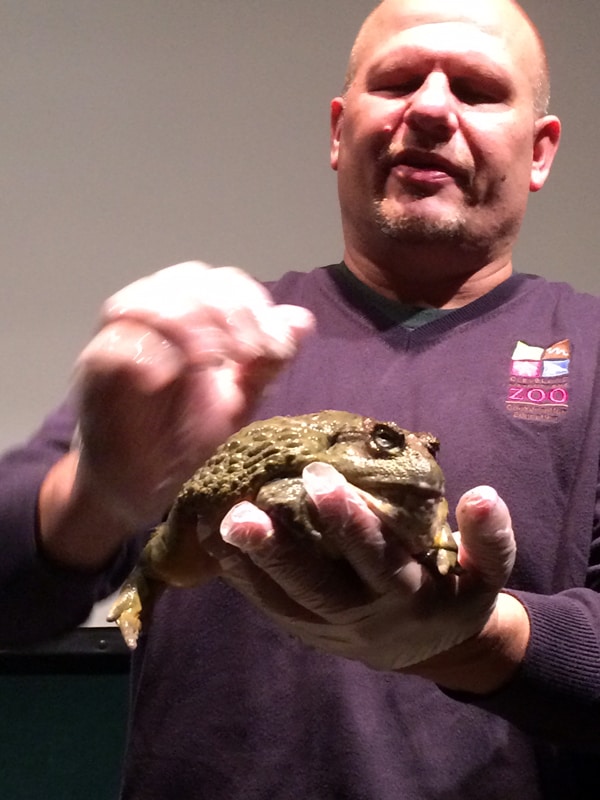 Our last presentation of the night was likely my favorite as it involved three different animals that participate in the zoo's educational shows. The topic was "Oh Baby That's What I Like" and focused on exactly that, what the animals liked.
This toad was HUGE. As in you needed two hands to hold him as he really didn't fit in the palm of one hand.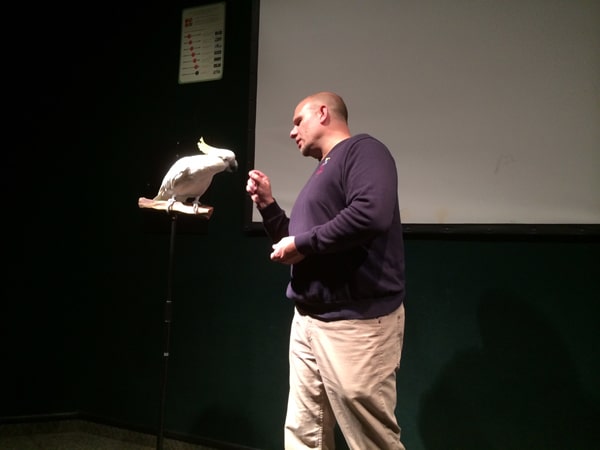 But this bird, he stole the show. The curator discussed when the zoo received him and how they worked with him to master several skills. If the bird (pardon me, as I forgot what kind he was!) doesn't want to perform a skill, they don't push it, they work with him on what he wants to do. I loved learning that when it's time for an educational show at the zoo, the animals are given the option of whether they want to participate or not. Very cool.
Without a doubt, it was another amazing date night at a Cleveland Zoological Society event. I'm already looking forward to the next one!
—–
I was provided tickets to Animal Attractions by the Cleveland Zoological Society in exchange for my preview and review of the event. All thoughts and opinions, as always, are my own.