All the flavors of a coconut macaroon without the effort! Layers of dark chocolate brownie, chocolate coconut ganache and toasted coconut combine to form a truly decadent dessert.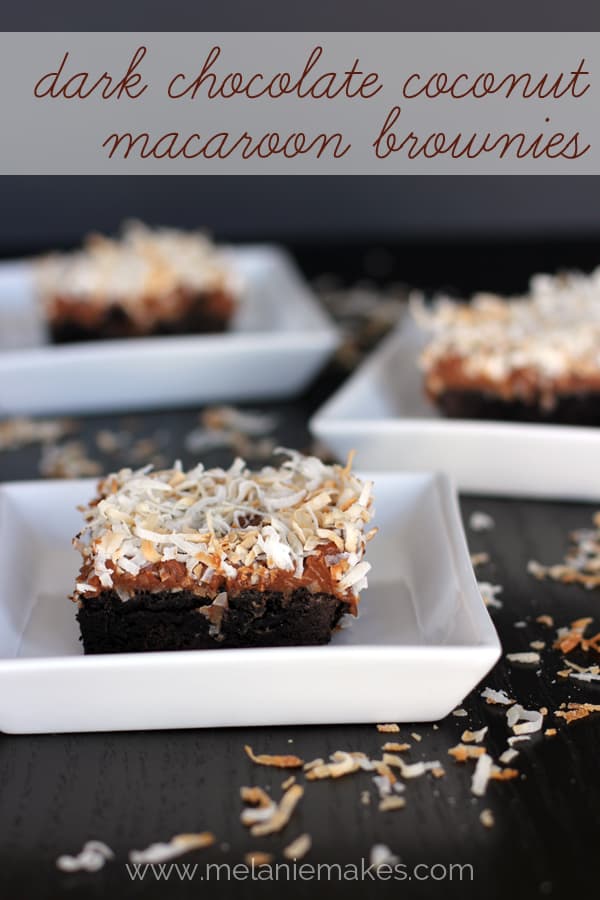 Decadent dessert, anyone? What if I sweeten the deal by saying you can enjoy all the flavors of a coconut macaroon with minimal effort? And did I mention this dessert comes in brownie form!
Oh yes, sign me up!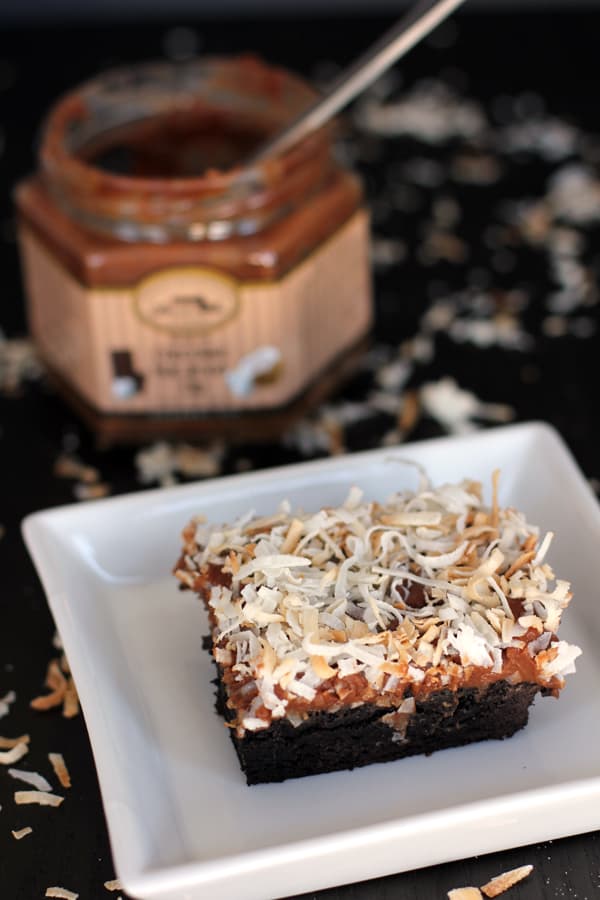 Let me be honest, as much as I love to spend time in the kitchen, I'm usually wrangling children at the same time. Unless of course it's a weekend and my dear husband is home or my lovely in-laws are in town and playing with the menagerie so I can get a bit of culinary therapy.
Attempting to make homemade macaroons? I laugh at the notion. Never going to happen. Too time intensive. I'll add this to my list of things to do once my children are in college and I'm sending them care packages chock full of crazy desserts because I'll have so much time on my hands.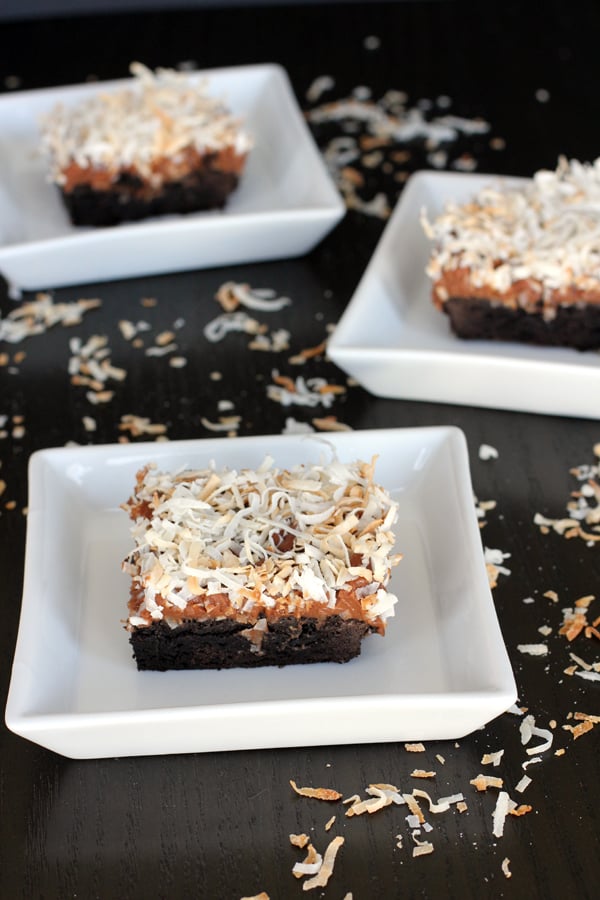 But never fear! These Dark Chocolate Coconut Macaroon Brownies are the perfect way to get the taste you crave with the minimal amount of time you have on hand thanks.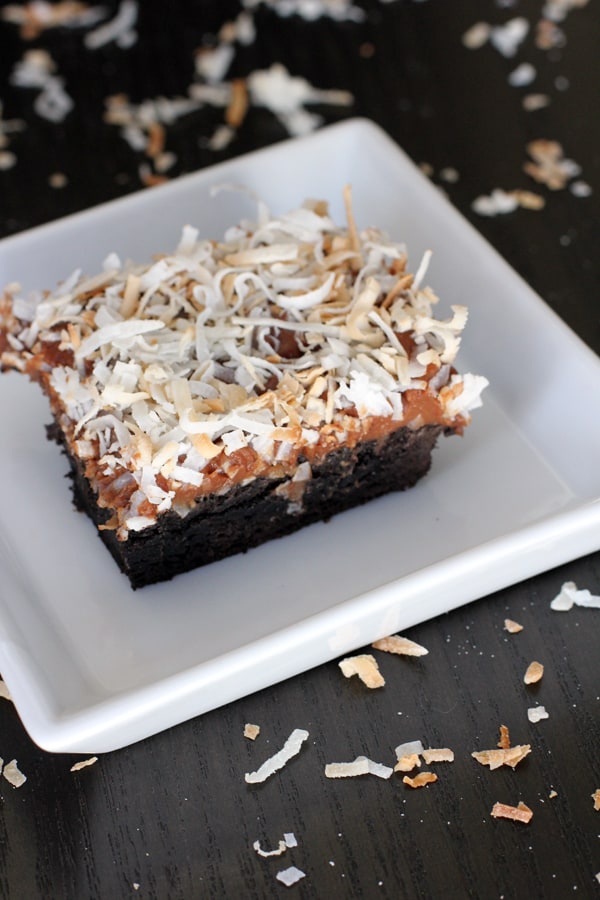 It all starts with a layer of dark chocolate brownie. Now I'm a huge fan of dark chocolate and will always select it over milk chocolate any day, but in this recipe it actually holds a purpose to cut the sweetness of the middle layer. The middle layer, you ask? A creamy chocolate coconut ganache that comes together in less than a minute thanks to the magic in a jar called Robert Rothschild Farm's Chocolate Macaroon Dip. Beware, that stuff is amazing! And lastly, it's all topped by a layer of toasted coconut which also adds a great texture finish.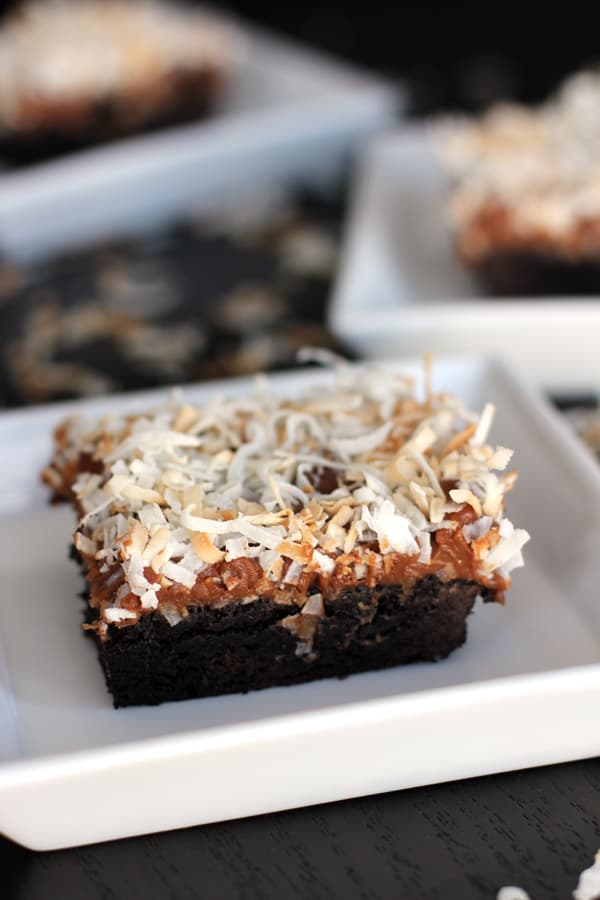 Total time to create – including prep, baking, cooling and final assembly? 60 minutes. Score!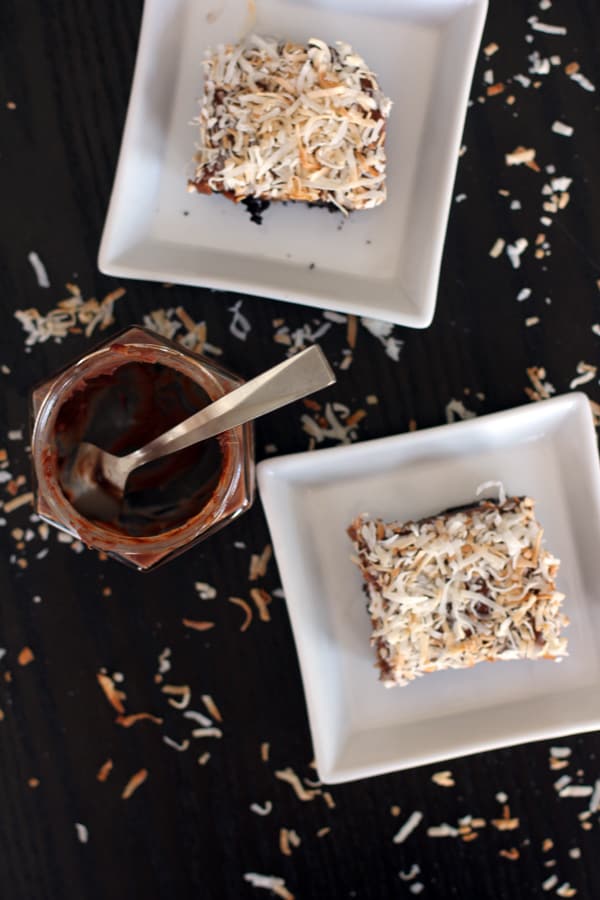 Dark Chocolate Coconut Macaroon Brownies
15 minPrep Time
25 minCook Time
40 minTotal Time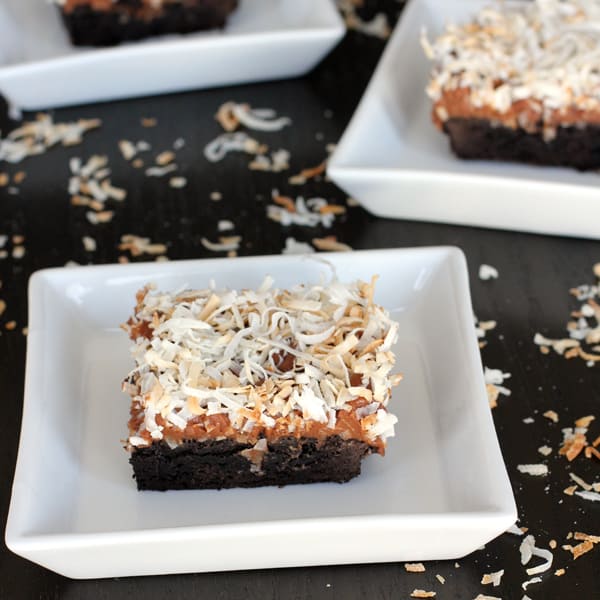 Ingredients
6 tablespoons butter, melted
1/3 cup + 1 tablespoon cocoa
2 tablespoons coffee
1 egg, beaten
3/4 cup + 1 tablespoon sugar
1 teaspoon vanilla
2/3 cup flour
1/4 teaspoon baking powder
2 tablespoons whipping cream
2-1/2 cups coconut, toasted
Instructions
Preheat oven to 350 degrees.
In a large bowl, stir together butter, cocoa and coffee until combined.
Stir egg, sugar and vanilla into cocoa mixture.
Add flour, baking powder and a pinch of salt and stir to combine.
Spray an 8"x8" baking pan with non-stick spray and spoon batter into prepared pan.
Cook for 25-30 minutes or until toothpick inserted into center comes out clean.
Let cool completely.
In a small bowl, add Robert Rothschild Farm Chocolate Macaroon Dip and whipping cream. Microwave for 30 seconds and then stir to combine.
Spread chocolate coconut ganache over cooled brownies.
Sprinkle top of ganache with toasted coconut and lightly pat to adhere layers together.
Cover and store in refrigerator until ready to serve.
Notes
The product featured in this recipe, Robert Rothschild Farm Chocolate Macaroon Dip, is no longer available.
7.6.4
98
https://melaniemakes.com/blog/2014/02/dark-chocolate-coconut-macaroon-brownies.html
Melanie Bauer | Melanie Makes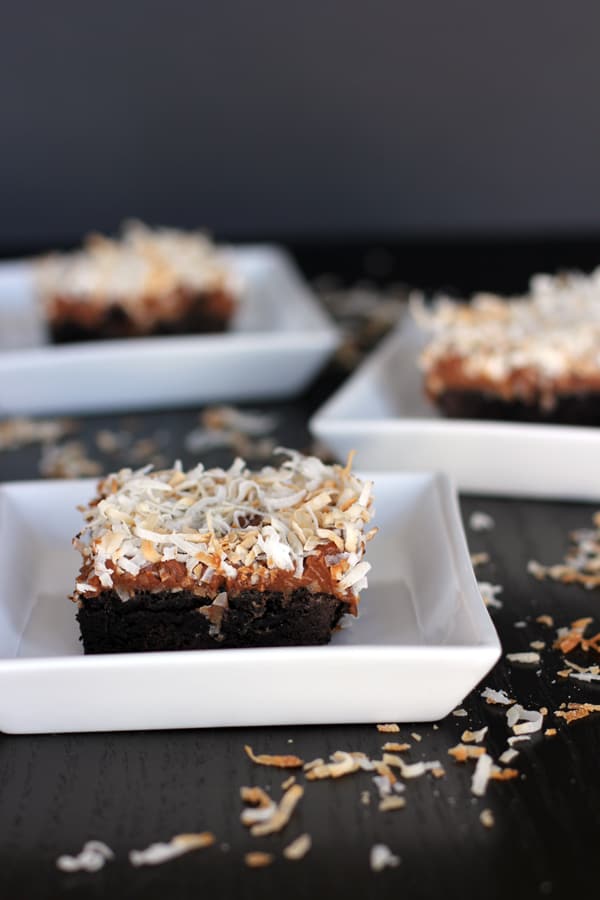 After sharing a photo of these beauties with some fellow preschool mom's via text message yesterday, they're already requesting these as a treat for a playgroup we have planned in two weeks. I have no doubt they'll be a hit for both age groups in attendance!
To celebrate my one year anniversary of Melanie Makes, my friends at Robert Rothschild Farm are helping me to host a giveaway for my awesome readers by giving you a chance to win this awesome International Sauce Basket! See the giveaway widget below for your chance to win.
—–
I was compensated by Robert Rothschild Farm to create a recipe featuring their product. As always, all thoughts and opinions are my own.