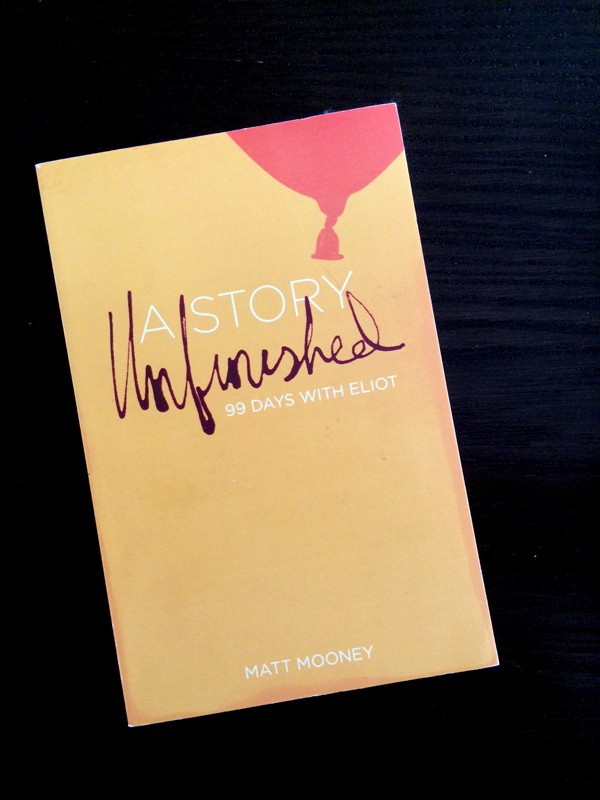 I love to read. LOVE. The problem is always finding time. Before moving to Cleveland, I would go to bed earlier so that I had a chance to read before going to sleep. Now, I find myself falling asleep before turning a page because I stay up way too late. Something I really need to be better about.
My first book of 2014 was A Story Unfinished: 99 Days With Eliot. I knew the basic storyline before opening the cover and couldn't even comprehend – I still can't – what the author had gone through.
Matt Mooney, the author, and his wife Ginny were pregnant with their first child. Like Andy and I, even though they had decided not to find out the gender of their baby at the traditional 20 week ultrasound where gender is revealed, they were so excited to simply catch a glimpse of their baby. While thrilled to see their baby on the ultrasound monitor, it was somewhat overshadowed by the news that there were things a few things that the doctors would need to keep an eye on. The baby appeared to have cysts on it's brain (not that unusual) and also had a two vessel umbilical cord instead of three.
Ten weeks later at a follow-up ultrasound, they received the heartbreaking news that the abnormalities presented earlier with their baby were now more evident. A hole in the heart, enlarged kidneys… It was determined their baby had Trisomy 18 syndrome.
Wishing for prayers from family and friends regarding their baby's condition, Matt started a blog.
"The plan was to point our friends to it and ask for prayer. Our feelings would be there for viewing by anyone who wanted to do so. You would not have to wonder, we would tell you…"
And so their story played out online. To not only family and friends, but to so many others around the world praying for these soon-to-be parents and their baby who was expected to live only hours or at most a few days.
The day Eliot was born was one that should've been one with great expectation. Instead, Matt and Ginny were dealing with the uncertainty of knowing how much time they would have with their child. The pain and anguish that they must have felt I simply can't imagine.
99 days. The amount of time Eliot lived on this earth. Not a few hours, not a few days. 99 days. And during this time, the faith of his parents was something to behold. Matt continually writes about giving up the notion of being "safe."
"Only by faith, and never by reason, do we stand in line for the very ride that all within us says to avoid…It is in letting go of the pursuit of safety that we find rest in the grasp of the One who is truly in control. By faith alone we believe that He is good, that He is with us, and that He is authoring a story of redemption and purpose that is not yet completed."
A lesson that no matter your journey through life is applicable.
An amazing read to begin the new year and one that has inspired me countless times since finishing the last page.
To celebrate my one year anniversary of Melanie Makes, I'd love to send a copy of "A Story Unfinished" to a reader. See the giveaway widget below for your chance to win.
—–
I was provided a copy of this book by the publisher, Beacon Hill Press. All thoughts and opinions, as always, are my own.