Eight ingredients, a bowl and a wooden spoon. That's all there is to this Simple Sweet Cornbread. The perfect side dish for your favorite comforting soup, chili or stew.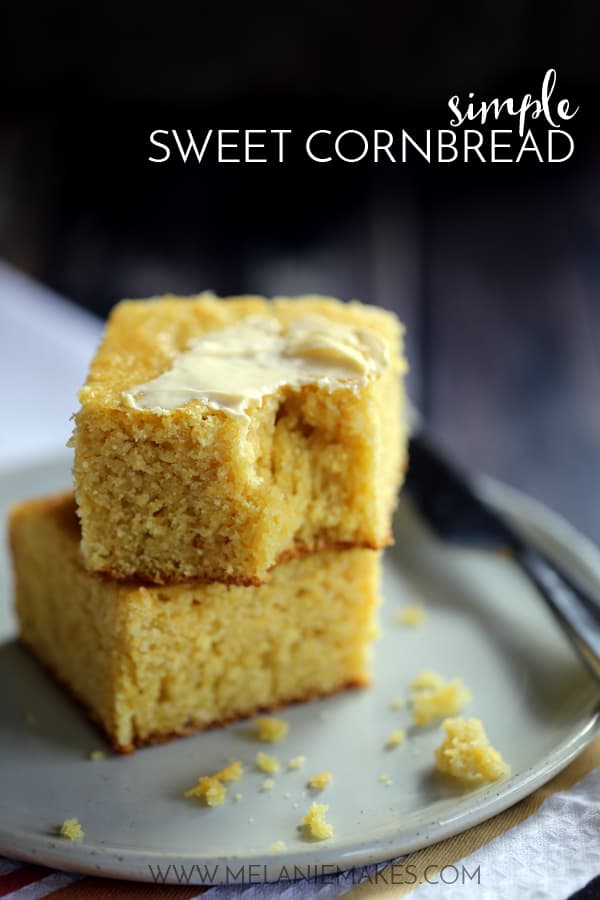 There's a reason behind why I like to make chili when the weather turns colder. Whether it's my Beer Braised Beanless Chili or my Stuffed Baked Potato Chili, the reason, my friends, is simple. Cornbread. I puffy heart love cornbread. Especially slathered in butter. The texture of each crumb, the hint of sweet… This recipe for my Simple Sweet Cornbread makes a large 9×13 pan and it rarely lasts 24 hours in our house.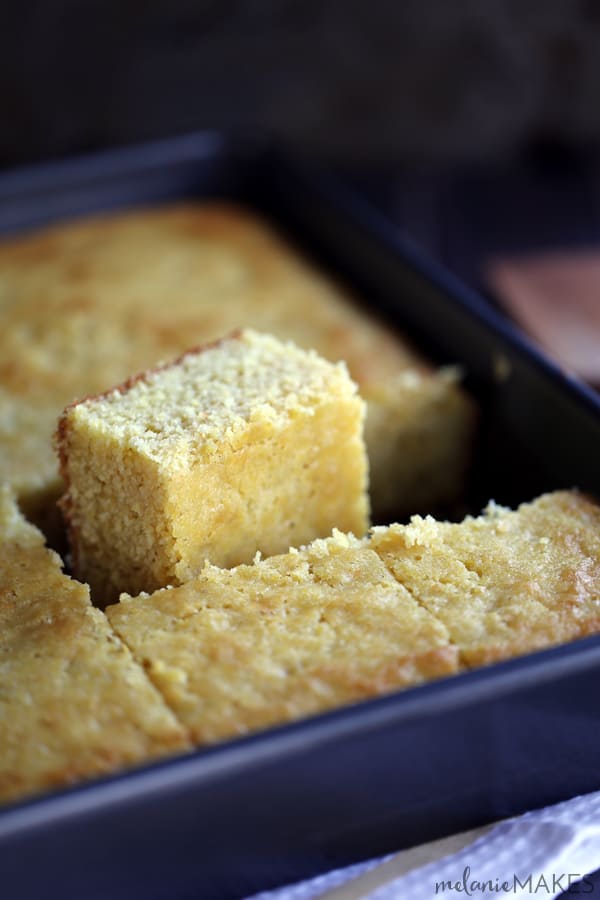 I may or may not enjoy any leftovers for lunch the next day. Just cornbread. No other dishes need apply.
Carb lovers of the world, unite!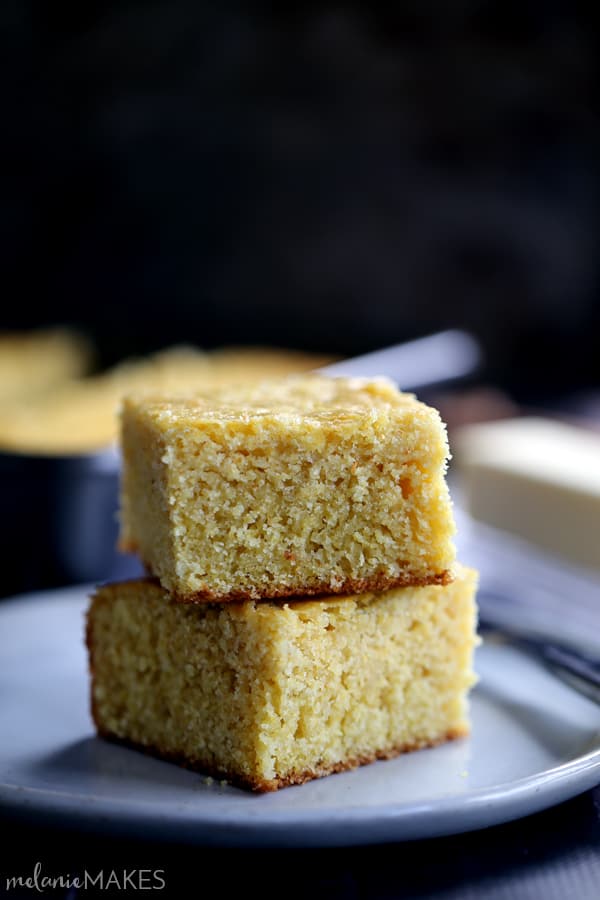 With just eight ingredients stirred together before baking, this moist Simple Sweet Cornbread couldn't be easier. And when I say sweet, I don't mean over the top. I mean a hint of sweet that sets it apart from those other cornbreads you might have tried before. I definitely prefer a bit of sugar in my cornbread!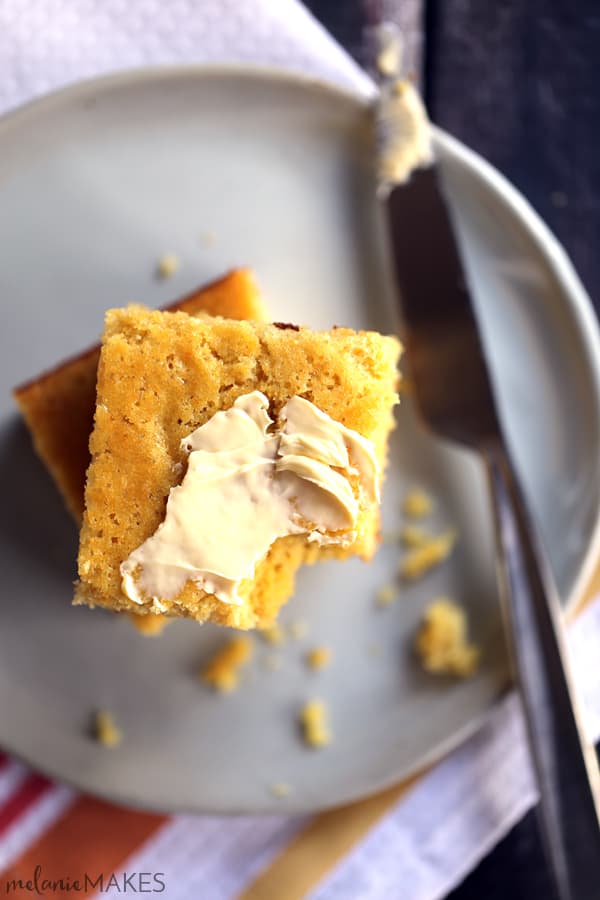 Melanie Bauer
Simple Sweet Cornbread
10 minPrep Time
30 minCook Time
40 minTotal Time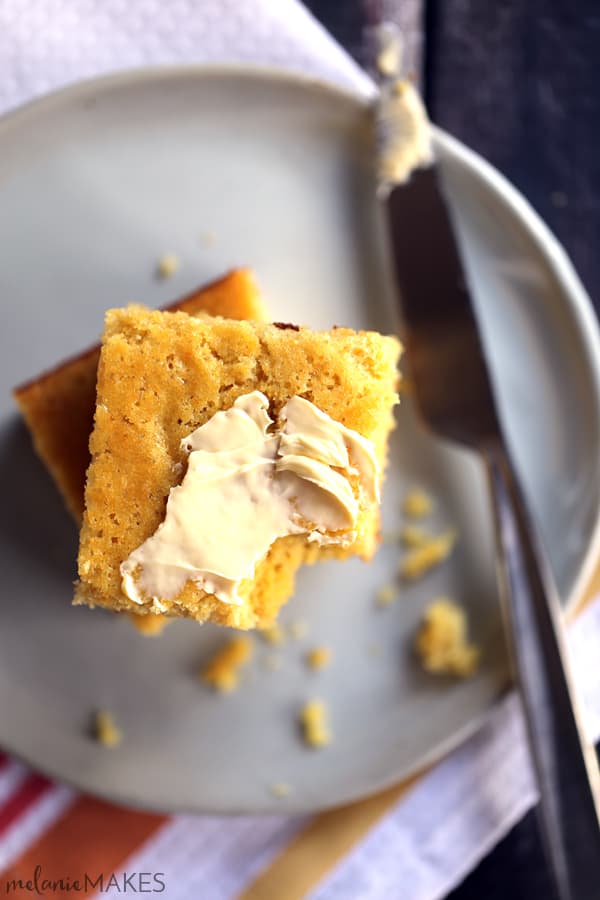 Ingredients
1 cup butter, melted
1 cup sugar
4 eggs, beaten
2 cups buttermilk
1 teaspoon baking soda
2 cups cornmeal
2 cups flour
1 teaspoon salt
Instructions
Preheat oven to 375 degrees.
In a large bowl, stir together butter and sugar. Add eggs and buttermilk and stir to combine.
Stir in baking soda, cornmeal, flour, and salt until well blended but being careful not to overmix.
Spray 9x13 dish with cooking spray and pour batter into prepared pan.
Bake for 30 to 40 minutes, or until a toothpick inserted in the center comes out clean.
7.6.4
100
https://melaniemakes.com/blog/2014/02/simple-sweet-cornbread.html
Melanie Bauer | Melanie Makes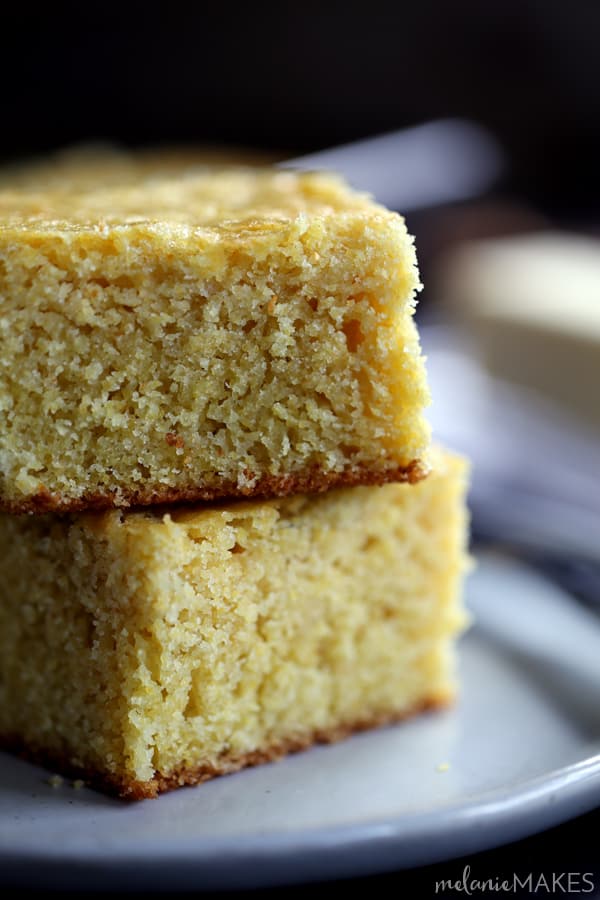 So wait no longer! Suggest to your family that tonight would be a great night for chili for dinner. And, of course, that also means a great night for my Simple Sweet Cornbread as well.