As part of a sponsored post for Collective Bias®, I created this Grilled Chicken Spinach Salad Quesadilla and Sparkling Raspberry Peach Tea as healthy summer recipe ideas. #CollectiveBias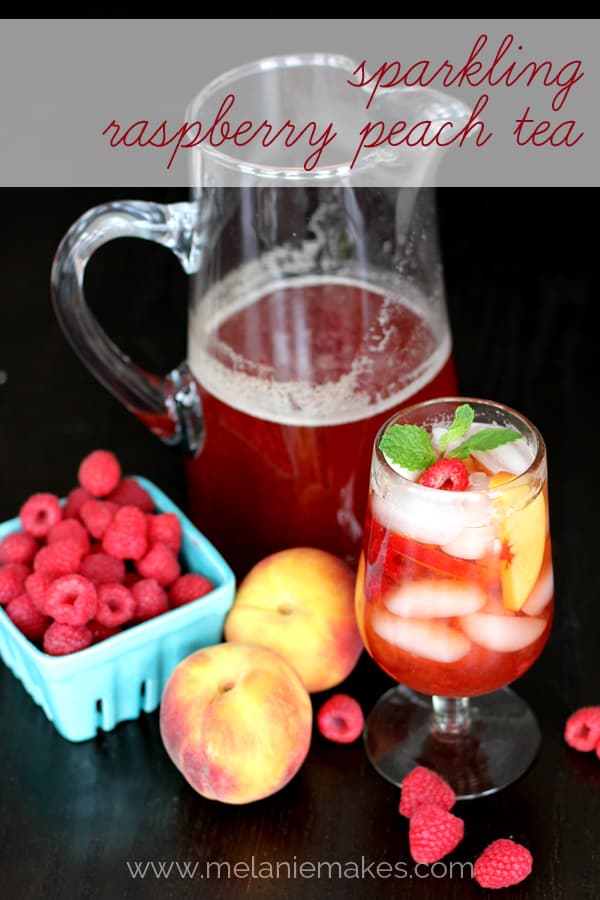 For the first time in my life, I can officially say I'm over winter. OVER. IT. Three rounds of polar vortex-like weather will do that to a girl, I suppose. The snow I don't mind so much, it's the never getting warm part that I have issues with.
This past weekend, I decided to take matters into my own hands and fast forward to Summer. I'm longing for the days where we're sitting outside eating a leisurely meal on the patio and afterwards the girls are running around and shrieking at the top of their longs. Heck, at this time bring on the humidity as well as the heat. We're going to go all out!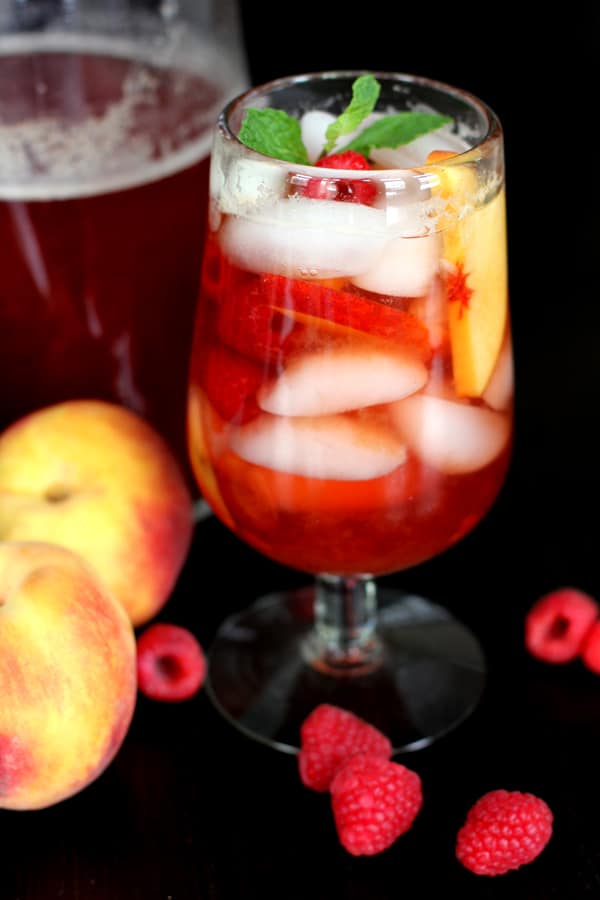 If there's one thing I drink year round, no matter what the temperature, it's iced tea. And by drink, I mean, by the pitcher on a daily basis. It's something I make in the morning and then drink throughout the day. Since I was attempting to lure the warm temperatures to Cleveland this past weekend, I decided to give my ordinary glass of iced tea as warm weather makeover.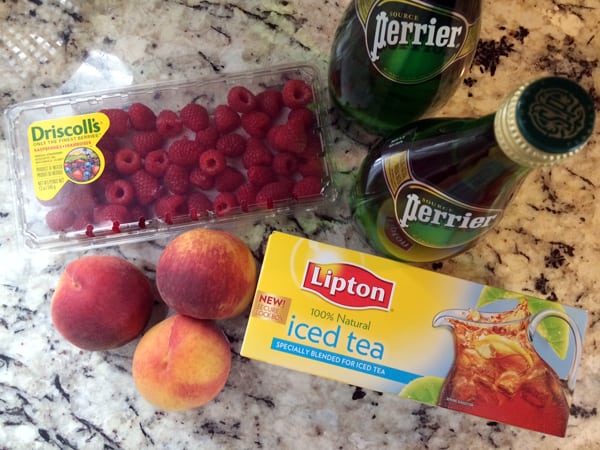 Enter my Sparkling Raspberry Peach Tea. Nothing screams summer like slices of fresh peaches and delicious red raspberries floating happily alongside a handful of ice cubes. Add a party type atmosphere to your glass with a bit of bubbles from the addition of sparkling water and you've got the perfect drink to quench your Summer thirst.
I can see me sipping this in the backyard now. I bet it would taste even better drinking it from a hammock.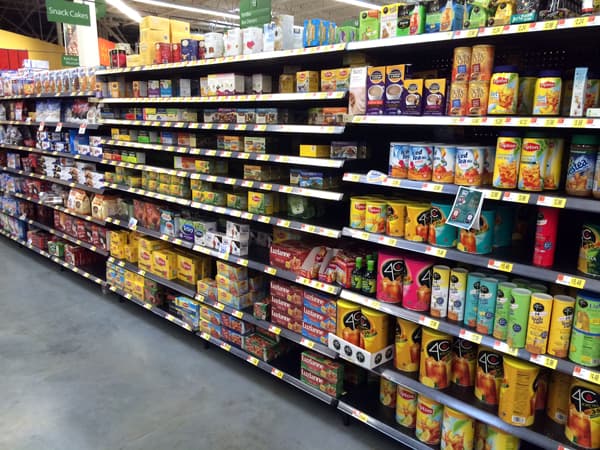 I found the Lipton Iced Tea bags on a recent trip to Walmart. The perfect choice for my summer styled sparkling ice tea! I love that the tea is a blend specifically intended for the way I was going to prepare it. A success waiting to happen.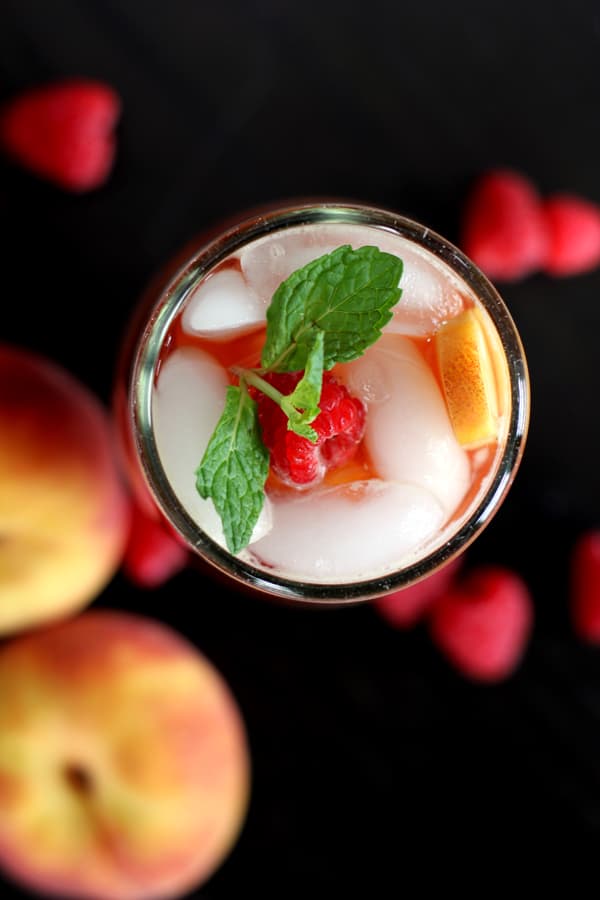 [amd-zlrecipe-recipe:55]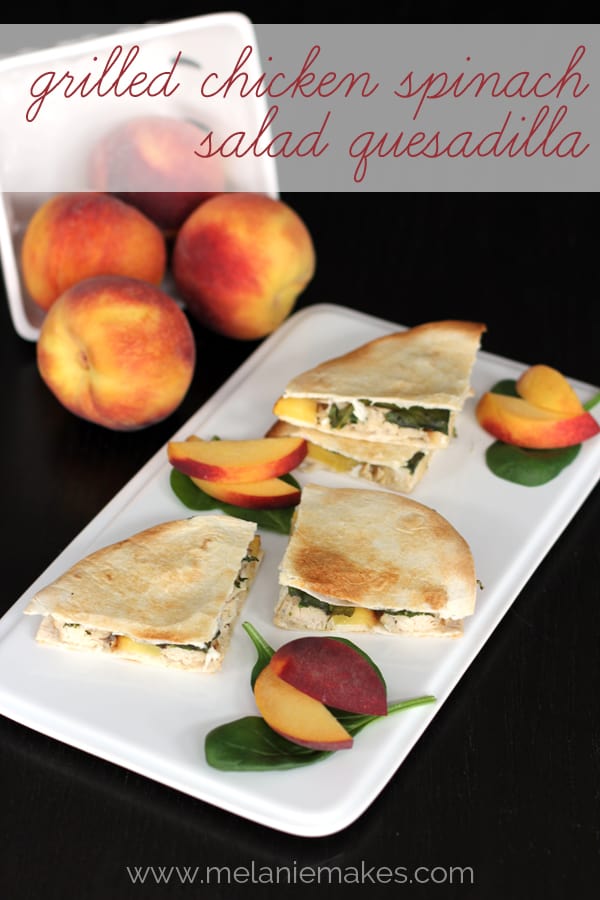 Since we were pretending it was Summer and ignoring the snow falling once again outside our window, I decided a light lunch would be the perfect compliment to the Sparkling Raspberry Peach Tea I was sipping. And hey, wouldn't it be nice if they an ingredient that tied them both together?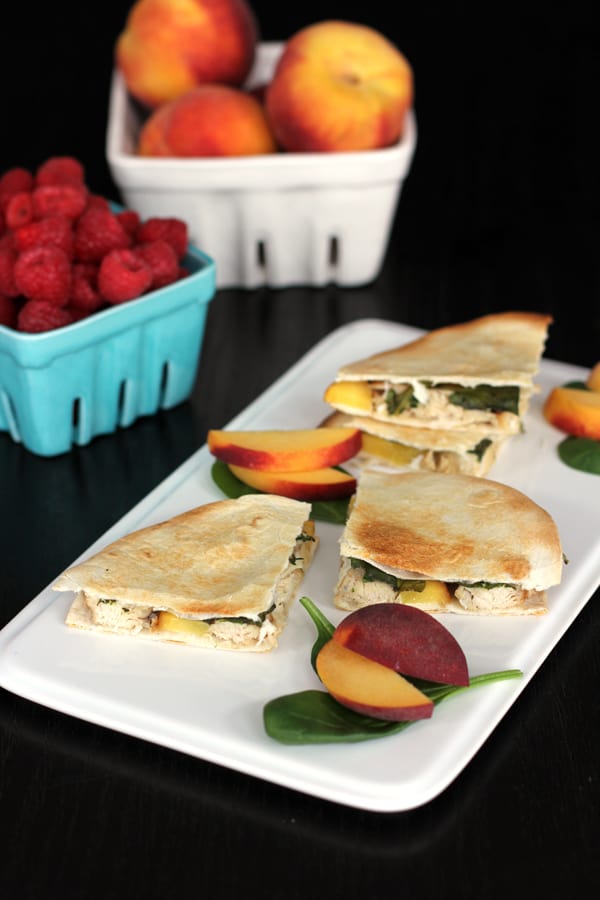 I've combined a few warm weather favorites into an easy to prepare quesadilla. Grilled chicken, peaches and spinach salad are all great on their own but combined with the melty goodness of goat cheese and housed in between two quesadillas, they're out of this world.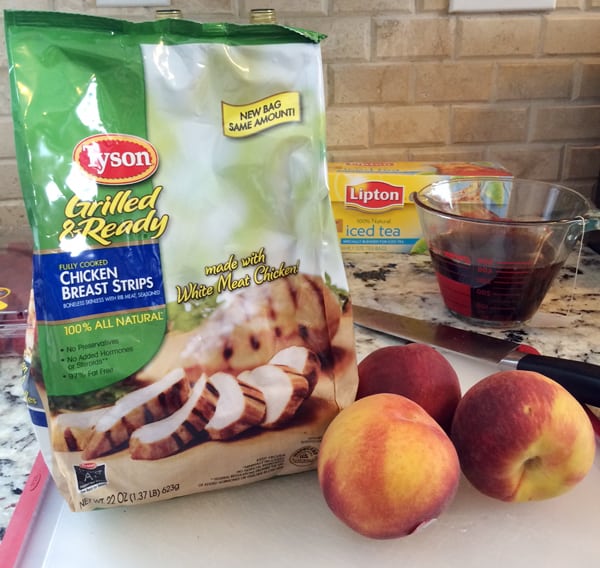 In less than ten minutes I had lunch ready thanks to Tyson Grilled & Ready Chicken. I simply heated the amount of chicken breast strips I needed in the microwave and then I was ready to assemble our lunch.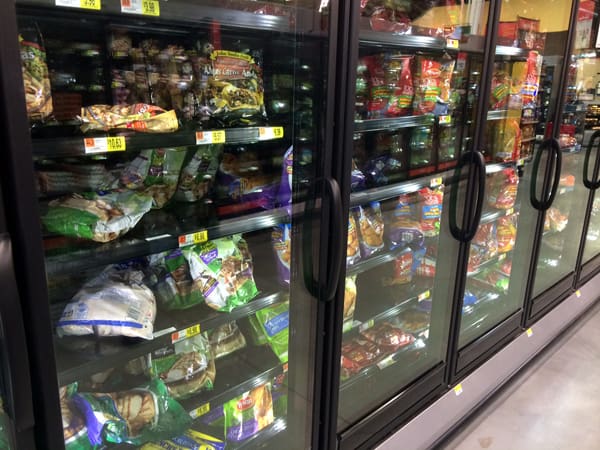 The chicken was also a Walmart find and a total timesaver when you're looking to prepare a quick meal. The fact that it's precooked and 100% all natural? AWESOME.
Grilled Chicken Spinach Salad Quesadilla
10 minPrep Time
5 minCook Time
15 minTotal Time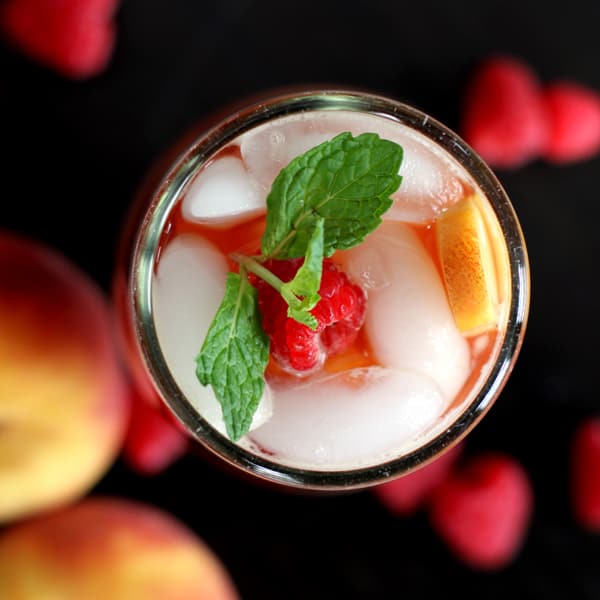 Ingredients
2 cups Tyson Grilled & Ready Chicken
1 peach, sliced
4 ounces goatcheese
2 cups baby spinach
8 tortillas
Instructions
Preheat oven broiler.
Warm chicken in microwave according to package directions.
On a parchment covered baking sheet, place 4 tortillas.
Top each tortilla with 1/2 cup chicken, peach slices, 1 oz. goat cheese and 1/2 cup spinach.
Add second tortilla over quesadilla filling.
Broil for 2-3 minutes or until beginning to brown. Flip and broil and additional 2 minutes.
Cut into wedges and serve.
7.6.4
30
https://melaniemakes.com/blog/2014/03/4061sparkling-raspberry-peach-tea-and-grilled-chicken-spinach-salad-quesadilla.html
Melanie Bauer | Melanie Makes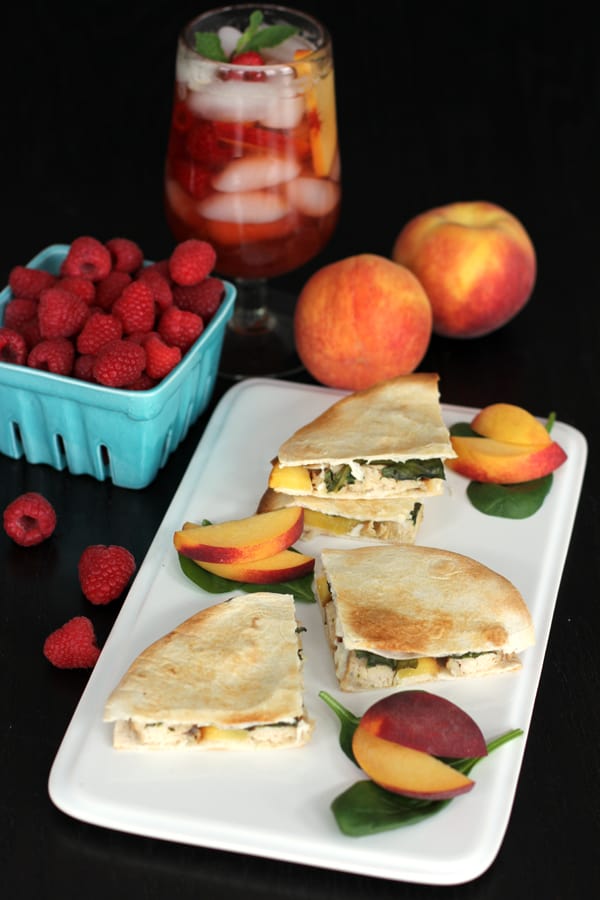 If there's anything better than a fresh, flavorful Summer meal, it's a healthy one that can be prepared quickly so that you can continue to enjoy your day.
Now to figure out how to entice the warm weather to show it's face… Perhaps I'll ponder that one while enjoying another glass of tea.