Avoid chicken burnout and awaken your weekly menu plan with this Chicken with Roasted Lemons and Green Olives.  Brighten your plate and your taste buds with this dynamic duo of ingredients.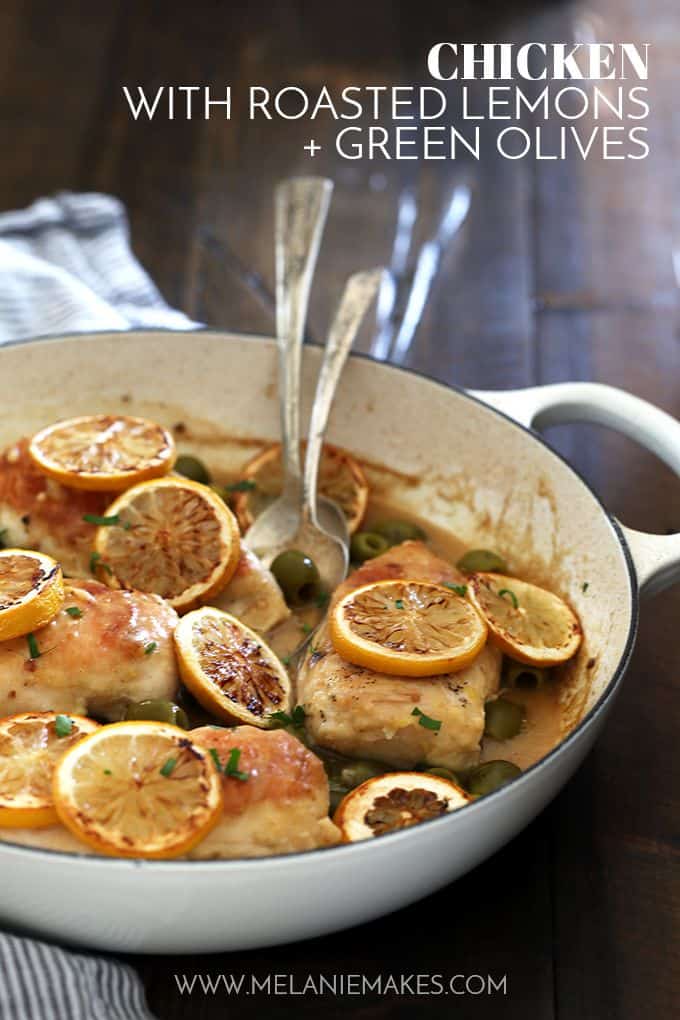 Keep in touch!  Subscribe to receive Melanie Makes recipes direct to your inbox.
Our family loves chicken.  Or maybe I should say, I love chicken so thus I feed my family large amounts of it.  With that being the case, I'm always looking for a way to shake things up so that we avoid the dreaded chicken burnout.  New ingredients and unexpected flavor combinations are always an easy way to make that happen.  This Chicken with Roasted Lemons and Green Olives happens to have both!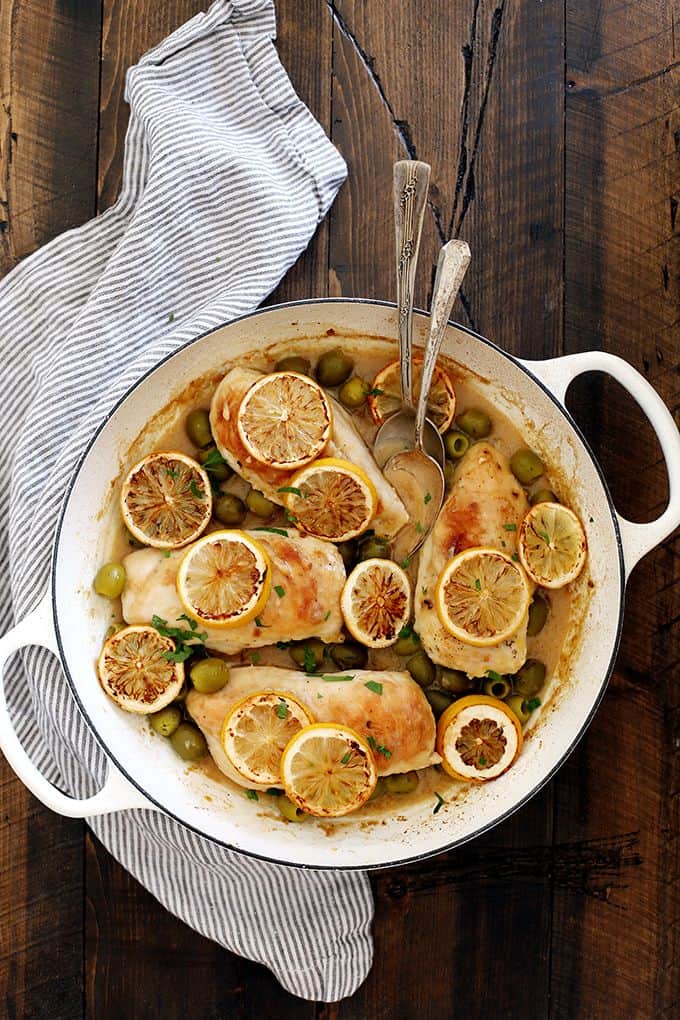 Isn't it pretty?  Sure it looks high class, but it couldn't be easier to pull together.  Clean up is pretty minimal as well.  In no time you'll have a super flavorful and easy dinner on the table.  Entertaining?  This Chicken with Roasted Lemons and Green Olives is a great main course option for guests as well!  You won't even have to tell anyone just how easy it was to make.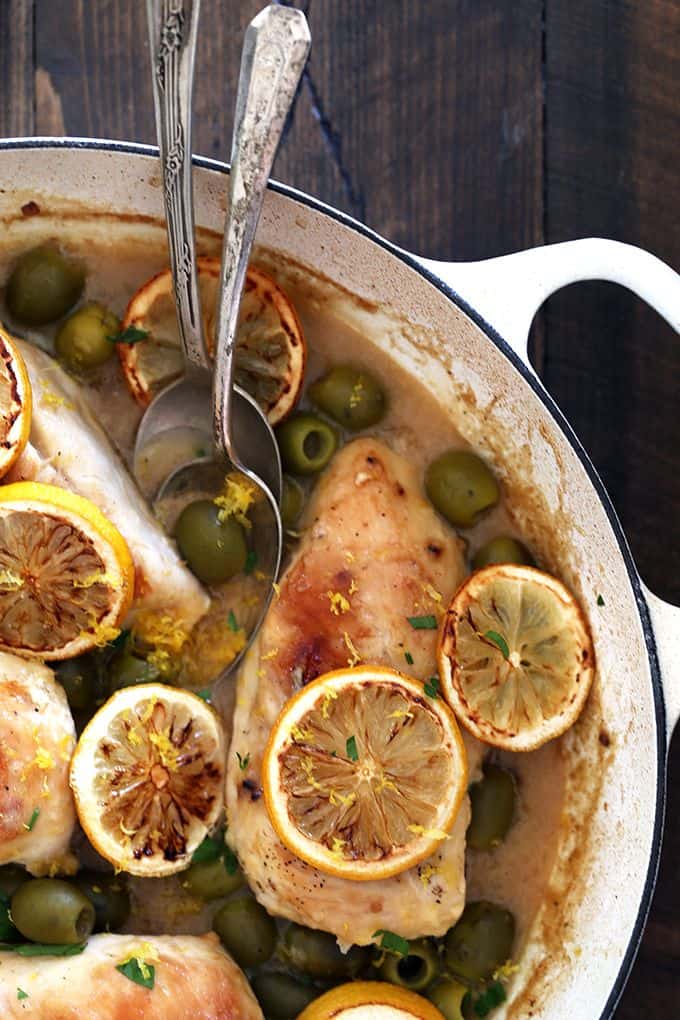 Bright slices of sunshine yellow lemon are roasted to bring a bit of sweetness to their typically tongue puckering taste.  And the olives?  These aren't the tart Spanish olives that you're likely accustomed to.  These green California olives are smooth and almost buttery.  A little salty, a bit nutty and the perfect compliment to the lemon.  Resist the urge to keep plucking them out of the pan as you're cooking.  I dare you!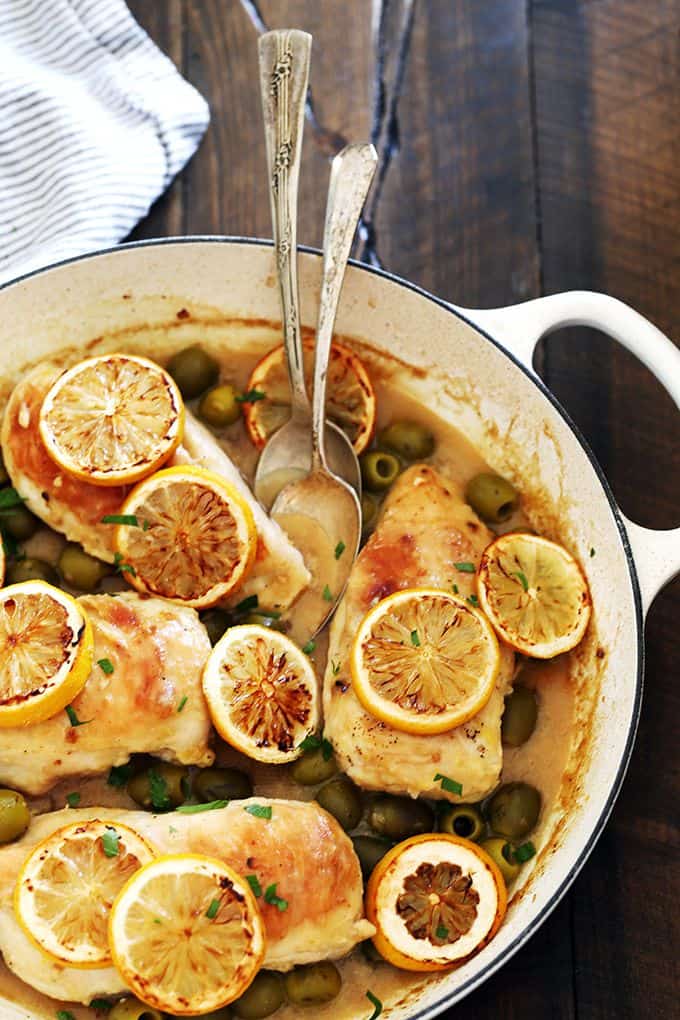 Wake up your weekly menu with this Chicken with Roasted Lemons and Olives dish.  One that will awaken your taste buds and leave you marveling at the dynamic duo of lemons and olives.  I know I for one wouldn't have originally thought to pair the two together, but they really do work!  And for some reason, my children can't resist the urge to eat slice after slice of roasted lemon.  If you're looking to round out your meal, I can testify that my Easy Cheesy Hash Brown Potatoes, Cheesy Corn Casserole or Cheddar and Cream Cheese Skillet Cornbread would all be great options!
I'm also of the mindset that you can never have too many delicious chicken recipes in your recipe arsenal.  After trying this recipe, I'm betting you'll also want to give this succulent Oven Baked Crispy Chicken, comforting Easy Pizza Chicken or One-Pot Paprika Chicken Thighs a try.
Chicken with Roasted Lemons and Green Olives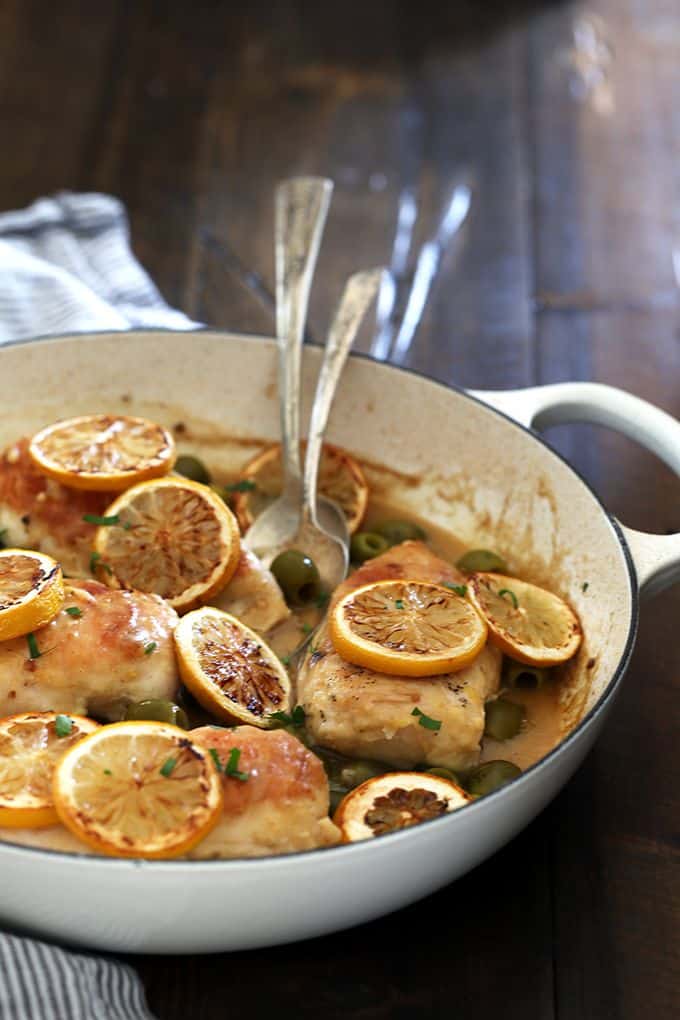 Ingredients
3 lemons
1/4 cup + 1 tablespoon flour
2 pounds boneless, skinless chicken breasts
3 tablespoons olive oil
5 garlic cloves, minced
1-1/4 cup chicken broth
6 oz. can green ripe California medium pitted olives, drained (I used Lindsay brand)
Instructions
Preheat oven to 325 degrees.
Cut two lemons, ends trimmed, into twelve 1/4" slices. Arrange in a single layer on a parchment lined baking sheet. Roast until lightly browned around edges, 30 to 35 minutes, turning halfway through cooking time. Set aside.
Place 1/4 cup flour in a shallow bowl. Season chicken with salt and pepper and coat with flour, shaking off excess. In a large skillet, heat oil over medium-high heat. Add chicken and cook until browned, 3-4 minutes per side. Remove and set aside.
Add garlic to skillet; cook 30 seconds. Add 1/4 cup chicken broth and cook, scraping up browned bits from bottom, until reduced by half, about 1 minute. Whisk in remaining tablespoon flour; cook until just staring to brown, about 30 seconds. Add 1/4 cup broth, whisking until combined. Add remaining broth, olives, and zest and juice from third lemon. Return chicken to skillet and bring to a simmer. Cook chicken, turning once, until opaque throughout, 8-10 minutes. Add roast lemons slices and stir to coat.
7.6.4
35
https://melaniemakes.com/blog/2014/03/chicken-with-roasted-lemons-and-green-olives.html
Melanie Bauer | Melanie Makes