High on my to-do list after we had moved to Cleveland and gotten settled was to get Leighton and Carson signed up for swimming lessons. All three kids have been taking swimming lessons year-round since they were 5 months old so not being in lessons for three months was a bit out of the norm. In our family, swimming lessons are a non-negotiable. The menagerie is allowed other activities, but swimming lessons will always be on their calendar.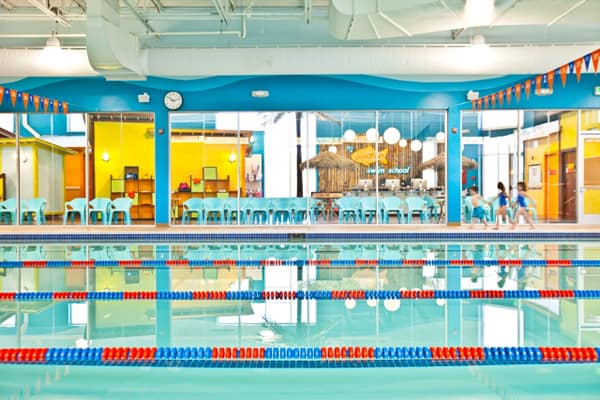 On our trip to Cleveland to look for a home, I heard mention of Goldfish Swim School and filed it away in the back of my brain until September when I was able to arrange an initial lesson for Leighton. I knew that I would be swimming with Carson and Camryn has swimming lessons at school so that was the first step in getting the ball rolling.
And that photo above? That's exactly what the facilities look like. Bright and airy. There are even two turtles and an aquarium full of fish that Leighton and Carson love to watch before their lessons start. And can I mention the changing rooms? Family sized changing rooms that the three of us can fit in comfortably. Such a luxury and so appreciated!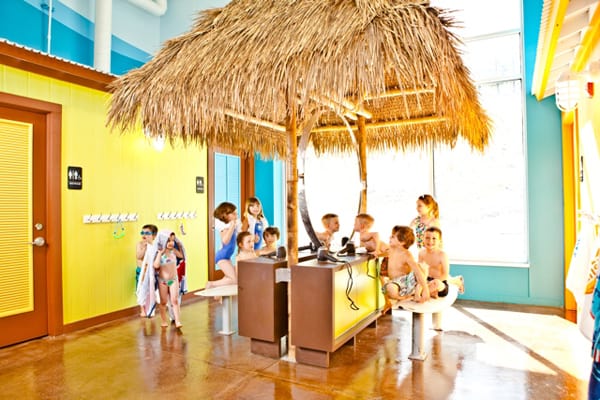 Leighton's initial lesson was the first of many weekly visits to Goldfish Swim School. I deemed it the perfect fit for us as it was so similar to our prior swim school in Wisconsin that it was an easy transition. 30 minute lessons each week, year-round allow students to built on what they've learned the week prior and build a great relationship with their instructor.
Swimming lessons not dictated by the weather as they're inside where the pool is heated to 90 degrees? Let me tell you was definitely what had me motivated to continue to go to lessons even through three rounds of polar vortex-type weather this winter.
Each class can have only four students which allows for amazing instruction time and customization of the lesson to fit each student to insure they reach the goals of the class. Leighton's lesson is at the same time as Carson's where I'm in the water with him. I love that the last 5 minutes of class are dedicated to providing a progress report for the parents. I'm able to finish my lesson with Carson and simply walk down a couple lanes of the pool where Leighton's teacher is able to have her perform the skills she's worked on that day and let me know what she needs to work on and what she's mastered. It's so helpful to have that feedback as then I'm able to talk to Leighton about it as well afterward and before the next week's lesson to insure she knows what's expected of her.
These perpetual lessons are so beneficial to younger students, like Carson, who at times are anxious of new people. Having lessons with the same teacher each week has really given him a sense of trust. He so enjoys his lessons and likely doesn't realize that he's learning and not just playing. In the last month, he's finally learned that floating on his back is not something to be anxious about thanks to something his teacher said about his love of trains. We now search for trains on the ceiling as I assist him floating on his back down the length of the pool. Without his teacher knowing how much he loves trains, I'm sure he would still be dreading this part of his lesson. Even as his mama, I never would've thought to suggest this!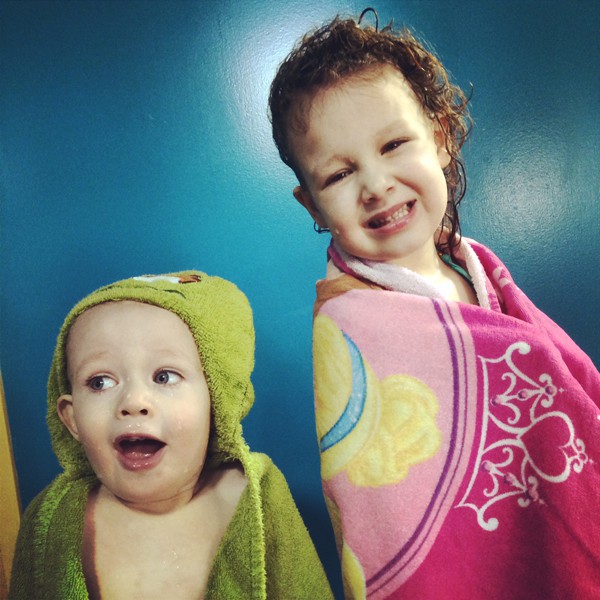 This week's lesson ended in Leighton not only getting a ribbon to celebrate her birthday the week prior but also a ribbon celebrating her advancement to the next swimming level. Proud mama moment for sure!
Want to give Goldfish a try for your children? The kind folks at the Cleveland East Side location are allowing me to offer a free Jump Start Clinic ($122.50 value) to one of my readers. Jump Start Clinics are five consecutive days of 30-minute swim lessons that help children brush up on swim skills and get ready for endless summer swimming. I'm actually planning on signing Camryn up for one of these clinics for her to be able to brush up on her skills while she's out of school.
See the giveaway widget below to enter:
Have questions about Goldfish? I'd love to help answer them! Feel free to leave a comment or to send me an e-mail.
—–
I was provided free swimming lessons by Goldfish Swim School for one month in exchange for my honest review. As always, all thoughts and opinions are my own.