Full of protein packed quinoa, orange bell pepper and roasted mango and peaches, this Sweet and Spicy Quinoa Fruit Salad is like an escape to a tropical island. A bit of sweet heat and a sprinkling of toasted coconut finish this salad that's perfect to bring to your next get together.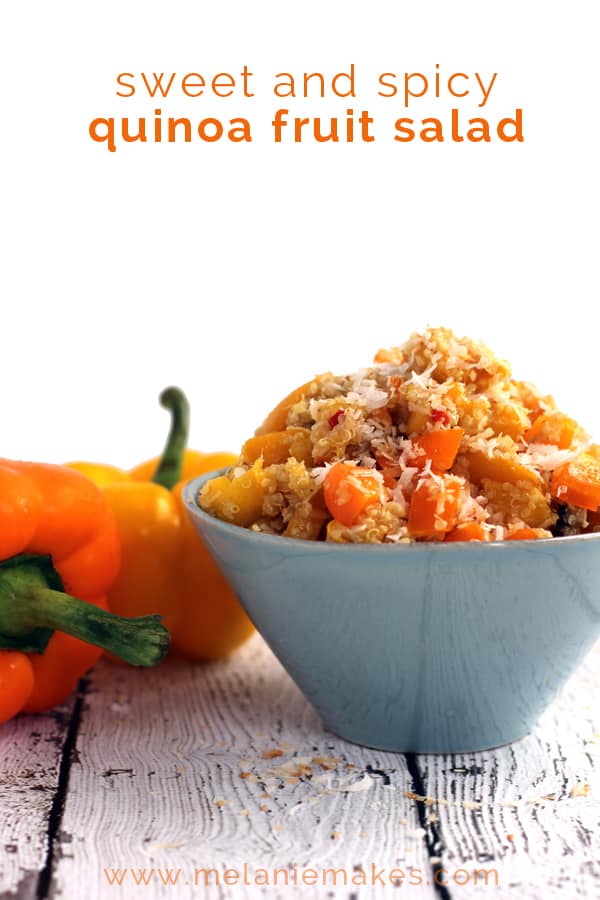 It's been hot this week. Like almost 90 degrees mid-May in Ohio hot. If you don't know me well, I'll be the first to tell you I get a bit disgruntled when the weather gets above 75. I do not like being hot. I do not like being out in the sun. Bah humbug to me, right? So when trying to figure out a side dish to serve for dinner earlier this week, I was trying to think of something that wouldn't heat up the house any more than it already was and that I could maker earlier in the day and then serve from the fridge.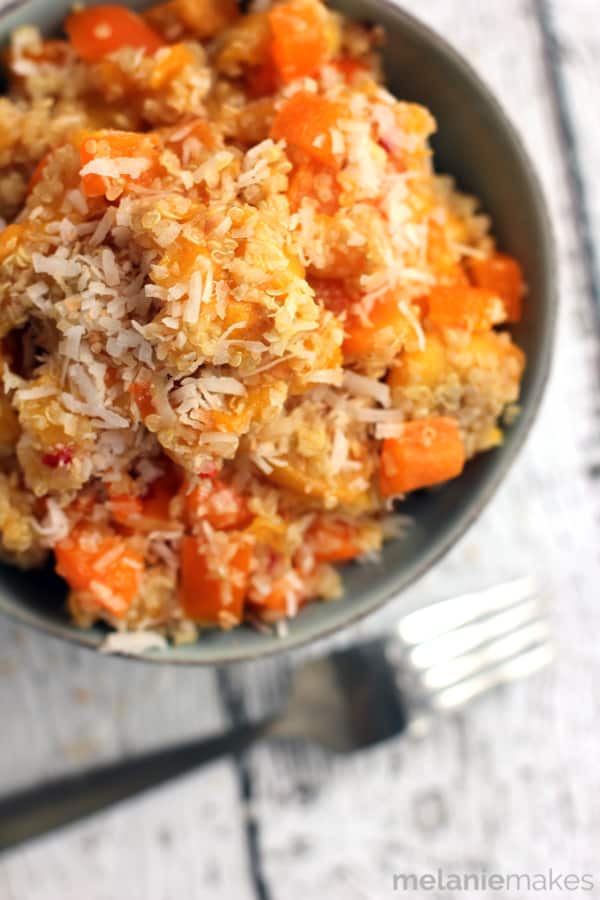 And, bingo! This Sweet and Spicy Quinoa Fruit Salad met all of my criteria. Full of protein packed quinoa, orange bell pepper and roasted mango and peaches, this salad is like an escape to a tropical island. But a cool, tropical island. Everything is tossed in Robert Rothschild Farm's Peach Mango Coconut Habanero Sauce which provides a sweet heat. The kind of heat I like! The finishing touch? A sprinkling of toasted coconut.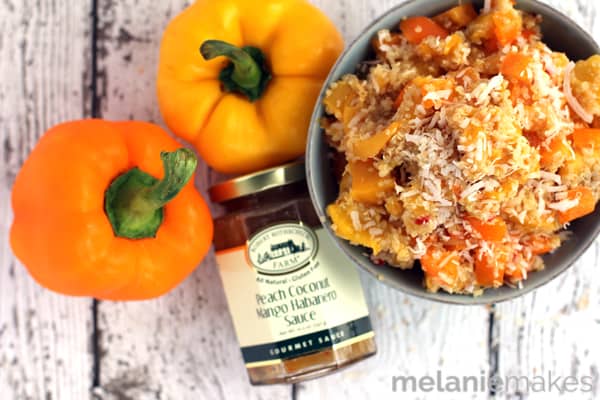 I made this while my youngest two were eating lunch and then let the flavors come together in the fridge for a couple of hours before serving it at dinner. Warm or cold, side or main dish, this salad is a winner!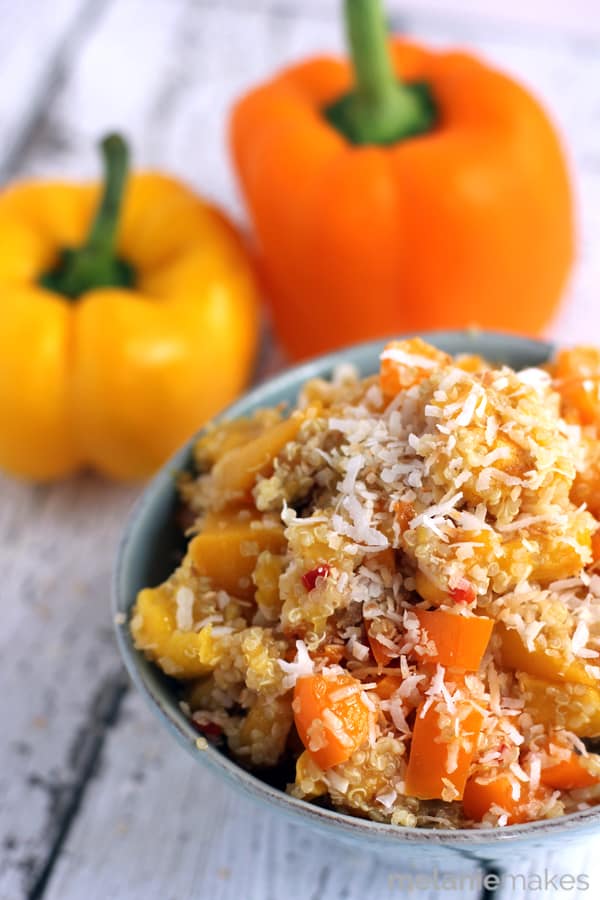 Sweet and Spicy Quinoa Fruit Salad
10 minPrep Time
40 minCook Time
50 minTotal Time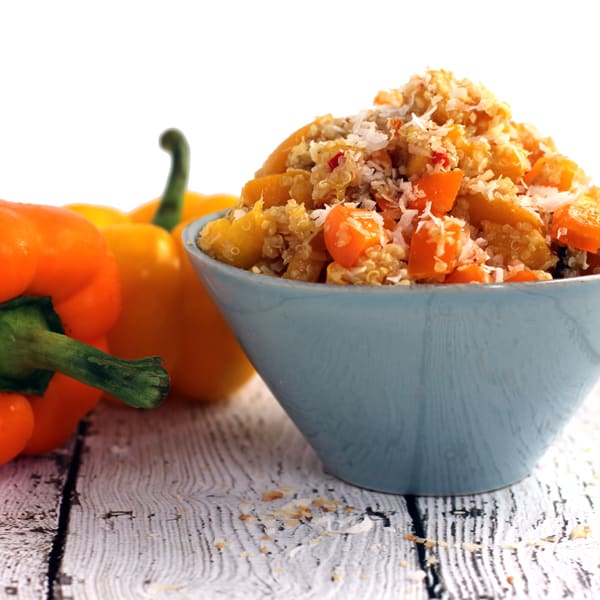 Ingredients
16 ounces frozen mango
16 ounces frozen peaches
1 cup cooked quinoa
1 orange, red or yellow bell pepper, large diced
1 cup coconut, toasted
Instructions
Preheat oven to 425 degrees.
On a baking sheet lined with parchment paper or a silicone mat, spread mango and peaches into a single layer.
Roast for 30-40 minutes or until beginning to caramelize.
In a large bowl, add fruit, quinoa, Robert Rothschild Farm Peach Mango Coconut Habanero Sauce, pepper and 3/4 cup toasted coconut. Lightly toss together. Serve immediately or store in refrigerator until ready to serve.
Before serving, sprinkle salad with remaining toasted coconut.
7.6.6
52
https://melaniemakes.com/blog/2014/05/sweet-and-spicy-quinoa-fruit-salad.html
Melanie Bauer | Melanie Makes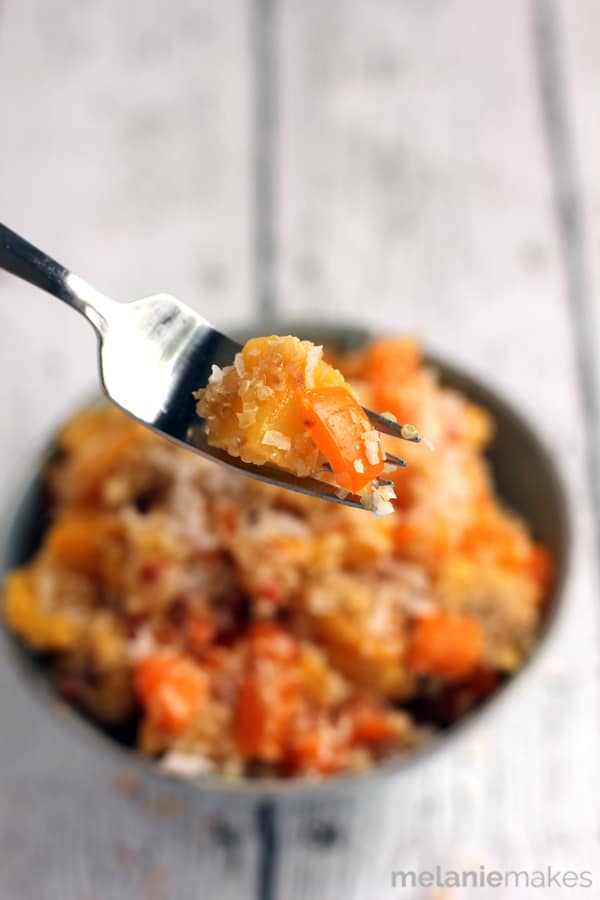 This would be a great salad to bring to a potluck or your next get together with friends as it doesn't need to stay in the fridge and can be served at room temperature. Believe me, I don't think any of your neighbors will be bringing this fruit salad to your block party!
But they should!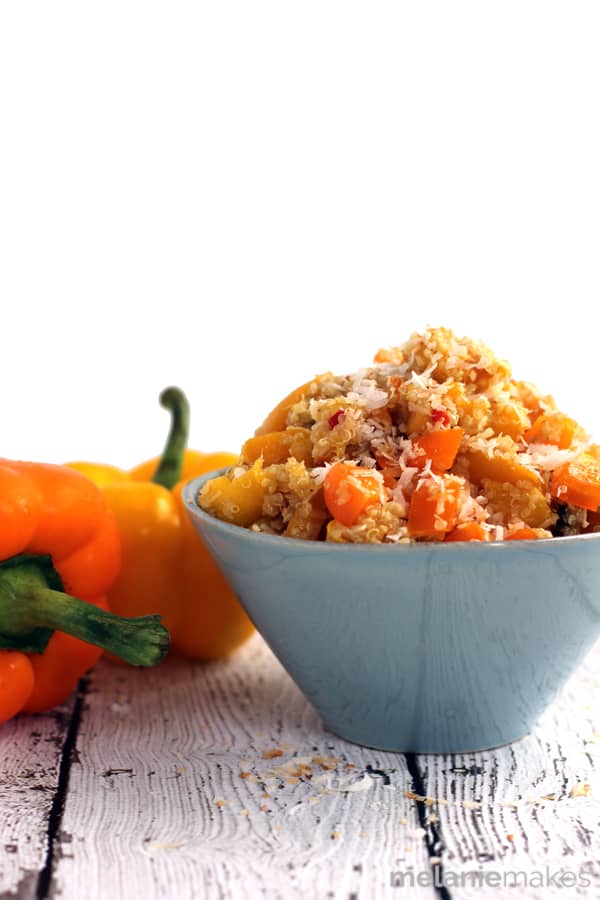 To celebrate the upcoming release of their new catalog – of which this recipe will be featured! – the amazing people at Robert Rothschild Farm (Seriously you guys, love them. Love them, love their products.) are allowing me to host a giveaway the eight products I'll be featuring in recipes through the rest of the month.
These are the awesome products that are up for grabs:
See the box below for your chance to win.
—–
I was compensated by Robert Rothschild Farm to create a recipe featuring their product. As always, all thoughts and opinions are my own. Thank you for supporting this sponsor that allows me the opportunity to create content, such as this, for Melanie Makes.