Warm, doughy rounds of flatbread are topped with roasted corn and black bean salsa and your favorite taco ingredients. These Taco Frito Flatbread Pizzas are then topped with a homemade chipotle ranch sauce and crumbled corn chips for a true taste sensation!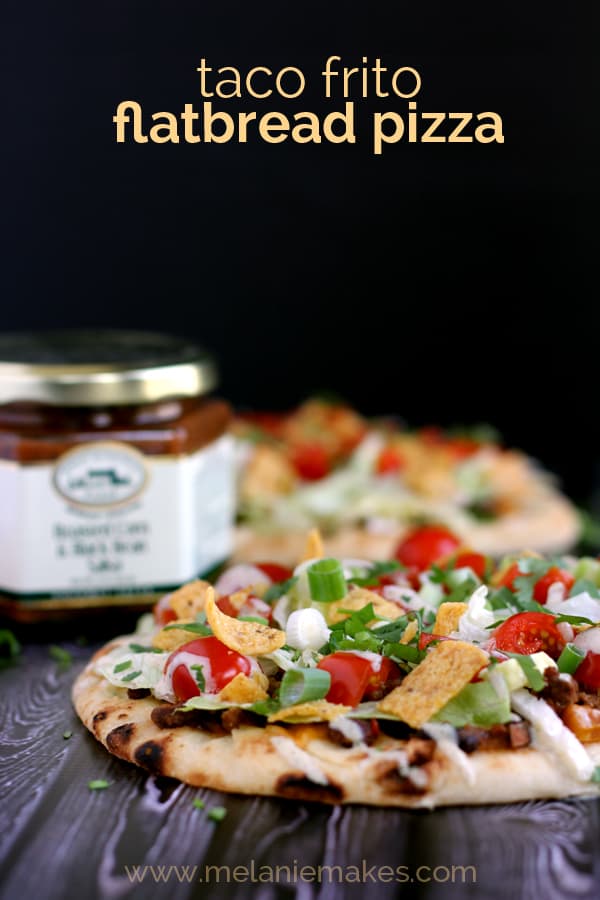 If you're like me, when you have small children, the thought of taking your family out to eat is a little less than appealing. There are fights on who gets to sit by who, arguments of which books in my bag who gets to read first, a middle child that has no volume control, etc. Also known as general ridiculousness. Although at times, this mama would like a night off from preparing the evening meal, I also know that wherever we go, the food has to be pretty delicious for me to even consider going out.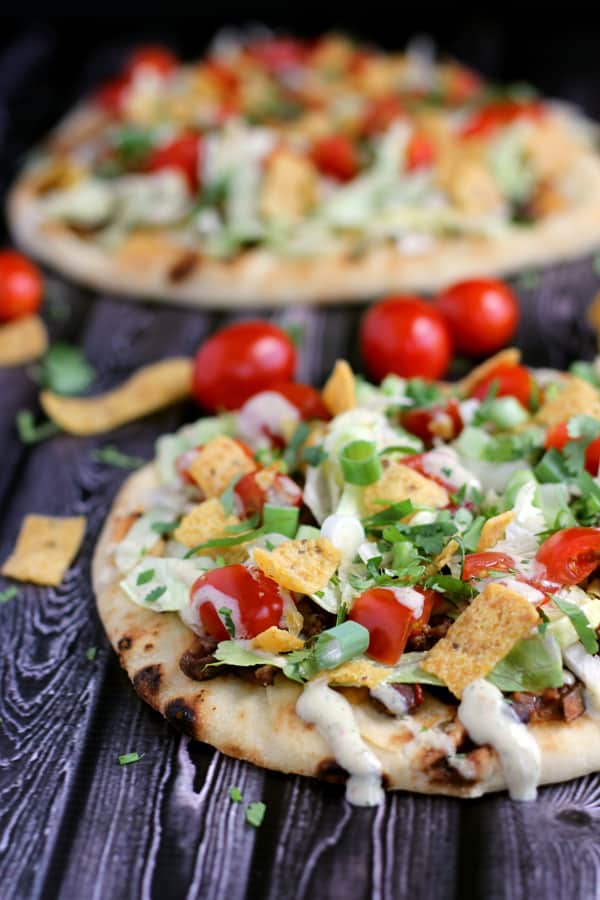 There's a local pizza place that we've fallen in love with. They have windows into the kitchen that the menagerie loves to stand and watch the guys twirling dough in the air and occasionally throwing flour in their direction. It's loud enough to drown out any commotion that may arise. The staff is always awesome and the service is fast. And the pizzas? Excellent. Last week, as our waitress told us their specials, she mentioned a taco pizza. I've never been a fan, but she piqued my interest as she claimed with was absolutely amazing.
To make a long story short, I decided to give it a try and got half of one of our pizzas with their version of a taco pizza. And I was in heaven. I texted a friend that she had to give it a try as I knew she had plans on going the next day. Basically I've been thinking about this pizza ever since. So of course I had to see if I could recreate it at home and put my own spin on it!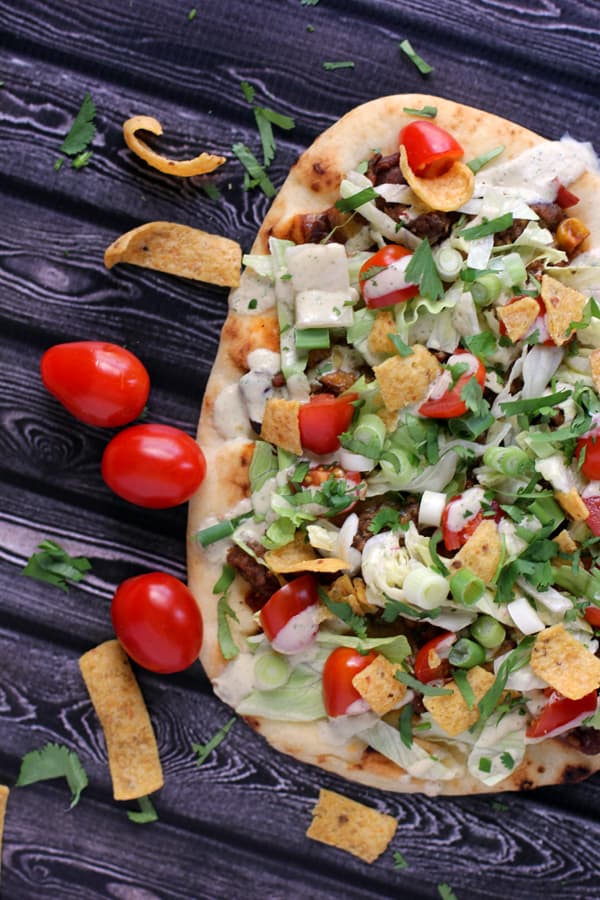 The inspiration pizza used taco sauce instead of pizza sauce but I wanted to try something a bit different. These warm, doughy rounds of flatbread are topped with Robert Rothschild Farm's Roasted Corn and Black Bean Salsa to lend warmth and structure to the pizza. Then it's the usual suspects of seasoned ground beef, cheddar cheese, shredded lettuce, tomatoes and green onions. And then the really good stuff is on top!
The pizza I enjoyed in the local pizza placed had this amazing chipotle ranch sauce that was drizzled on top. They also added flecks of corn chips to finish the whole thing off. You can't go wrong with a change of texture and a bit of crunch. You bet I did both! I created my own homemade sauce in a blender – no fuss! – and made sure to grab a bag of Fritos on my grocery run this week.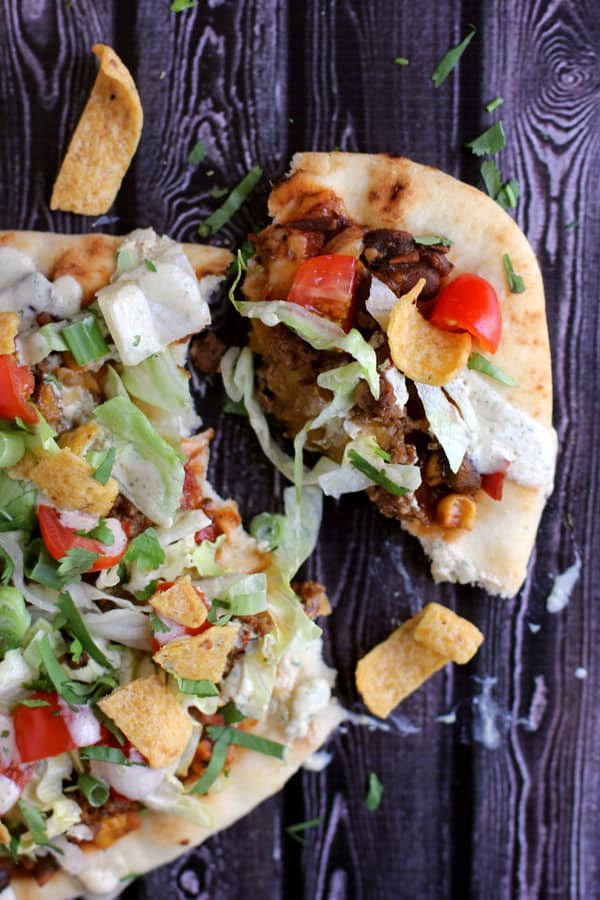 Taco Frito Flatbread Pizza
20 minPrep Time
20 minCook Time
40 minTotal Time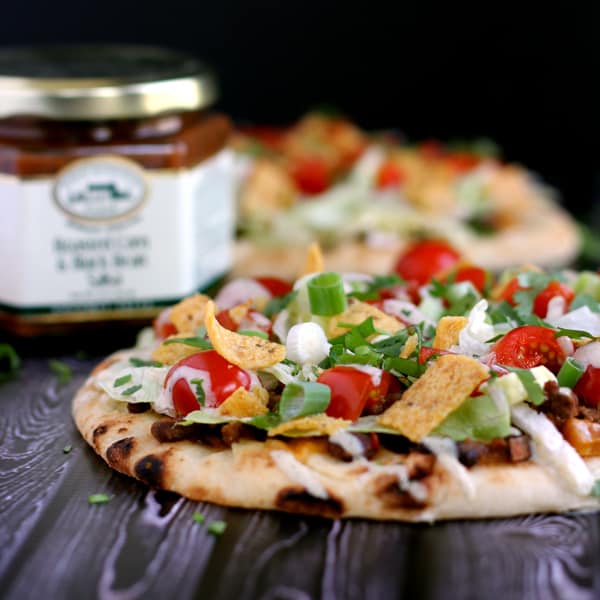 Ingredients
Chipotle Ranch Sauce

1 chipotle in adobo sauce
1 lime
1/4 cup cilantro
1 cup plain Greek yogurt
1/2 cup milk
1/2 teaspoon cumin
1/2 teaspoon garlic powder
1/4 teaspoon oregano
1/2 teaspoon salt

Taco Frito Flatbread Pizza

1 pound ground beef
3 tablespoons taco seasoning
1 cup water
4 flatbreads
cheddar cheese, shredded
shredded lettuce
tomato
green onions
corn chips
Instructions
Chipotle Ranch Sauce

In a blender, add all ingredients and blend until fully combined.

Taco Frito Flatbread Pizza

In a large skillet over medium heat, brown ground beef. Add taco seasoning and water and simmer until liquid has been absorbed.
Preheat oven to 425 degrees.
To assemble pizzas, spread Robert Rothschild Farm Roasted Corn & Black Bean Salsa over flatbread. Top with ground beef and cheese.
Bake for 5 minutes or until cheese is fully melted and flatbread is warmed through.
Top flatbread with lettuce, tomato and green onions.
Drizzle pizza with Chipotle Ranch and scatter with corn chips.
Notes
I used a store bought taco seasoning in this recipe - I'm a fan of Penzey's Bold Taco Seasoning - but definitely feel free to use your own blend of spices.
7.6.4
39
https://melaniemakes.com/blog/2014/05/taco-frito-flatbread-pizza.html
Melanie Bauer | Melanie Makes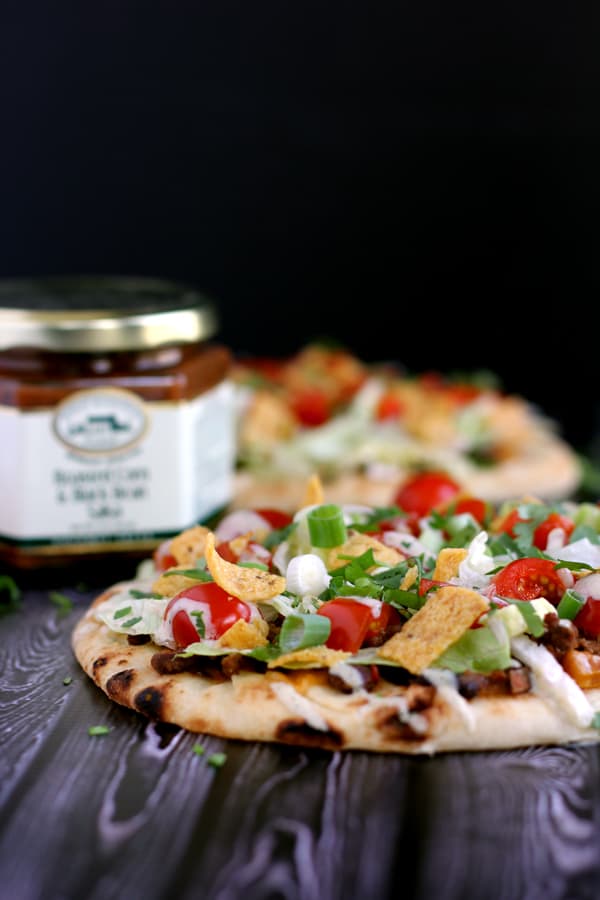 This pizza? Hands down my favorite! So much so that on the day I made them I enjoyed this flatbread version for lunch and then later that night made it into an actual pizza on my Perfect Pizza Crust. I may have even fought over the last piece with my husband. And of course, I won!
Vegetarian or looking for a meatless pizza? I think substituting my Slow Cooker Lentil and Brown Rice Taco filling would be equally delicious.
Either way, I'm thrilled there is leftover toppings in my fridge and a flatbread in the pantry with my name on it tomorrow for lunch!
—–
I was compensated by Robert Rothschild Farm to create a recipe featuring their product. As always, all thoughts and opinions are my own.