A simple sandwich that tastes anything but simple! This Double Grilled Cheese Barbecue Chicken BLT is a meal in and of itself. Grilled barbecue chicken, greens, bacon, tomato and red onion are housed between two grilled cheese sandwiches. Look no further, this is the sandwich you didn't know you had been dreaming of.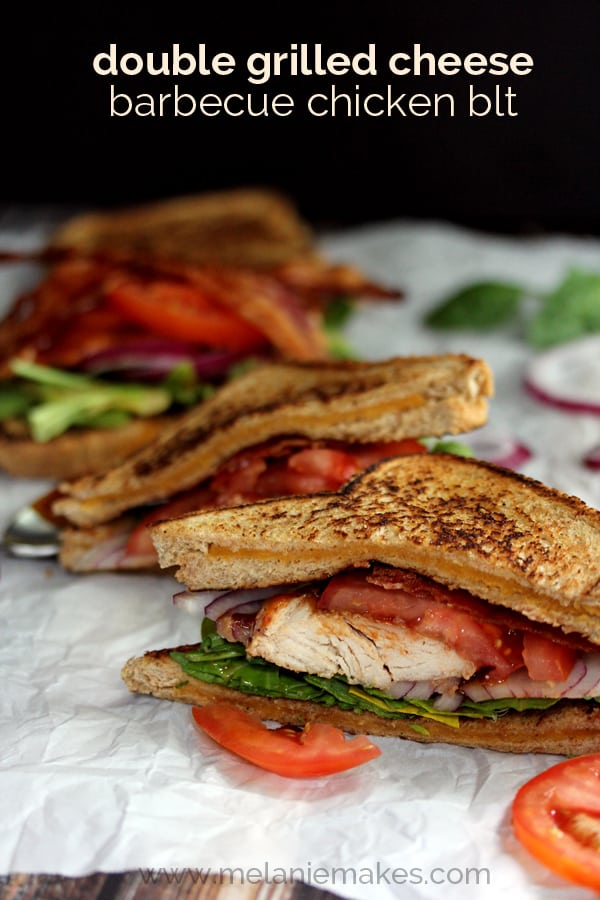 Let me start off by saying, I'm not even a fan of sandwiches. Until now. This sandwich is in a league by itself. Comforting, filling and sure to satisfy. This Double Grilled Cheese Barbecue Chicken BLT has it all.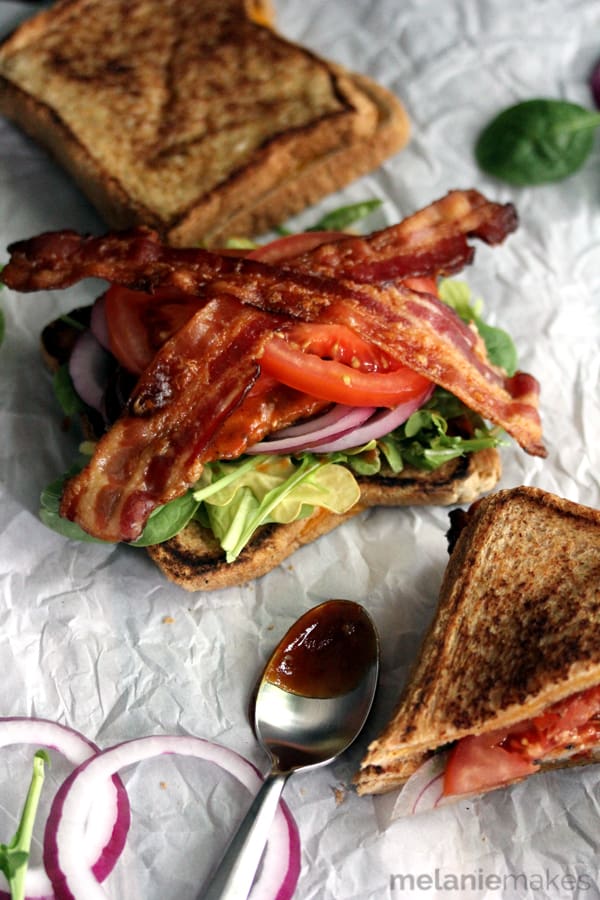 Bread? Ha! Buns? Not a chance! Instead, all of the delicious toppings are sandwiched between two – count them, two! – grilled cheese sandwiches. So technically, you're eating two sandwiches in one. And you"ll love every single bite. I actually pressed on my sandwiches with a spatula as they cooked to flatten them a bit while cooking so that the sandwich would be easier to eat. Mission accomplished!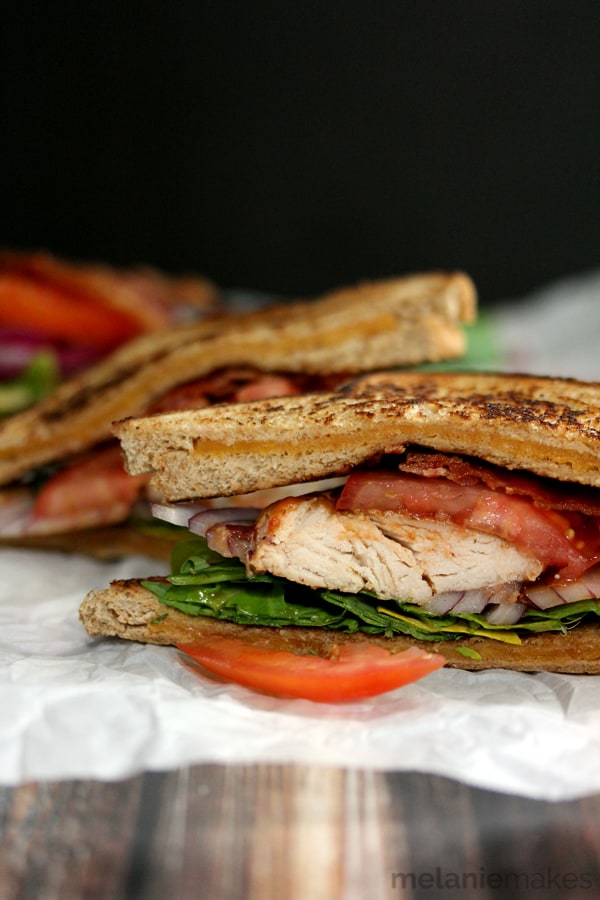 While we're counting reasons to love this sandwich, I'll add to it how easy it is to grill exactly the amount of chicken you'll need thanks to Perdue's new PERFECT PORTIONS® Mesquite Grille Seasoned Boneless, Skinless Breasts. These chicken breasts are individually wrapped so that you are able to prepare only what you need each time. Genius! And the mesquite flavor? Couldn't be more perfect for this sandwich. I've added even more flavor to the chicken by slathering it with my new favorite barbecue sauce as it came off the grill. The layering of flavor with each ingredient is key to an amazing sandwich.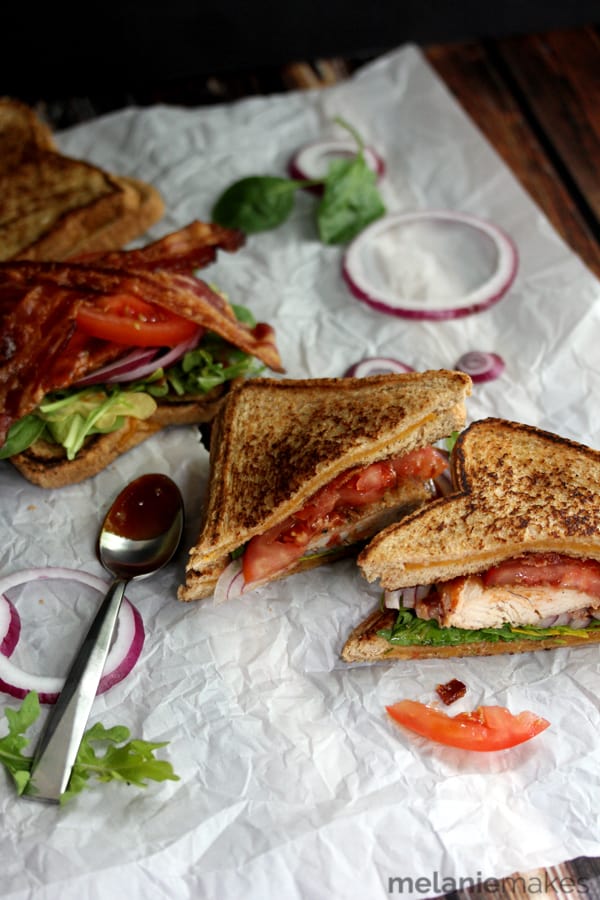 And you can't forget all of the fresh ingredients stuffed between those aforementioned grilled cheeses. Fresh tomato, thinly sliced red onion, handfuls of fresh greens and of course, strips of smoky, salty bacon.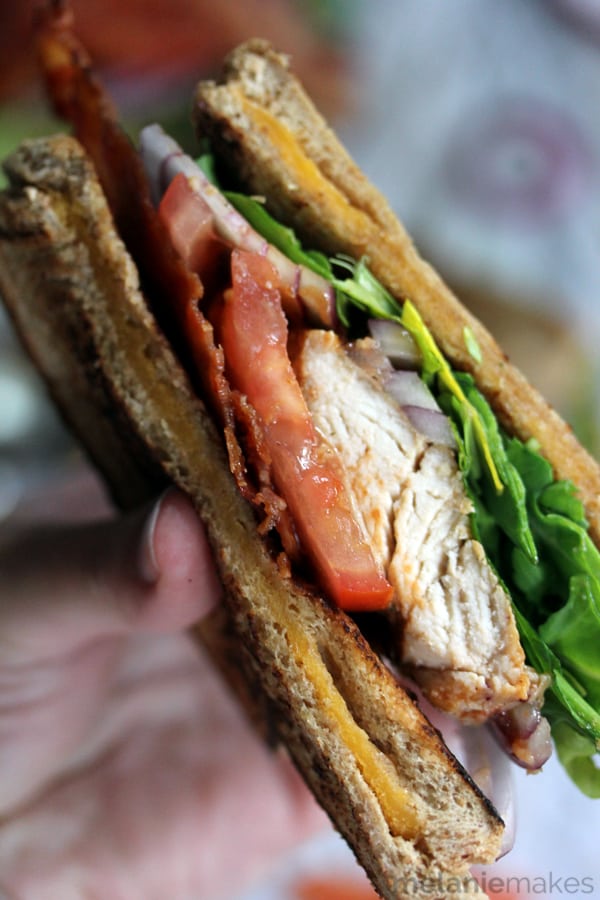 Melanie Bauer
Yields 2
Double Grilled Cheese Barbecue Chicken BLT
10 minPrep Time
20 minCook Time
30 minTotal Time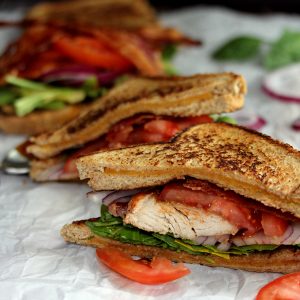 Ingredients
8 slices sandwich bread
4 slices sharp cheddar cheese
mayonnaise
2 cups fresh greens - lettuce, spinach, kale, arugula, etc.
4 slices tomato
4 slices red onion
barbecue sauce
4 slices bacon, cooked
Instructions
To prepare grilled cheese sandwiches, spread one side of two slices of bread with mayonnaise. Place one slice of cheese on non-mayonnaise side of bread and top with another piece of bread mayonnaise side facing outwards.
Heat skillet over medium heat and add sandwich. Cook until browned and then flip to other side to brown. Press sandwich with spatula one each side while cooking to flatten sandwich.
To assemble BLTs, top one grilled cheese sandwich with 1 cup of greens. (I used an arugula spinach combination. Add 2 slices of red onion and 2 slices of tomato.
Add chicken breast and top with desired amount of barbecue sauce.
Top with 2 bacon slices and additional grilled cheese sandwich.
Cut on the diagonal and serve.
7.6.4
143
https://melaniemakes.com/blog/2014/07/double-grilled-cheese-barbecue-chicken-blt.html
Melanie Bauer | Melanie Makes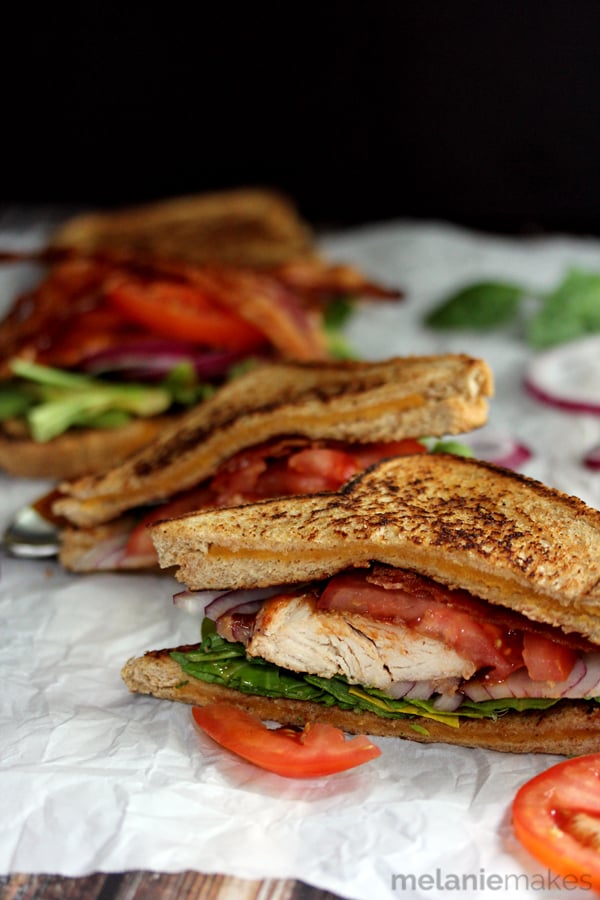 Look no further, my friends, this is the sandwich you didn't know you had been dreaming of. Minimal effort leads to maximum flavor. And that's the way it should always be, shouldn't it?
—–
I was compensated by Perdue to create a recipe featuring their product. As always, all thoughts and opinions are my own. Thank you for supporting this sponsor that allows me the opportunity to create content, such as this, for Melanie Makes.