These Mac and Cheese Barbecue Chicken Corn Cakes are a stack of true Southern favorites. Corn and green onion flecked corn cakes topped with shredded barbecue chicken. It's all finished with a scoop of the cheesiest mac and cheese around.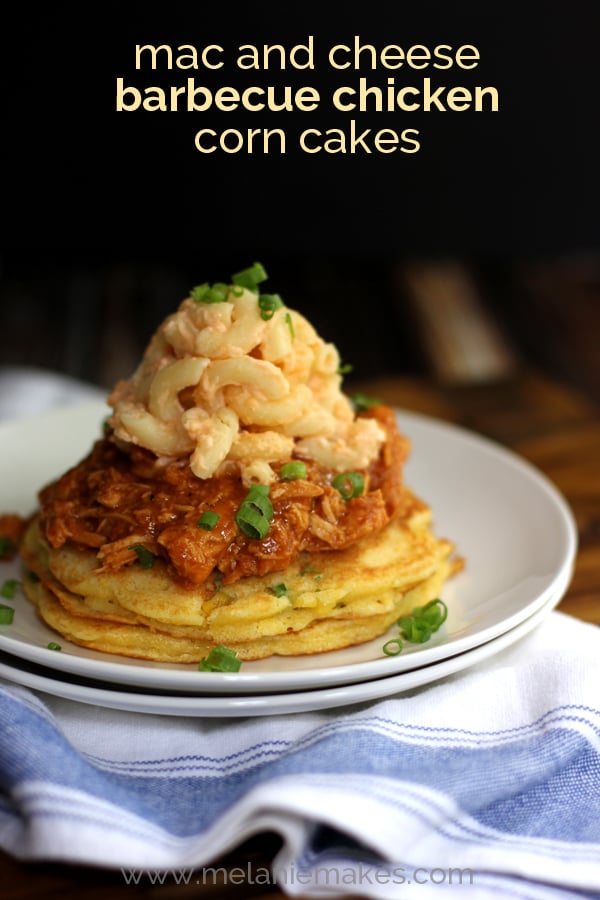 Today I'm pretending to be a Southerner. Well, in my mind this is what I imagine a Southerner would eat. Granted, the furthest south I've ever lived is Missouri, so I could be wrong, but if this dish is wrong, who would want to be right?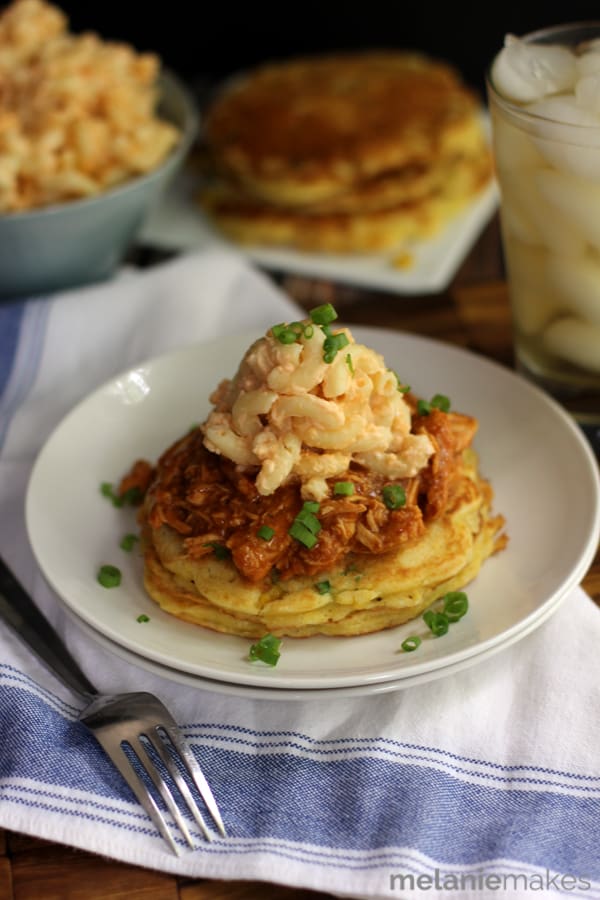 Corn cakes? Check! Shredded barbecue chicken? Yep! Homemade mac and cheese? You bet! And then I did something crazy and stacked them all together!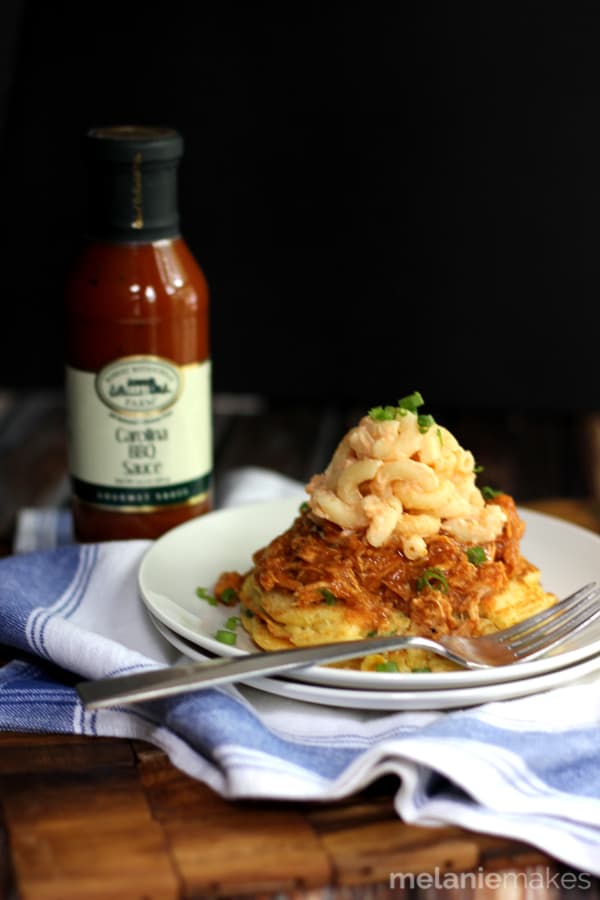 The barbecue sauce I mentioned? Yep, totally inspired the creation of the entire recipe. Robert Rothschild Farm's Carolina BBQ Sauce. A traditional southern style barbecue sauce with a mustard base.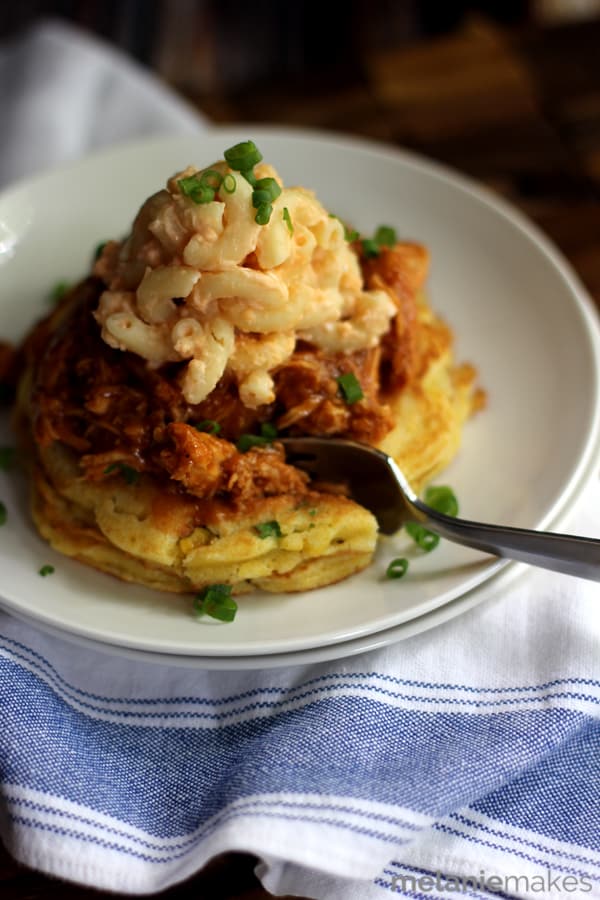 Three favorites stacked on one plate. Corn and green onion flecked corn cakes that thrilled my four year old as I was basically serving her a glorified pancake. Tangy barbecue chicken that my husband insisted I should've made more of and a large scoop of the cheesiest macaroni and cheese imaginable that had the two year old and six year old in awe.
For those of you keeping track, this dish equated to a thumbs up from every member of our family. Not an easy task!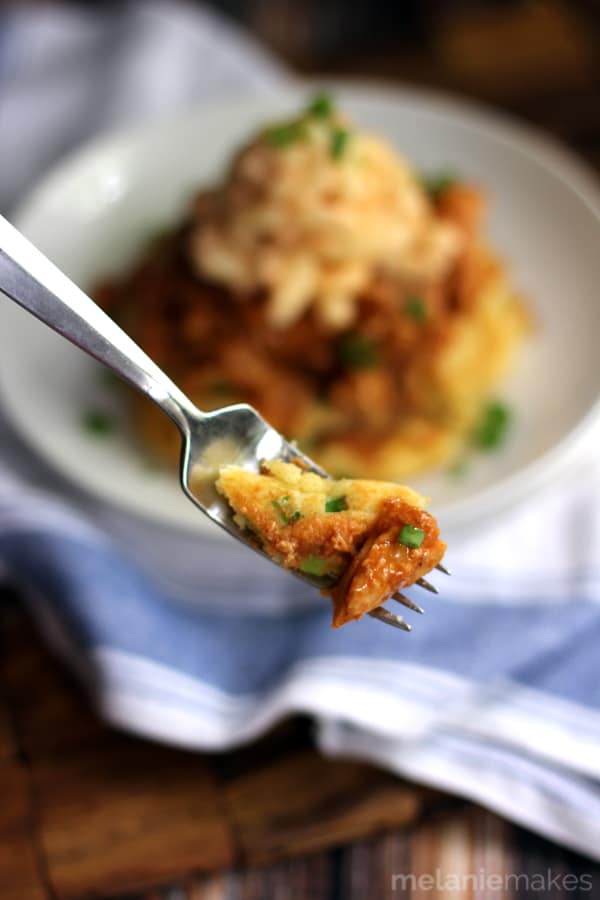 Melanie Bauer
Mac and Cheese Barbecue Chicken Corn Cakes
30 minPrep Time
5 hrCook Time
5 hr, 30 Total Time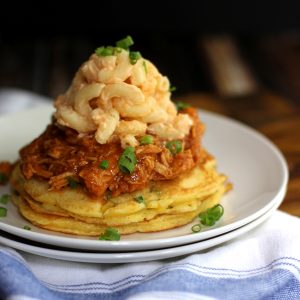 Ingredients
Barbecue Chicken

2 pounds boneless, skinless chicken breasts
13.5 ounces barbecue sauce
1/4 cup brown sugar
2 tablespoons Robert Rothschild Farm Anna Mae's Smokey Mustard

Corn Cakes

3 8.5 ounce boxes Jiffy Corn Muffin Mix
3 eggs
1-1/2 cups milk
2 cups frozen corn kernels
1 bunch green onions, sliced

Mac and Cheese

13.25 ounces elbow macaroni
1 cup half and half
8 ounces cream cheese
2-1/4 cup sharp cheddar cheese, shredded
1/2 cup plain yogurt
Instructions
Barbecue Chicken

In a slow cooker, add chicken. Top with barbecue sauce, brown sugar and mustard.
Cook on LOW 4-6 hours.
Shred chicken and remove lid from slow cooker. Cook on high for 1 hour to further reduce sauce.

Corn Cakes

In a large bowl, stir together corn muffin mix, eggs and milk until just combined. Batter will be lumpy. Fold in corn and green onions.
Heat griddle to medium-high heat, approximately 350 degrees, and add 1/3 cup batter for each cake. Cook until browned and flip to cook other side to desired doneness.

Mac and Cheese

In heavily salted water, cook macaroni until al dente.
Meanwhile, in a large saute pan add half and half and cream cheese. Whisk together as it melts to insure there are no lumps. Stir in sharp cheddar cheese until everything is melted together.
Stir in yogurt until combined.
Drain pasta and stir into cheese mixture.
To serve, place corn cake(s) on plate and top with chicken and scoop of mac and cheese.
Notes
Please note the barbecue sauce referenced in this post is no longer available. Feel free to substitute your favorite barbecue sauce instead.
7.6.4
140
https://melaniemakes.com/blog/2014/07/mac-and-cheese-barbecue-chicken-corn-cakes.html
Melanie Bauer | Melanie Makes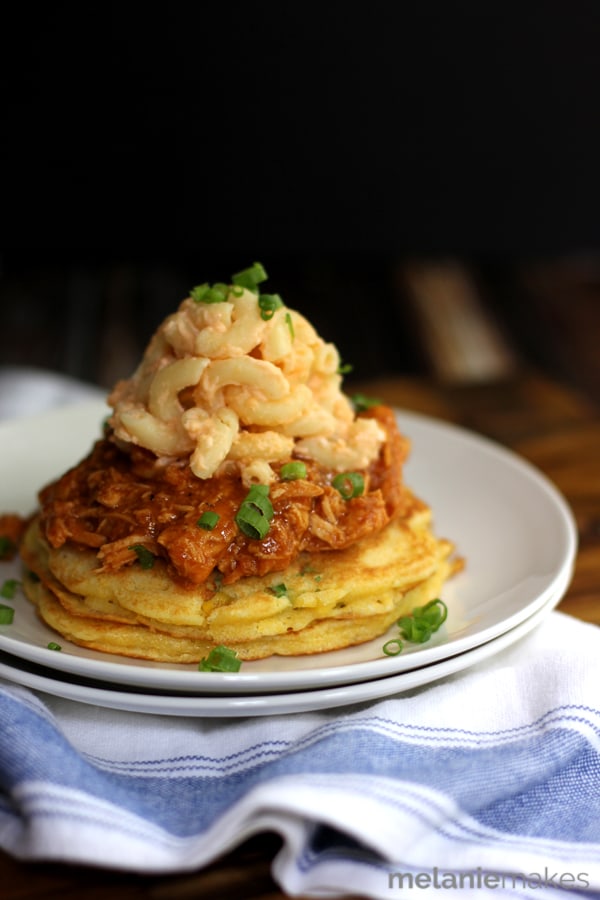 Perfect as a cookout friendly 4th of July dish – put all the components out and let friends and family assemble their own! – or as a delicious dinner any night of the week. No matter how you serve it, expect the accolades to roll in.
And perhaps a few ma'ams as well. Remember, this is a Southern dish after all.
Looking for more great barbecue recipes?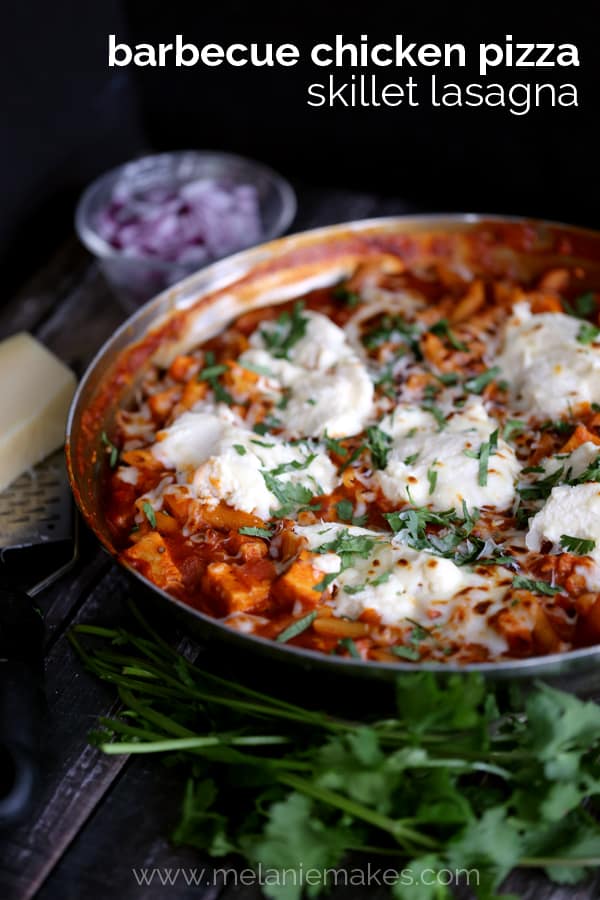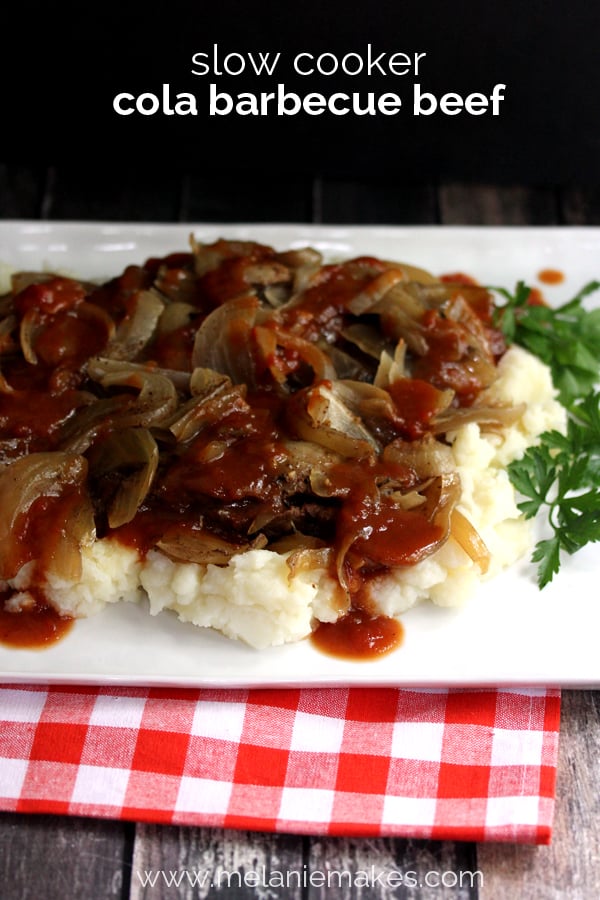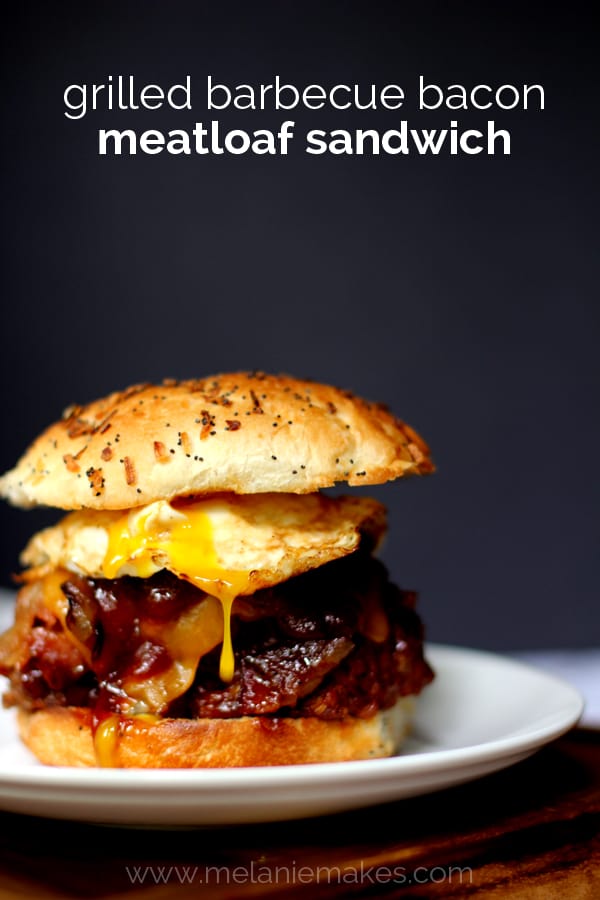 Additional barbecue recipes from fellow food bloggers:
Sweet Maple Barbecue Chicken Kabobs | A Dash of Sanity
Sambal Chicken Sewers | Shutterbean
Maple-Bourbon Apricot Barbecue Sauce | Floating Kitchen
—–
I was compensated by Robert Rothschild Farm to create a recipe featuring their product. As always, all thoughts and opinions are my own. Thank you for supporting this sponsor that allows me the opportunity to create content, such as this, for Melanie Makes.