These Raspberry Wasabi Shrimp Tostadas are a light and easy Summer meal. A handful of greens are piled onto a crisped tortilla along with fresh raspberries and diced avocados. Oven baked shrimp and a drizzle of raspberry wasabi sauce finish this main course that couldn't be easier to prepare.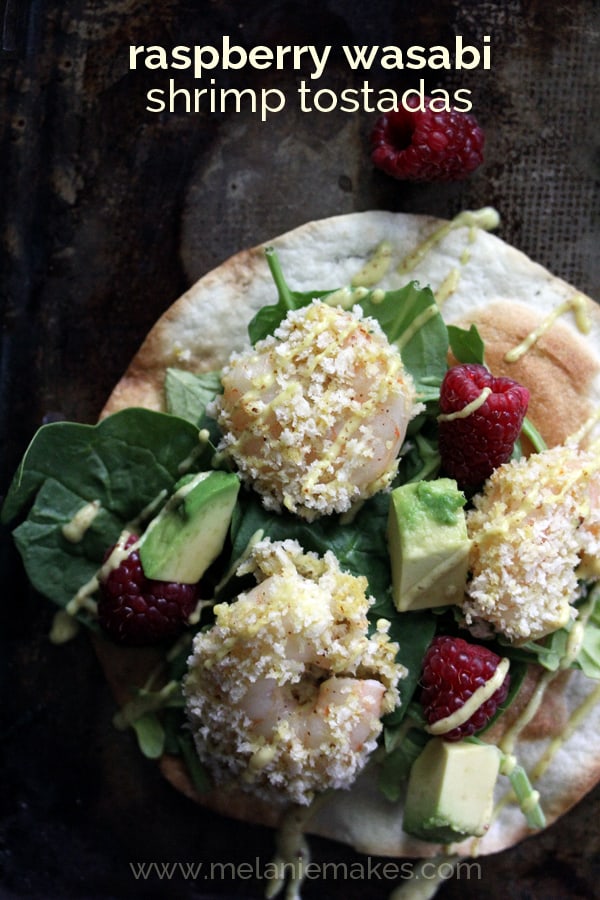 I never would've guessed, but you guys are super quick shrimp recipe type of people. You are! There was such a great response to my Rosemary and Citrus Shrimp Tacos, that I decided it was time for another shrimp recipe that was just as easy to create.
Oh, okay. I'll admit that I also happened to totally be in the mood for seafood the afternoon I created this as well so it wasn't ALL because of you. Honesty is the best policy, right?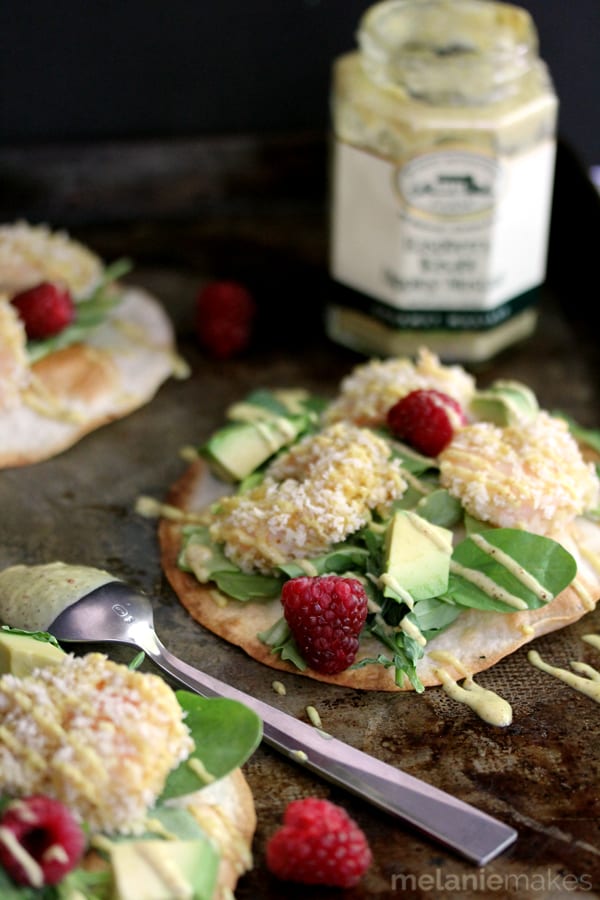 These tostadas? Totally inspired by a jar of this Raspberry Wasabi Dipping Mustard from my friends at Robert Rothschild Farm. Now, they have yet to steer me wrong with a product but when it arrived, I actually left it sitting on my counter for a few days waiting for inspiration to strike. Then I popped open the jar for a taste. I don't know about you, but I would've never dreamed to pair raspberry and wasabi together but it totally works! It's a sweet heat – and the heat is minimal unless you attempt to eat a spoonful straight from the jar – that is so flattering to this meal.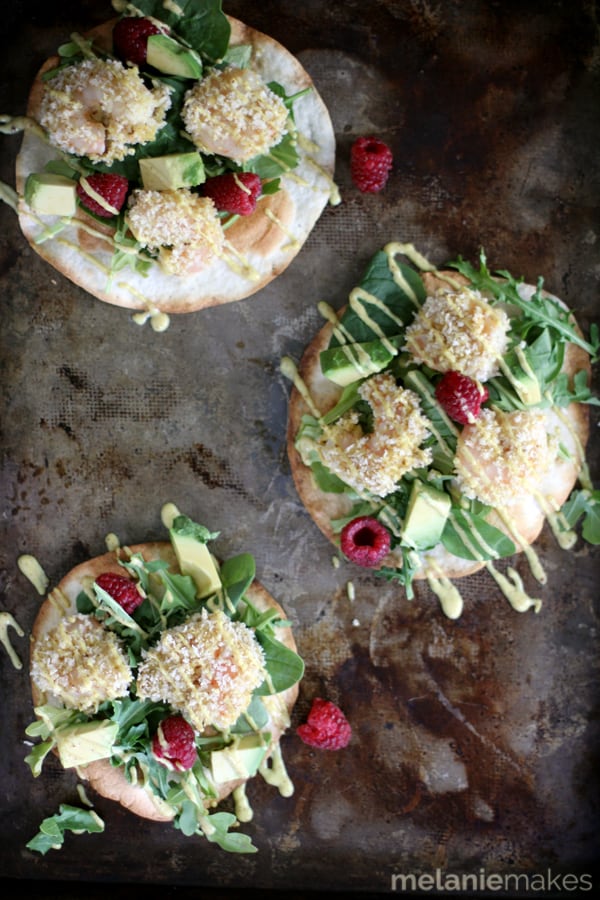 These tostadas are the perfect light Summer meal. A handful of greens – I chose baby arugula and spinach – are piled onto a crisped tortilla along with fresh raspberries and diced avocados. I then added three or four oven baked shrimp that had been coated in the raspberry sauce and then dipped in panko. So much better than fried! They're then finished by another drizzle of sauce before serving. Really, could they get much easier?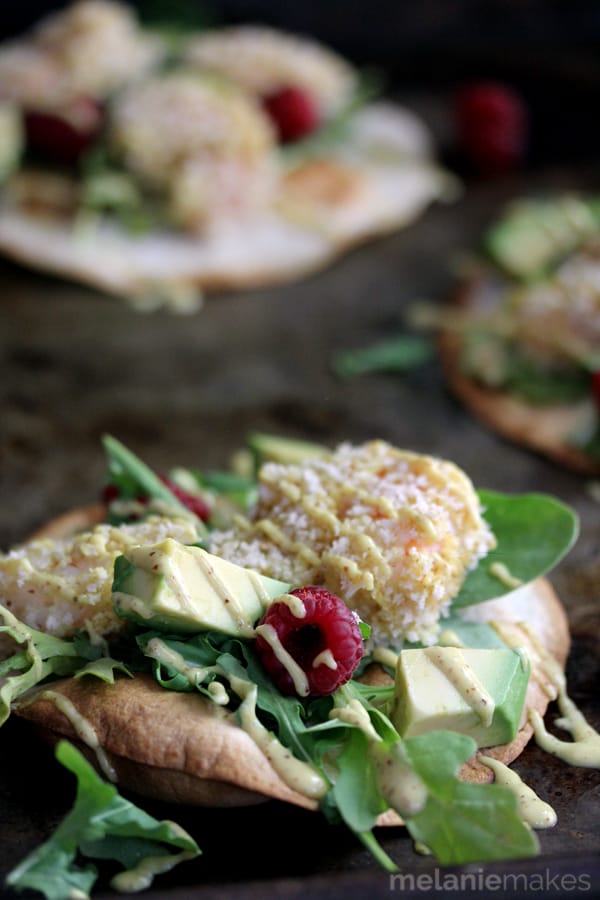 Melanie Bauer
Yields 4
Raspberry Wasabi Shrimp Tostadas
15 minPrep Time
15 minCook Time
30 minTotal Time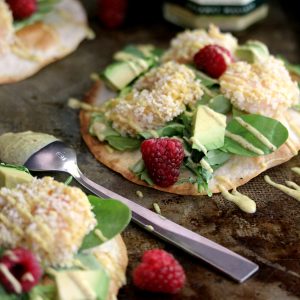 Ingredients
1 pound large shrimp, peeled and deveined
2 cups panko crumbs
1/4 cup olive oil
8 flour tortillas
4 cups greens, I used a baby arugula and spinach mixture
1 pint raspberries
2 avocados, diced
Instructions
Preheat oven to 400 degrees.
Pour 1/2 of Raspberry Wasabi Dipping Mustard and panko crumbs into shallow bowls. Dip each shrimp first into mustard and then into panko crumbs/
Arrange coated shrimp on parchment lined baking sheet and bake for 10-12 minutes, or until shrimp is cooked through and coating is browned. Set aside.
Brush both sides of tortillas with oil and place on baking sheet. Bake for five minutes or until lightly browned.
To assemble tostadas, top each tortilla with 1/2 cup greens, 3-4 shrimp, raspberries and avocado. Drizzle with additional Raspberry Wasabi Dipping Mustard.
7.6.4
145
https://melaniemakes.com/blog/2014/07/raspberry-wasabi-shrimp-tostadas.html
Melanie Bauer | Melanie Makes
I'll scream it from the rooftops – or maybe just my backyard – that I'm totally smitten with these tostadas! Two baked ingredients paired with a plethora of fresh fruit and vegetables and it only takes minutes to prepare? Winner.