A visual menu of what we'll be eating for dinner each night this week, including links to each recipe with multiple photos for each dish.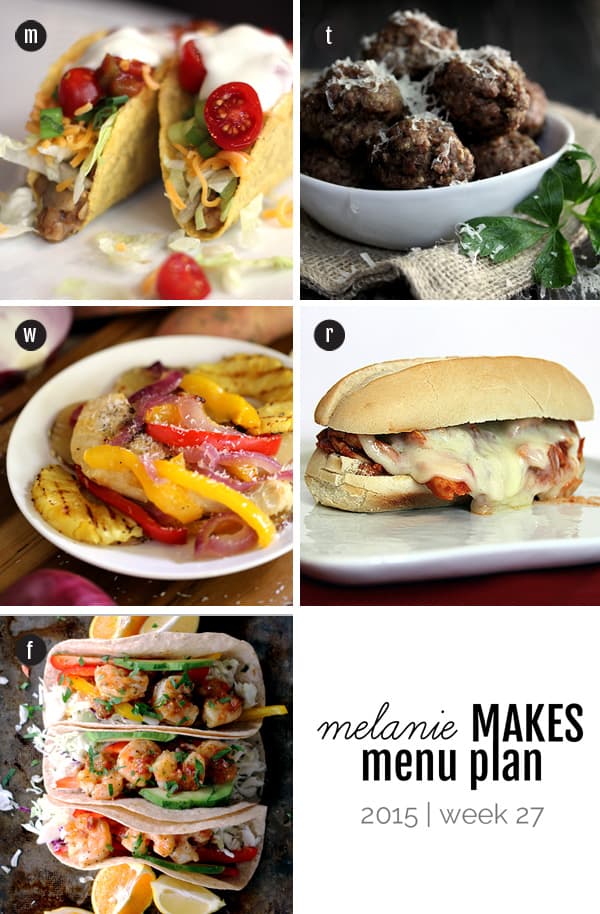 Have you made one of my recipes? Snap a photo and share on Instagram using the hashtag #melaniemakes. I love to see what you've been creating in the kitchen! You can also follow me on Instagram, here.
Here's what we'll be eating this week:
Meatless Monday: Slow Cooker Lentil and Brown Rice Tacos. My Door to Door Organics box for the week will contain green onions and grape tomatoes. A definite sign that tacos need to be made!
I've selected Monday as a night of the week for our family to eat a meatless meal as it tends to be more budget friendly as well as a friendlier option for the environment. My meat and potato eating husband tends to go along with this idea because I also make him a yummy dessert in addition to his meatless meal. What can I say? I'm nice like that!
Tuesday: Spaghetti + Easy Baked Meatballs. When your 3 year old is requesting meatballs, you do your best to accommodate him. The last time we had pasta, he was curious as to wear his meatballs were. He'll be thrilled to see them this week!
Wednesday: Foil Packet Pineapple Coconut Chicken. This meal is an easy one for me to get on the table, especially when the time I'm usually prepping dinner the baby is not wanting to sleep and the only thing that makes her happy is to be wearing her in the Ergo. Last week the UPS man delivered a package and when he saw me wearing her, he asked if we were going on a walk. Nope, this is how I get dinner on the table these days!
Thursday: Slow Cooker Chicken Parmesan Sandwiches. Perfect for a summer evening when t-ball practice is on the agenda!
Friday: Rosemary Citrus Shrimp Tacos. Enjoying these outside on the patio is such a great way to kick off the weekend!


—–
Looking for more recipe ideas? Check out my past menu plans and other recipes I've created.
Subscribe to Melanie Makes to receive my Most Popular Recipes of 2104 eBook FREE.
I'm also linking to I'm An Organizing Junkie's Menu Plan Monday.