My Almost No Bake Drumstick cheesecake is a delicious take on a childhood favorite.  A waffle cone crust is layered with chocolate ganache and no bake cheesecake before being drizzled with even more chocolate and chopped peanuts.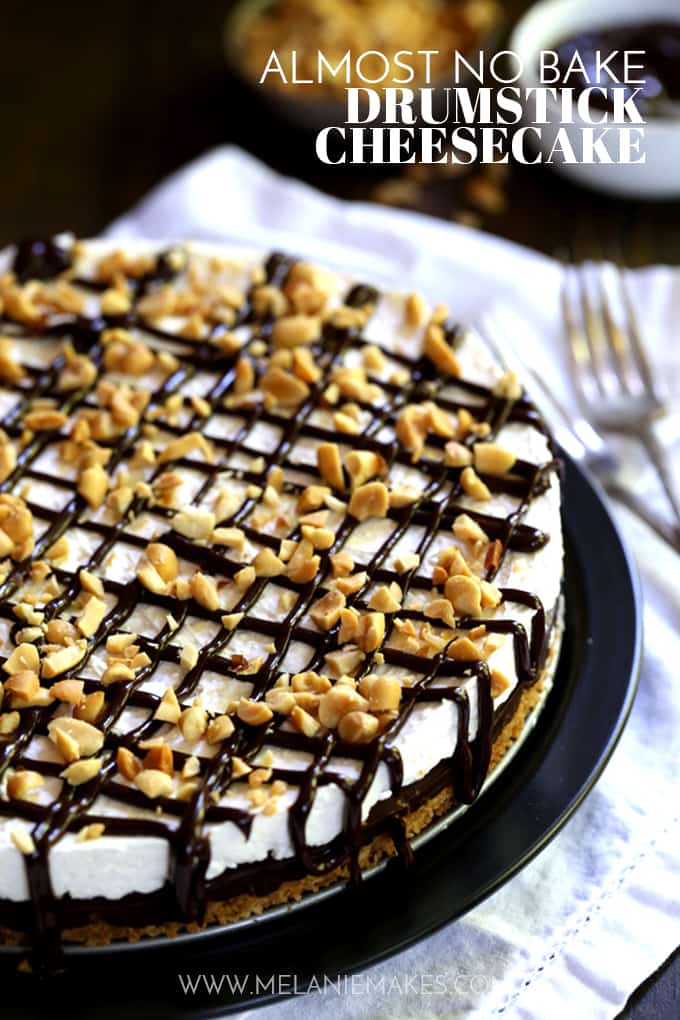 Keep in touch!  Subscribe to receive Melanie Makes recipes direct to your inbox.
If there's one warm weather treat that I've loved since childhood, it's an ice cream drumstick.  It seems I've also passed this love along to my children as well for they love to see them stocked in our freezer as a special after dinner treat.  Ice cream, nuts, chocolate, a cone… it has everything you'd ever want in a sweet treat.  Minus the melting.  Sweltering heat and ice cream just don't seem to get along.  To combat this first world problem, I've created a new dessert as an ode to my old favorite, Almost No Bake Drumstick Cheesecake.  No melting treats are occurring on my watch!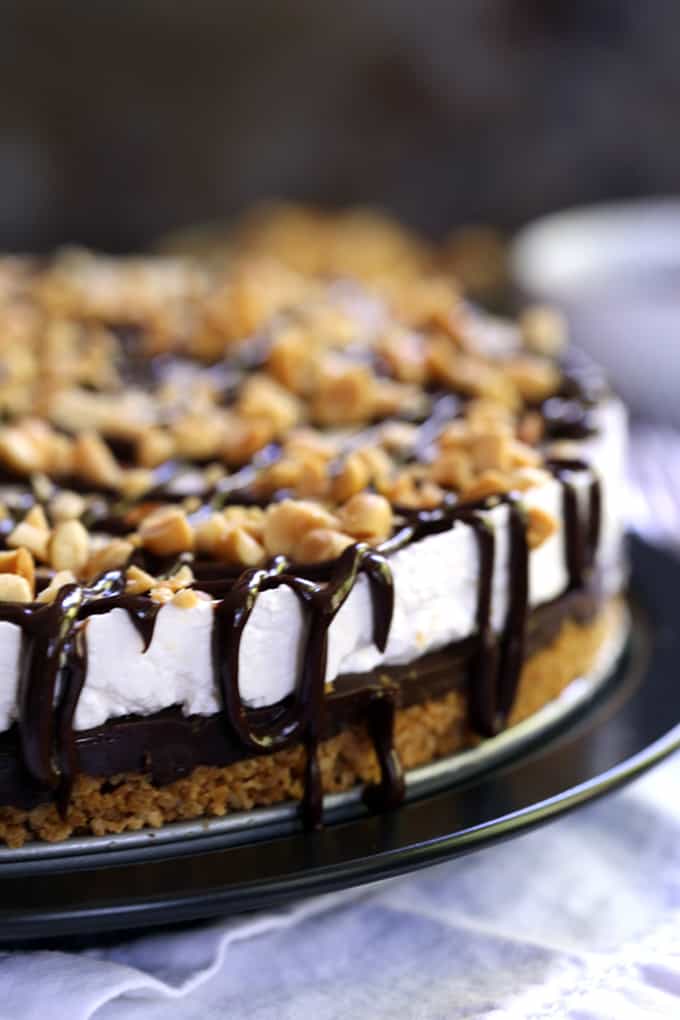 Almost no bake, you say?  Sure, I could've fibbed a bit and said this was a completely no bake dessert, but the waffle cone crust does need a quick 10 minute trip to the oven to set up.  And really, what's 10 minutes in the oven for a crust made of waffle cones? Every other component of this delicious dessert is absolutely no bake though.  Scout's honor.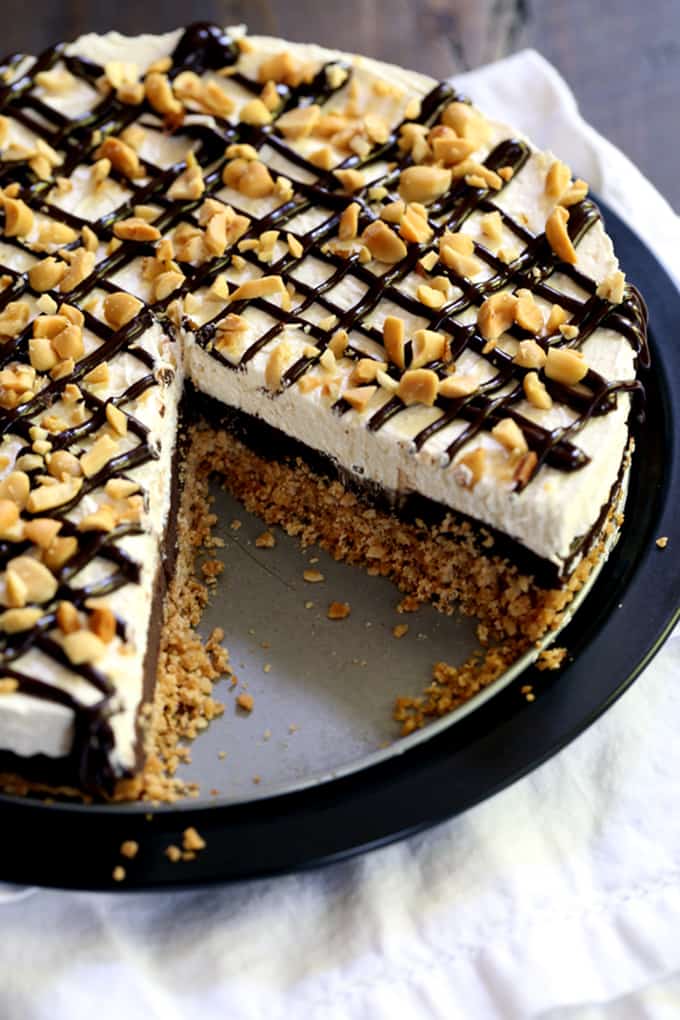 My Almost No Bake Drumstick cheesecake is created with the same layers as an ice cream drumstick.  A waffle cone crust is layered with chocolate ganache and no bake cheesecake before being drizzled with even more ganache and chopped peanuts.  You know the chocolate that awaits you when eating the last bite of a traditional drumstick in the point of the cone?  Sure you do, it's the best part!  That's why I made sure that my chocolate ganache layer was just as thick as the no bake cheesecake layer.  No need to skimp on the good stuff, I say!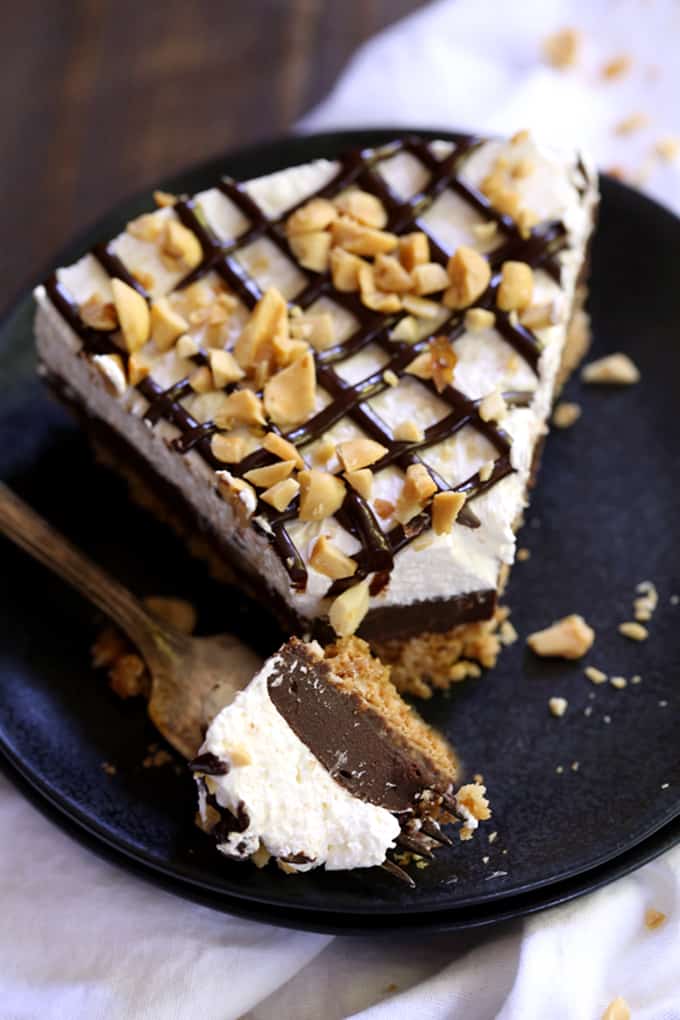 I guarantee you that my Almost No Bake Drumstick Cheesecake is going to be your go-to dessert of choice this summer.  Perfect for cookouts, get togethers or just when it's so darn hot outside you just want to sit in the air conditioning on the sofa and enjoy a cool treat that took just minutes to create.  Yes.  Especially that last one.
If you're a card carrying member of the no bake dessert fan club – and really, who isn't? – I have no doubt you'll fall head over heels with my insanely popular Black Forest No Bake Cheesecake, my decadent Double Chocolate No Bake S'mores Pie and my super easy Double Chocolate Eclair Cake.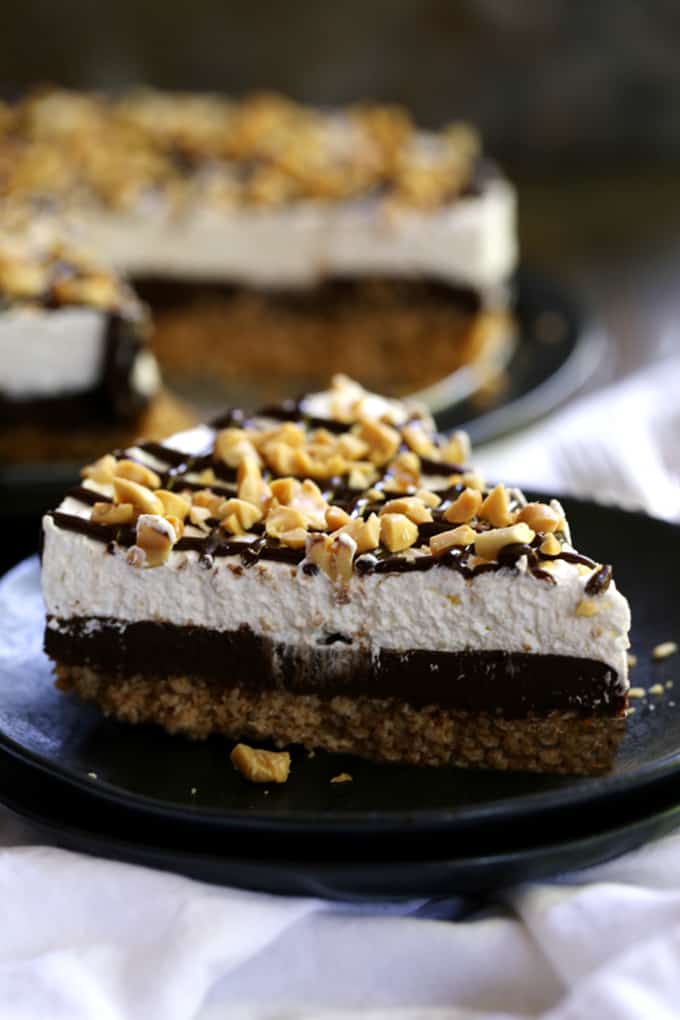 If you still haven't reached your no bake dessert quota, I have friends with additional recipes at the ready.  These candy filled No Bake Monster Cookie Bars caught my eye, as well as these No Bake Snickers Crunch Bars.  And of course, these No-Bake Chocolate Peanut Butter Coconut Bites are sure to banish any chocolate craving you might be experiencing.
Melanie Bauer
Yields 8 slices
Almost No Bake Drumstick Cheesecake
20 minPrep Time
10 minCook Time
30 minTotal Time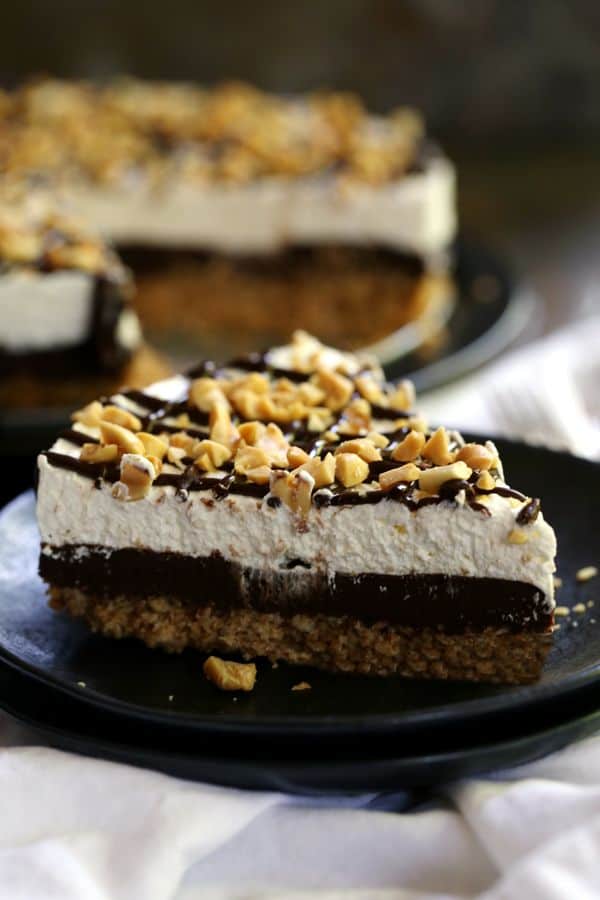 Ingredients
Waffle Cone Crust

12 waffle cones
1 tablespoon sugar
8 tablespoons butter, melted

Chocolate Ganache

2/3 cup heavy cream
2 cups dark chocolate chips

No Bake Cheesecake

8 ounces cream cheese, softened
8 ounces whipped topping
1/2 cup powdered sugar

Toppings

1/2 cup reserved prepared chocolate ganache
1/2 cup coarsely chopped peanuts
Instructions
Waffle Cone Crust

Preheat oven to 350 degrees.
In the bowl of a food processor, add waffle cones and pulse until they resemble coarse crumbs.
Pour crumbs into a medium bowl and stir in sugar and melted butter.
In a greased 9" springform pan, pat crumbs into a single layer using the bottom a measuring cup.
Bake for 10 minutes.

Chocolate Ganache

In a microwave safe bowl, add heavy cream and chocolate chips.
Microwave for 70 seconds and then whisk until smooth.
Pour into an even layer over waffle cone crust, reserving 1/2 cup for topping, and refrigerate until set.

No Bake Cheesecake

In a medium bowl, mix together cream cheese, whipped topping and powdered sugar with an electric mixer until smooth and just combined.
Spread evenly over chocolate ganache. Refrigerate for at least two hours or until set.

Toppings

Remove cheesecake from springform pan.
Drizzle remaining chocolate ganache over top of cheesecake and sprinkle with chopped peanuts.
7.6.4
336
https://melaniemakes.com/blog/2016/06/almost-no-bake-drumstick-cheesecake.html
Melanie Bauer | Melanie Makes