Warm, bubbly blueberries are capped by a crunchy cap of oats and coconut to create this delicious Coconut Blueberry Crisp.  No chopping of fruit required means that this delicious dessert is ready for the oven in just 15 minutes!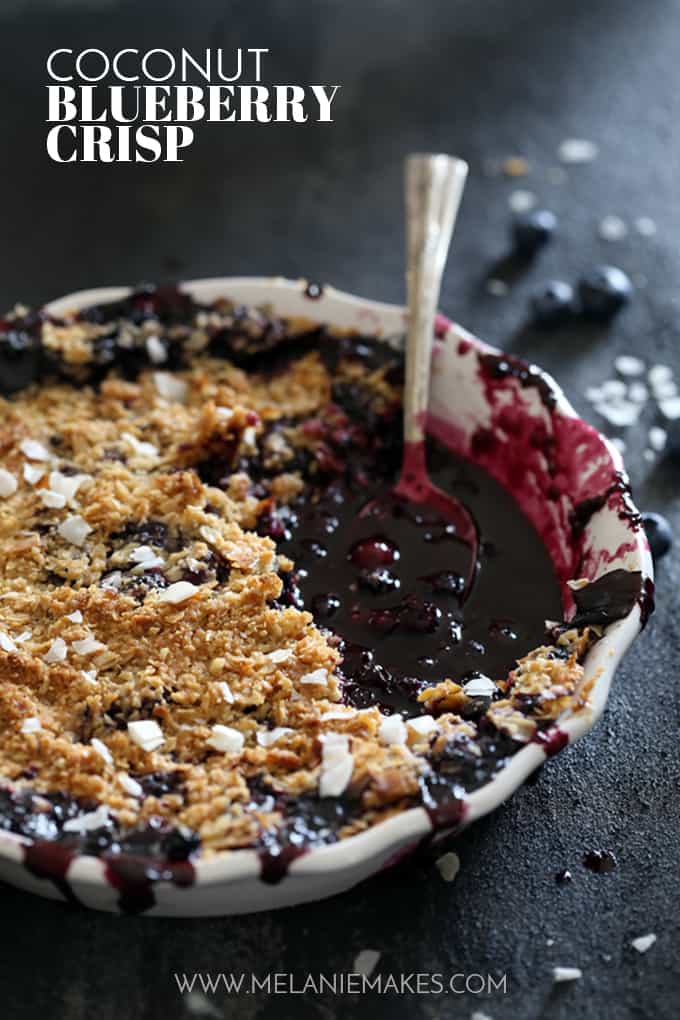 Keep in touch!  Subscribe to receive Melanie Makes recipes direct to your inbox.
This is totally one of those situations where I had too much of something on hand and needed to find a way it.  Stat.  Specifically, blueberries had been on mega-sale so I bought a bit too much and then got more in our weekly produce delivery.  Oops!  I knew we weren't going to eat them quick enough so into a baking dish they went.  This Coconut Blueberry Crisp was the end result and I loved it so much, I think I'm going to overbuy blueberries from now until eternity.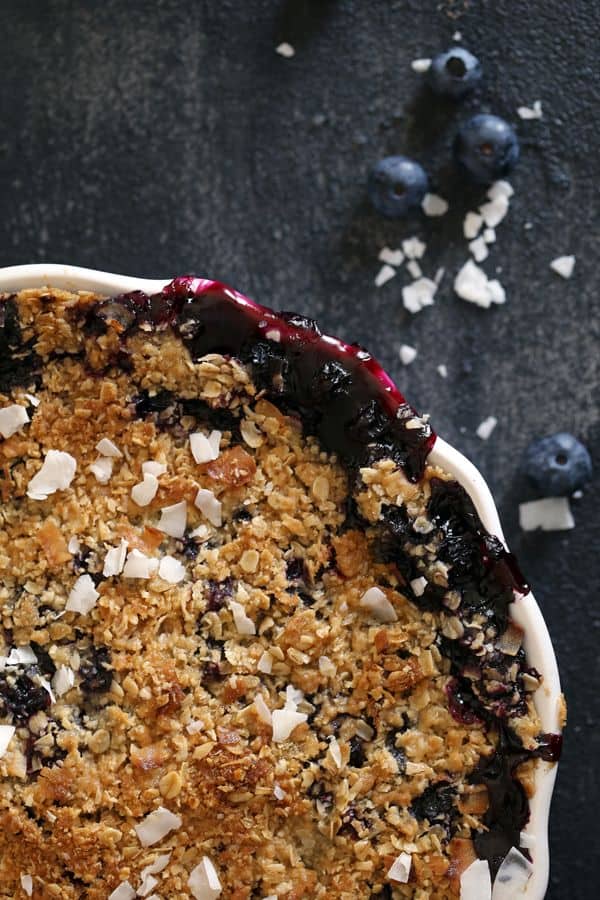 I'll admit, I'm normally a chocolate dessert type of gal, but I swear this fruit crisp might just make me change my ways.  The fact that there's no cutting or chopping of fruit involved means that it's a totally low maintenance type of dessert as well.  Another check in the pro-blueberry crisp column.
Warm, bubbly blueberries are capped by a crunchy cap of oats and coconut to create this delicious Coconut Blueberry Crisp.  Obviously, it's perfectly paired with a scoop or two of vanilla ice cream.  The rivers of cool ice cream that snake around the streusel-like topping?  Heaven, I tell you.  Absolute, heaven.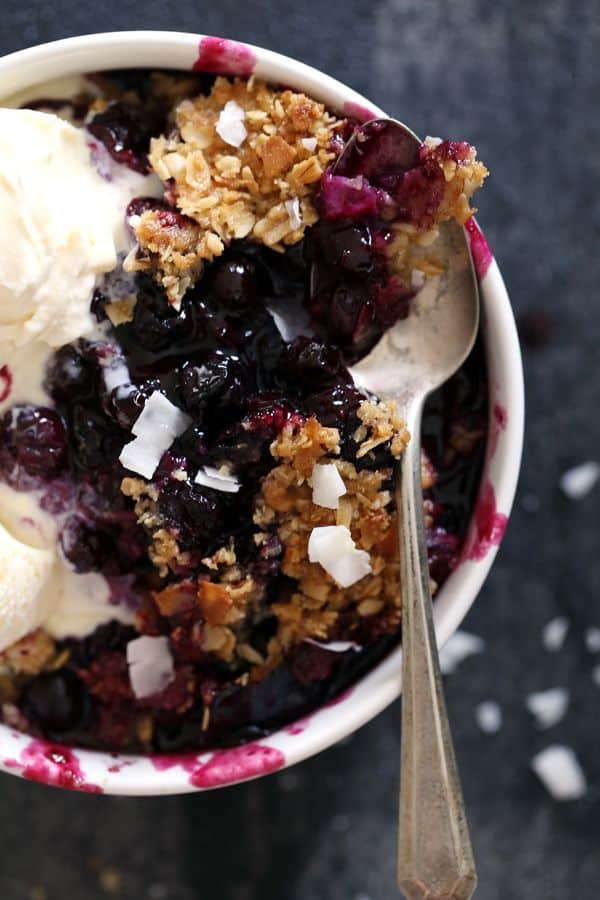 When shopping for recipe ingredients, make sure you grab the unsweetened coconut flakes, NOT the sweetened.  They're right next door to each other on the grocery store shelves except one is in large, pretty flakes and the other is often clumped together within the bag.  The unsweetened flakes are perfect in this recipe as the blueberries are naturally sweet and the crisp topping doesn't need any additional sugar.  Large, pretty flakes it is!  Plus the unsweetened coconut flakes have no other ingredients listed except coconut.  Just as it should be.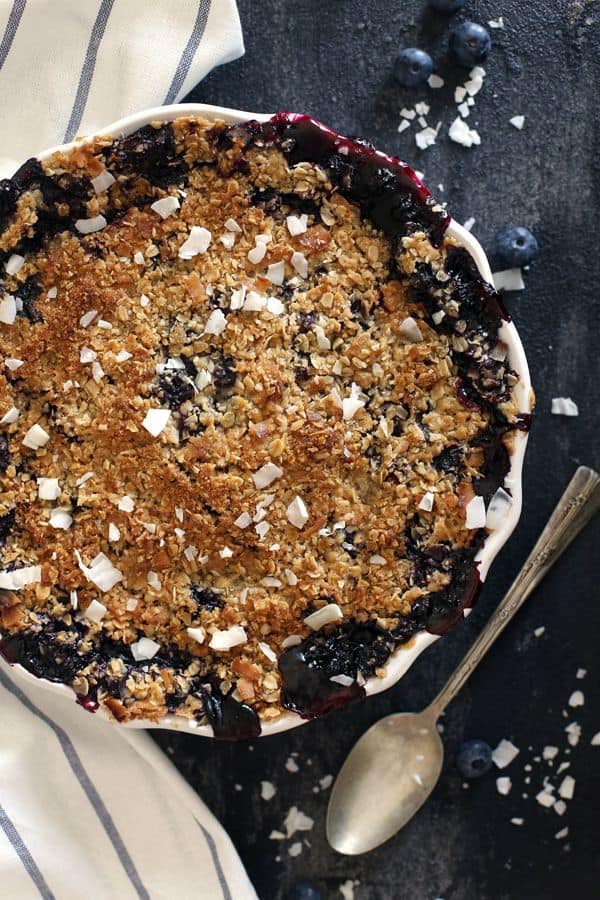 What happened to the rest of those blueberries I needed to use?  Some made it into my ultra decadent One Bowl Blueberry Brownies.  They're one of my absolute favorite desserts.  I also had enough to make a dozen of my Yogurt Blueberry Oatmeal Muffins to enjoy for breakfast tomorrow alongside my Blueberry Lemon Almond Coffee Cake.
Have yet more blueberries to use?  This Blueberry Watermelon Feta Mint Salad sounds absolutely refreshing.  And this Balsamic Blueberry Baked Brie with Bacon would be the ultimate appetizer – and tongue twister!  Love that sweet and savory combination.  And if you're looking for an adorable dessert, look no further than this Blueberry Mint Crumble in Jars.  I love desserts served in individual portions!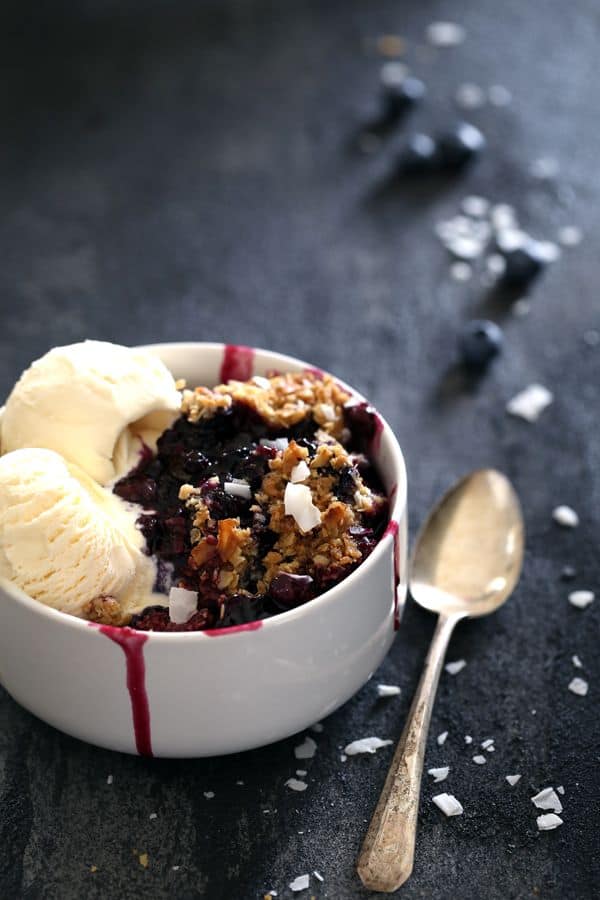 So here's your mission, if you choose to accept it, and really, you'd be absolutely crazy not to!  Run to your nearest blueberry bush, farmer's market, or grocery store and stock up on blueberries.  This Coconut Blueberry Crisp eagerly awaits!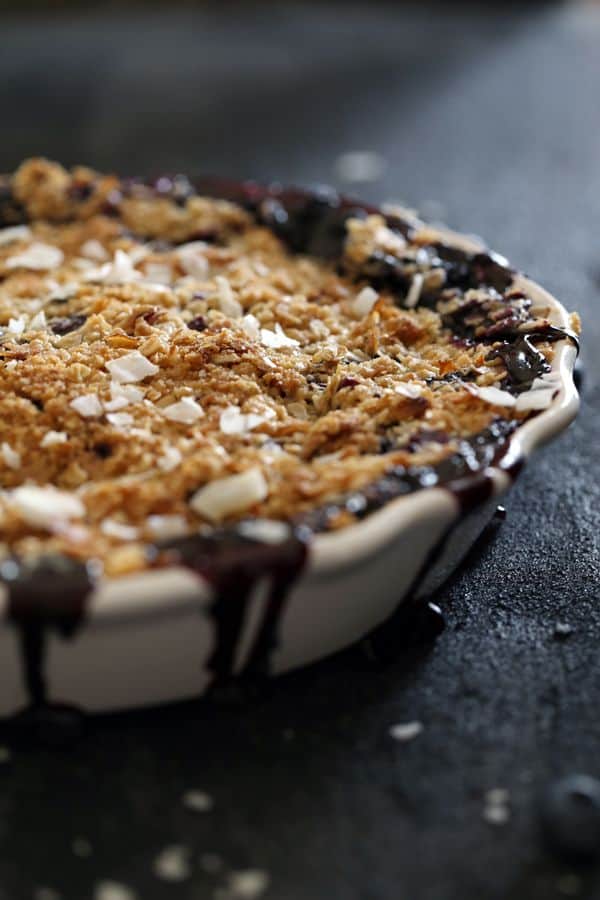 Melanie Bauer
Yields 8 servings
Coconut Blueberry Crisp
15 minPrep Time
60 minCook Time
1 hr, 15 Total Time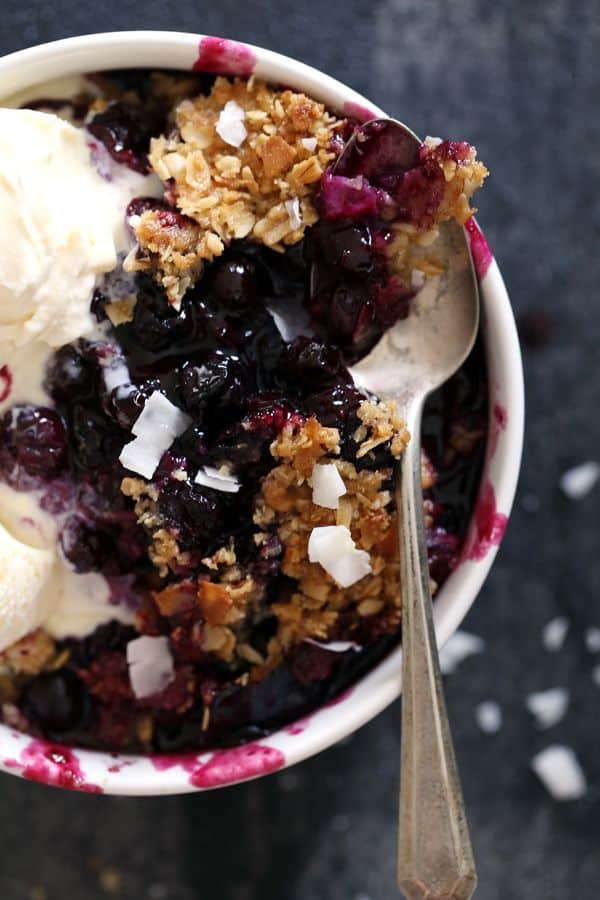 Ingredients
8 cups blueberries
1 cup sugar
2 tablespoons cornstarch
1 teaspoon orange zest
2 tablespoons orange juice
pinch of salt
3/4 cups old fashioned oats
1/4 cup flour
1/4 cup brown sugar
1/2 teaspoon salt
8 tablespoons butter, chilled and cut into small pieces
1/4 cup unsweetened coconut flakes + more for garnish
Instructions
Preheat oven to 375 degrees.
In a 1.5 quart baking dish, add blueberries, sugar, cornstarch, orange zest, orange juice and salt. Toss to combine.
In the bowl of a food processor, add oats, flour, brown sugar salt and butter. Process until just combined. Stir in coconut.
Spoon coconut topping over blueberries.
Place baking dish on a baking sheet and bake for 60-70 minutes or until bubbling and coconut topping is golden brown.
Allow to cool on a wire rack for one hour. If desired, garnish with additional coconut flakes prior to serving.
7.6.4
344
https://melaniemakes.com/blog/2016/08/coconut-blueberry-crisp.html
Melanie Bauer | Melanie Makes