This decadent, five ingredient Dark Chocolate Buttercream Frosting takes just five minutes to prepare.  You'll never stray towards the aisles of canned frosting again with this recipe in your back pocket.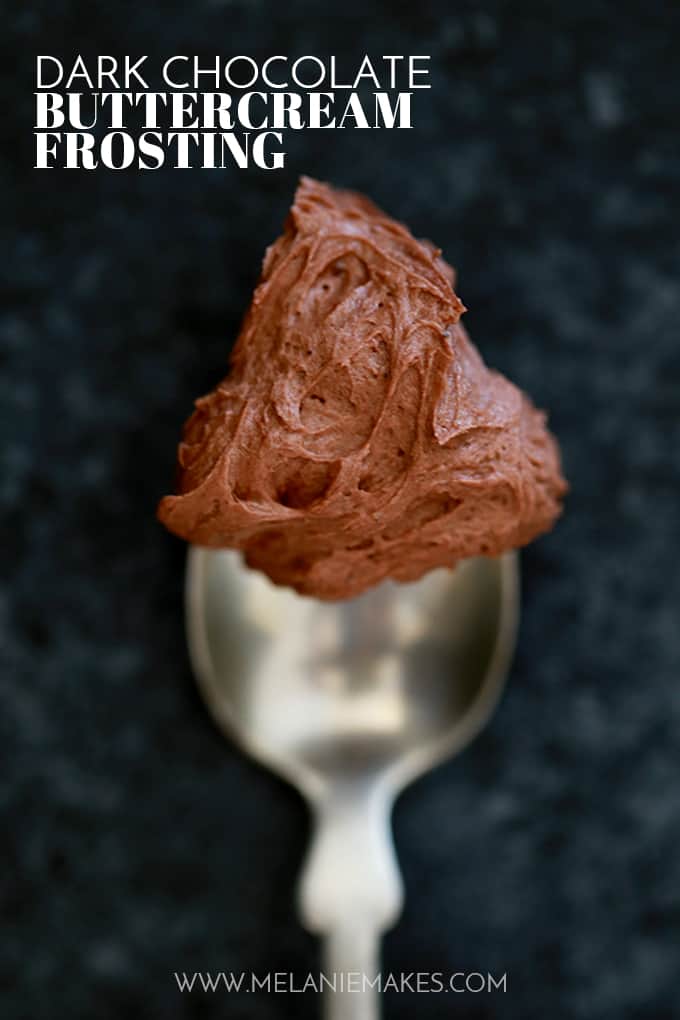 Keep in touch!  Subscribe to receive Melanie Makes recipes direct to your inbox.
Friends, step away from the cans of frosting lining grocery store shelves.  I mean, does anyone actually like that sickeningly sweet stuff anyway?  Instead, I'm here to share with you my signature Dark Chocolate Buttercream Frosting.  Much more delicious than anything store bought and so incredibly easy.  You'll wonder why you ever bought that canned stuff!  And believe me, you won't think twice about doing it again.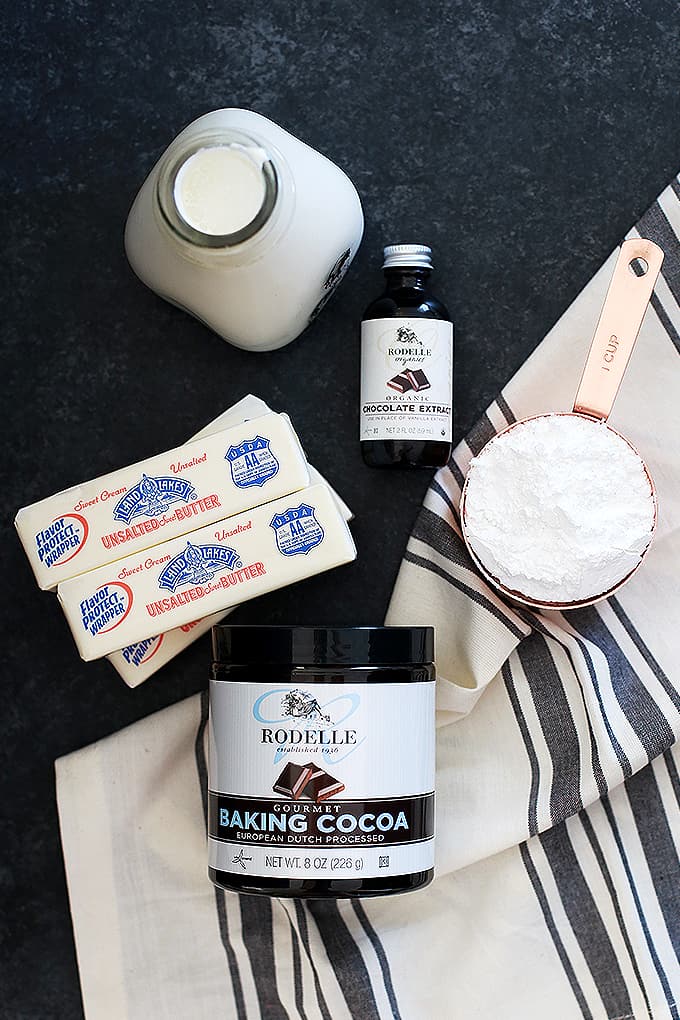 Just five ingredients.  That's all you need for this decadent Dark Chocolate Buttercream Frosting.  It's my go-to for birthday cakes and bake sales and always gets rave reviews from anyone that tries it.  Need a confidence boost?  Make some frosting and pass it around to your neighbors.  A guaranteed ego boost!  Heavy cream, butter, powdered sugar chocolate extract and baking cocoa are all you need to get started.  I stock my pantry with Rodelle's Baking Cocoa and Chocolate Extract as the cocoa is much darker than other cocoa and contains a richer flavor.  And chocolate extract?  Oh yes, it's a thing and it's the secret to adding extra chocolate punch to any baking project.
This frosting is the perfect choice for my Chocolate Chocolate Chip Zucchini Cupcakes, Small Batch Funfetti Cupcakes and can even be used on my Double Chocolate Peanut Butter Chocolate Chip Cookie Dough Cake.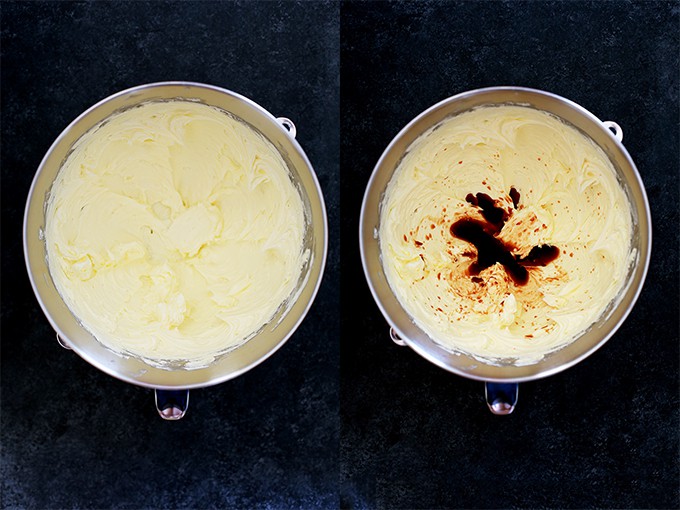 You'll soon see that if you can pour ingredients into the bowl of an electric mixer and turn the mixer on and off that you've got all the skills needed to make this Dark Chocolate Buttercream Frosting.  Into the bowl goes softened butter.  It's then beaten until light and fluffy.  Next goes in the magical chocolate extract.  More mixing.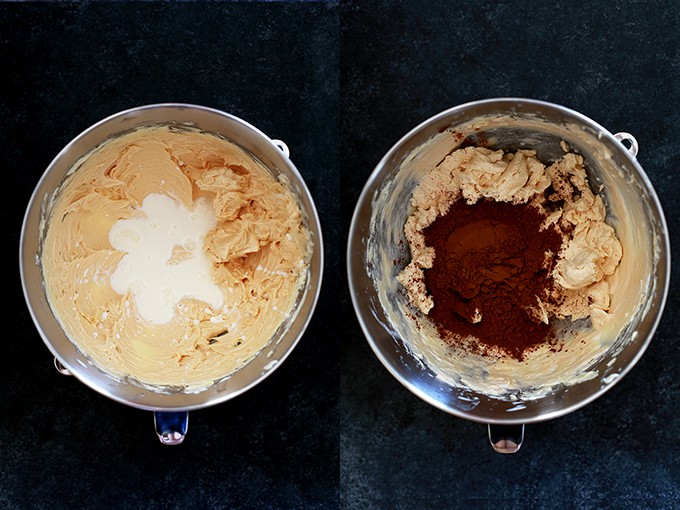 Heavy cream then joins the party.  I get a pint of it delivered to our house with our weekly milk delivery and I'm still smitten with the little glass container that arrives and love knowing that it was made locally.  Baking cocoa then joins the party and even more mixing ensues.
Last but not least, in goes the powdered sugar.  And lots more mixing.  The end result?  Let's just say I dare you to try to keep yourself from grabbing a spoon and digging in.  It really is that good.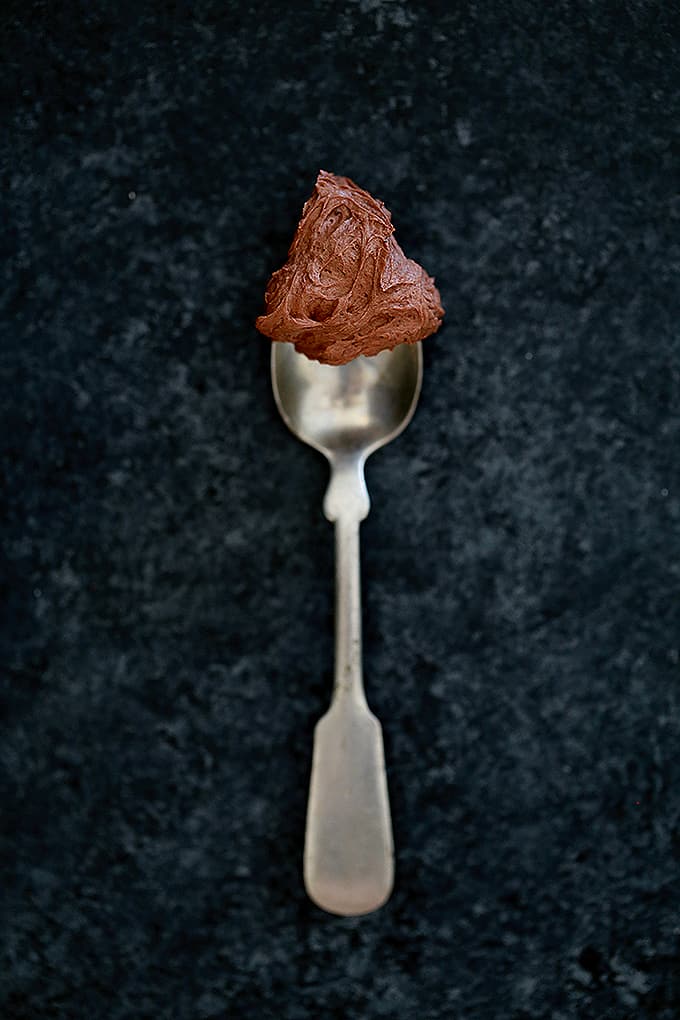 Looking for even more chocolate goodness?  Look no further!  I'm collaborating with a group of food bloggers to bring you Chocolate Week this week.  We'll each be sharing two chocolate recipes with you so that you're sure to get your fill!  You won't want to miss these Low Carb Chocolate Coconut Truffles, Chocolate Chocolate Chip Pudding Cookies, and Turtle Brownies.  I can't think of a sweeter way to start my week.
Melanie Bauer | Melanie Makes
Yields Will generously fill and frost a two-layer 9-inch cake or 24 cupcakes.
Dark Chocolate Buttercream Frosting
5 minPrep Time
5 minTotal Time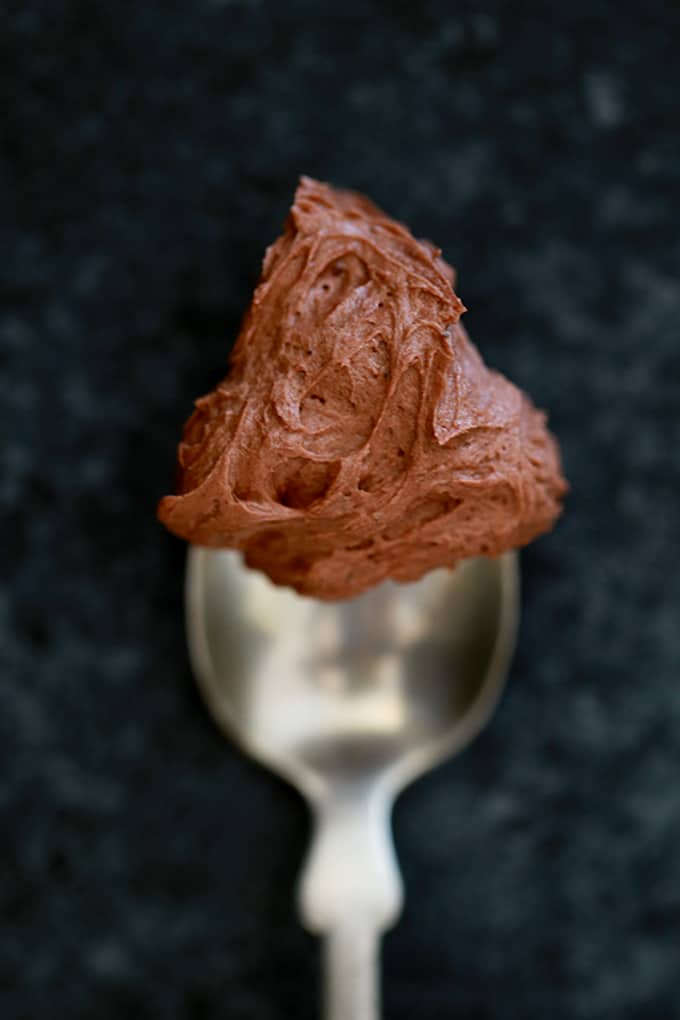 Ingredients
4 sticks butter
4 teaspoons chocolate extract
5-1/2 cups powdered sugar
4 tablespoons heavy cream
1/2 cup cocoa
Instructions
In the bowl of a stand mixer fitted with the paddle attachment, cream the butter until it is light and fluffy.
Add chocolate extract and beat until combined.
Add half of powdered sugar and beat until well combined.
Add heavy cream, remaining powdered sugar and cocoa and beat until the frosting is smooth.
7.6.4
413
https://melaniemakes.com/blog/2017/05/dark-chocolate-buttercream-frosting.html
Melanie Bauer | Melanie Makes