You'll love my shortcut to these speedy six ingredient Cherry Almond Oatmeal Muffins.  In just ten minutes, these almond and cherry studded muffins are ready the oven.  A perfect companion to your favorite morning beverage.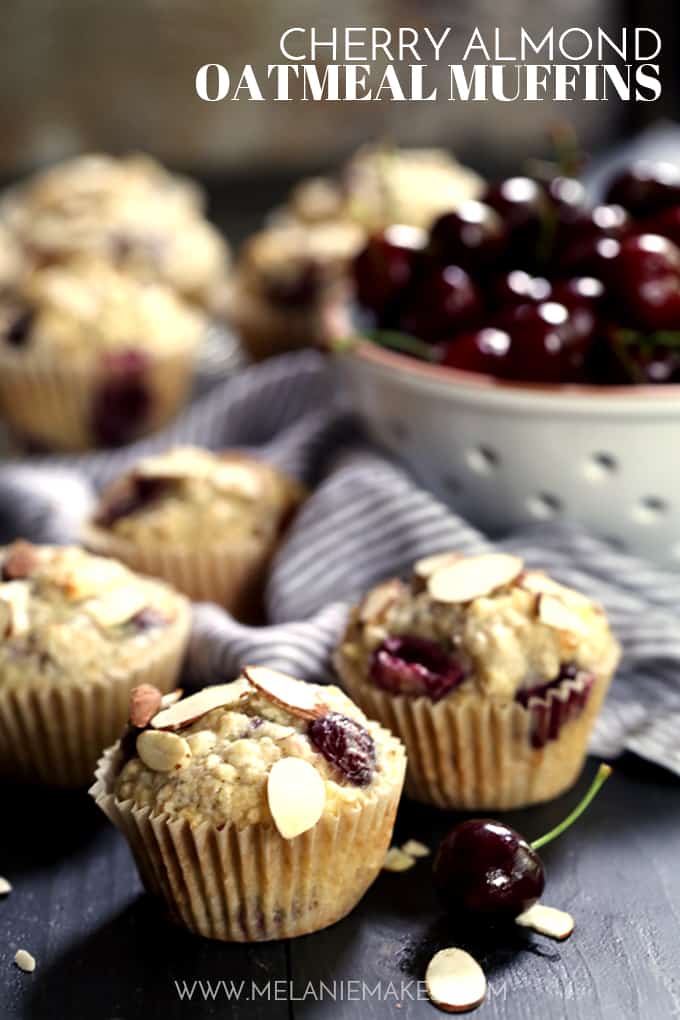 Keep in touch!  Subscribe to receive Melanie Makes recipes direct to your inbox.
All hail the muffin!  Individually portioned breakfasts prepared on the quick?  I'm so in!  Especially when they're dotted with in-season cherries like these Cherry Almond Oatmeal Muffins.  I wasn't joking about that on the quick part either, thanks to my secret muffin shortcut.  Well, I suppose it's not so secret anymore as I'm going to tell you all about it!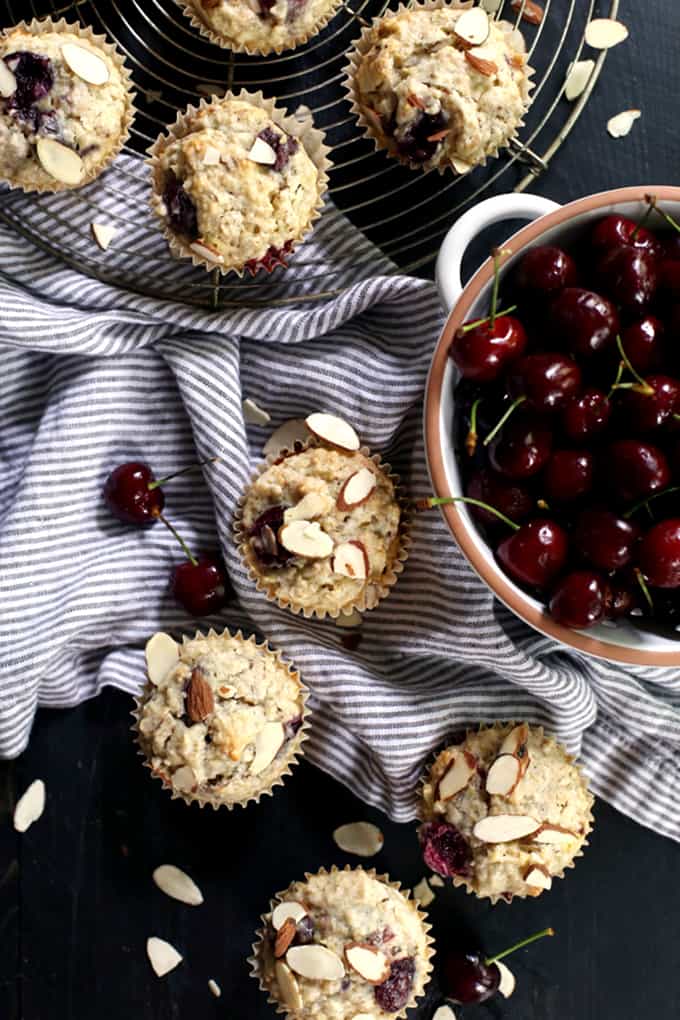 My Homemade Oatmeal Muffin Mix is the key to these speedy six ingredient Cherry Almond Oatmeal Muffins.  In just ten minutes, they're ready for a trip to the oven and emerge studded with almonds and cherries and are ready to pair with a cup of your favorite morning beverage.   Couldn't be easier!  And might I add when you've just moved across the country with four small children and you're in the middle of unpacking but everyone still needs breakfast, easy is indeed the key!
If you're looking for more muffins to add to your breakfast or brunch menu, my muffin mix is also the shortcut to these Pear Macadamia Oatmeal Muffins and these Cinnamon Apple Oatmeal Muffins.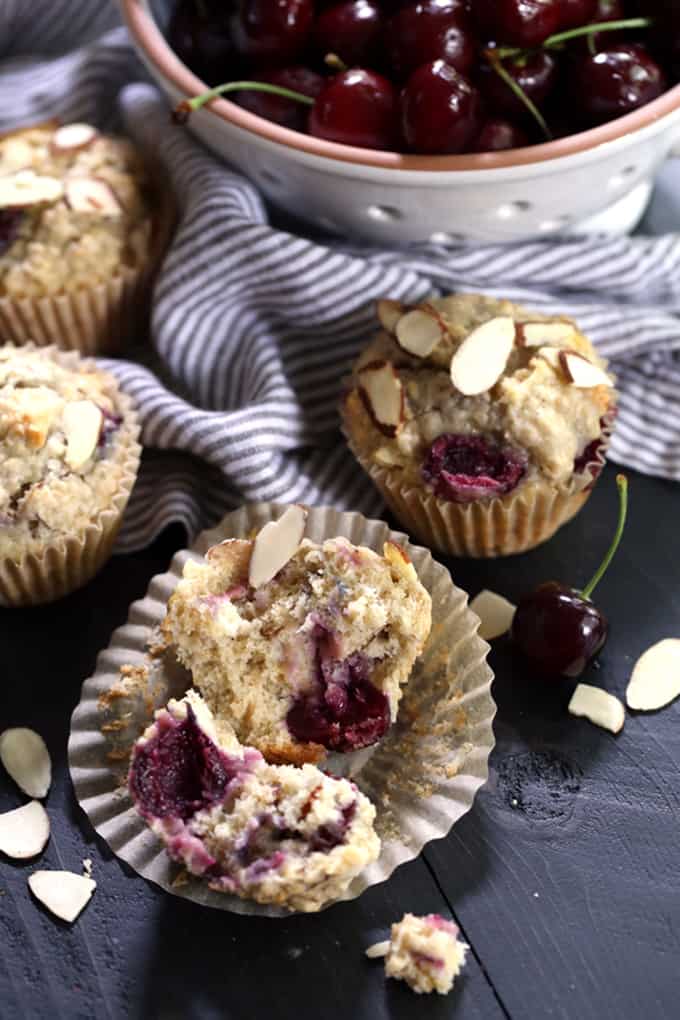 With cherries being in season, it's time to cherry all the things!  After your morning muffins, you might try these buttery Chocolate Cherry Hand Pies, these make ahead Cherry Berry Banana Overnight Oats or this Cherry Crisp Coffee Cake, the perfect way to celebrate the season!  All three are a great reason to head back to the farmer's market for even more cherries.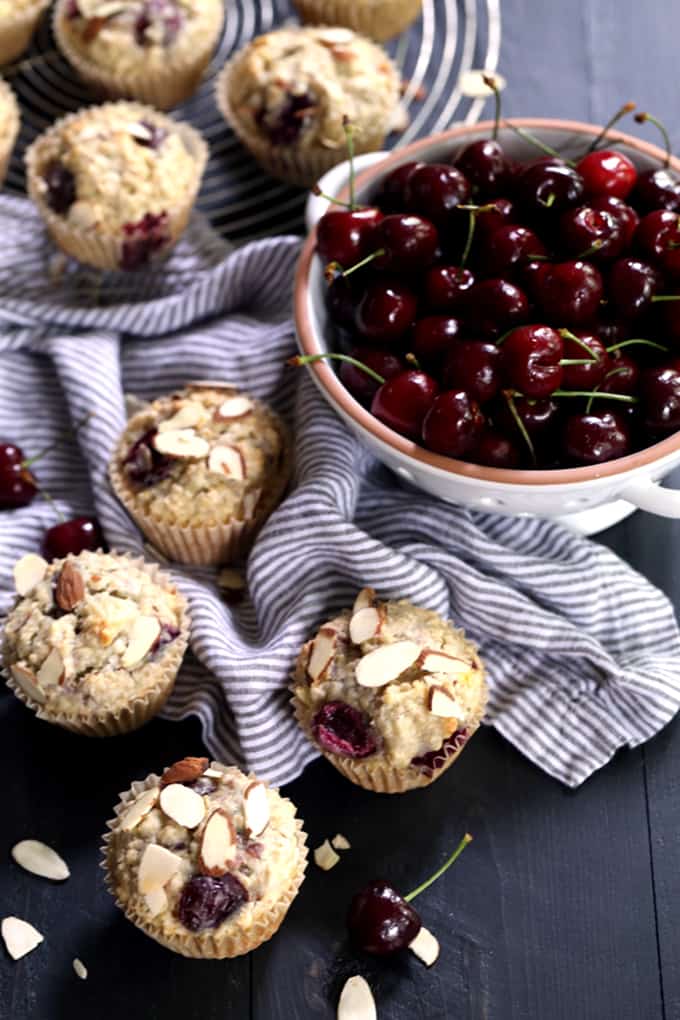 These Cherry Almond Oatmeal Muffins have skyrocketed to the top of my favorite breakfast items list.  Perfect for a morning, afternoon or evening of unpacking boxes.  Believe me, I've tested them at all times of day!
Melanie Bauer
Yields 1 dozen
Cherry Almond Oatmeal Muffins
10 minPrep Time
20 minCook Time
30 minTotal Time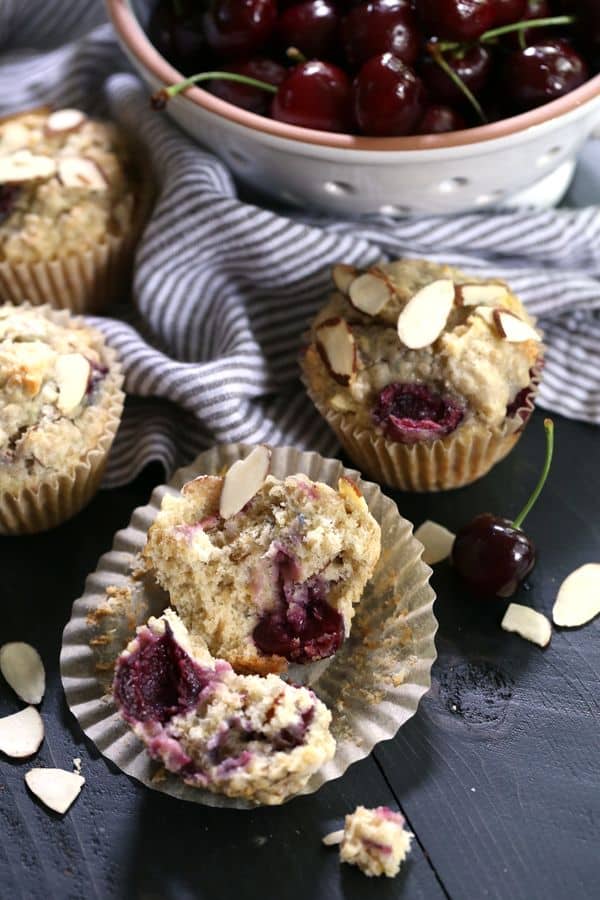 Ingredients
3 cups Homemade Oatmeal Muffin Mix
1/2 cup milk
1 egg
1 teaspoon almond extract
1 cup halved and pitted cherries
1/2 cup sliced almonds
1/2 cup additional sliced almonds to garnish, if desired
Instructions
Preheat oven to 350 degrees.
In a large bowl, add muffin mix.
Stir in milk, egg, and almond extract until just combined. Fold in cherries and almonds.
Line muffin tin with paper liners.
Using a large cookie scoop , add one scoop of batter to each muffin well.
Sprinkle the tops of batter with additional sliced almonds, if desired.
Bake for 20-25 minutes or until a toothpick inserted in the middle removes cleanly.
Allow to cool in muffin tin 2-3 minutes before removing to cooling rack to cool completely.
7.8.1.2
338
https://melaniemakes.com/cherry-almond-oatmeal-muffins/
Melanie Bauer | Melanie Makes