As part of a sponsored post for Collective Bias® I made these Dark Chocolate Whoopie Pies with Peppermint Mocha Cream with Coffee-mate's Peppermint Mocha Creamer as a sweet treat to show appreciation for my daughters' teachers.
Looking for the perfect sweet treat this holiday season? Look no further than these Dark Chocolate Whoopie Pies with Peppermint Mocha Cream. A creamy peppermint mocha filling sandwiched between two chocolatey cakes – you simply can't go wrong with this handheld treat!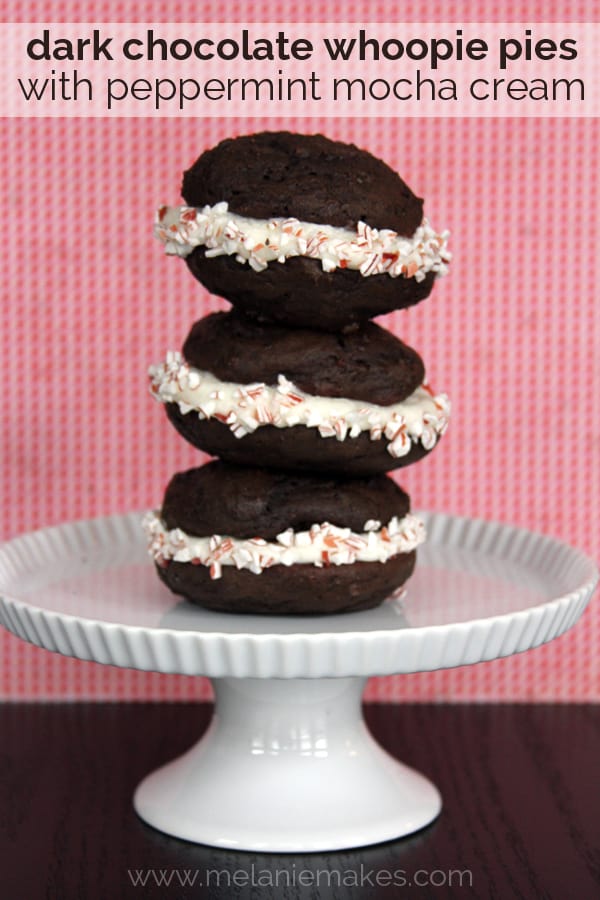 Cooking for others is my love language. It happens to be the way I show someone I care or appreciate them. With Thanksgiving being later this week, I'm feeling especially thankful for the many people in our lives that have made our adjustment to Cleveland a smooth one. Especially the girls' teachers.
They've made what could've been a difficult transition to a new school and new city absolutely amazing and I'm so appreciative of all they do on a daily basis. With it being a short school week, I figured I would start their week on a sweet note with these Dark Chocolate Whoopie Pies with Peppermint Mocha Cream.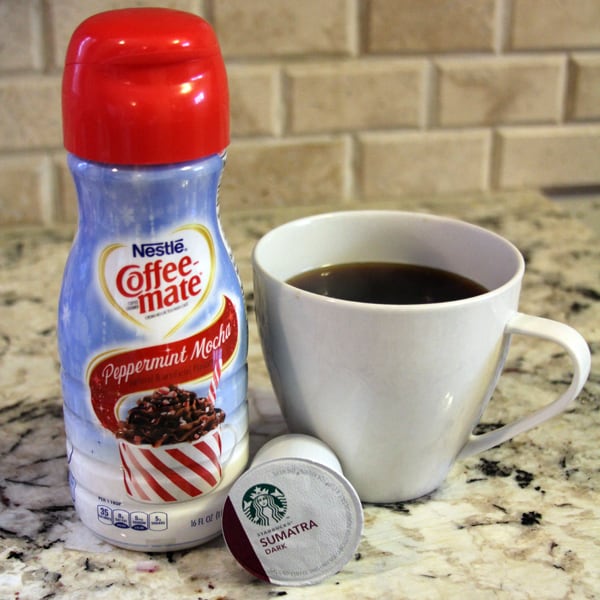 The secret ingredients? Coffee and Coffee-mate creamer. I know that if I was around 15 kids for 8 hours a day, 5 days a week, I'd need something to keep me going and so sneaking in some coffee within the soft dark chocolate cake wafers seemed perfect. I used the Coffee-mate Peppermint Mocha creamer to create the luscious cream filling that's sandwiched in the middle of each pie. Amazing!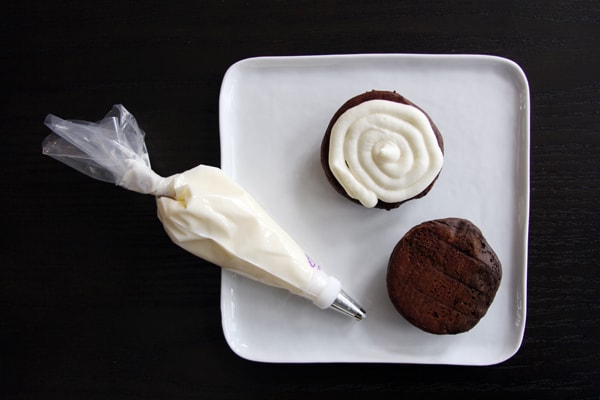 To aid the even distribution of cream within each whoopie pie, I used a piping bag and large open tip. This helped insure that each pie received the same amount of filling and that I was able to get the filling to the very edge to allow for optional garnish.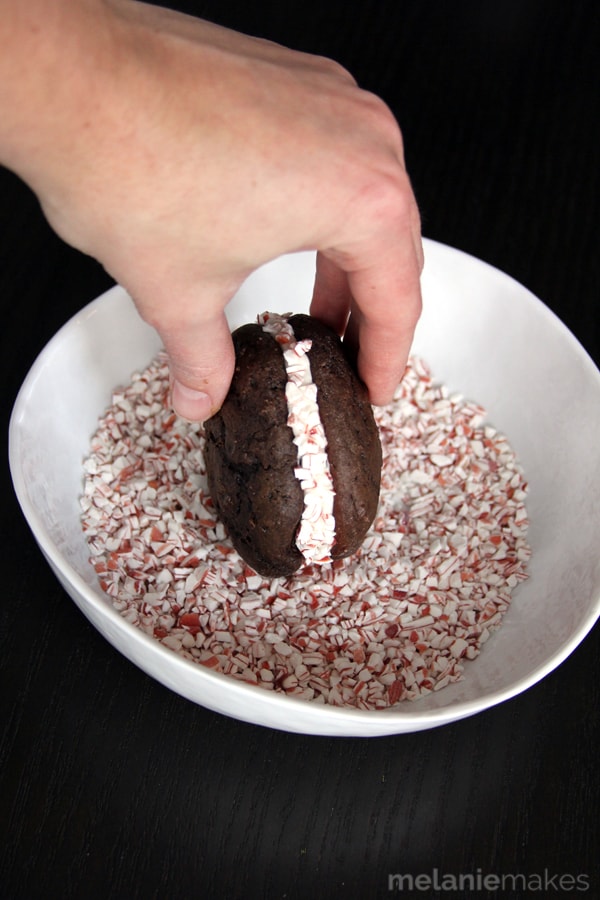 When you aren't able to tell what a filling may be on a dessert, I love to add a clue. In this case, I rolled the outside of each whoopie pie in crushed peppermint to act as a heads up that the filling was also mint flavored. Plus, who doesn't love an extra garnish?

Melanie Bauer
Yields 18
Dark Chocolate Whoopie Pies with Peppermint Mocha Cream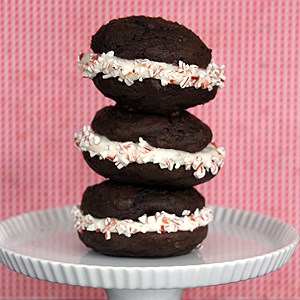 Ingredients
For Cakes

4 cups flour
1-1/3 cups cocoa
2-1/2 teaspoons baking soda
1 tablespoon salt
1 cup butter
2 cups brown sugar
2 eggs
2 tablespoons coffee, prepared
2 teaspoons vanilla
2 cups buttermilk

For Cream

1 cup butter, softened
4 cups powdered sugar
1 cup Nestle Peppermint Mocha Coffee-mate
crushed peppermint for garnish, if desired
Instructions
For Cakes

Preheat oven to 350 degrees.
In large bowl, whisk together flour, cocoa, baking soda, and salt.
In mixing bowl, cream together butter and sugar. Add egg, coffee and vanilla and mix until thoroughly combined.
Mix in flour mixture and buttermilk alternating between the two and beginning and ending with flour mixture. Do not overmix.
Using large cookie scoop , scoop batter onto parchment lined baking sheet, leaving 2" around each cake. Bake for 12-14 minutes or until cakes spring back to the touch. Cool completely before assembling into whoopie pies.

For cream

Cream butter and half of the powdered sugar together. When combined, add remaining powdered sugar.
Add Coffee-Mate Creamer and mix until combined.

For whoopie pies

Pipe or spread filling onto one cake and top with another cake. If desired, roll sides of whoopie pie in crumbled peppermint.
7.8.1.2
83
https://melaniemakes.com/dark-chocolate-whoopie-pies-with-peppermint-cream/
Melanie Bauer | Melanie Makes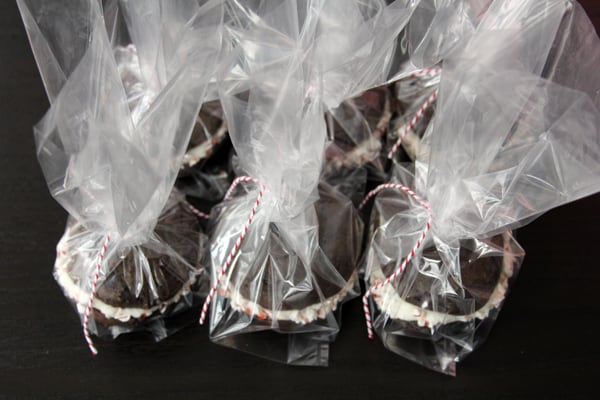 For gifting, I wrapped each whoopie pie in a clear cellophane bag and tied it shut with red and white baker's twine. A perfect match to the peppermint garnish.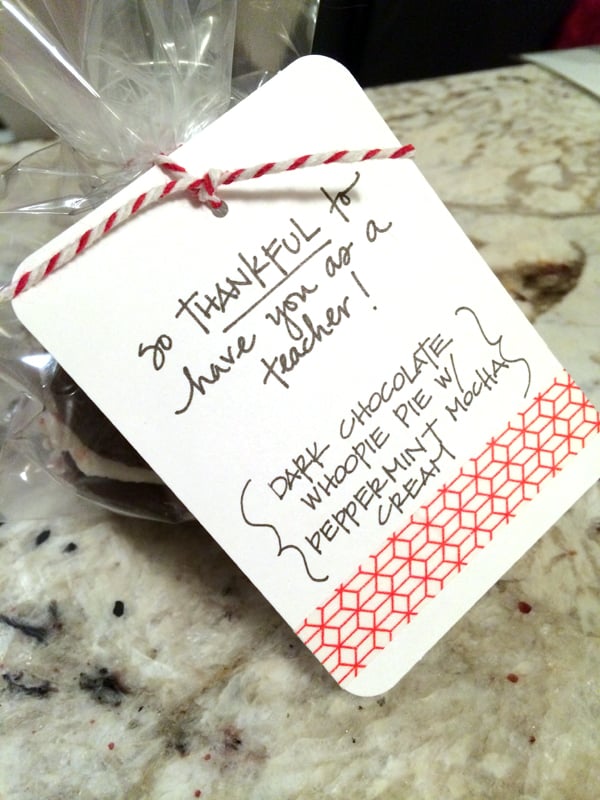 A quick tag on the outside with my note of thanks and the name of the treat within the bag.
Do you connect with others through food? Tell me I'm not alone!
Looking for more ideas featuring Nestle Coffee-mate? Check out this digital magazine full of holiday ideas.