Layer upon layer of flavor make this grilled cheese sandwich anything but ordinary. Honey glazed peaches, roasted pork tenderloin and melty puddles of blue cheese housed between two toasted pieces of wheat bread. This grilled cheese is a sandwich you'd be proud to serve to guests but one you'd want to savor all for yourself.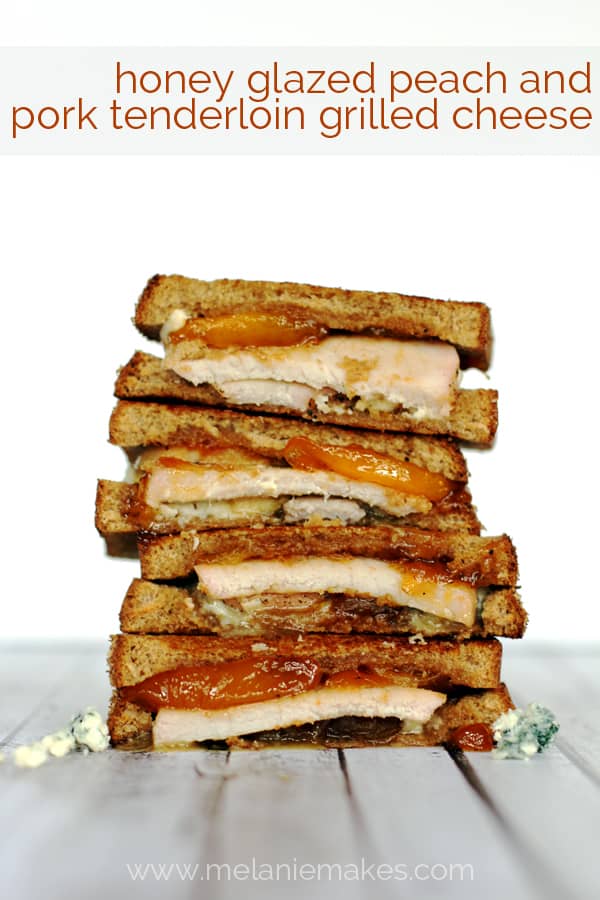 National Grilled Cheese Month?! Well, hello there April! I think I love you just a bit more! If you bring some warmer weather my way, I'll be down right smitten! The grilled cheese sandwich is quite popular in our home thanks in part to the three little ones that live under our roof. In fact, it's likely tied with the ever popular Peanut Butter and Jelly as sandwich most selected for lunch by our four year old.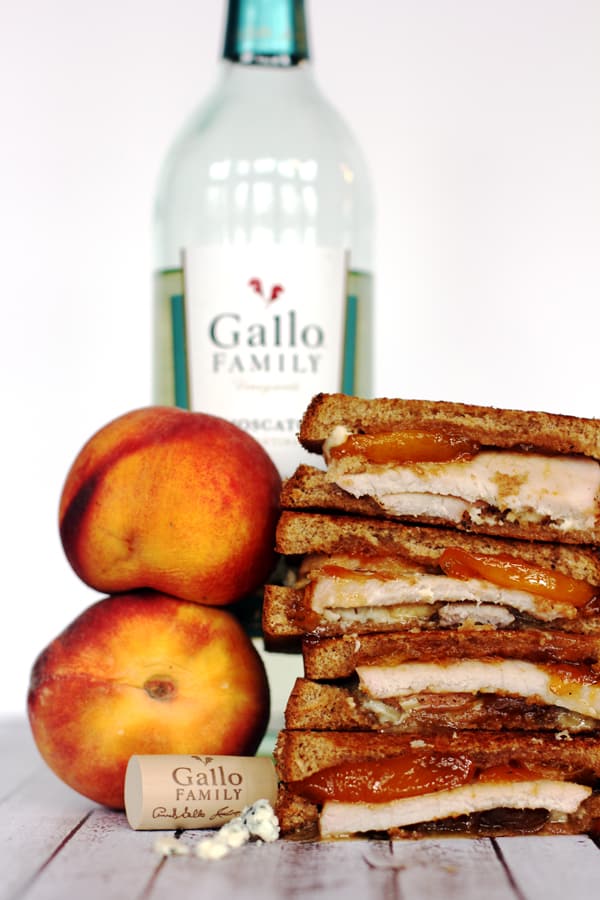 Today's Sunday Supper theme is Celebrating National Grilled Cheese Month. To help celebrate, I decided to make a grown-up grilled cheese full of my favorite flavors including Gallo Family Vineyards' Moscato. Sure, I can make a sandwich with two pieces of bread and a slice of cheese any day but I was on a mission to make a grilled cheese sandwich that would stand out from the crowd. One that would be nice enough to even serve to guests. Lucky for me, I think I succeeded!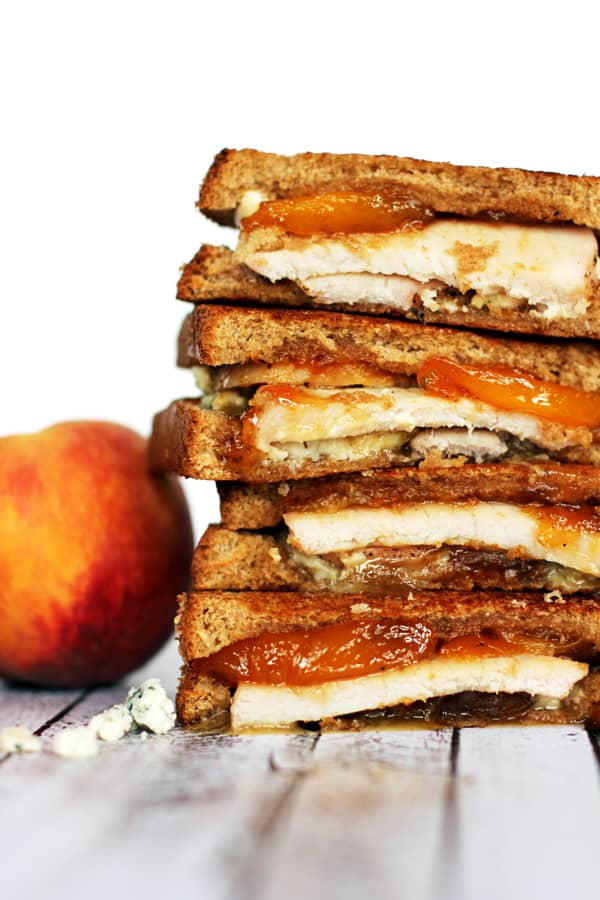 Layer upon layer of flavor, starting with a pork tenderloin that's simply seasoned with salt and pepper and oven roasted. Couldn't be more simple. And while it's roasting you have plenty of time to make the honey glazed peaches. Hands down my favorite part of this sandwich! Well, except for maybe the melted puddles of blue cheese within the crevices of pork and peaches. What am I thinking? I love it all – each and every bite.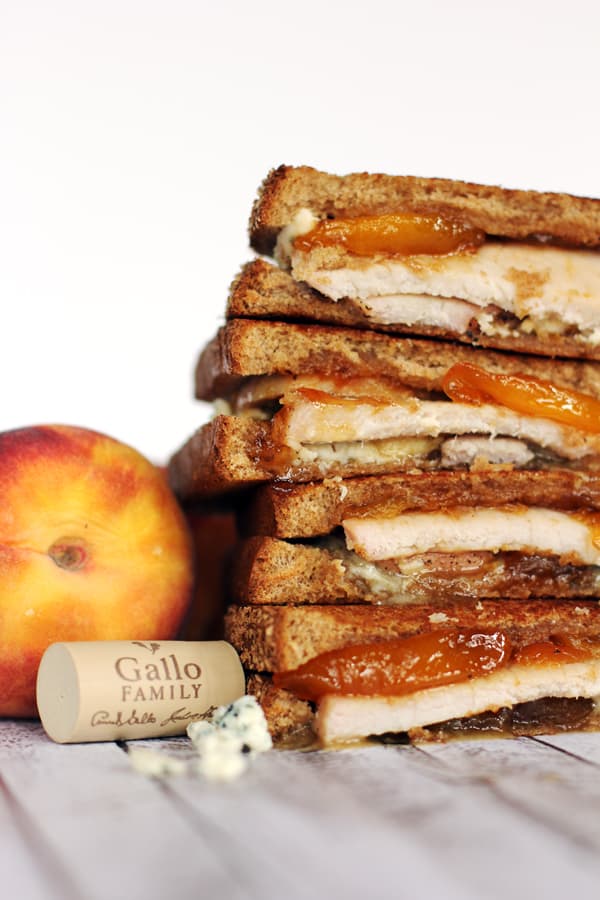 Slices of peaches are simmered in a bubbling concoction of honey, coriander, peach preserves and Moscato wine. Yes, wine! A grown-up grilled cheese deserves a grown-up taste, don't you think? And this Moscato wine? An absolutely perfect choice. It's bursting with peach, honey and citrus flavors and almost seems that it was created especially for this recipe.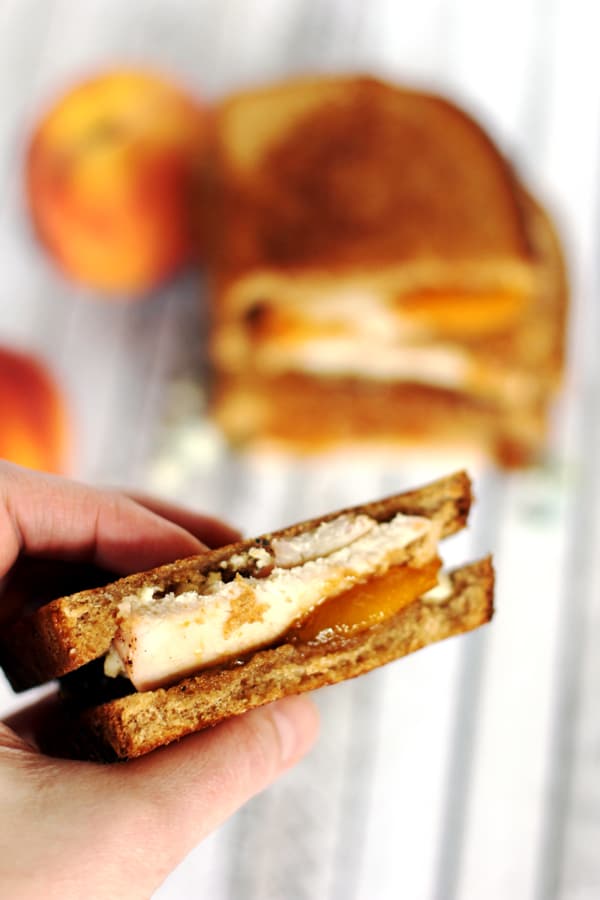 Yields 6 sandwiches
Honey Glazed Peach and Pork Tenderloin Grilled Cheese
45 minPrep Time
5 minCook Time
50 minTotal Time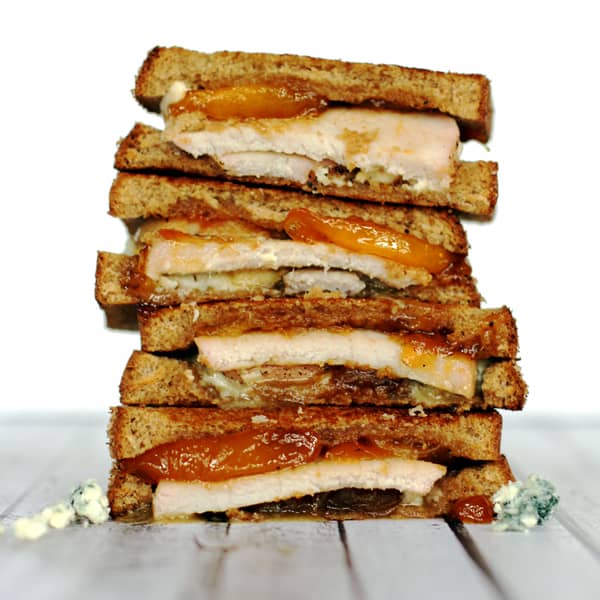 Ingredients
1-1/2 pound pork tenderloin
1 teaspoon coriander
1/2 teaspoon pepper
16 oz. frozen peaches
3/4 cup honey
1 cup Gallo Family Vineyards Moscato wine
2 teaspoons grated ginger
1/2 cup peach preserves
1/4 pound blue cheese
12 pieces whole wheat bread
Instructions
Preheat oven to 350 degrees.
Place tenderloin on foil lined baking sheet and season with salt and pepper and roast for 40-45 minutes or until cooked through.
Meanwhile, in a small saucepan, stir together coriander, pepper, peaches, honey, wine, ginger and peach preserves. Bring to a boil and then reduce to a simmer until thickened into a sauce.
Slice roasted tenderloin into 1/4" slices.
To prepare sandwiches, butter one side of two slices of red. On non-buttered side of one slice of bread, spread with sauce and add three slices of tenderloin. Add pieces of blue cheese and top with additional sauce. Top with another piece of bread buttered side facing outwards.
Heat skillet over medium heat and add sandwich. Cook until browned and then flip to other side to brown. Slice into two halves.
Repeat with remaining ingredients to create additional sandwiches.
7.8.1.2
33
https://melaniemakes.com/honey-glazed-peach-and-pork-tenderloin-grilled-cheese/
Melanie Bauer | Melanie Makes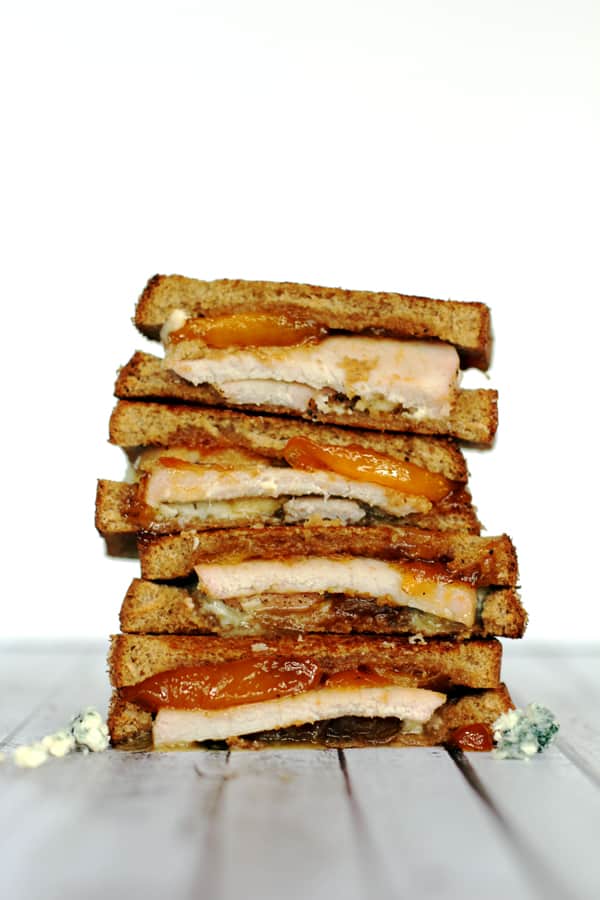 I mentioned this grilled cheese was grown-up enough to serve to guests and that's exactly what I did. I loved sharing these sandwiches with Andy's dad when he was visiting last weekend. Blue cheese lovers unite! Such a great combination of sweet, spicy and creamy. I can't wait to make these again and soon. Who wants to come visit?
Want to add even more amazing grilled cheese recipes to your arsenal? Look no further than our Sunday Supper table!
—–
Compensation was provided by Gallo Family Vineyards via Sunday Supper, LLC. The opinions expressed herein are those of the author, and are not indicative of the opinions or positions of Gallo Family Vineyards.