These Peanut Butter Banana Bacon Pancakes taste as good as they sound, especially when topped with Peanut Butter Maple Syrup!  Flapjacks flavored with banana and melted peanut butter and then studded with bacon.  Perfect for breakfast, lunch or dinner.
Keep in touch!  Subscribe to receive Melanie Makes recipes direct to your inbox.
I've mentioned before that breakfast is a popular meal at our house, especially for dinner.  And breakfast carbohydrates?  They're always sure to please, especially with our second oldest, the carb queen.  I had no doubt that these Peanut Butter Banana Bacon Pancakes would be a hit and I'm happy to say I was right.  Again!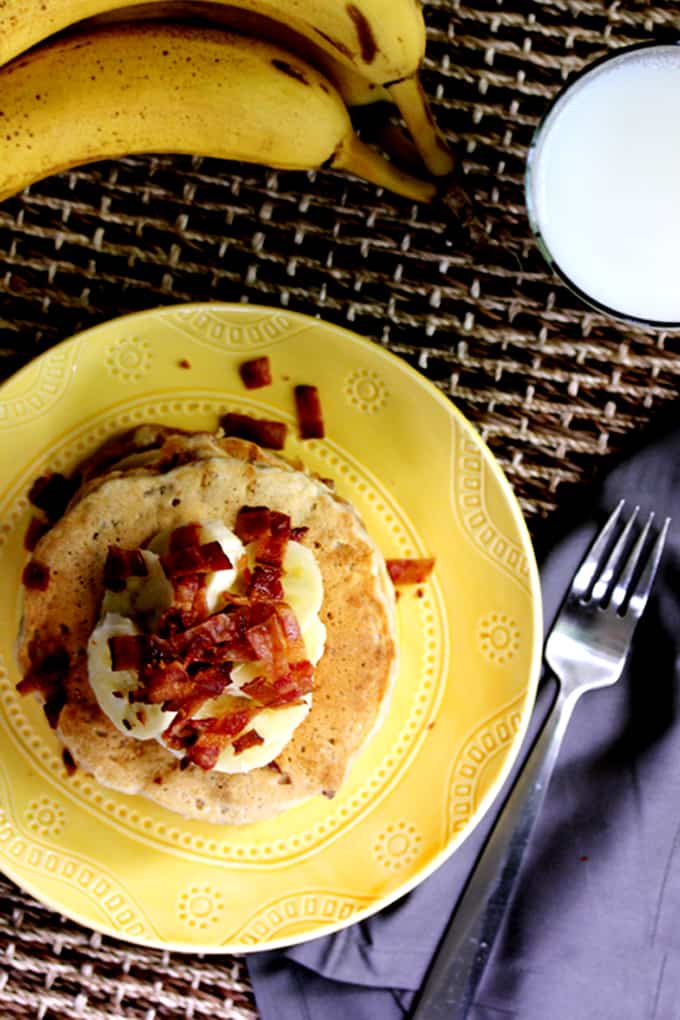 To some this might sound like a crazy combination of flavors, but let me let you into my thought process behind this one.  Before we welcomed our little carb queen into the world, I only liked peanut butter on my pancakes.  No maple syrup for me, thankyouverymuch.   And in my book, nothing pairs better with banana than peanut butter.  Elvis agrees and he's the King so I must be on to something.  And what could be more perfect than peanut butter and banana paired together in pancakes?  Well, nothing except for the addition of bacon!  The sweet and the salty together is simply perfection.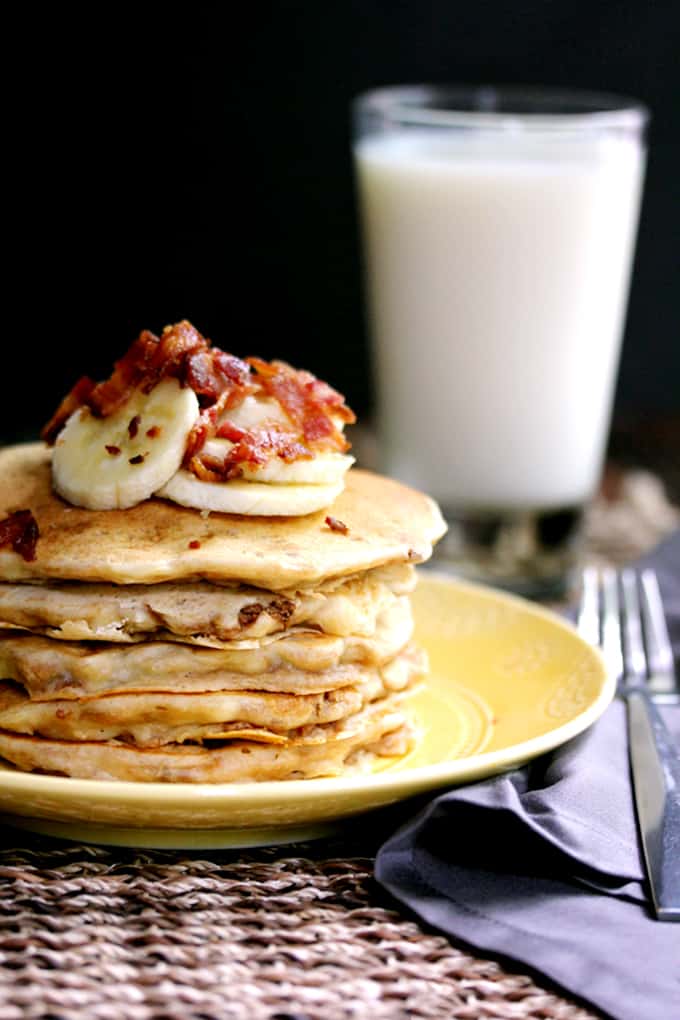 But wait, there's more!  These pancakes are garnished with sliced bananas and sprinkled with additional crumbled bacon.  Did I mention that they are then drizzled with peanut butter maple syrup?  It's absolute breakfast nirvana – any time of day!  It's like the pre-maple syrup me had a meeting of the minds with new maple syrup lover me and this peanut butter maple syrup is the delicious end result.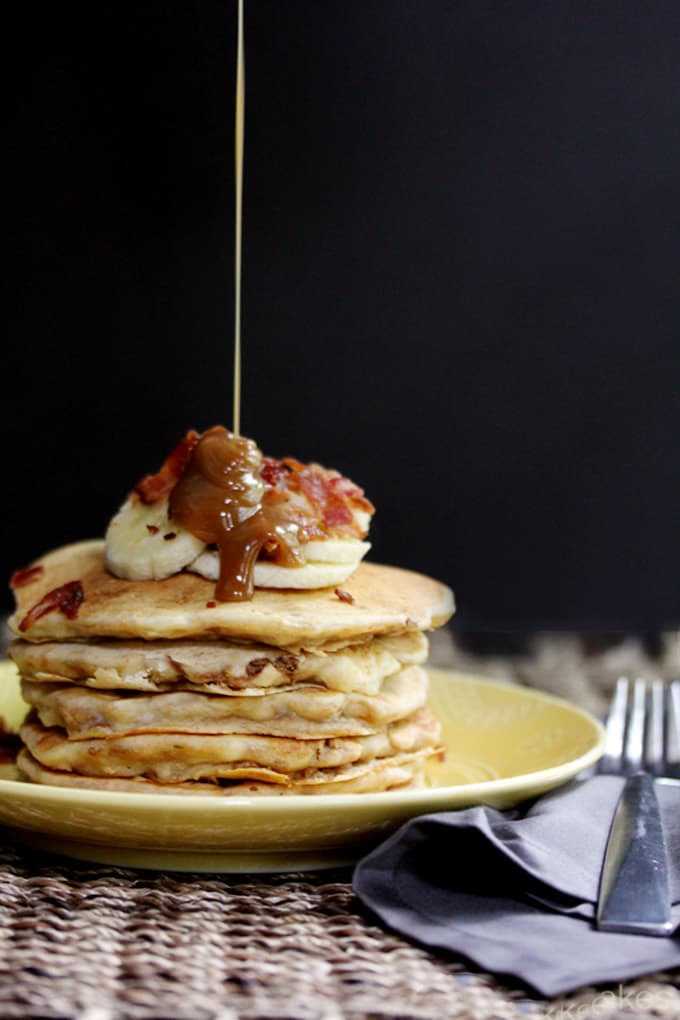 These Peanut Butter Banana Bacon Pancakes have quickly joined the list of our other favorite pancakes like my Birthday Cake Pancakes that have an amazing Vanilla Sugar Glaze and my classic Best Buttermilk Pancakes which are not only a hit for breakfast or brunch but requested often for dinner as well.  Candy lovers won't want to miss my sweet Halloween Candy Dessert Pancakes.  The perfect use for leftover candy!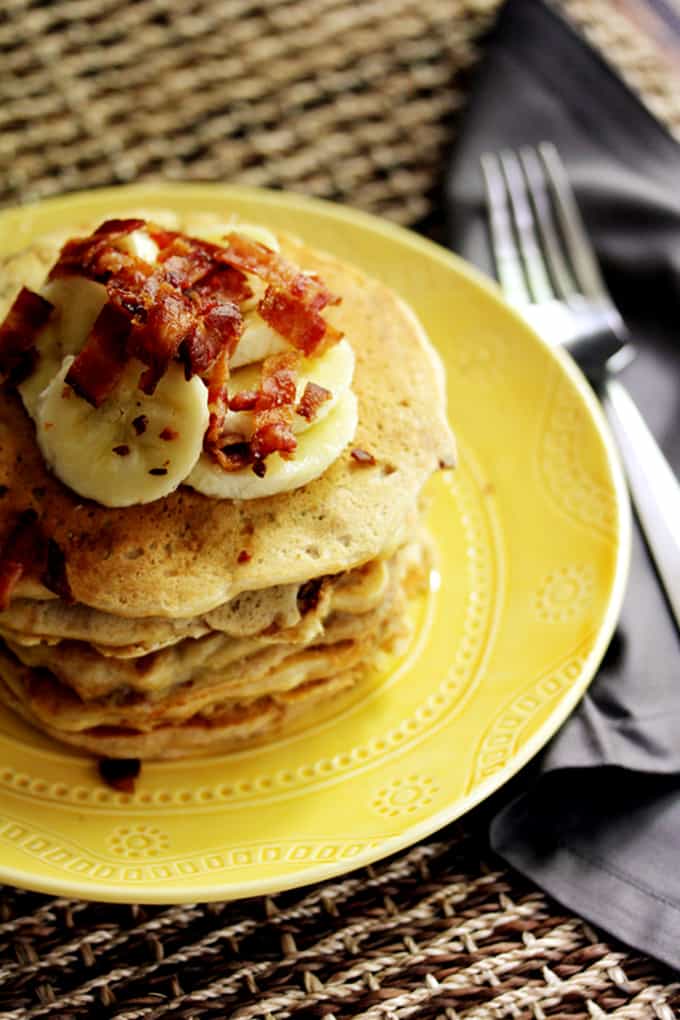 Still can't get enough pancakes?  Why not making your own DIY Pancake Mix so that you're at the ready whenever a craving hits?  Or if you need to take your breakfast on the road, these Grab N Go Pancake Muffins are definitely the answer to your pancake problems.  But the winner for creativity?  That definitely goes to these Pancake Breakfast Tacos.  The best of both worlds, without a doubt!
Melanie Bauer
Yields 5
Peanut Butter Banana Bacon Pancakes
15 minPrep Time
15 minCook Time
30 minTotal Time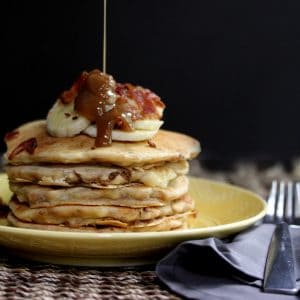 Ingredients
Peanut Butter Banana Bacon Pancakes

2 cups flour
1 tablespoon + 1/2 teaspoon baking powder
1/2 teaspoon salt
2-1/3 cups buttermilk
1 egg, beaten
1 tablespoon vanilla
2 bananas, mashed
1 cup peanut butter, melted
6 pieces bacon, cooked and crumbled

Peanut Butter Maple Syrup

1 cup maple syrup
1/2 peanut butter
Instructions
Peanut Butter Banana Bacon Pancakes

In a large bowl, whisk together flour, baking powder and salt.
Make a well in the center of dry mixture and add milk, egg, vanilla, bananas, peanut butter and bacon. Stir until just combined.
Heat griddle over medium heat and pour 1/3 cup batter onto heated griddle for each pancake.
When bubbles no longer appear on pancake surface, flip to cook other side until lightly browned.

Peanut Butter Maple Syrup

In a microwave safe bowl, add maple syrup and peanut butter. Microwave on high one minute, stirring to combine.
Garnish pancakes with additional sliced bananas and crumbled bacon, if desired.
7.8.1.2
142
https://melaniemakes.com/peanut-butter-banana-bacon-pancakes/
Melanie Bauer | Melanie Makes