This flavorful, four ingredient Slow Cooker Lemon Chicken takes just five minutes to prepare.  Perfect for the busiest of weeknights or when you simply don't want to put forth a lot of effort to get dinner on the table.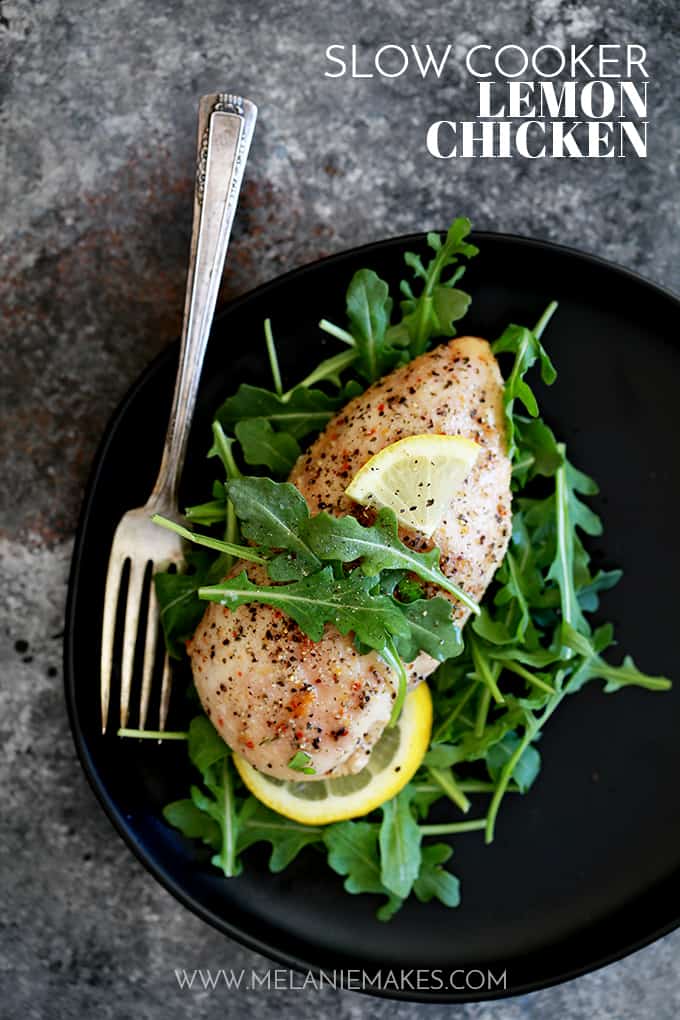 Keep in touch!  Subscribe to receive Melanie Makes recipes direct to your inbox.
I dare you to find an easier or more flavorful dinner idea than this four ingredient Slow Cooker Lemon Chicken.  And did I mention that everyone that sits at our dining room table gives it two thumbs up?  They have no idea that it took just five minutes of work!  It's like the perfect storm in the world of recipes.  Easy AND enjoyed by all?  Who knew that was even possible?  Perfect for the busiest of weeknights or when you simply don't want to put forth a lot of effort to get dinner on the table.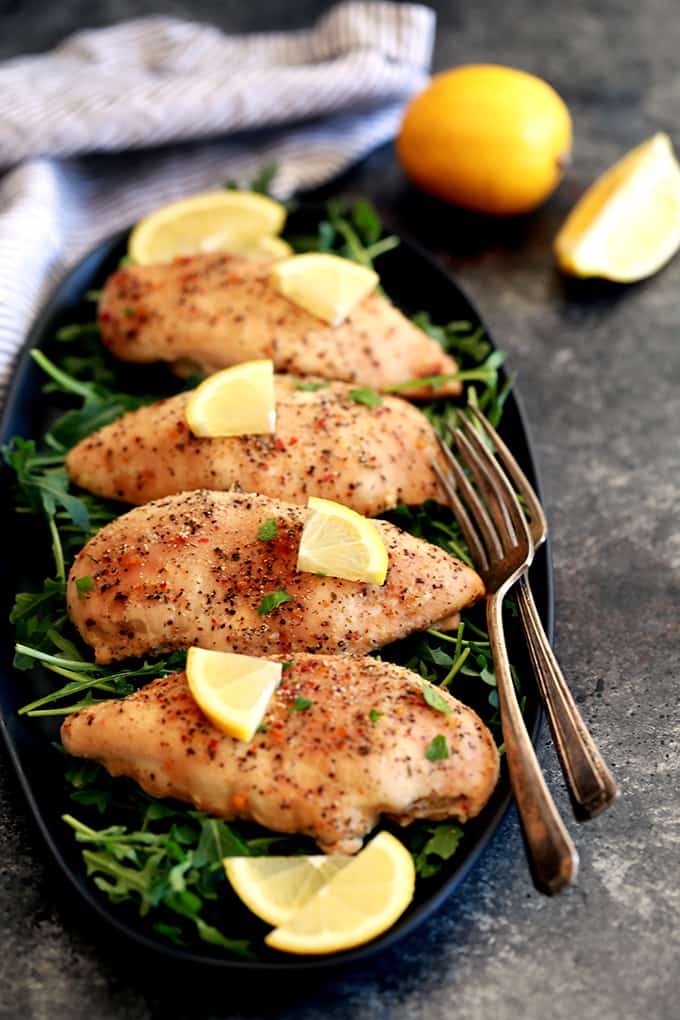 Lemon is always a great way to brighten the flavor of any dish and this Slow Cooker Lemon Chicken is definitely no exception.  It's also the key ingredient to my Lemon Arugula Pasta, Slow Cooker Lemon Rosemary Lentil Soup and Roasted Brussels Sprouts with Lemon and Greek Yogurt.  A trip to the fridge for a couple of lemons, chicken and butter and then an envelope of Italian salad dressing mix – flavor shortcut! – and you've got dinner nearly made.  If only all things in life were this easy!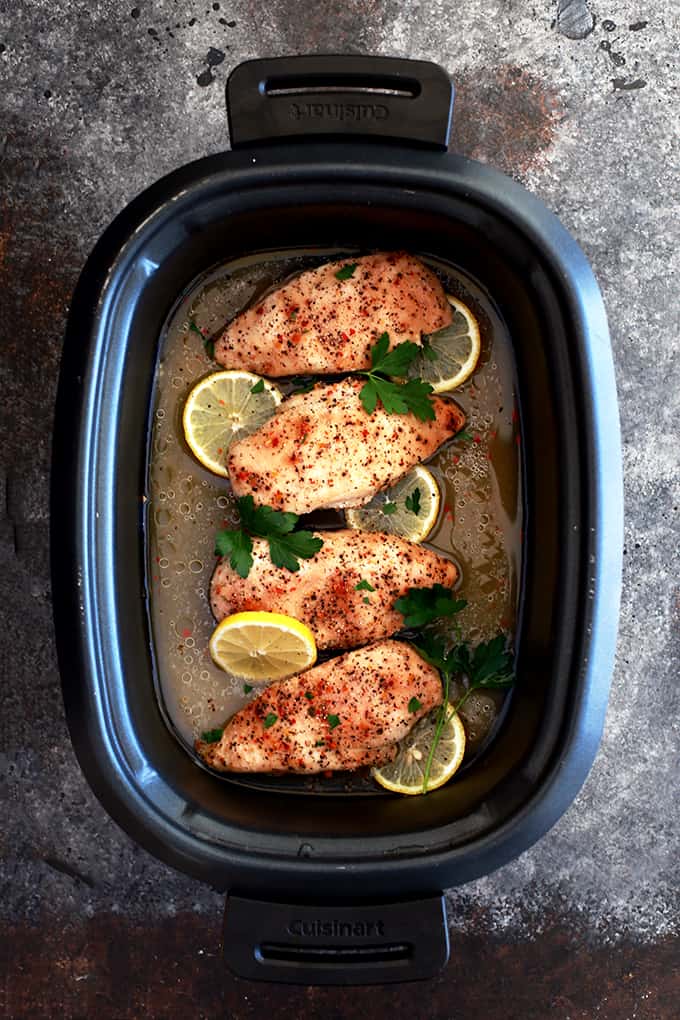 Obviously, as soon as your slow cooker timer beeps when cooking has finished, you're ready for meal time!  Or if you want to dress things up, I love adding slices of lemon and some chopped fresh parsley as well as some cracked black pepper.  Totally unnecessary, but it's always fun to play dress-up with your food!  I love to then serve it on a bed of arugula or on top of Israeli couscous, which is my children's absolute favorite.  I'll admit I also love how the couscous absorbs the cooking liquid and concentrates the flavor even more.
Not only is this Slow Cooker Lemon Chicken a great dinner idea, but it's also a perfect meal prep solution as well.  Having this delicious chicken on hand in your fridge for the week ahead is a great starting point for a quick salad, sandwich or wrap.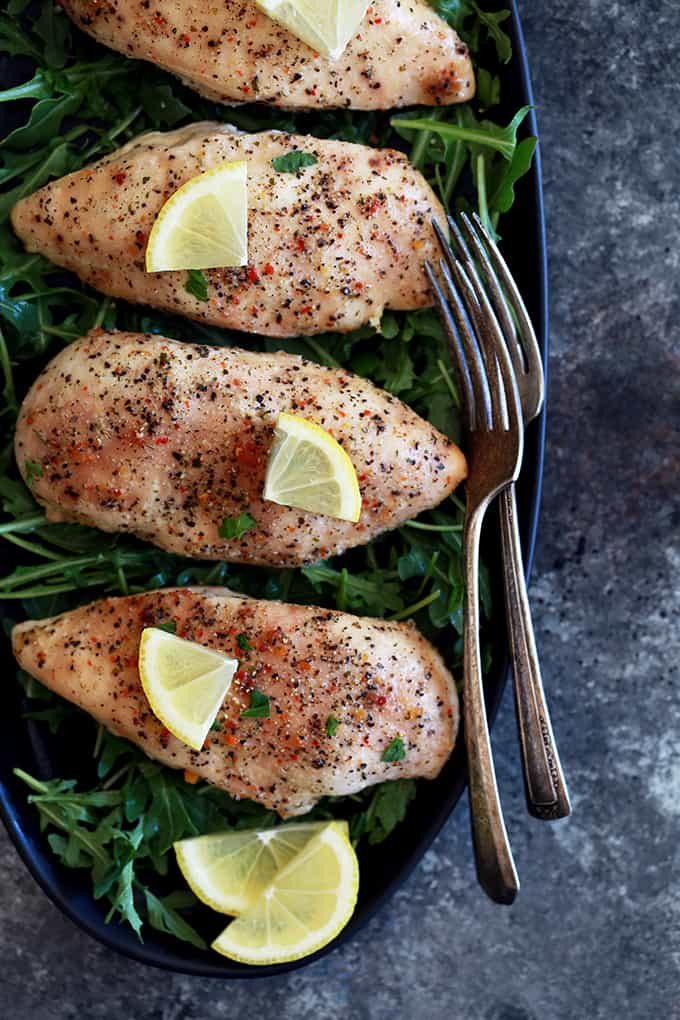 SIDE NOTE: If you're looking for an amazing slow cooker, I can't recommend the one I used not only in this recipe, but also chatted about in this Slow Cooker Pork Roast and Cherries recipe enough.  I mean, the fact that it's nonstick and is a breeze to clean is amazing in and of itself, but it also will brown, simmer and steam as well.  I have three slow cookers and this is the only one that I keep in my kitchen.  The others are only used on an as needed basis and are banished to storage in the basement.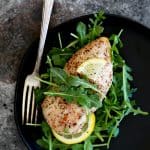 Print Recipe
Slow Cooker Lemon Chicken
Ingredients
2

tablespoons

butter

4

boneless, skinless chicken breasts

(approximately two pounds)

1

0.07 ounce envelope

Italian salad dressing mix

2

lemons
Instructions
Add butter to slow cooker and then add chicken on top. As the butter will obviously melt, there's no need to cut it into pieces, just throw it in.

Juice lemons over chicken.

Sprinkle Italian salad dressing mix over chicken.

Cook on LOW for four hours.
Nutrition
Calories:
195
kcal
|
Carbohydrates:
5
g
|
Protein:
24
g
|
Fat:
8
g
|
Saturated Fat:
4
g
|
Cholesterol:
87
mg
|
Sodium:
208
mg
|
Potassium:
492
mg
|
Fiber:
1
g
|
Sugar:
1
g
|
Vitamin A:
4.2
%
|
Vitamin C:
36.3
%
|
Calcium:
2
%
|
Iron:
4.1
%
If one savory dish can be brightened with lemon, so can several others, right?  You'll want to take a look at this quick Pan Seared Lemon Thyme Wild Salmon, super easy 20 Minute Lemon Broccoli Pasta Skillet and Low-Carb Roasted Lemon Cabbage and Sausage Sheet Pan Meal.