There's nothing better than one of these Strawberry Banana Muffins to begin your day.  A moist and fluffy banana muffin is bedazzled with large pieces of diced strawberries to create a muffin that truly screams spring.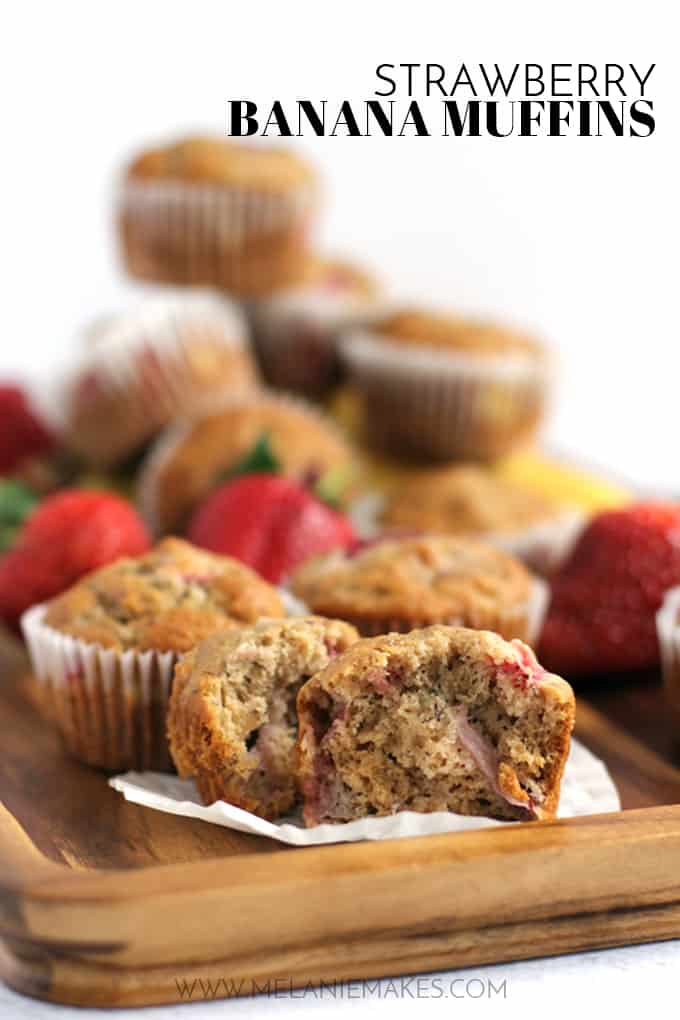 Keep in touch!  Subscribe to receive Melanie Makes recipes direct to your inbox.
If there's one thing I know, it's that I've yet to meet anyone that doesn't love having fresh muffins greet them for breakfast or brunch.  Or a snack.  You know, whenever.  Especially when said muffins contain in-season ingredients like these Strawberry Banana Muffins.  If you're that one person in the world that doesn't enjoy a good muffin, do your self a favor and quit reading.  For my fellow carb addicts, I'm here to please!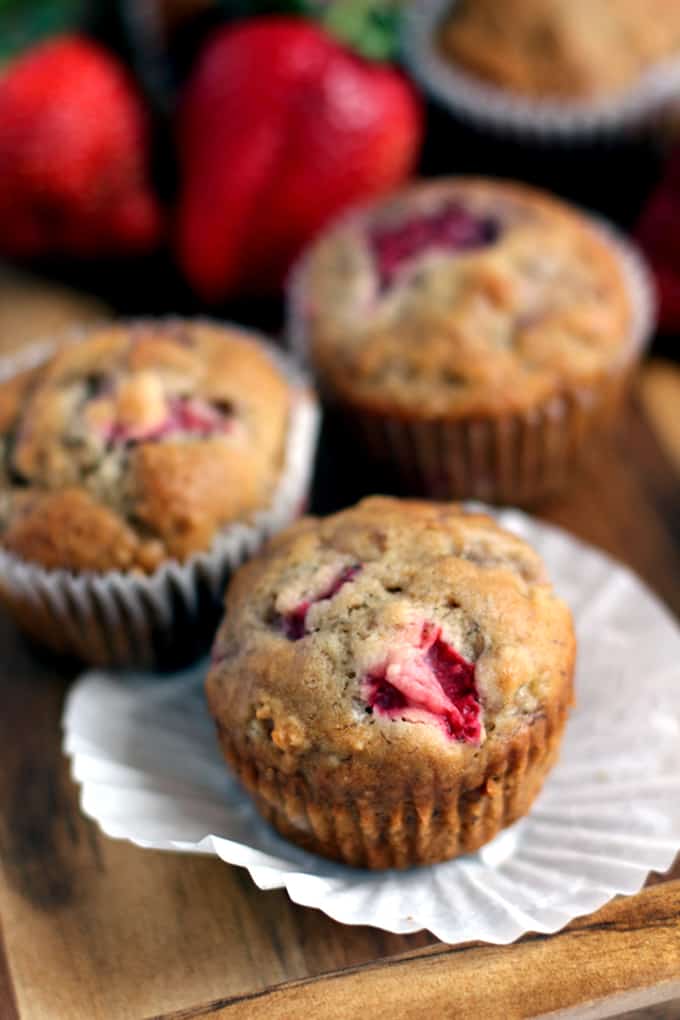 When I decided that I wanted to share this recipe with you, I had to dig in my e-mail recipe folder to find it.  The subject of the e-mail from my friend Gabby was "Recipe for Super Mama."  If you received an e-mail with a subject line like that, wouldn't it more than make your day?  Even if you knew that it was the furthest thing from the truth?  The answer is definitely yes.  Even four years after she originally sent it, it made me smile when I saw it.   If she thinks I'm super, I can't even fathom what the correct adjective for these Strawberry Banana Muffins is.  Stupendous?  Out of this world?  Fabulous?  I'll get back to you on that one.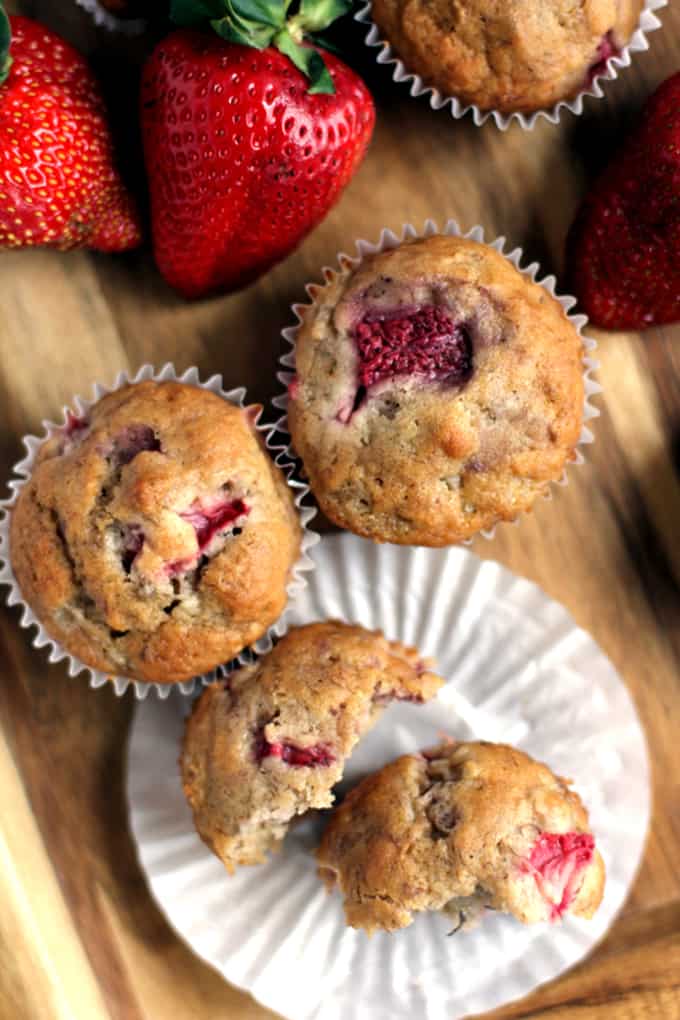 These muffins are the perfect treat for any mama in your life.  Your own mother, your mother-in-law, your grandmother, the awesome women that live next door to you that said they won the neighbor lottery when you moved in.  (Yes, my neighbor actually said that even though my middle child has no volume control and squeals at a decibel that will call any dog within the county when she's outside.)  Large pieces of strawberries bedazzle this banana muffin batter.  These Strawberry Banana Muffins are moist, pretty, and they freeze really well.  Strawberries on sale this week?  Buy extra to make a large batch of muffins.  Your family will thank you!
In fact, I'm betting these would be the perfect beginning to a muffin bar of sorts – an amazing way to feed a crowd for breakfast or brunch.  Some of our other favorites are my decadent Pumpkin Chocolate Chip Muffins, delicious Cherry Almond Oatmeal Muffins and lightened up Yogurt Blueberry Oatmeal Muffins.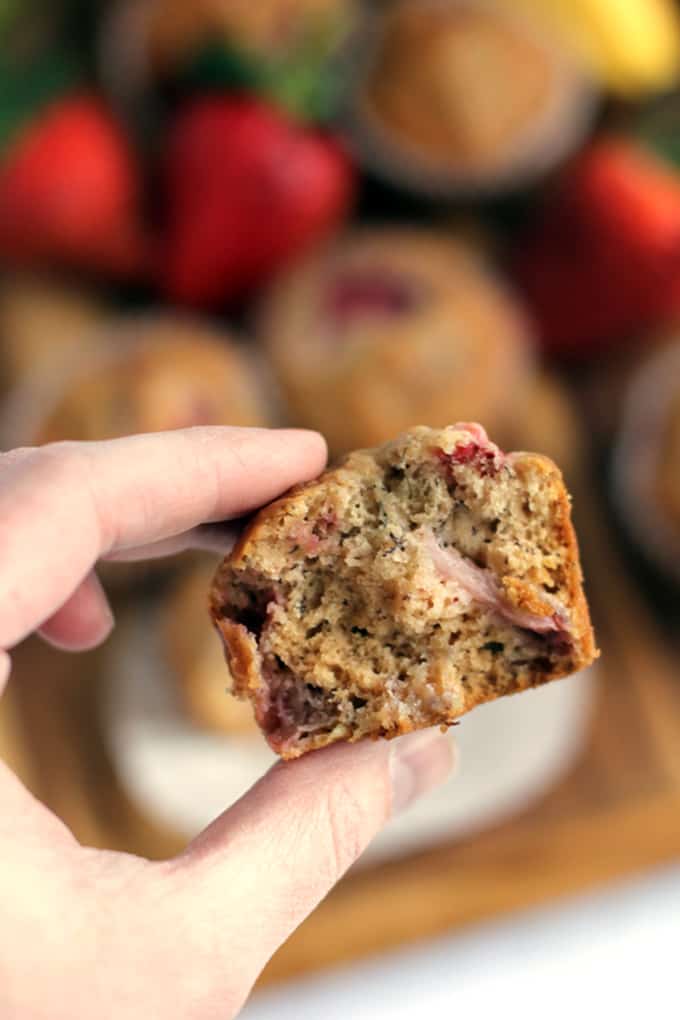 My friends have also shared delicious banana muffin recipes like these Cinnamon Swirl Peanut Butter Banana Muffins that have all my favorites stuffed inside, these rich Cream Cheese Banana Muffins and these Butterscotch Banana Muffins – love that flavor combination!
Yields 12 muffins
Strawberry Banana Muffins
15 minPrep Time
20 minCook Time
35 minTotal Time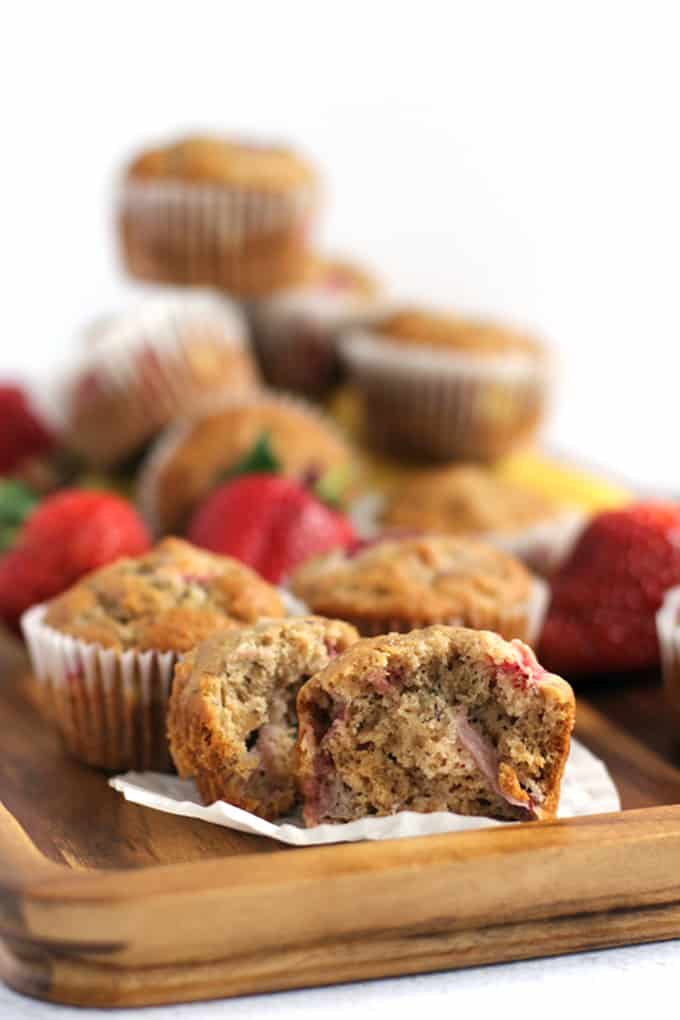 Ingredients
1 egg
2/3 cup sugar
6 tablespoons butter, melted
1 teaspoon vanilla
2 bananas
1-1/2 cups flour
3/4 teaspoon baking soda
1/2 teaspoon cinnamon
1/4 teaspoon salt
1 cup strawberries, diced
Instructions
Preheat oven to 350 degrees. Line muffin tin with muffin liners.
In the bowl of an electric mixer, mix together egg and sugar until well combined. Mix in butter and vanilla.
Squish bananas into egg mixture and mix until bananas are broken up and well combined.
In a separate bowl, whisk together flour, baking soda, cinnamon and salt. Add strawberries to flour mixture and toss to coat.
Add flour mixture to egg mixture and mix until just combined.
Using a large cookie scoop, add batter to muffin tin.
Bake until golden brown, 20-25 minutes, or until a toothpick inserted in the muffin comes out clean.
Cool 2 minutes in the pan before removing to a wire rack to cool completely.
7.8.1.2
47
https://melaniemakes.com/strawberry-banana-muffins/
Melanie Bauer | Melanie Makes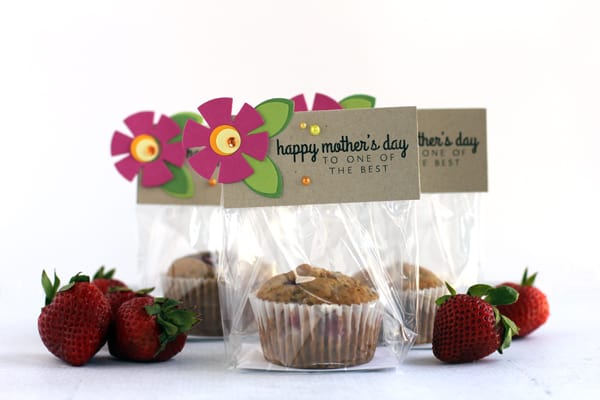 And look how awesome they are when packaged!  I've partnered with my dear friend, Jennifer of Jennifer McGuire Ink, again this month who created this amazing packaging for my muffins.  Make the day of a mama in your life and gift them with love from your kitchen this Mother's Day.
Click here to see more information about creatively packaging your muffins for Mother's Day, including a video, from Jennifer.