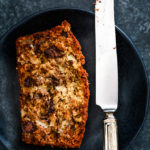 Chocolate Chip Walnut Banana Bread
Total Time:
1
hour
10
minutes
Not one, not two, not three, but FOUR bananas are packed into a single loaf of this Chocolate Chip Walnut Banana Bread. A bread absolutely bedazzled with chocolate chips and walnuts. In other words, I dare you to not fall in love with it upon first bite!
Print Recipe
1/2

cup

butter

softened

1

cup

sugar

2

eggs

beaten

4

ripe bananas

1-1/2

cups

flour

1

teaspoon

baking soda

1/2

teaspoon

salt

1

teaspoon

vanilla

1

cup

chopped walnuts

1

cup

chocolate chips
Preheat oven to 350 degrees.

In the bowl of an electric mixer, add butter and sugar. Cream together on medium speed until light and fluffy, about 3-4 minutes.

Add eggs and bananas to mixing bowl. Mix on medium speed until combined.

Add flour, baking soda, salt and vanilla to mixing bowl. Mix on low speed until just combined.

Add walnuts and chocolate chips to mixing bowl. With a spatula, fold in walnuts and chocolate chips until just combined.

Pour batter in a greased and parchment lined loaf pan

Bake for 55 minutes. If beginning to brown to quickly, loosely tent with foil.

Turn oven off and leave bread in oven for additional 15 minutes.

Allow bread to cool for 10 minutes.

Remove bread from loaf pan and allow to cool completely on a wire rack before removing from loaf pan to serve.
TIP: If you're looking for an autumn take on this recipe, check out my Chocolate Chip Walnut Pumpkin Bread.
TIP: I like to leave some larger pieces of banana in my batter so that they're visible and provide a punch of banana to the finished bread.
TIP: You want to mix only until the separate ingredients are barely visible as you'll continue to stir to mix in the walnuts and chocolate chips in the next step.  If you over mix the batter, it will result in a more dense and chewy bread.  
TIP: Folding is another name for very gently stirring that's typically done with a rubber spatula until ingredients are just incorporated.  The goal is to avoid deflating delicate ingredients by making broad, scoop-like movements from the inside of the bowl outwards.
TIP:  To form a parchment paper sling for your bread, cut a length of parchment paper long enough to line the bottom of the pan with extra hanging over the sides. If your parchment is longer than your pan, fold the extra under.  
Press a crease in the parchment at the edges, so it fits snugly into the bottom.  Spray non-stick cooking spray directly onto the bottom and sides of the pan and set the parchment on top. This will help the parchment stick to the pan, keep it from moving as you pour in the batter, and prevent batter from oozing between the parchment and the pan. 
Calories:
306
kcal
|
Carbohydrates:
37
g
|
Protein:
2
g
|
Fat:
18
g
|
Sodium:
159
mg
|
Sugar:
29
g