A few weeks ago, I was contacted by the kind folks at Robert Rothschild Farm to see if I'd be interested in trying a few of their products. As I wasn't immediately familiar with the brand, I did some research before responding.
A gourmet food company that specializes in open and serve products? My interest was definitely piqued! Their product list is quite extensive including items such as Chocolate Macaroon Dip and Blue Cheese Dijon Mustard. My mouth was watering. I especially love that each of their products is produced on site in small batches in my new home state of Ohio.
Soon after I let them know that I'd love to sample their products, a package arrived including their Hatch Chile Jalapeno Jam. I immediately started brainstorming of a recipe I could create using it. This crisp salad with a dressing that is slightly sweet but with a kick of heat was the end result.
Tex-Mex Chicken Salad with Hatch Chile Jalapeno Jam Dressing
The perfect summer salad pairing of crisp, cool lettuce and vegetables and a slightly sweet dressing with a bit of heat. This protein packed salad makes an amazing lunch or dinner enjoyed outside.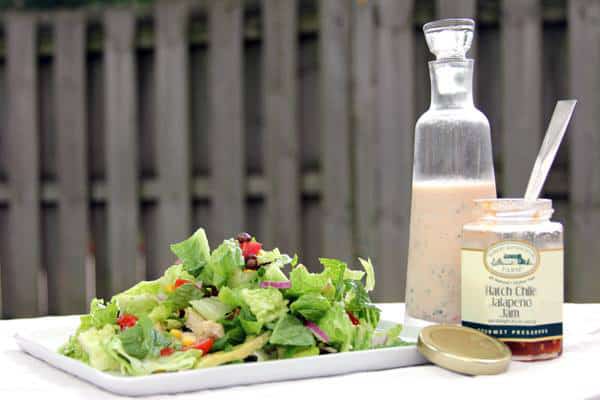 Ingredients
Hatch Chile Jalapeno Jam Dressing1/2 cup Robert Rothschild Farm Hatch Chile Jalapeno Jam

1/2 cup plain greek yogurt
1/4 cup cilantro, chopped
1 lime, juiced
salt + pepper to taste

Tex-Mex Chicken Salad3 romaine hearts, chopped

2 cups chicken breasts, cooked and chopped
1 cup cherry tomatoes, halved
2 avocados, sliced
1/2 red onion, thinly sliced
1 15 oz. can black beans, rinsed and drained
1-1/2 cups frozen corn, thawed
Instructions
Hatch Chile Jalapeno Jam DressingWhisk together Robert Rothschild Farm Hatch Chile Jalapeno Jam, yogurt, cilantro and lime juice. Refrigerate.

Tex-Mex Chicken SaladToss all ingredients together in a large bowl.

Serve tossed salad with dressing.
Notes
To keep salad from wilting, allow each person to dress their own instead of tossing salad with dressing in serving bowl.
7.6.6
383
https://melaniemakes.com/blog/2013/08/tex-mex-chicken-salad-with-hatch-chile-jalapeno-jam-dressing.html
Melanie Bauer | Melanie Makes
Disclosure : I partnered with Robert Rothschild Farm to create this recipe. In exchange, I received a sampling of their products. All thoughts are my own