Roasted bell peppers, onions, jalapeños, garlic and tomatoes take a spin in the blender to create this amazingly Easy Roasted Vegetable Salsa.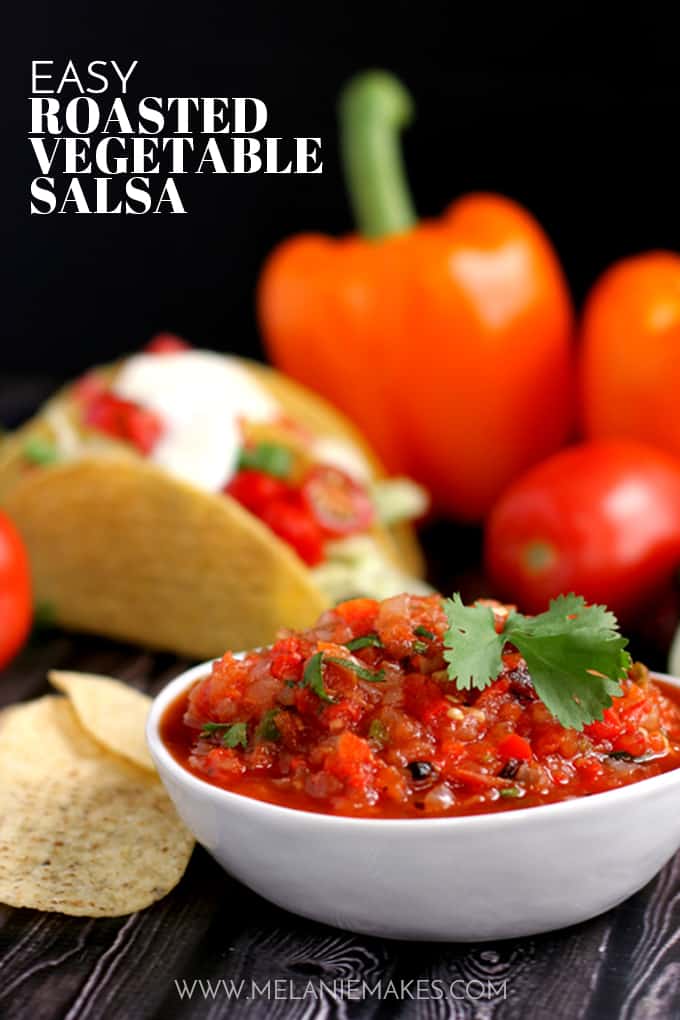 Keep in touch!  Subscribe to receive Melanie Makes recipes direct to your inbox.
Sitting together as a family to eat dinner each evening is very important in our house.  This is the time that I learn all kinds of stories from the girls' days at school, where we chat about our plans for the upcoming weekend, where for a half an hour, we're all together in one spot.  One of our favorite family dinners is taco night.  I mean, who doesn't love tacos?  Especially when said tacos are topped with my Easy Roasted Vegetable Salsa.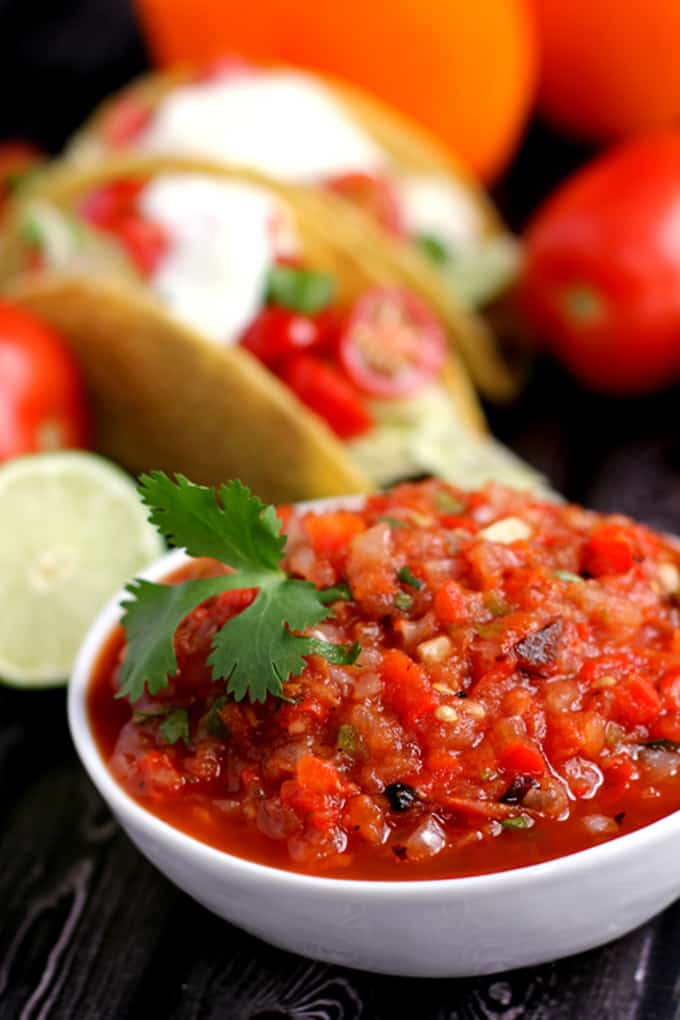 A must-have for taco night is salsa.  How can you eat a taco without a spoonful of salsa on top?  Sure, it's messy, but that's half the fun!  Our family loves the fresh salsa that you find in the refrigerated section of the store but if you take a peek at your grocery bill, the cost of buying fresh over jarred adds up quickly!  So I took it upon myself to make my own fresh salsa and came up with an incredible blender salsa recipe that blows the store bought stuff out of the water.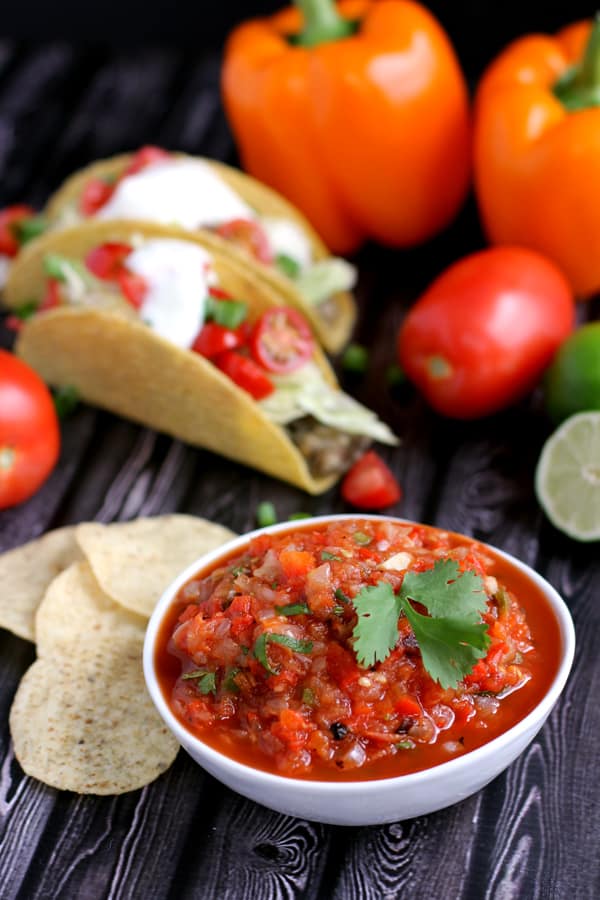 Now that warmer weather is upon us – well, in theory anyway – it just makes sense to put all of the fresh vegetables available to use!  This Easy Roasted Vegetable Salsa is chock full of bell peppers, onions, garlic and tomatoes.  You simply cut them into large chunks, roast at a high temperature for half and hour and then blend.  Done!  You have over six cups of fresh salsa at the ready for your next family taco night fiesta.  Not only is it the perfect dip for tortilla chips, but it's also the perfect topping for my Slow Cooker Lentil and Brown Rice Tacos!
This easy salsa recipe is so versatile that it would also be absolutely delicious stirred into in this family friendly Taco Stuffed Pepper recipe, sitting on top of these savory Taco Cornbread Waffles and absolutely irresistible in these showstopping Taco Stuffed Avocados with Chipotle Cream.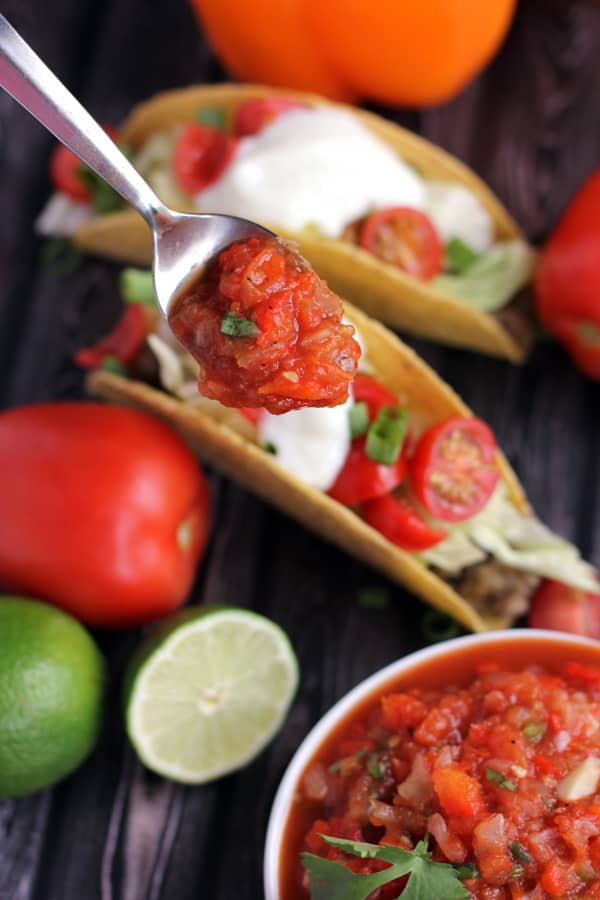 This Easy Roasted Vegetable Salsa works for you in that you can make it right before serving or prepare earlier in the day and refrigerate until you're ready to eat.  I love doing the latter as it allows all of the flavors to come together.  Either way, you'll end up the perfect topping for your next taco night.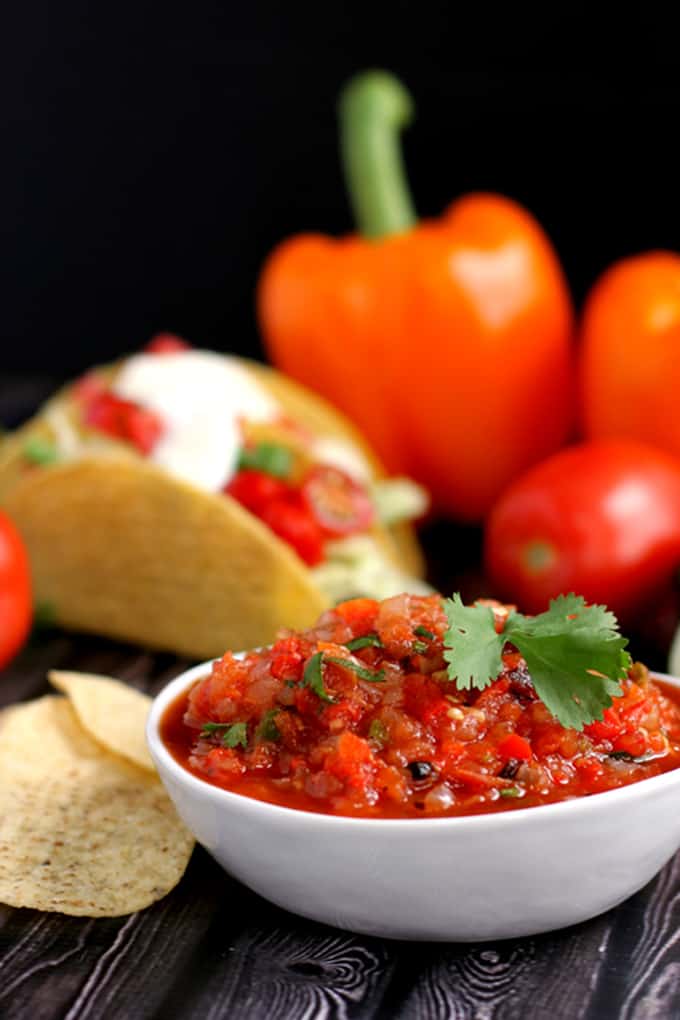 Ingredients
3 bell peppers, seeded and quartered
2 onions, cut into wedges
2 jalapeños, seeded and halved
6 garlic cloves, peeled
10 roma tomatoes, quartered
1 cup cilantro, chopped
1 lime
Instructions
Preheat oven to 450 degrees.
Line two baking sheets with foil and arrange peppers, onions, jalapeños, garlic and tomatoes into a single layer.
Roast for 30 minutes. Remove from oven and allow to cool.
Add vegetables to blender and blend to desired consistency. Pour vegetable mixture into a large bowl and stir in cilantro and juice of half a lime.
Serve immediately or refrigerate until ready to use.
7.6.4
125
https://melaniemakes.com/blog/2014/05/easy-roasted-vegetable-salsa.html
Melanie Bauer | Melanie Makes