A fudgey, decadent brownie studded with toasted coconut and lime zest. Great on its own, but then topped with scoops of vanilla ice cream and rivers of chocolate coconut and dark chocolate ice cream topping. Sprinkled with toasted coconut and topped with a lime garnish, this Coconut Lime Brownie Sundae will soon be your official Summer dessert.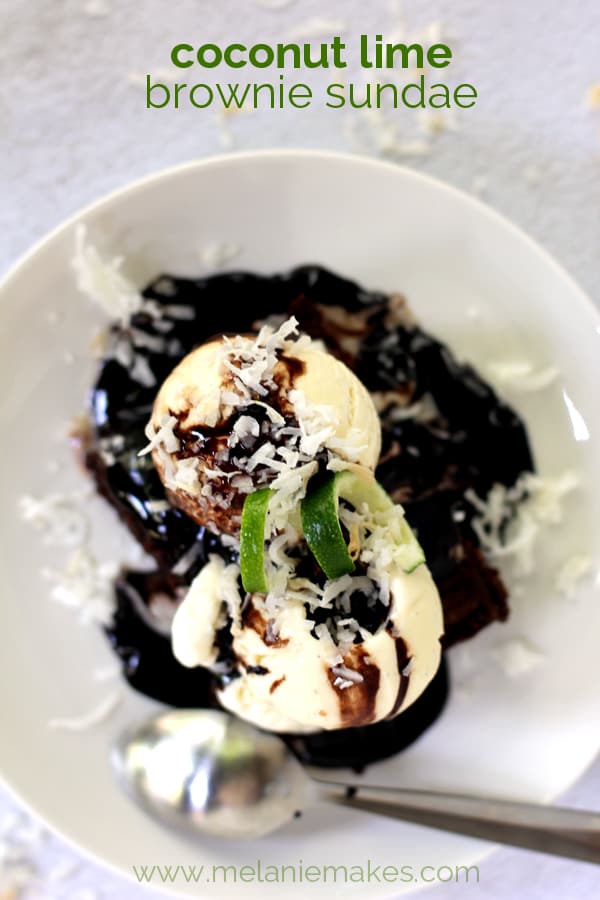 If there's one thing everyone in our family shares a food love of, it's definitely ice cream! We also happen to frequent a local ice cream parlor each Friday after picking up the girls from school. There's something about the simple, cool scoop of ice cream that can instantly melt your troubles away.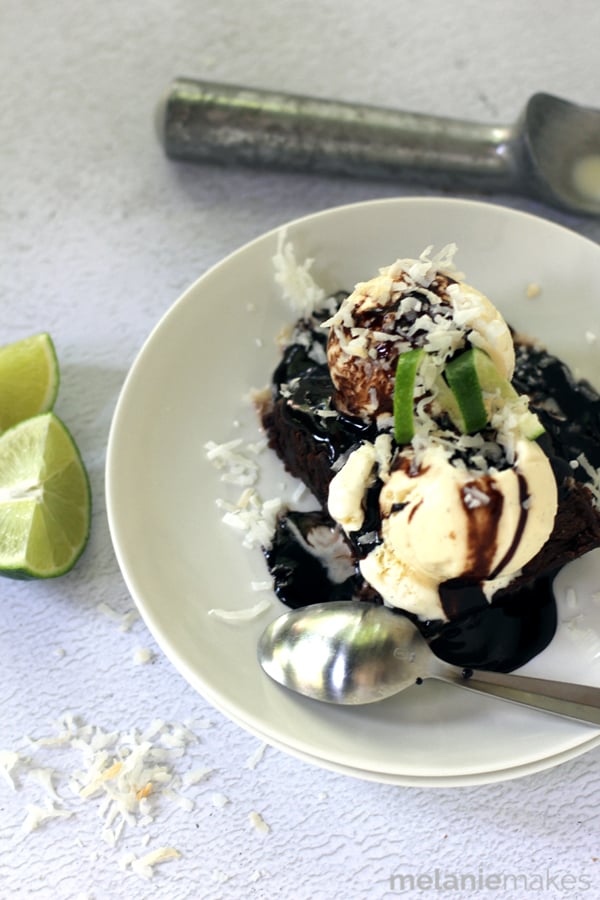 I also love experimenting with making my own ice cream flavors at home. Sometimes chocolatey, sometimes fruity – okay, almost always chocolatey! – but everyone is always eager to be part of the taste test.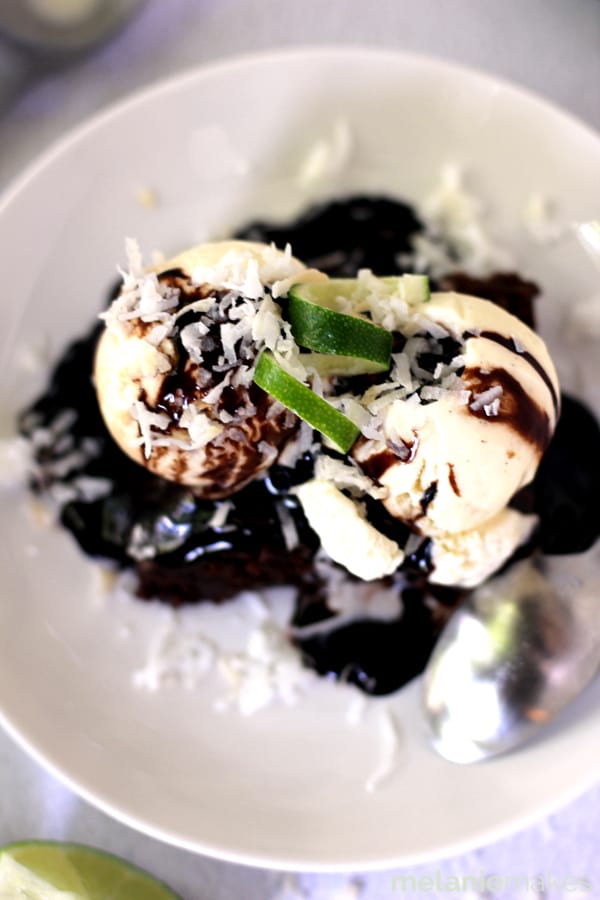 Last week, I had a craving for brownies and decided to combine it with my love of ice cream to create the perfect summer sundae. The inspiration for it all? A jar of Smucker's Simple Delight Chocolate Coconut Ice Cream Topping. The thought of coconut really got my mind spinning. What goes with coconut? My immediate thought was lime. Coconut and lime instantly make me think of being poolside, sunscreen and enjoying a lazy day outside. It was time to get to work!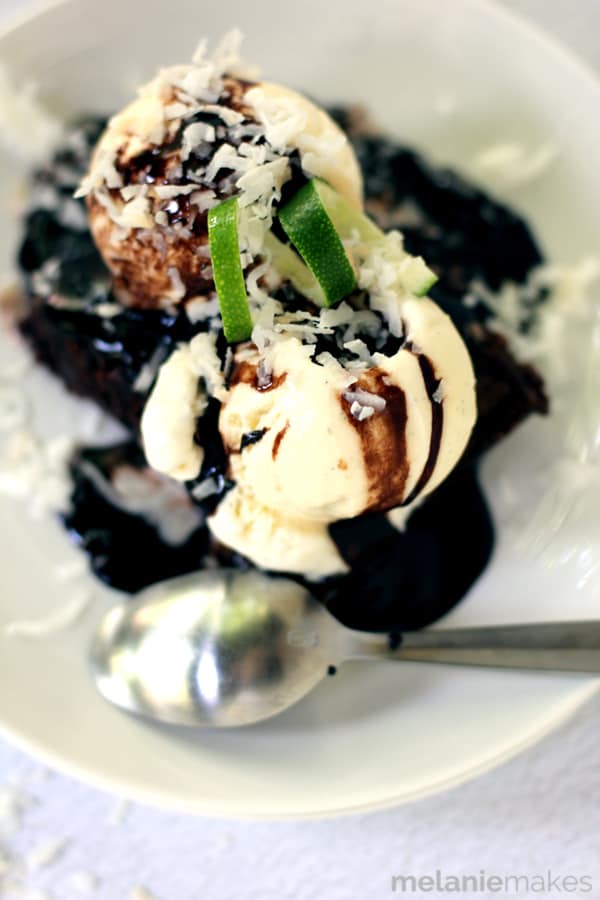 A coconut lime brownie served as the perfect base for my sundae. Fudgey, decadent and studded with toasted coconut and lime zest. Great on its own, but I was looking for less of a sweet brownie and something with a darker taste. Enter Smucker's Simple Delight Dark Chocolate Ice Cream Topping. Yes – exactly what I was going for!
Topping the still warm brownie were not one, but two scoops of vanilla ice cream and then rivers of Chocolate Coconut and Dark Chocolate ice cream topping. Everything was topped with a sprinkle of toasted coconut and a lime garnish before retreating with my bowl to the living room to enjoy it all.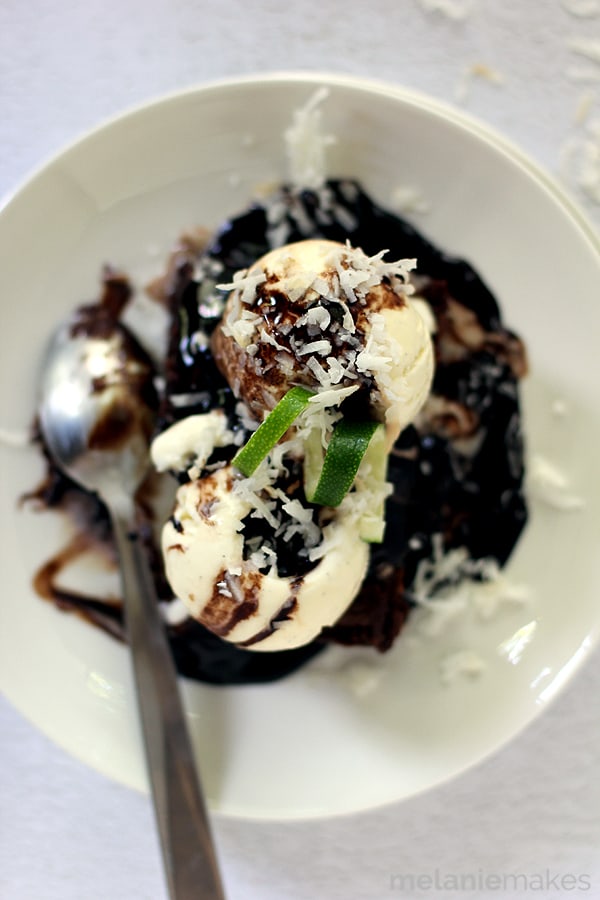 Coconut Lime Brownie Sundae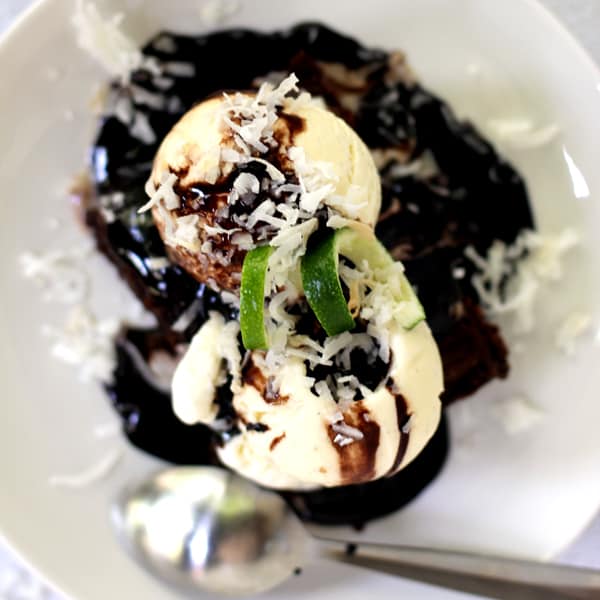 Ingredients
Coconut Lime Brownies

1/2 cup + 2 tablespoons butter
1/2 chocolate chips
1 cup sugar
2 eggs, beaten
1 teaspoon coconut extract
1/4 teaspoon salt
1 lime, juice and zest
3/4 cup flour
1/4 cup chocolate chips
1/4 cup coconut, toasted

Sundae Toppings

vanilla ice cream
toasted coconut
lime garnish
Instructions
Coconut Lime Brownies

Preheat oven to 325 degrees.
In a double broiler, melt together butter and chocolate chips. Remove from heat.
Add 1/4 cup Smucker's Simple Delight Dark Chocolate Ice Cream Topping and sugar to chocolate mixture and stir until well combined.
Stir in eggs, coconut extract, salt and lime juice and zest.
Add flour and stir until just combined. Stir in chocolate chips and toasted coconut.
Spray 8x8 pan with cooking spray and add brownie batter.
Bake for 35-40 minutes or until toothpick inserted in middle comes out mostly clean. Let cool for one hour before attempting to slice.

Assembling Sundaes

Using a brownie as a sundae base, top with two scoops of vanilla ice cream and Simple Delight Chocolate Coconut Ice Cream Topping. Garnish with additional toasted coconut and lime, if desired.
7.6.4
62
https://melaniemakes.com/blog/2014/06/coconut-lime-brownie-sundae.html
Melanie Bauer | Melanie Makes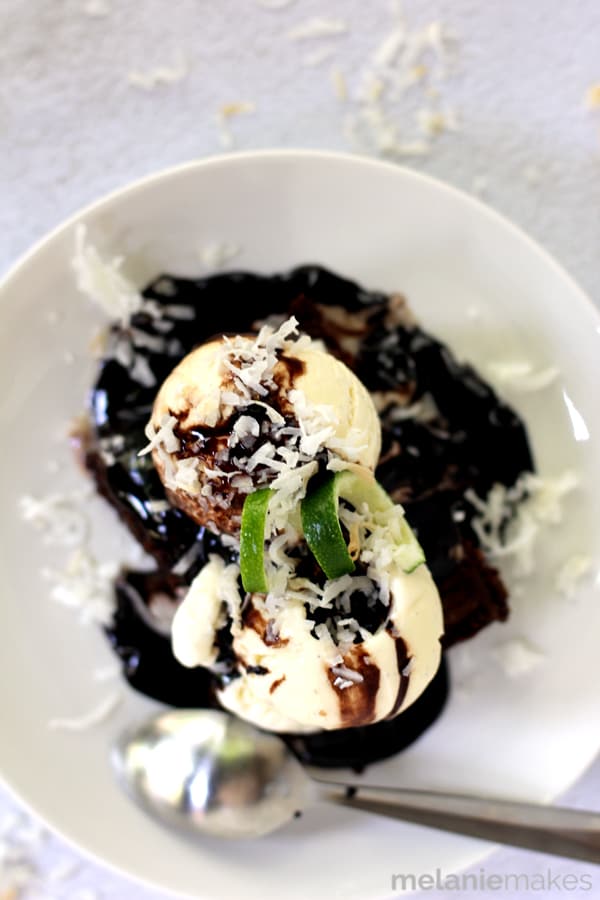 I'm going to be honest. This pan of brownies was demolished in two days flat by my husband and I while making sundaes. Yes, we disguised the pan under a cloak of aluminum foil as to not attract the unwanted attention from our children. Perhaps we'll share the next batch with them. Or maybe not.
I guarantee this is our official summer dessert.
Looking for additional sundae inspiration? Check out six other #SundaeFundae ideas here.