Move over store bought treats! There's a new favorite within the confines of your freezer this summer – Red, White and Blue Raspberry and Cream Popsicles. A bit of cream and a punch of raspberry flavor make these colorful pops perfect for July 4th or any other day you'd like to celebrate!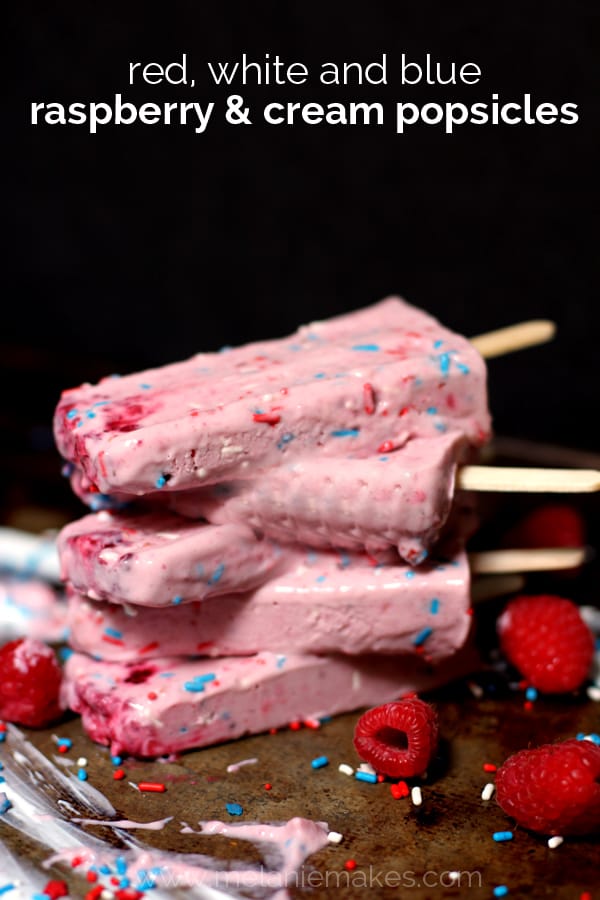 There are a couple of frozen treat fanatics living at our house. After any meal – even breakfast! – they ask for something sweet from the freezer. Granted, I only say yes after we've eaten dinner, but that doesn't discourage them from asking whenever they get a craving. These Red, White and Blue Raspberry and Cream Popsicles? Totally created with them in mind!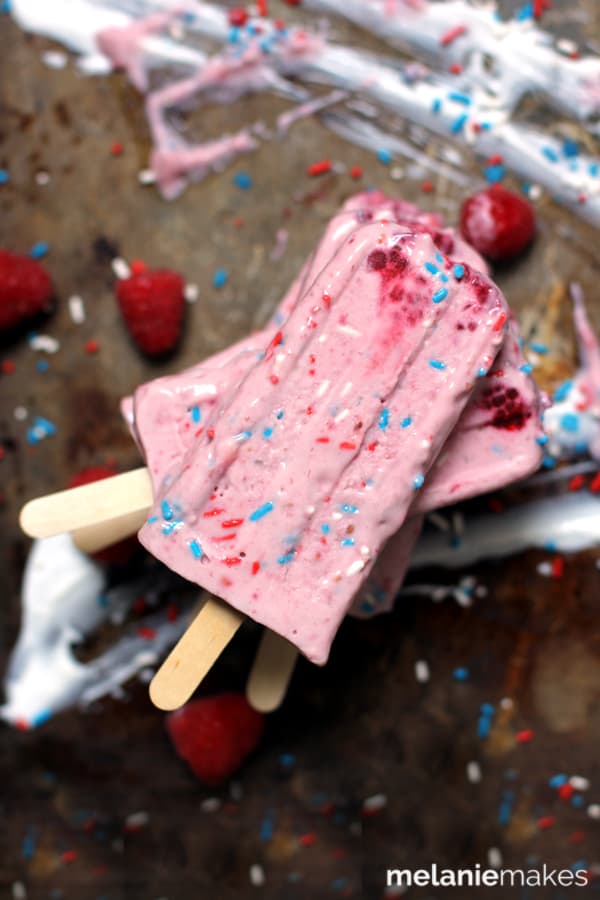 A delicious, raspberry base created with ingredients I like to keep on hand – Greek yogurt, whipping cream and sweetened condensed milk. A quick spin in the blender with some frozen raspberries and then sprinkles – LOTS of sprinkles! – are stirred in. Because if one ingredient can make a recipe, it's sprinkles! In the lives of my four and six year old, sprinkles are king!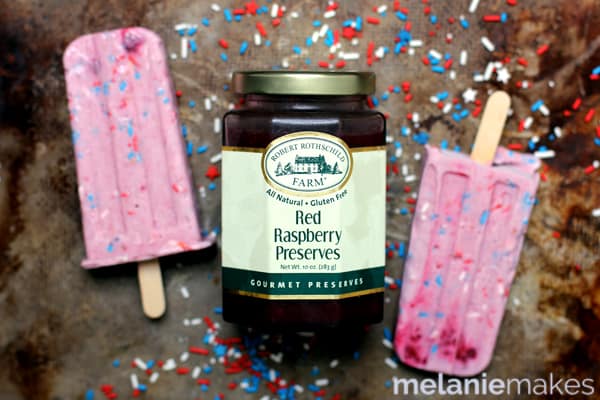 Want to insure you have the intense raspberry flavor you're looking for? Look no further than Robert Rothschild Farm's Red Raspberry Preserves. I love how it seems to amp up the raspberry flavor of the entire popsicle. All with minimal effort on my part!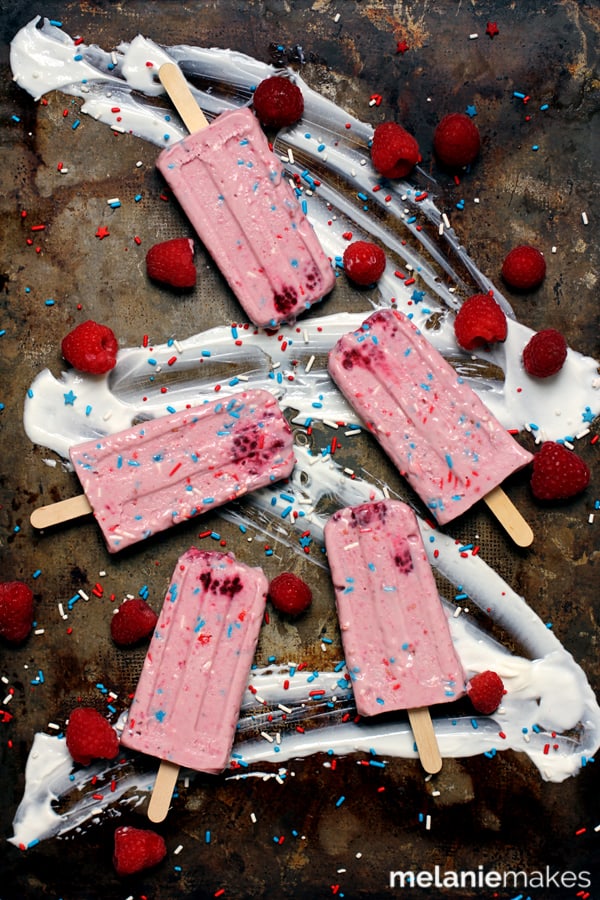 Red White and Blue Raspberry and Cream Popsicles
15 minPrep Time
15 minTotal Time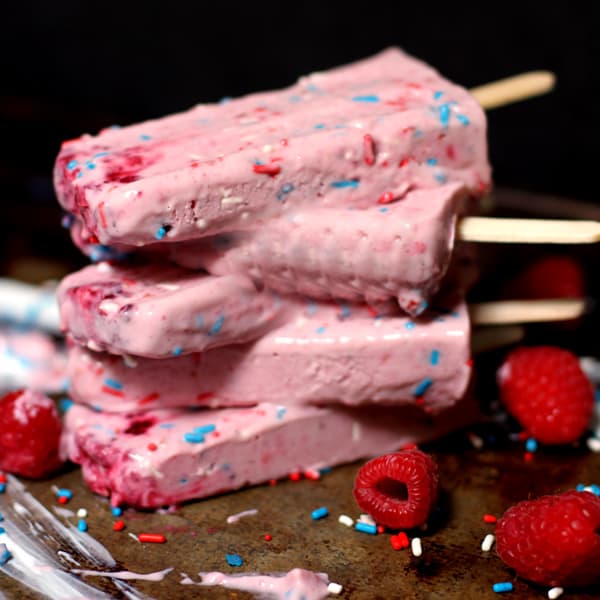 Ingredients
14 ounces sweetened condensed milk
1 cup Greek yogurt
1/2 cup whipping cream
1/4 cup Robert Rothschild Farm Seedless Red Raspberry Preserves
2 cups frozen raspberries
1 cup sprinkles
Instructions
In a blender carafe, add sweetened condensed milk, yogurt, whipping cream, preserves and 1-1/2 cups raspberries. Blend to desired consistency.
Divide remaining raspberries between popsicle molds.
Stir sprinkles into blended raspberry mixture and pour into popsicle molds.
Let freeze 6 hours or longer before enjoying.
7.6.4
138
https://melaniemakes.com/blog/2014/06/red-white-and-blue-raspberry-and-cream-popsicles.html
Melanie Bauer | Melanie Makes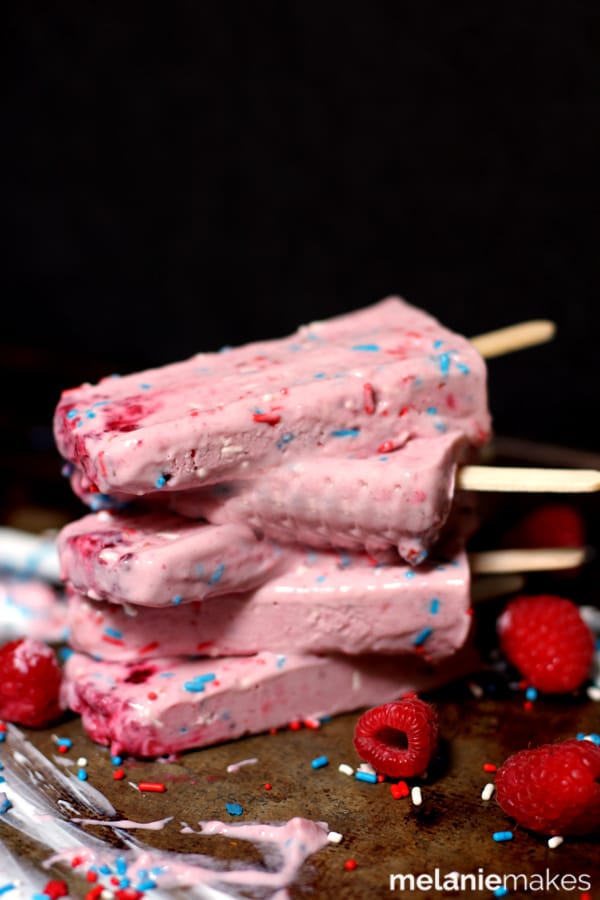 Perfect for the upcoming Fourth of July holiday, these popsicles will become a mainstay in your freezer this summer. Trust me, they are a fixture in ours!
—–
I was compensated by Robert Rothschild Farm to create a recipe featuring their product. As always, all thoughts and opinions are my own. Thank you for supporting this sponsor that allows me the opportunity to create content, such as this, for Melanie Makes.