Forget the traditional and try something a bit different!  This Upside Down Pumpkin Pie  flips your traditional Thanksgiving dessert putting the pumpkin filling on the bottom and the crust-like crunch on top.  The end result is anything but typical and one you'll ensure is on your holiday menu from here on out!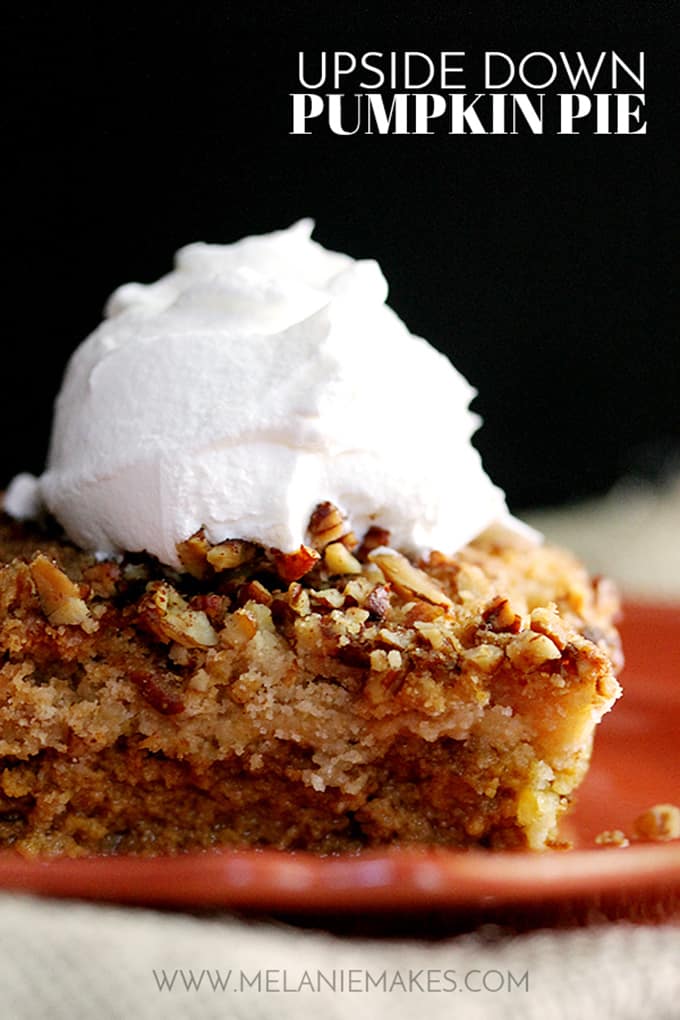 Keep in touch!  Subscribe to receive Melanie Makes recipes direct to your inbox.
There are just five days left in September which means it's suitable to bring out a pumpkin recipe, right?  More specifically, THE pumpkin recipe that's required at each of our Thanksgiving celebrations.    This Upside Down Pumpkin Pie.  No matter what other items on the menu may come and go, this one is a main stay.  This is where I need to be completely honest.  I despise pumpkin pie.  DESPISE.  I'd never choose to eat a slice, even if it were the last pie on Earth.  No thank you.  But this Upside Down Pumpkin Pie?  I'll fight you over the biggest piece.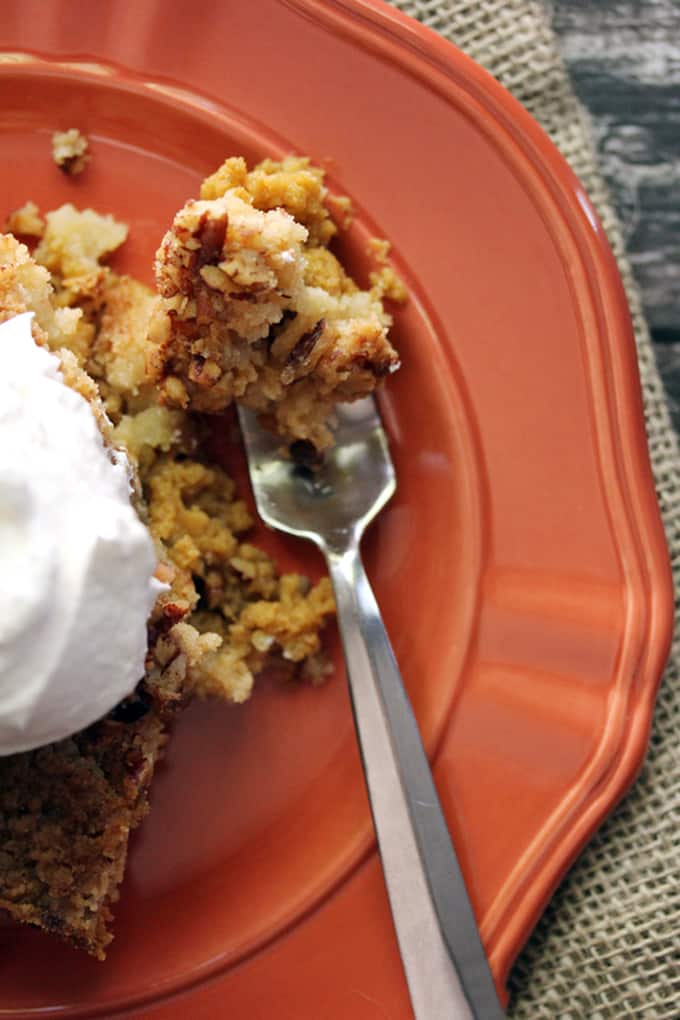 So what's the difference between my Upside Down Pumpkin Pie and a traditional pie?  As the name implies, my dessert has it's crust like topping on top and the pumpkin filling on the bottom.  The pumpkin filling is the typical blend of the usual spice suspects, but the crunchy topping?  Oh, it had me at hello.  If I could figure out how to make the topping only of this dessert I would be an absolute heaven.  A boxed yellow cake mix is sprinkled on top of the pumpkin mixture, flooded with melted butter and then topped in chopped pecans.  Sounds divine, doesn't it?
So divine, in fact, that I then had to make a chocolatey version.  You know, because someone had to do it, right?  My German Chocolate Upside Down Pumpkin Pie is the perfect marriage of chocolate and pumpkin.  Delicious!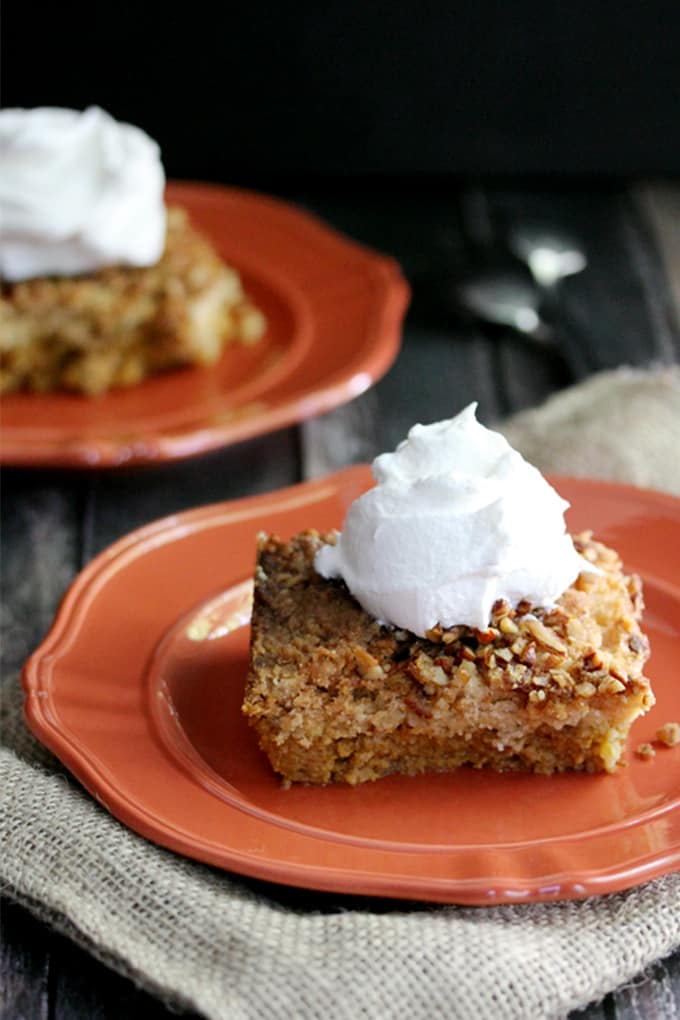 Do yourself, and your family, a favor and serve this Upside Down Pumpkin Pie at your holiday feast this year.  I promise, you'll be extra thankful you did.  And of course, it goes without saying that the cloud of whipped topping on top is an absolute must.  And if you're looking for other alternative pumpkin desserts, I've got you covered.  My Black Bottom No Bake Pumpkin Cheesecake is so incredibly easy and my Coconut Caramel Pumpkin Oatmeal Skillet Cookie has all the good stuff in a single recipe.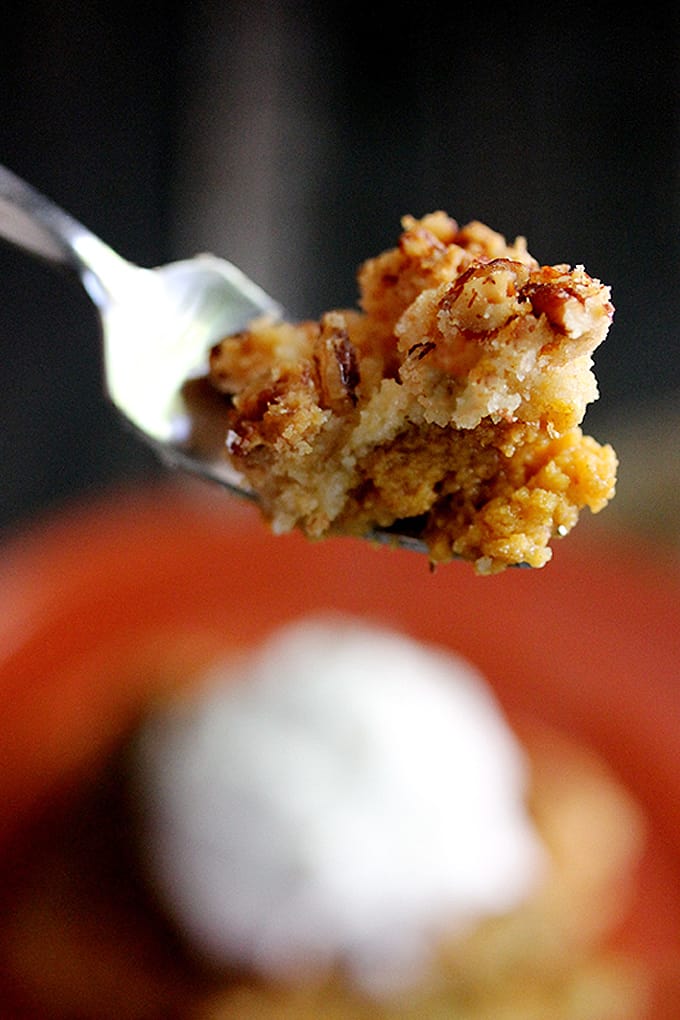 Or if you're looking for other ways to serve pumpkin pie at your holiday feast, you might try this Apple Butter Pumpkin Pie with Streusel Topping, Pressure Cooker Pumpkin Pie or even Pumpkin Pie Cookies.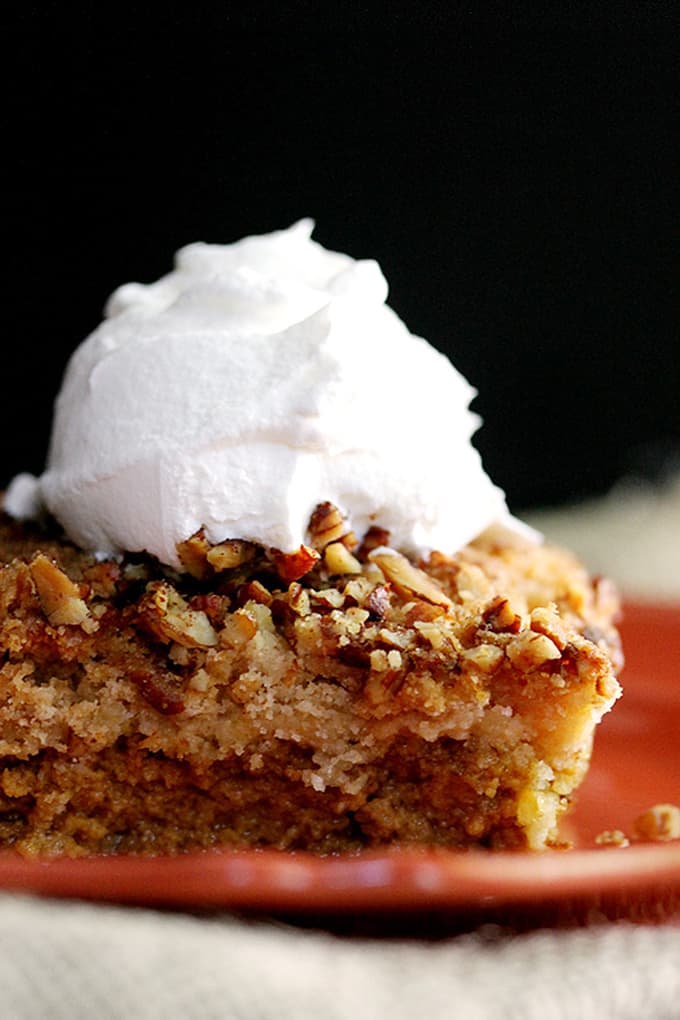 Ingredients
1 29-ounce can pumpkin puree
1-1/2 cups sugar
2 teaspoons cinnamon
1/4 teaspoons ginger
1 teaspoon nutmeg
1 12-ounce can evaporated milk
3 eggs
1 boxed yellow cake mix
1 cup butter, melted
1 cup pecans, chopped
Instructions
Preheat oven to 350 degrees.
In the bowl of an electric mixer, stir together pumpkin, sugar, cinnamon, ginger, nutmeg, evaporated milk and eggs until combined.
Pour pumpkin mixture into 9x13 pan.
On top of pumpkin mixture, sprinkle yellow cake mix.
Drizzle melted butter over cake mix and scatter pecans on top.
Bake for one hour and allow to cool completely before serving.
7.7.0.1
172
https://melaniemakes.com/blog/2014/09/upside-down-pumpkin-pie.html
Melanie Bauer | Melanie Makes
—–
This recipe originally appeared here here in my monthly contributor post at My Organizing Junkie.