Forget cookies that snap!  These Soft and Chewy Ginger Cookies are the cookies that dreams are made of.   The melt in your mouth texture is absolute perfection, while rolling them in sugar prior to baking gives them their specialty sparkle.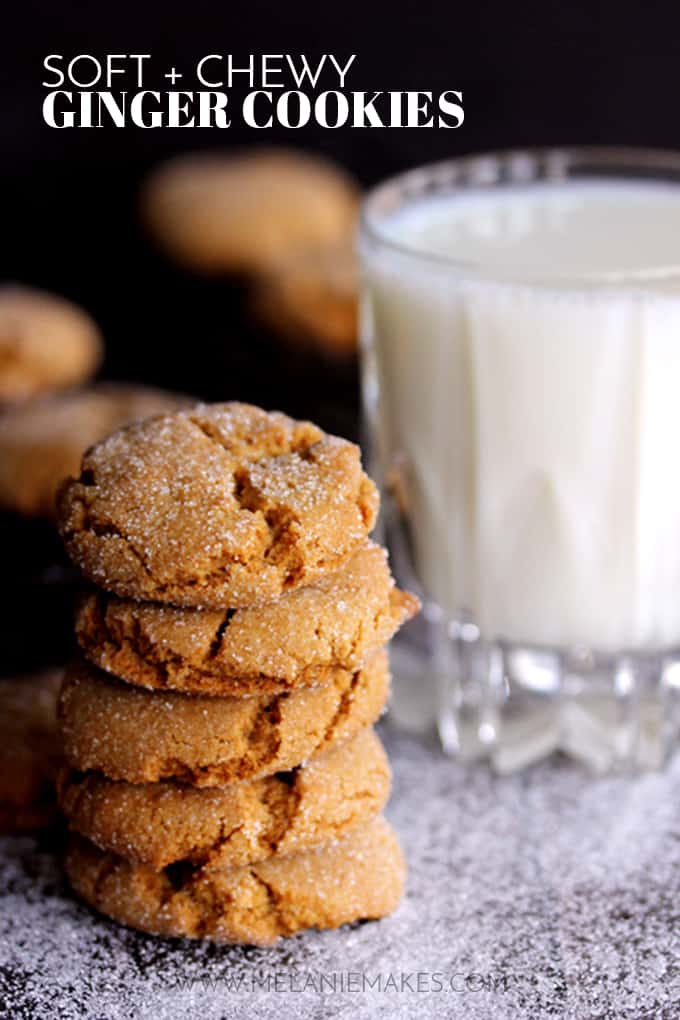 Keep in touch!  Subscribe to receive Melanie Makes recipes direct to your inbox.
When my husband's parents come to visit, his mom is always bearing cookies.  All of us have our favorites.  Andy's favorite are her chocolate chip cookies which are stored in the freezer and he enjoys as an addition to breakfast on the drive to the hospital each morning.  The menagerie loves the sugar cookies she makes and frosts for a variety of holidays.  My favorite though?  Hands down, without a doubt, are these Soft and Chewy Ginger Cookies.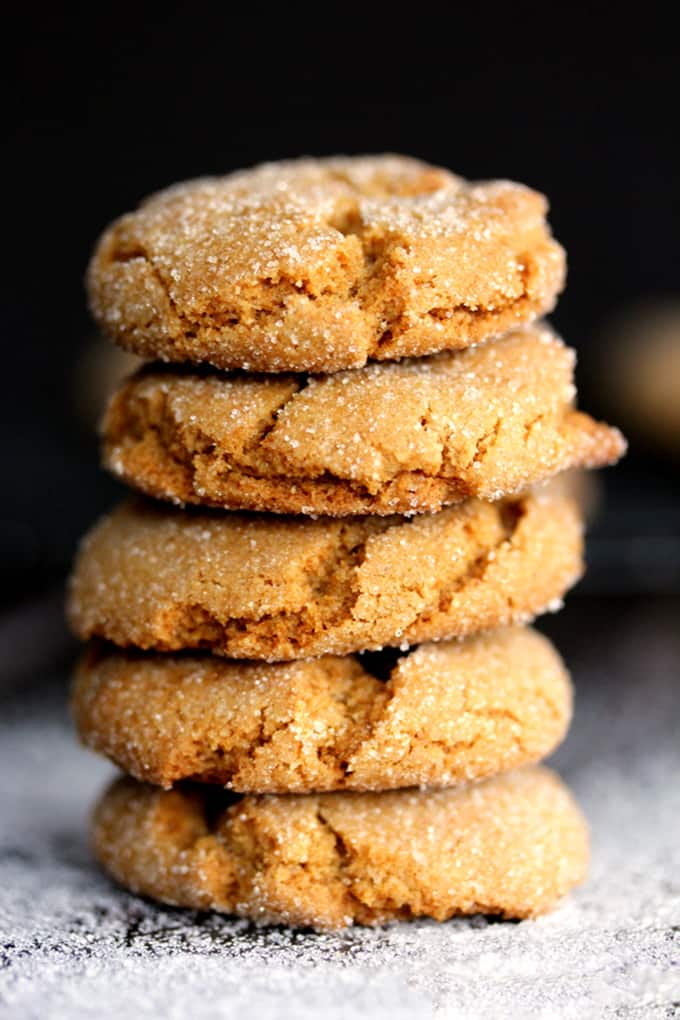 The recipe for these cookies was included in a cookbook that Andy's mom and sister made for me when we got married.  It includes page upon page of favorites from family and friends.  The credit for this recipe was given to Andy's grandmother who now is affectionately known as Grandma Bunny to my children as she gave our oldest several stuffed bunnies when she was younger.  Shockingly, in the 12 and a half years that we've been married, I've never made these cookies myself.  Likely because my mother-in-law brings them frequently enough that I never needed to!  (Yes, I'm spoiled.)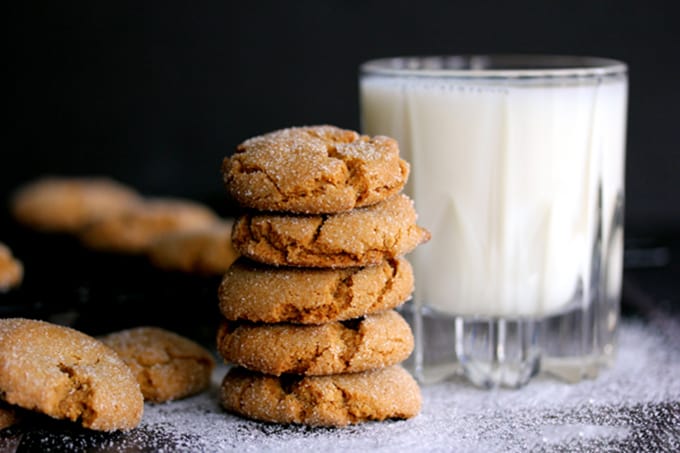 But last weekend, while we were watching the Mizzou game, I needed to evacuate the living room as things started to get ugly.  So I headed to the kitchen and whipped up a double batch of these cookies.  (A much better option than watching the game and my husband's mood head south.)  The key to keeping these ginger cookies soft and chewy?  Baking them just until set and no longer.  Extra minutes in the oven makes them more gingersnap like.  That's fine and all if that's your goal, but I prefer the melt in your mouth texture of these softer cookies.
SIDE NOTE: If you're looking for an autumn inspired version of this cookie, you'll no doubt love my Soft and Chewy Pumpkin Ginger Cookies.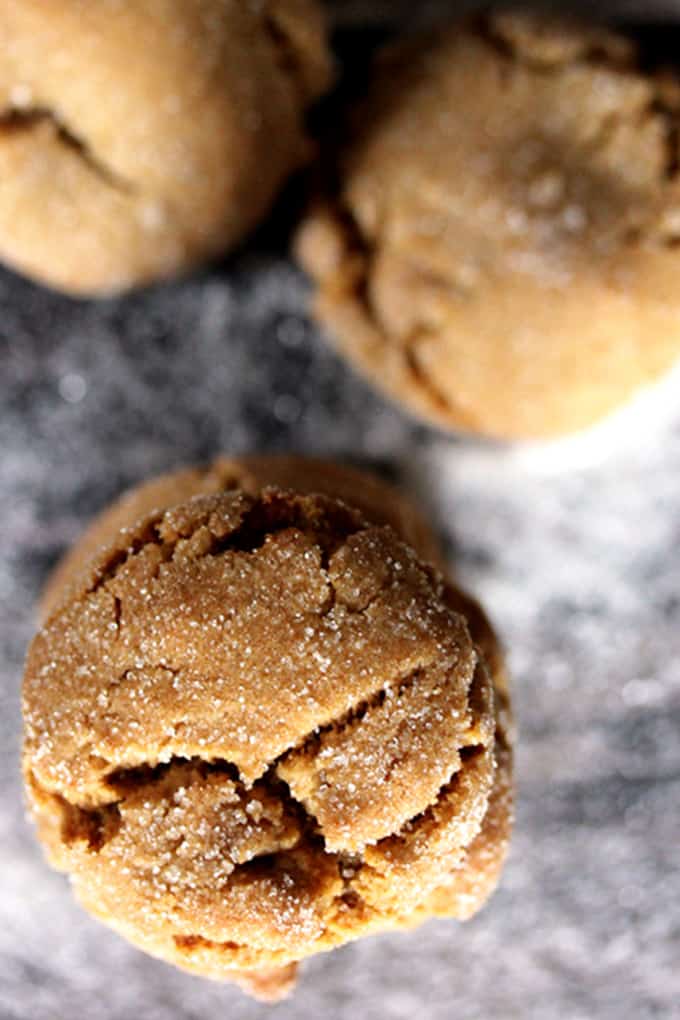 Want to put a bit of holiday flair on your ginger cookies?  Roll them in colored sugar, instead of white, before baking.  A simple switch that immediately makes these Soft and Chewy Ginger Cookies even more festive!  Or if you really want to go all out, these cookies are also the base of my Ginger Cookie Sandwiches with Christmas Ale Buttercream.  You could even make a holiday cookie platter for friends and neighbors and include my Mocha Peppermint Crunch Cookies and Cheesecake Stuffed Chocolate Peanut Butter Cookies.  All of my favorites!
Before you begin your holiday cookie baking, you might also want to check out these Holiday Cookie Decorating Tips, Holiday Cookie Baking Tips and these Holiday Cookie Gift Ideas.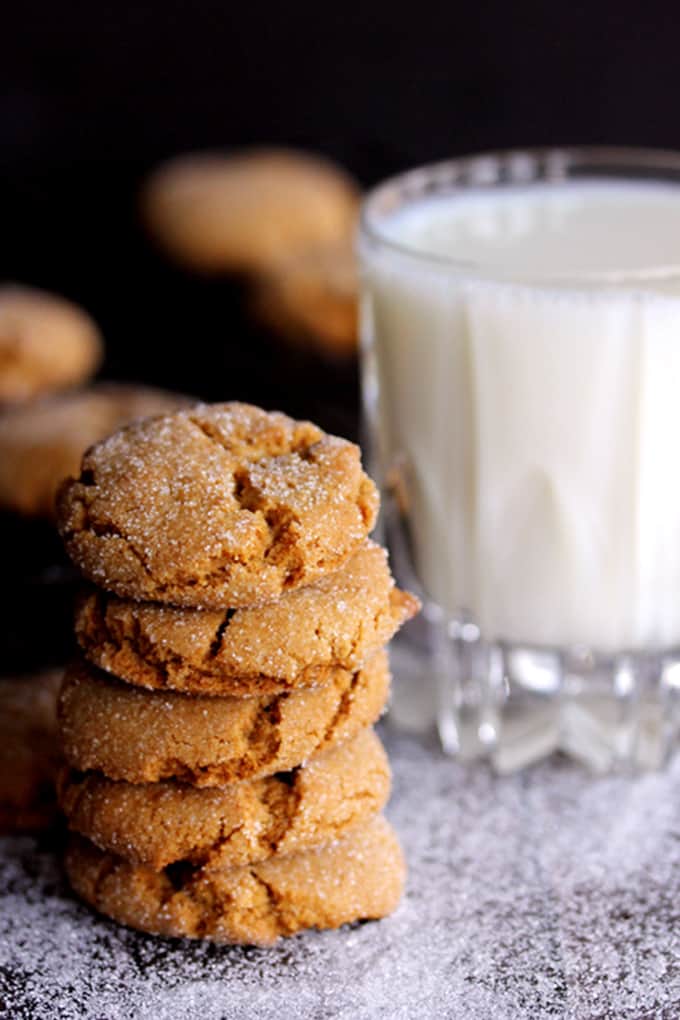 Ingredients
3/4 cup shortening
1 cup sugar + additional for rolling
1 egg
1/4 cup molasses
2 cups flour
2 teaspoons baking soda
3/4 teaspoon salt
1 teaspoon cinnamon
1/2 teaspoon ground ginger
Instructions
Preheat oven to 350 degrees.
In the bowl of an electric mixer, cream together shortening and 1 cup sugar.
Add egg and molasses and beat until combined.
Add flour, baking soda, salt, cinnamon and ginger and mix until just combined.
Using a tablespoon scoop , shape dough into balls and roll in sugar.
Place dough on silicone mat or parchment lined baking sheet and bake for 8 minutes or until just set.
Allow to cool for two minutes on baking sheet before moving to cooling rack.
Notes
7.6.4
200
https://melaniemakes.com/blog/2014/12/soft-and-chewy-ginger-cookies.html
Melanie Bauer | Melanie Makes