My Slow Cooker King Ranch Chicken Soup is a classic, comforting casserole in soup form. A cheesy, tomato soup base is spiked with chili powder, garlic and cumin and studded with diced chicken and tomatoes and then showered with your choice of delicious toppings.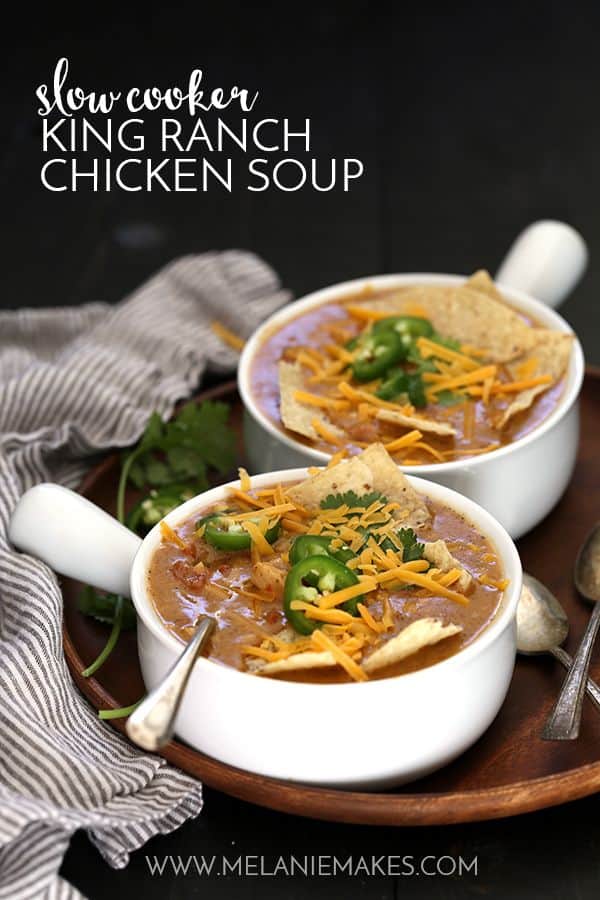 We're sick. Again. Since we moved this summer, we've had colds, our very first ear infection, a round of hand foot and mouth and now another round of colds. We've never been this sick and I'm totally blaming it on the altitude and new climate. Everyone says their first year here they were sick frequently and it looks like we're following suit. Being sick calls for soup, or at least it does in my book. So a huge batch of Slow Cooker King Ranch Chicken Soup from someone else's book, was just what this mama ordered!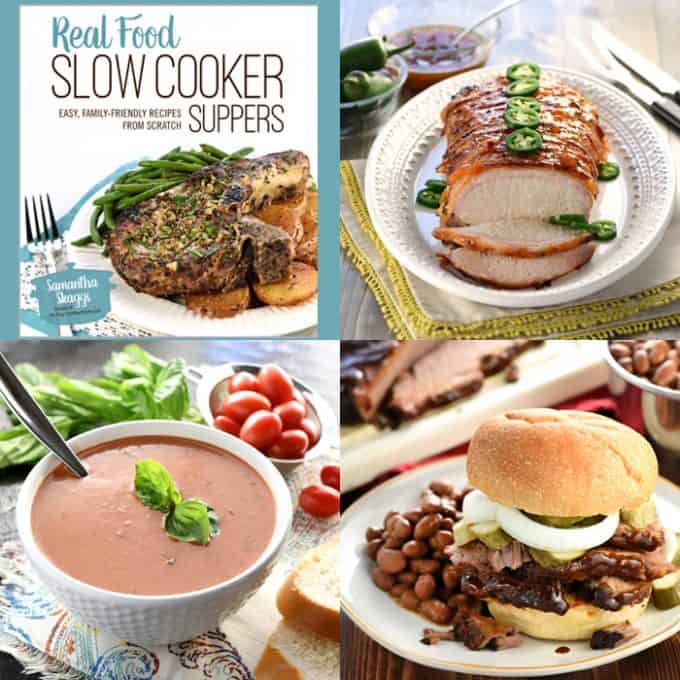 This soup came straight from fellow blogger, Samantha Skaggs at Five Heart Home's, new book Real Food Slow Cooker Suppers. As the name implies, all of the recipes call for all real, fresh, unprocessed ingredients. Each family friendly main dish recipe includes a full page, full color photo for every recipe. Because you eat with your eyes first, right?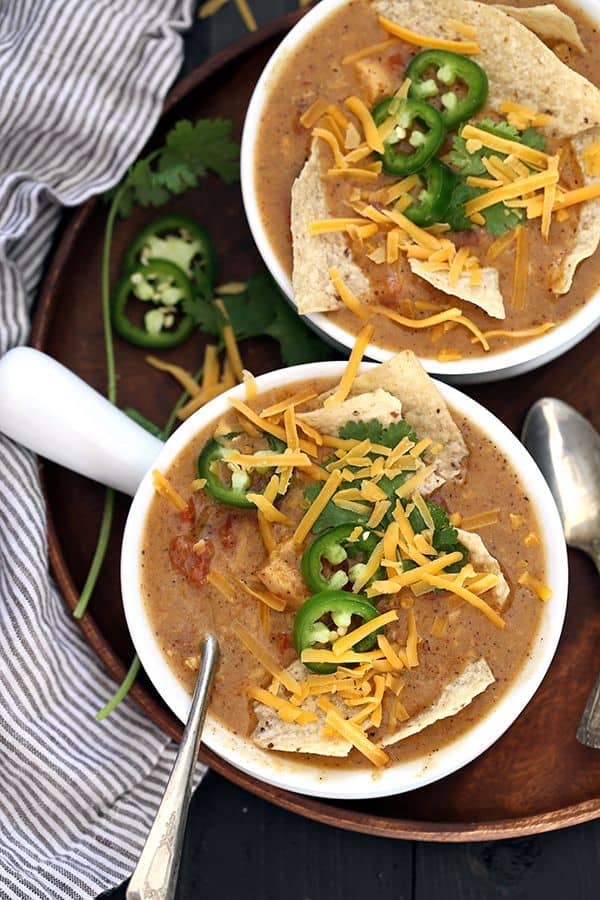 King Ranch Chicken Soup is a take on a classic, comforting casserole of the same name. To me, it's a cross between chili and a chicken soup. So pretty much two delicious bowls of goodness, combined into one. A tomato base is spiked with chili powder, garlic and cumin and studded with diced chicken and tomatoes. After being slow cooked to perfection, sharp cheddar cheese is stirred in before the soup is ladled into bowls. That's where good gets even better. Toppings! Tortilla chips, fresh jalapeno slices, additional cheese and plain yogurt or sour cream is added and you're left scrambling for your spoon so that you can start enjoying as soon as possible.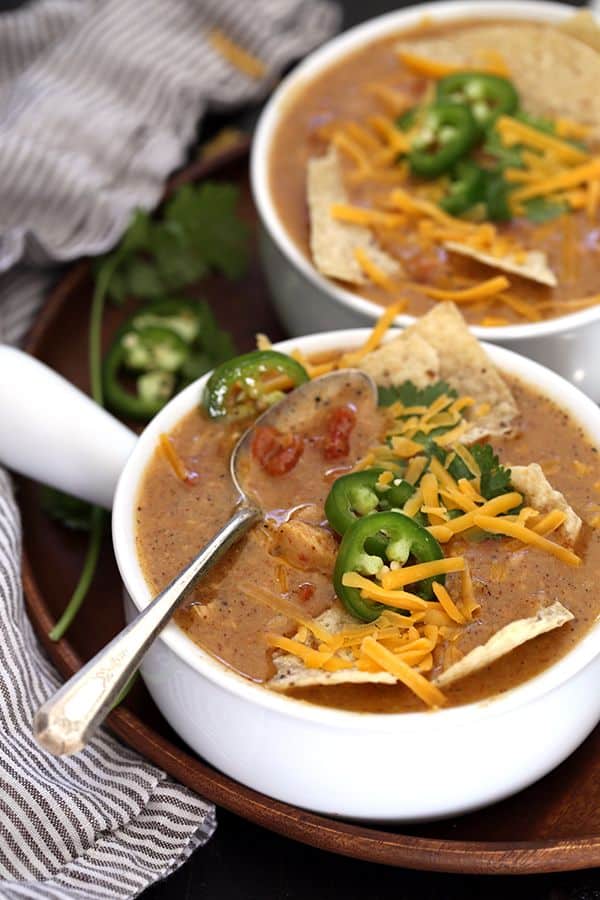 The original Slow Cooker King Ranch Chicken Soup recipe was so delicious that I only made one teeny, tiny change. Samantha's recipe called for one diced jalapeno within the soup which I omitted knowing that it might cause resistance among my four small children. Instead, I saved the jalapeno for the topping and my husband and I enjoyed several slices in our bowls as the contrast of the creamy soup and crunch peppers was delicious.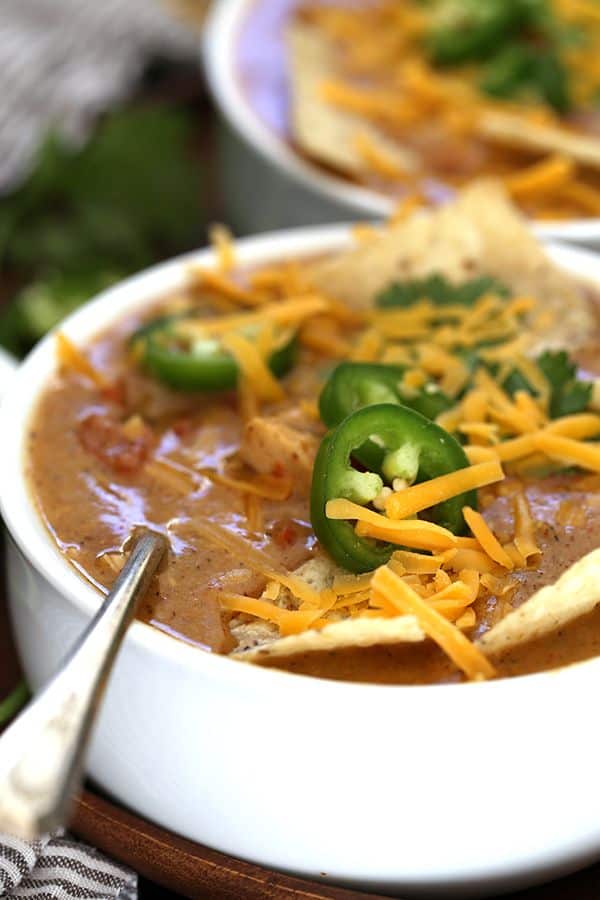 I did make two additional changes that were totally personal preference. One, I doubled Samantha's recipe. Even though the recipe says it would serve six, I could tell that there wouldn't be enough for anyone to enjoy seconds. Good call on my part as my husband enjoyed three bowls – he'd been on call all day and was starving! – and I enjoyed two. Our four children also each enjoyed at least one ladle full and I only had a quart jar of soup left to enjoy for lunch the next day.
I also chose to make the entire soup in my slow cooker rather than starting it on the stove as I didn't want any additional dishes to wash. Tell me I'm not alone on this one! My slow cooker not only is a slow cooker but it also browns and sautes and can even steam as well. It also is non-stick which means it's an absolute breeze to clean. Knowing this, I could make the entire recipe from start to finish and only have the slow cooker crock to rinse out at the end of the night.

Melanie Bauer
Yields 8 servings
Slow Cooker King Ranch Chicken Soup
10 minPrep Time
4 hrCook Time
4 hr, 10 Total Time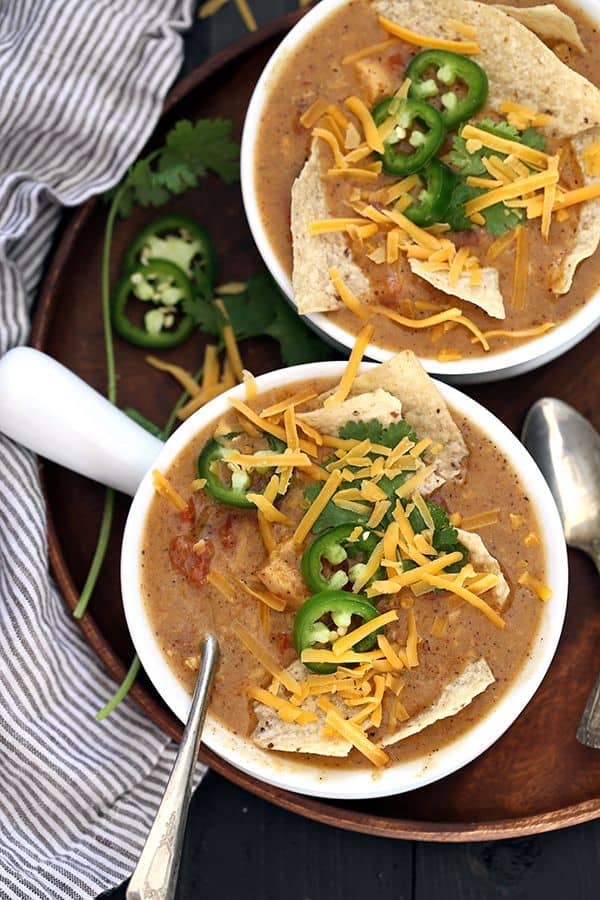 Ingredients
1 cup butter
8 cloves garlic, minced
1 cup flour
8 cups chicken broth
8 teaspoons chili powder
2 tablespoons cumin
2 tablespoons garlic powder
2 teaspoons salt
1 teaspoon pepper
3 pounds boneless, skinless chicken breasts
2 10-ounce cans diced tomatoes with green chilies
4 cups shredded sharp cheddar cheese
tortilla chips, cilantro, jalapeno and plain yogurt or sour cream, to garnish
Instructions
In a six quart slow cooker, melt butter. Add garlic and stir until fragrant.
Stir in flour and whisk continuously until smooth.
Slowly stir in chicken broth until combined.
Add chili powder, cumin, garlic powder, salt and pepper and stir to combine.
Add chicken breasts and top with diced tomatoes.
Cook on LOW 4-6 hours or until chicken is cooked through.
Remove chicken and dice. Return to slow cooker and stir in cheddar cheese. Allow to thoroughly combine and warm through.
Serve soup in bowls garnished with tortilla chips, chopped chilantro, jalapeno slices and plain yogurt.
Notes
7.6.4
356
https://melaniemakes.com/blog/2016/10/slow-cooker-king-ranch-chicken-soup.html
Melanie Bauer | Melanie Makes
I'm so excited that Samantha's book brought this delicious Slow Cooker King Ranch Chicken Soup recipe into our lives. It's going to be in heavy rotation as the weather continues to get cooler!
Looking for more great slow cooker soup recipes?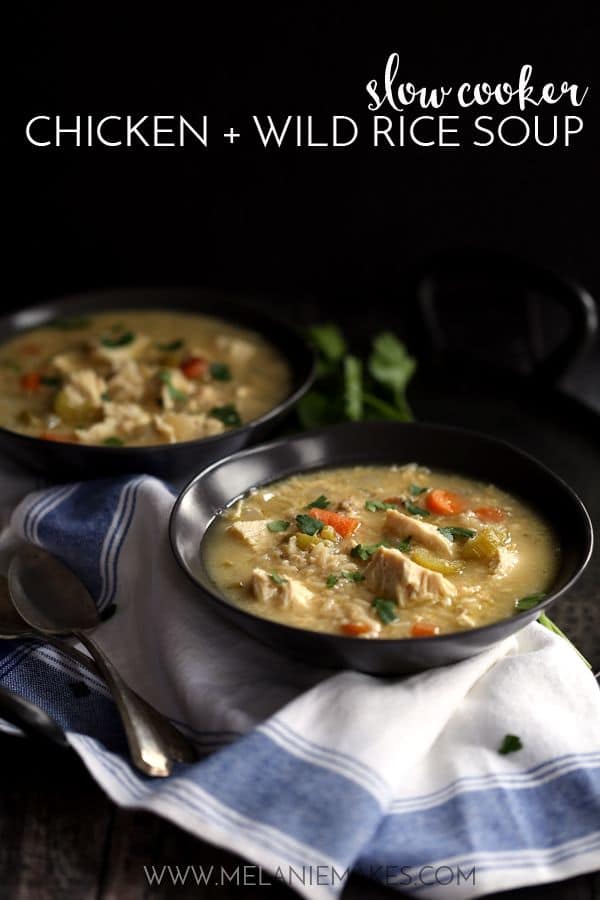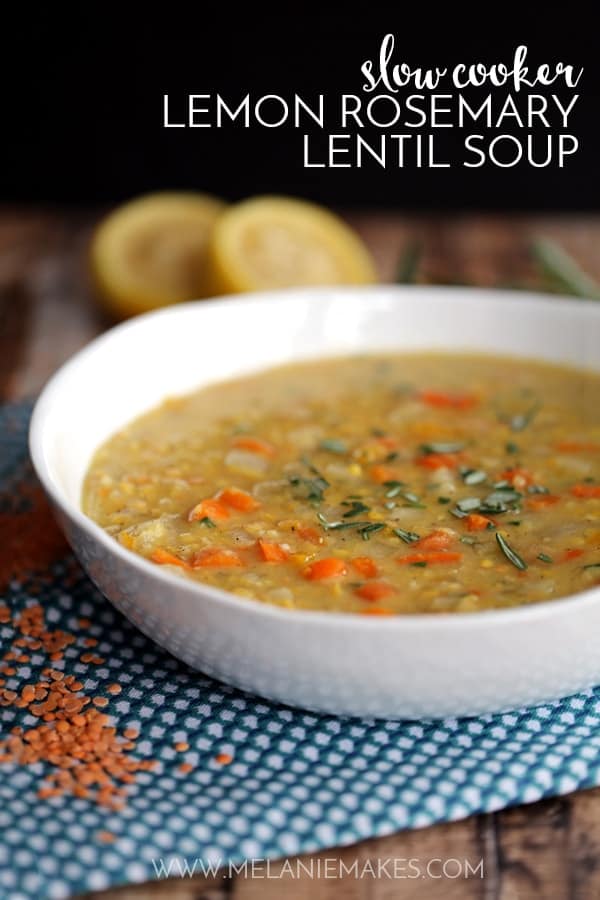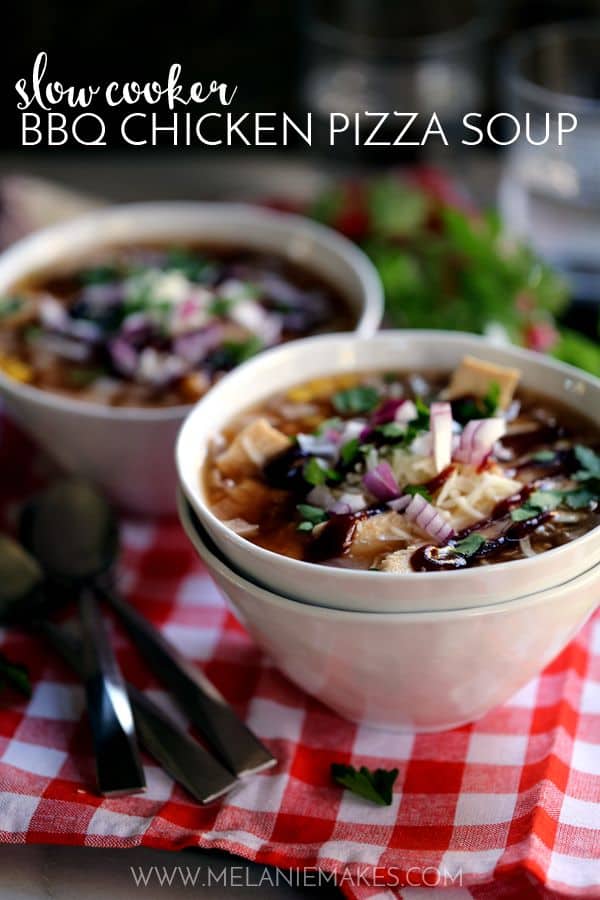 More slow cooker soup recipes from Five Heart Home:
The Best Slow Cooker Chicken Noodle Soup
Slow Cooker Loaded Baked Potato Soup
Slow Cooker Creamy Black Bean and Chicken Potato Soup