These Chocolate Espresso Eggnog Bars are perfect for any holiday get together! A chocolate espresso crust is the base for a eggnog filling spiked with Kahlua and nutmeg for a twist on traditional eggnog. After a shower of espresso powder and chocolate shavings on top, these decadent treats are ready to devour.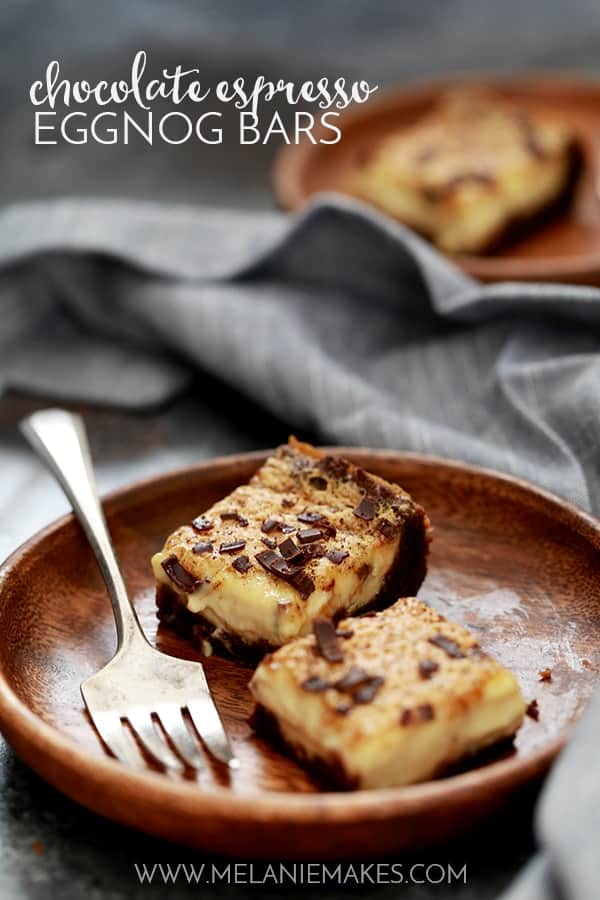 I'm in absolute denial. Thanksgiving is over?! It doesn't help that Andy was on call over the holiday and we likely say him less than a handful of waking hours. Not our best holiday ever but I know that he was needed much more by those that he was helping. Hopefully he arrives home at some point today so that we can put up the tree. The menagerie is chomping at the bit to get it up ASAP! So I'm leaving turkey day in our dust and throwing my self whole heartedly into all things Christmas. Including eggnog. Forget the store bought stuff, I'm making everything from scratch in these super easy Chocolate Espresso Eggnog Bars. The perfect bite size holiday treat!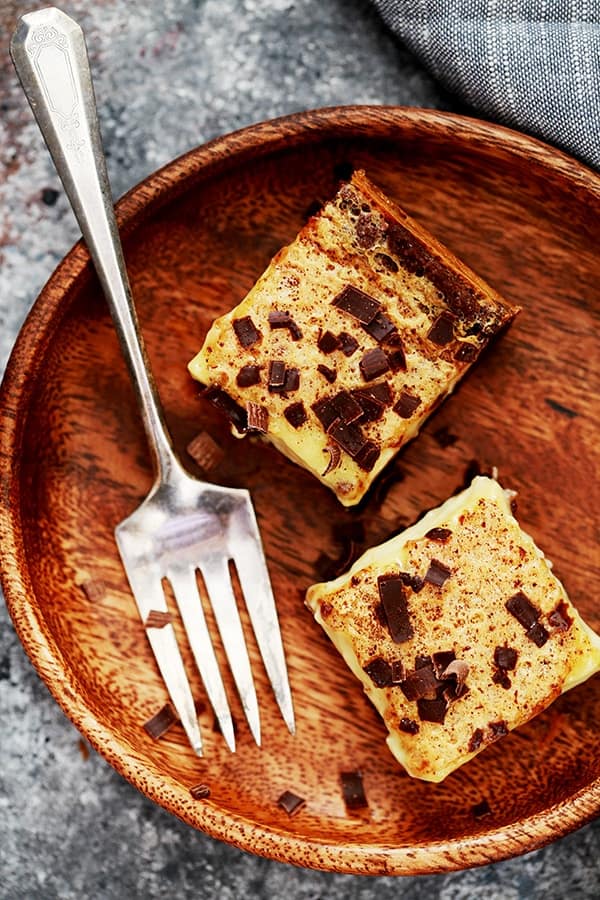 These little squares of heaven are perfect when you need just a bite of something sweet. But there also equally delicious when you grab three or four as they tend to disappear quite quickly. You know, either way. Who am I to judge? The chocolatey crust is flavored with cocoa and espresso to form a delicious base for the luscious filling that will go on top. Not a coffee lover? Don't fret, neither am I! The espresso simply deepens the flavor of the chocolate and makes these Chocolate Espresso Eggnog Bars even more irresistible!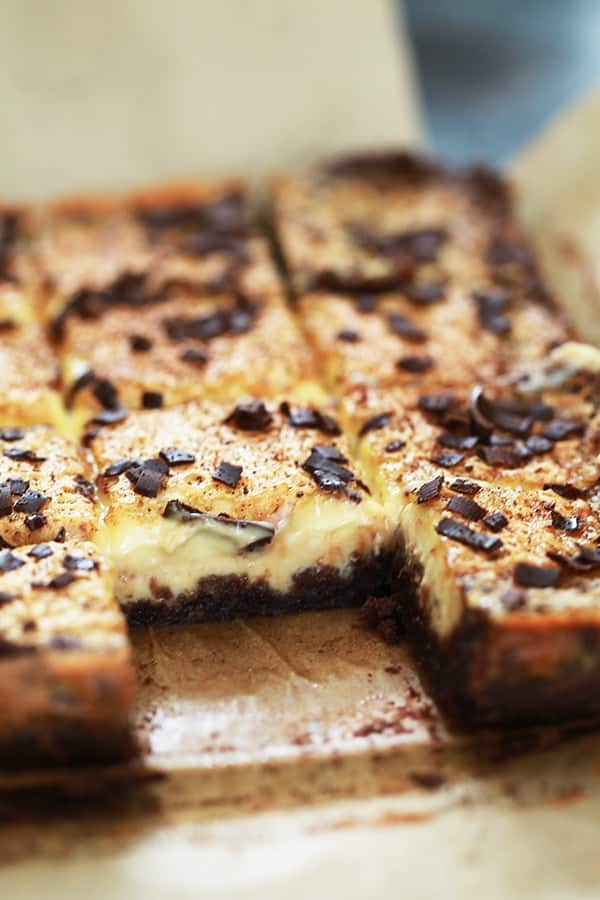 Next up is a custard style filling that is spiked with Kahlua and nutmeg for a bit of a twist on the traditional eggnog flavor. The filling is so incredibly easy and takes just minutes to come together with help from an electric mixer. I was able to prepare everything while listening to the menagerie blast the soundtrack from "Home" – which I've come to despise because I've heard it so much – and play with their Nana in the playroom. Somehow these bars made the soundtrack just a bit more bearable. Likely because I was anxiously awaiting stuffing a bar or two in my mouth to cope.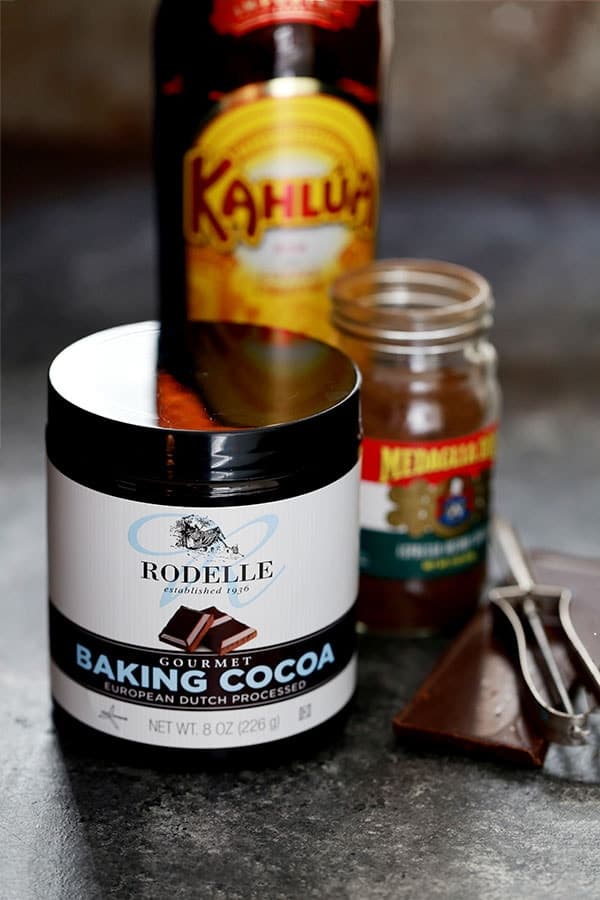 I would be doing you quite the disservice if I didn't mention the decadent Gourmet Baking Cocoa included in this recipe. I've mentioned in previous recipes that I only use this cocoa from Rodelle as it's the best of the best. I actually buy it in bulk from Amazon as I go through it so quickly. This cocoa contains one of the highest levels of cocoa butter on the market, ensuring superior chocolate flavor. Combined with Kahlua and espresso powder in this recipe and there's no way the end result won't be amazing!

Melanie Bauer
Yields 16 bars
Chocolate Espresso Eggnog Bars
10 minPrep Time
70 minCook Time
1 hr, 20 Total Time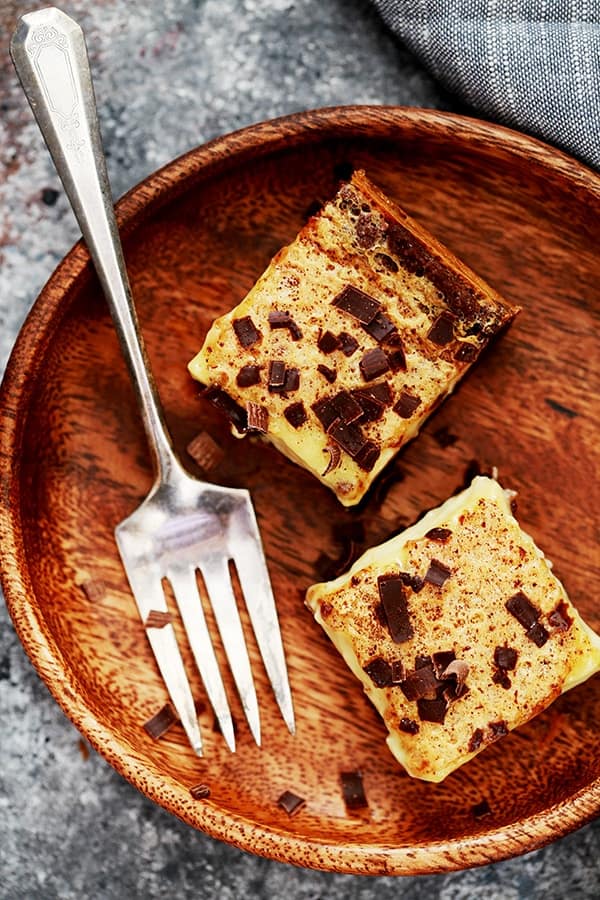 Ingredients
Crust

1/2 cup butter, softened
1/4 cup sugar
1 teaspoon instant espresso
1/4 cup Rodelle Gourmet Baking Cocoa
3/4 cup flour

Filling

5 egg yolks
1/2 cup sugar
1-1/4 cups whipping cream
2 tablespoons Kahlua
1/4 teaspoon nutmeg

Garnish

additional espresso powder
chocolate shavings
Instructions
Crust

Preheat oven to 350 degrees.
Line bottom and sides of 8" square pan with parchment pan so that parchment extends 2" over sides in both directions.
In a medium bowl, stir together all crust ingredients.
Press in bottom and up 1/2" sides of pan.
Bake for 20 minutes.

Filling

Reduce oven temperature to 300 degrees.
In a medium bowl, using an electric mixer, beat egg yolks and sugar together until thickened.
Slowly mix in whipping cream, Kahlua and nutmeg until just combined.
Pour over crust and bake an additional 50 minutes or until set.
Let cool completely.
Garnish with additional espresso powder and chocolate shavings.
Store covered in refrigerator.
7.6.4
363
https://melaniemakes.com/blog/2016/11/chocolate-espresso-eggnog-bars.html
Melanie Bauer | Melanie Makes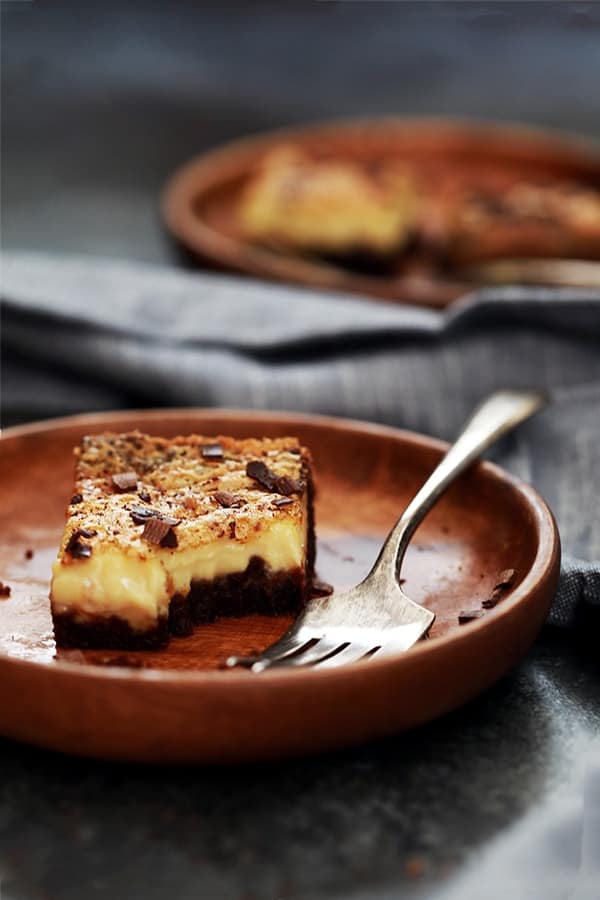 After the bars emerge from the oven and have a chance to cool, they're showered with additional espresso powder and chocolate shavings. That bite from the bar above? Totally taken by yours truly. And after the photo was taken I did finish eating the rest of it as I simply couldn't resist. I have no doubt these Chocolate Espresso Eggnog Bars will be made several more times this holiday season. With them as my fuel, I can no doubt survive anything December throws my way!
Looking for additional eggnog recipes?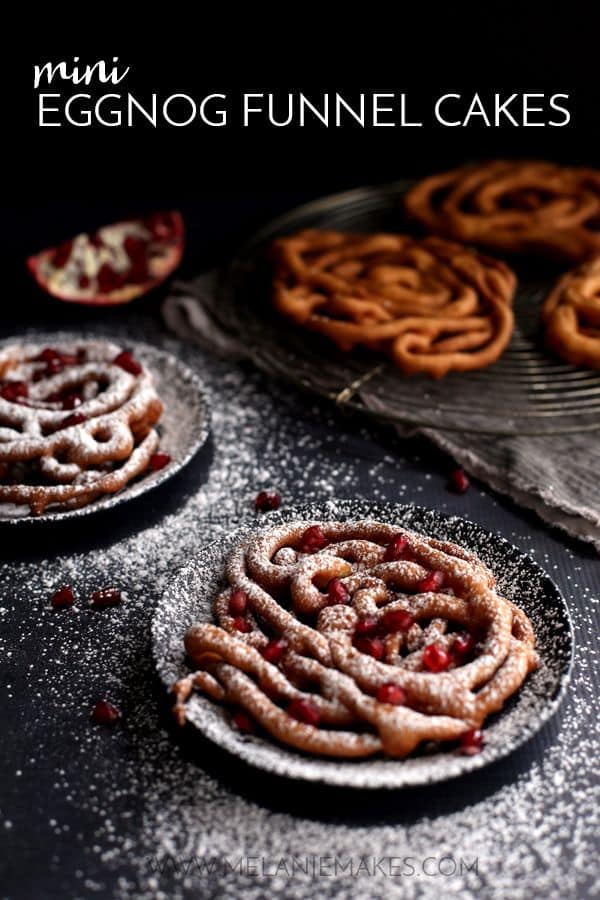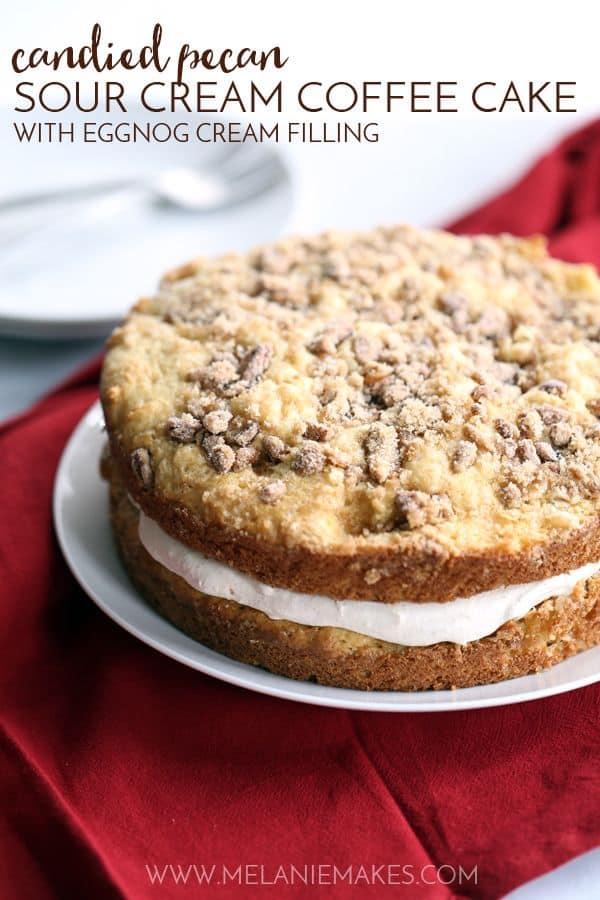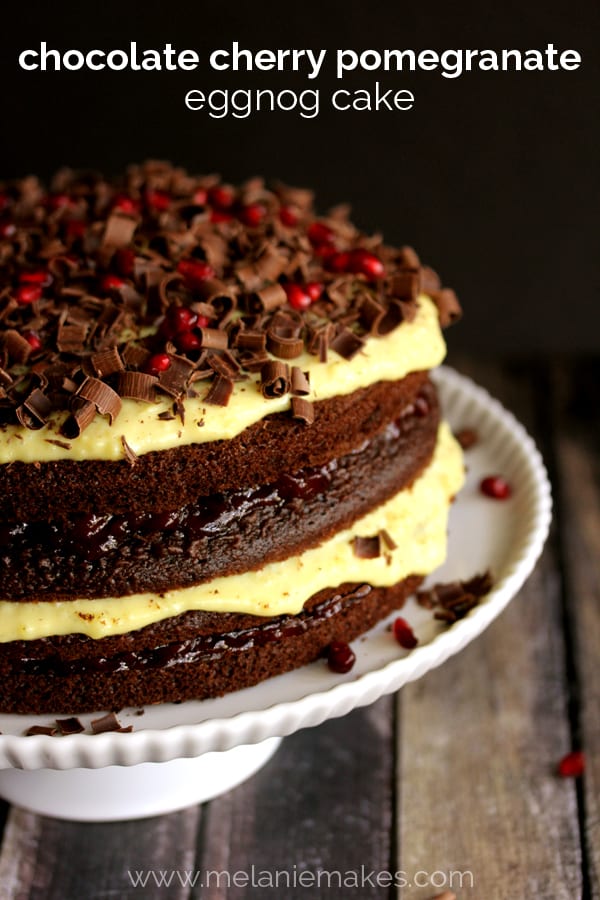 Looking for more great cookie and bar recipes for the holiday season?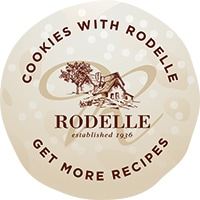 Rodelle's great Brand Ambassadors – hey, I'm one of those! – have collaborated to come up with great cookie recipes to fill up your recipe book this holiday season! You can check out each of the amazing, delicious cookie and bar recipes – updated daily! – to make your cookies this year the best yet!