Minimal effort is required to create these delicious Slow Cooker Pulled Pork Gyro Bowls.  Greek and herb infused pulled pork, tomatoes, cucumbers, arugula and red onion is topped with a dollop of tzatziki sauce and feta cheese before being showered with a squeeze of fresh lemon.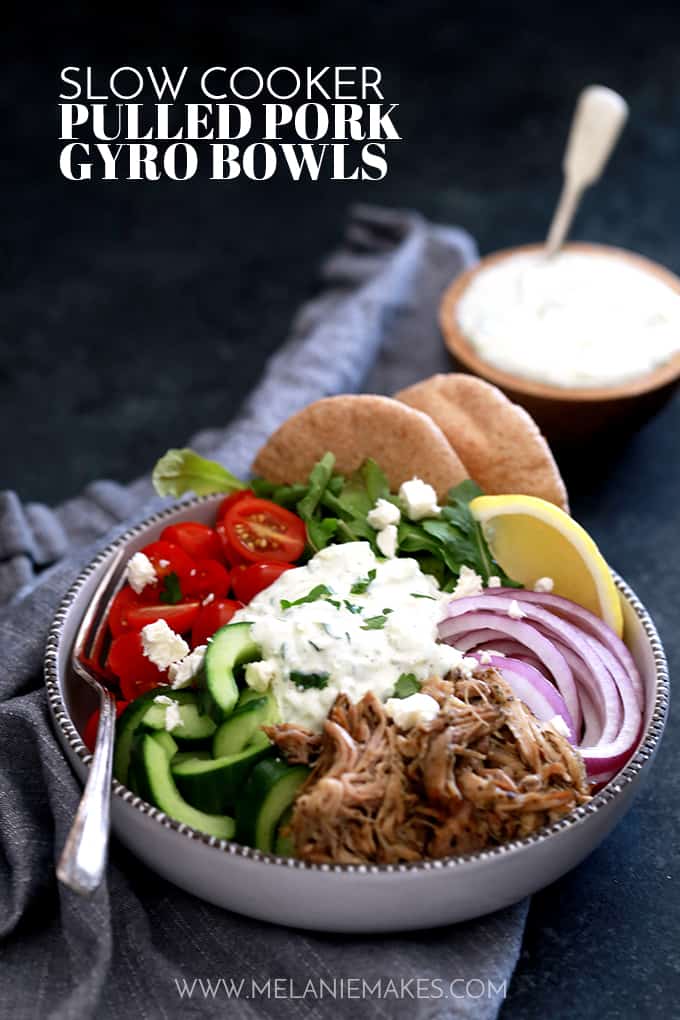 Keep in touch!  Subscribe to receive Melanie Makes recipes direct to your inbox.
I've tried my best but currently I'm failing.  As a mama to four, I don't have the time or energy to cater to picky eaters but unfortunately my middle two are currently in a phase of being very picky.  Just the other day, my son wouldn't eat something because the cheese on it tasted different.  Mind you, it's the same cheese I always purchase and to me and everyone else around our dining room table, it didn't taste different whatsoever.  But so is the season of life I'm in right now.  Instead of lamenting over the fact that my picky eaters attempt to be Debby Downers at every meal, I instead try to make some of our meals more customizable, like these Slow Cooker Pulled Pork Gyro Bowls, which makes everyone just a bit happier.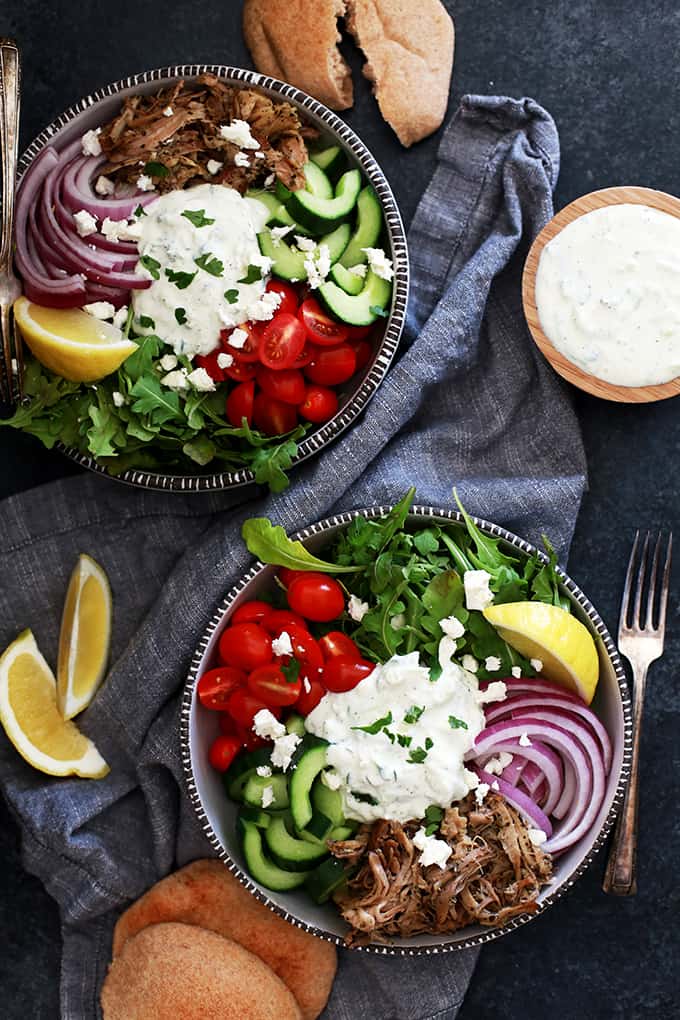 Ironically, even though some of us are pickier than others, all of us have a shared love of Greek food.  Bizarre, right?  I mean when your baby is scarfing down not one, but two, Greek-inspired quesadillas and there are no complaints from anyone else, well, we're going to go with it!  Proof that not giving into my children's picky ways actually pays off as we discover new things that everyone likes on a weekly basis.  Plus that means mama doesn't get in a boring food rut either!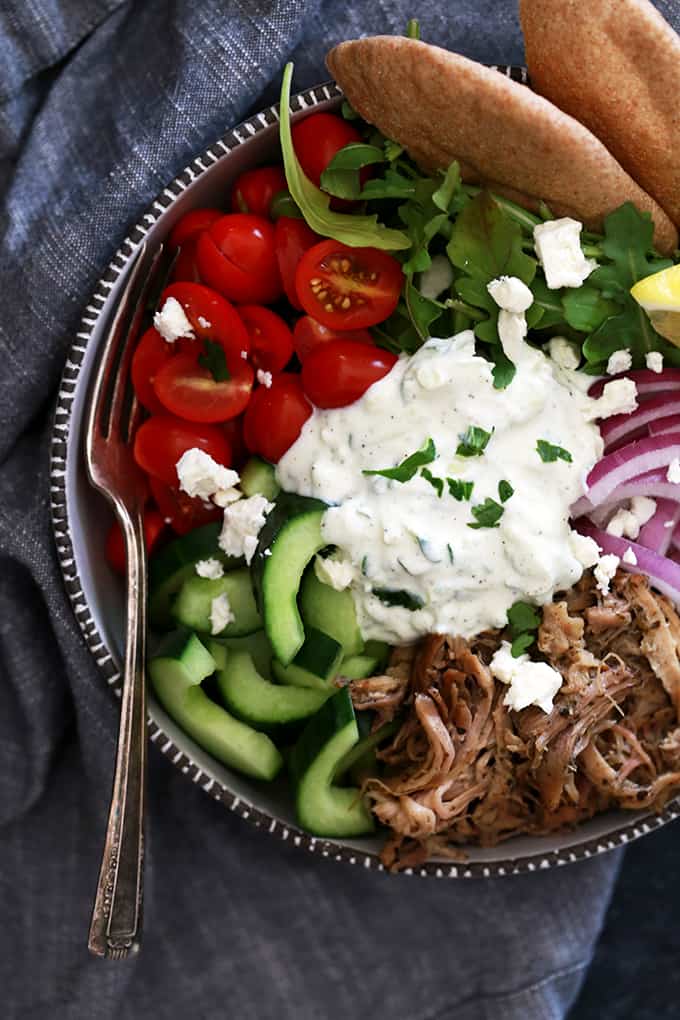 Customization is the key that makes these Slow Cooker Pulled Pork Gyro Bowls a total winner in our house.  Mine are always topped with a heavy dollop of tzatziki sauce and feta while my husband is always heavy handed with the Greek and herb flavored pulled pork.  My little ones also have their own special preferences so I line all the ingredients up along the kitchen counter and let them add what they'd like to their bowls.  My only rule is that they have to have at least one of everything.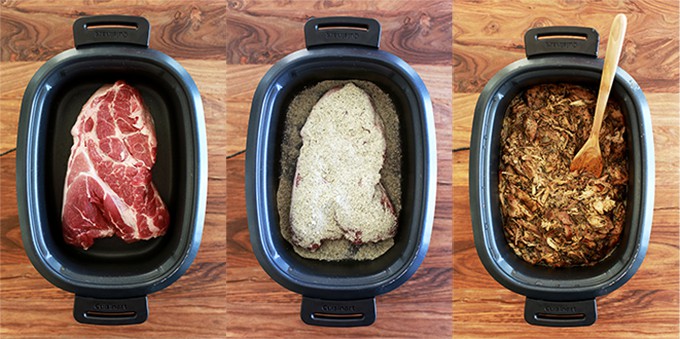 Not only are these Slow Cooker Pulled Pork Gyro Bowls delicious and totally customizable but they're so incredibly easy and able to be prepped in advance on busy days.  A three pound pork shoulder is added to a slow cooker, covered with a Greek flavored dry dip mix and then left to cook low and slow for eight hours.  That's it – that's all there is to it!  Then it's just some simple chopping of vegetables and dinner is ready.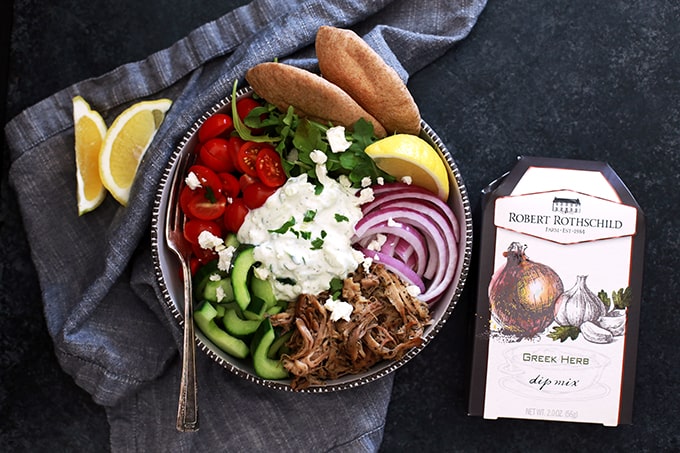 The key ingredient to making these Slow Cooker Pulled Pork Gyro Bowls so quick to pull together is Robert Rothschild Farm's Greek Herb Dip Mix.  They've done the hard part of deciding which spices to include for the perfect mix of Greek flavor.   Hints of oregano and garlic as well as other spices create the most delicious pulled pork with minimal effort.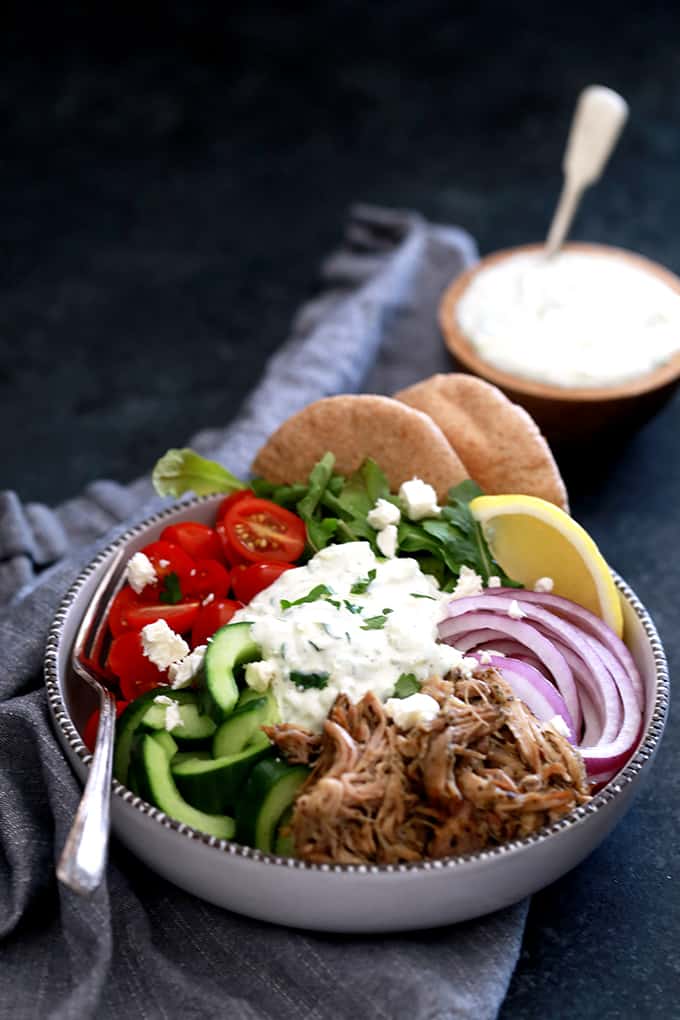 Ingredients
Pulled Pork

3 pounds boneless pork shoulder
1 2-ounce package Robert Rothschild Farm Greek Herb Dip Mix

Tzatziki Sauce

1 cup whole milk plain Greek yogurt
1 cup shredded cucumber
3 tablespoons lemon juice
3 tablespoons extra virgin olive oil
3/4 teaspoon salt
1/2 teaspoon pepper

Gyro Bowl Ingredients

arugula
cherry tomatoes, halved
red onion, sliced
cucumbers, sliced
lemon, sliced into wedges
chopped parsley, to garnish
pita bread
Instructions
Pulled Pork

In a six quart slow cooker, add pork shoulder and sprinkle herb dip over the top.
Cook on LOW for 8 hours.
With two forks, pull pork and stir to combine.

Tzatziki Sauce

Meanwhile, stir together all tzatziki sauce ingredients in a small bowl and refrigerate.

Gyro Bowls

To assemble gyro bowls, add pulled pork, arugula, cherry tomatoes, red onion and cucumbers to a bowl. Serve with a lemon wedge to squeeze over the top as well as a slice of pita bread. Top the bowl with tzatziki sauce, crumbled feta cheese and chopped parsley prior to enjoying. Serve pita bread alongside.
Notes
7.6.4
409
https://melaniemakes.com/blog/2017/04/slow-cooker-pulled-pork-gyro-bowls.html
Melanie Bauer | Melanie Makes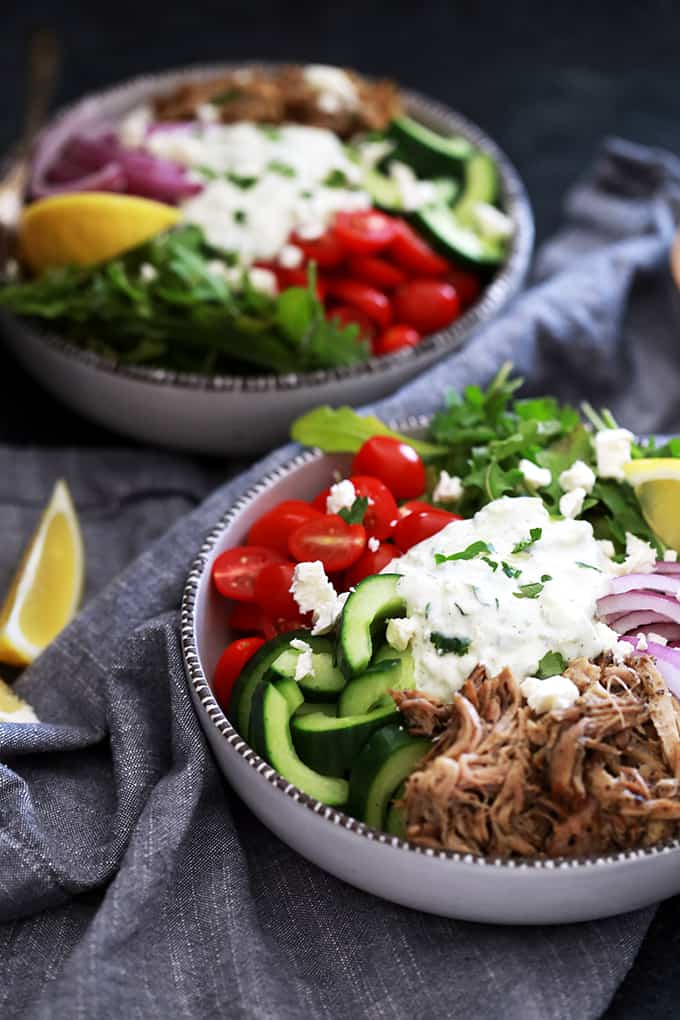 With warmer weather around the corner, I see lots of these Slow Cooker Pulled Pork Gyro Bowls in our future.  No heating up the kitchen and lots of fresh, farmer market veggies.  Definitely a winning combination in my book!
Looking for other Greek inspired recipe ideas?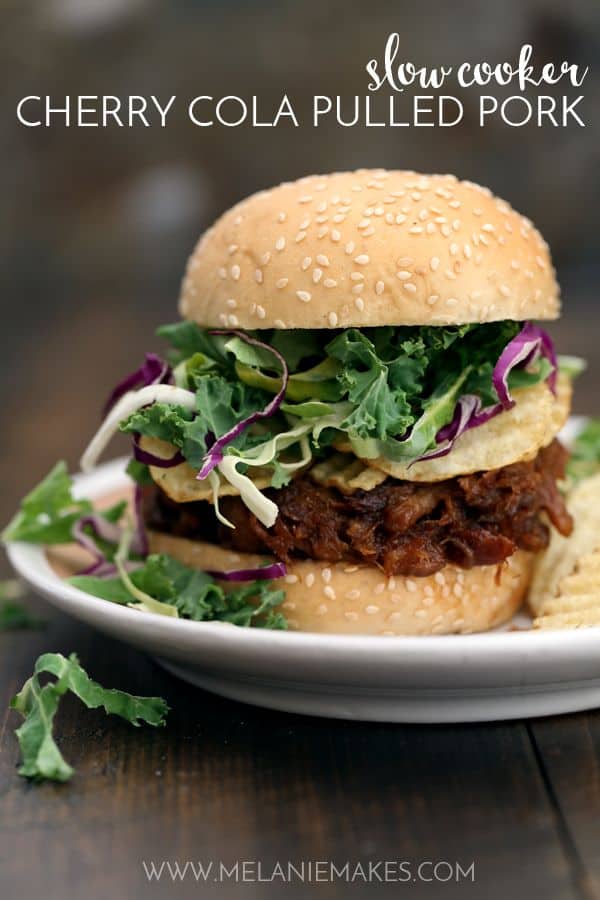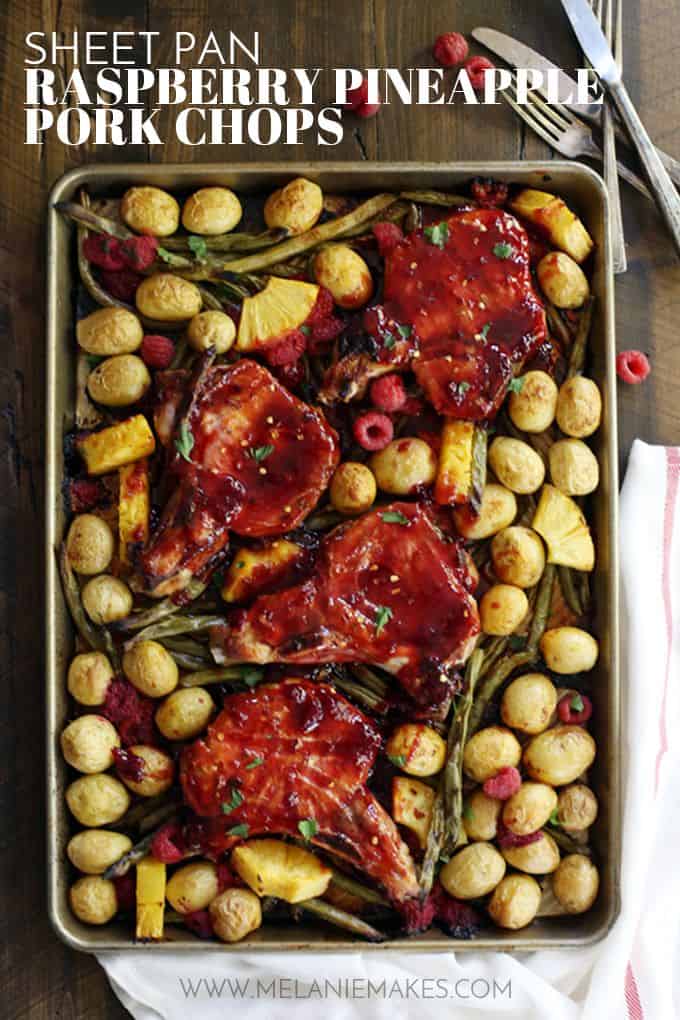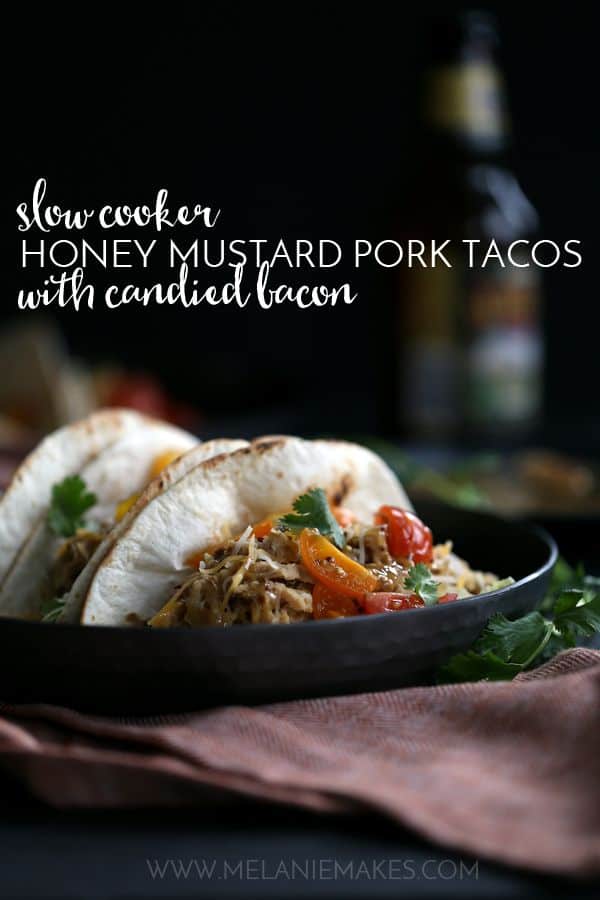 —–
This recipe was written in partnership with Robert Rothschild Farm.  As always, all thoughts and opinions are my own.   Thank you for supporting this brand that allows me the opportunity to create content for Melanie Makes.