These Butterscotch Muffins with Brown Sugar Pecan Streusel are totally bakery worthy.  These incredibly velvety muffins get their soft and heavenly texture from instant pudding mix and they're then piled high with streusel.  In other words, you'll want to serve these muffins for breakfast, brunch or any other time a baked good is needed.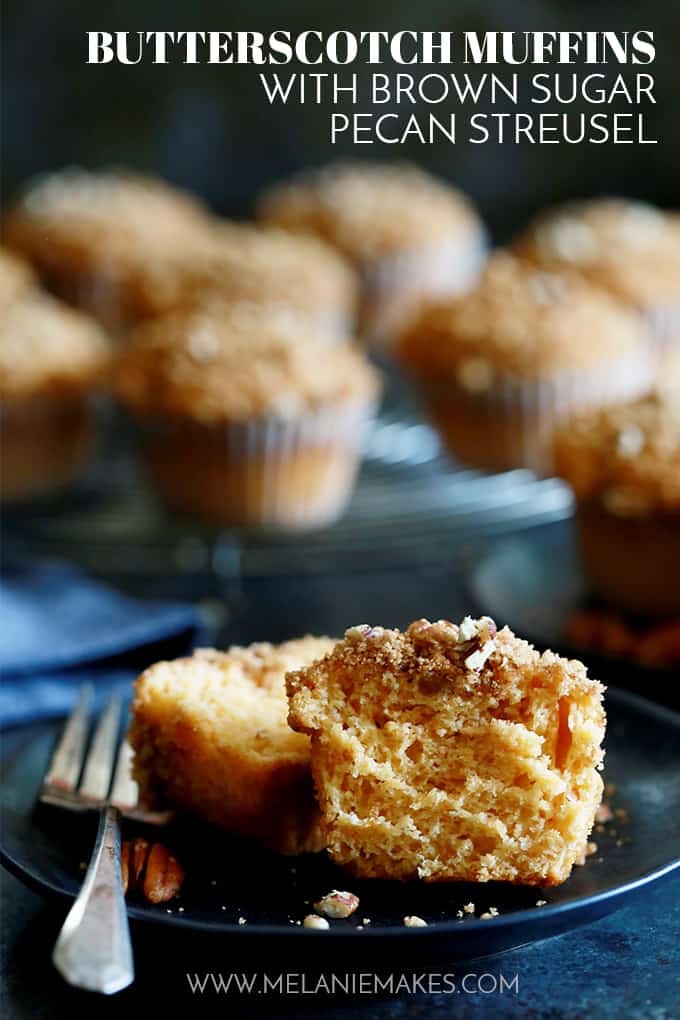 Add these Butterscotch Muffins with Brown Sugar Pecan Streusel to the list of family recipes that I just have to share.  They had been in a recipe book that my mom had made me when Andy and I had gotten married – 15 years ago! – and I hadn't really thought much about them until I took the menagerie home to Missouri to visit family before school started again.  When my mom mentioned that she was going to make them for breakfast one morning I absentmindedly said they sounded but when she served them and everyone around the table was oohing and ahhing with each bite, I knew I had to share the recipe.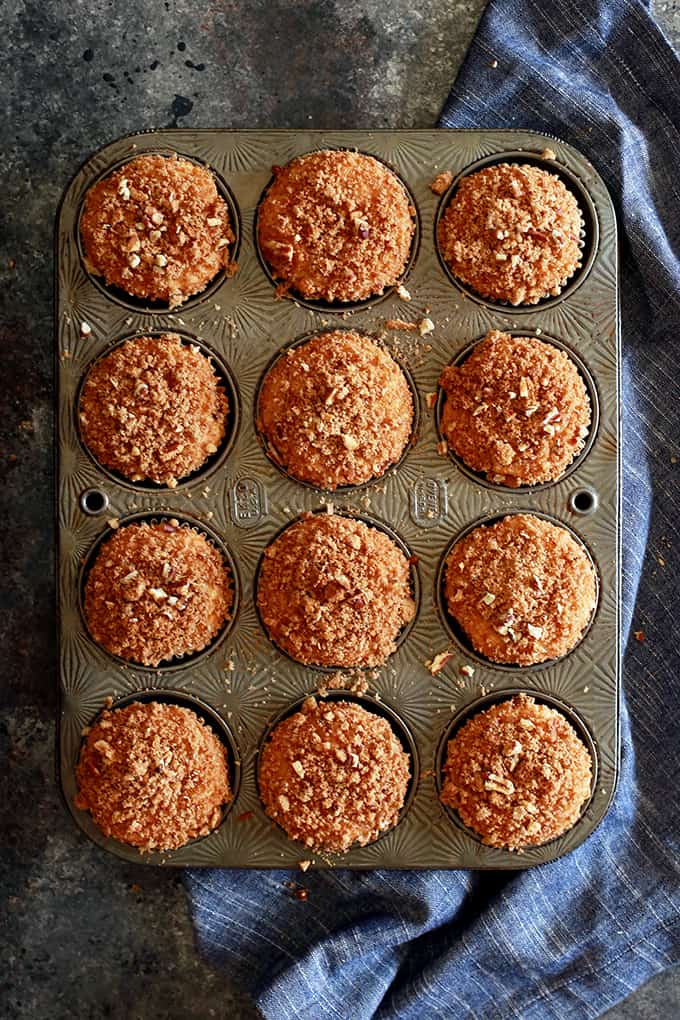 I'll selfishly admit that I also thought I should share these Butterscotch Muffins with Brown Sugar Pecan Streusel with you as that meant I'd need to make them again so I could photograph them.  You get the recipe, I get more muffins.  It's a win all the way around, wouldn't you agree?  I'm going to pretend that I see you nodding your head in agreement.  I was going to wait to share this recipe for a few more weeks, but you liked these Mini Applesauce Muffins that I shared last week so well that it just didn't seem right to keep them to myself.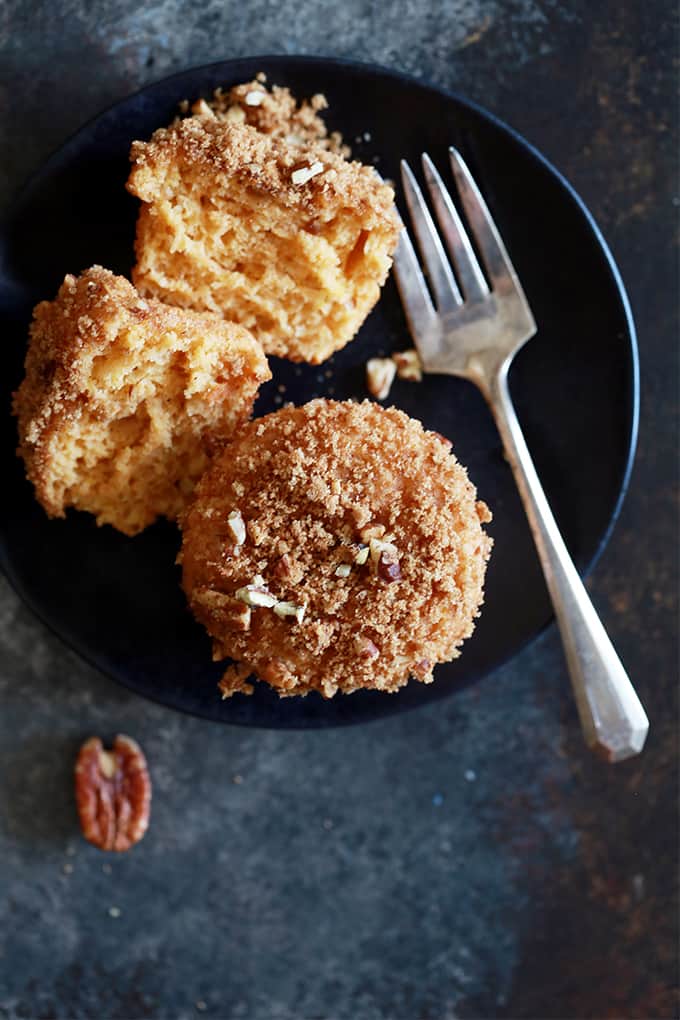 I'm not sure what I like most about these muffins.  The sugary streusel topping or the actual butterscotch muffin itself.  The muffin reminds me a lot of a cream puff.  Soft and absolutely heavenly.  The eggs in the batter act as a leavening agent and the yolks add fat for a tender and light texture.  And, of course, using the instant pudding mix also is key to these incredibly velvety and totally bakery worthy muffins.  And that brown sugar pecan streusel?  There's no stingy streusel here, my friends.  I absolutely despise muffin recipes where you put the skimpiest of amounts of streusel on top.  Instead, these Butterscotch Muffins with Brown Sugar Pecan Streusel contain a LOT of streusel.  Like more streusel than should be legal.  The combination of brown sugar, cinnamon and pecan is absolute perfection.  Especially when piled high above these muffins.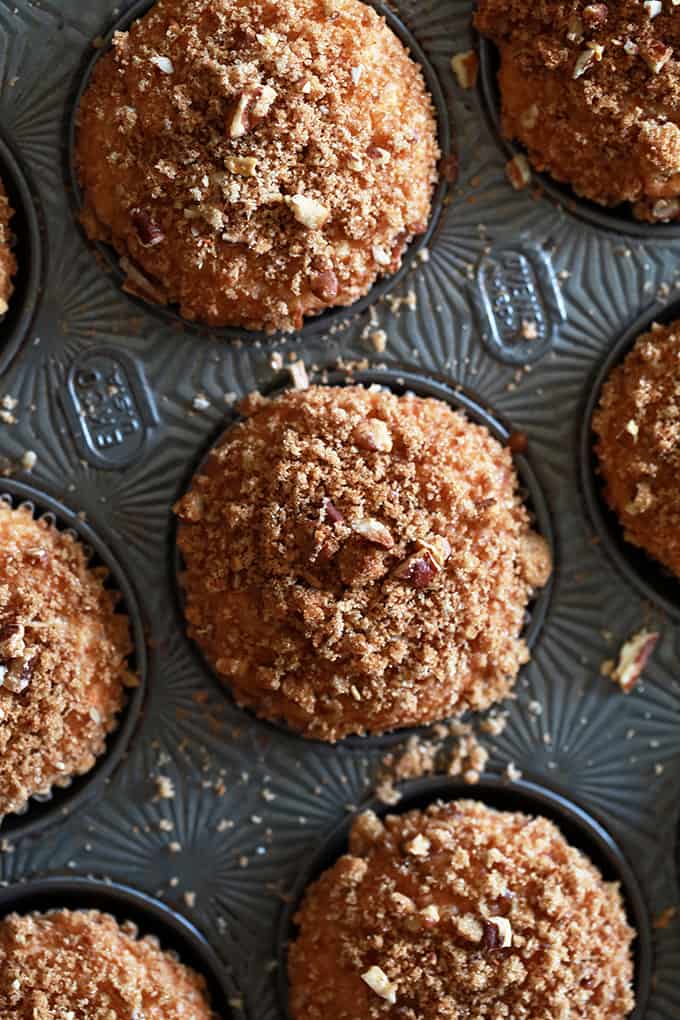 Although these Butterscotch Muffins with Brown Sugar Pecan Streusel scream autumn to me, they're enjoyable anytime of the year.  The same can be said about my decadent Pumpkin Chocolate Chip Muffins and my Cinnamon Apple Oatmeal Muffins.  The scent wafting through your home as these bake will have everyone in a three block radius headed to your door to see what delicious baked good awaits.  Promise me that these muffins will appear on your table for breakfast or brunch soon!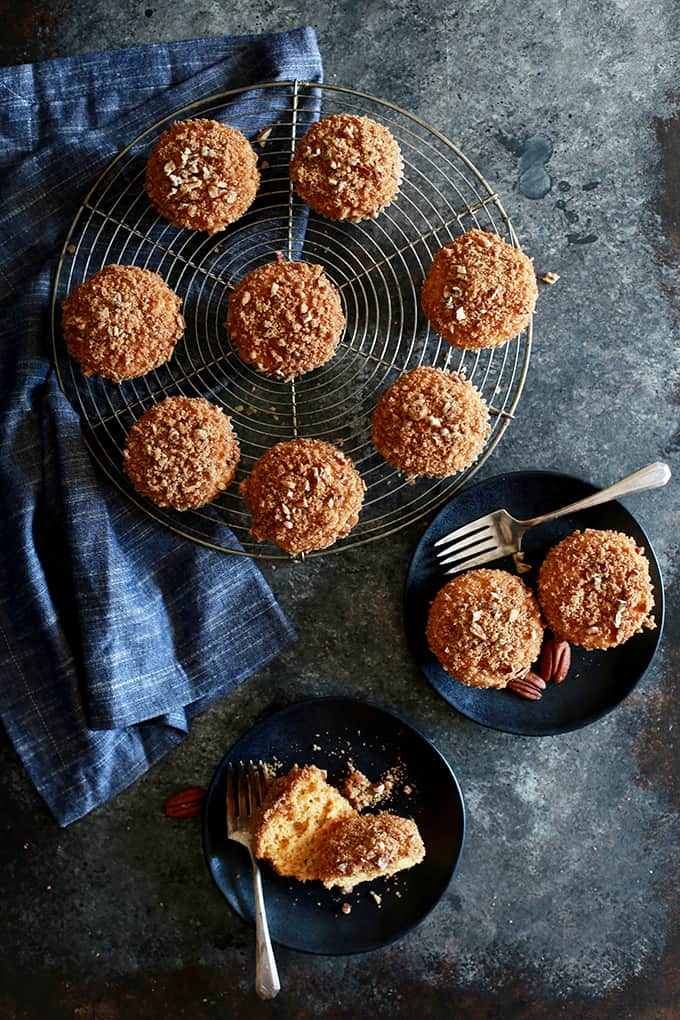 Looking for additional butterscotch flavored baked goods?  You won't want to miss these delicious Walnut Butterscotch Cookies, these decadent Butterscotch Blondies or this classic Butterscotch Poppy Seed Bundt Cake.
Melanie Bauer | Melanie Makes
Yields 18 muffins
Butterscotch Muffins with Brown Sugar Pecan Streusel
10 minPrep Time
20 minCook Time
30 minTotal Time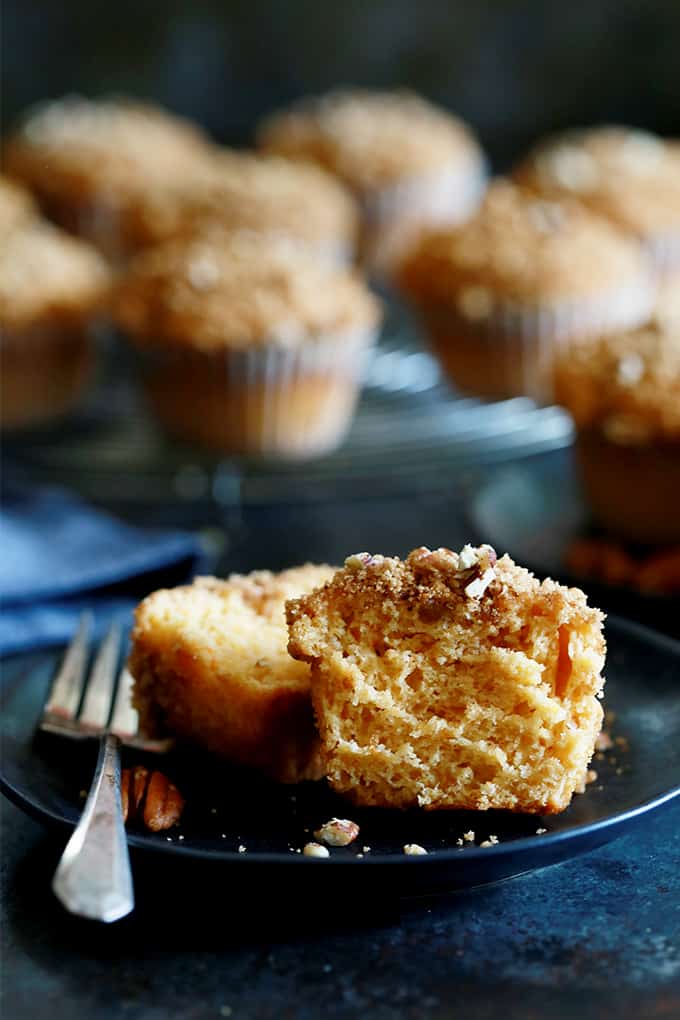 Ingredients
Butterscotch Muffins

2 cups flour
1 cup sugar
1 3.4-ounce box instant butterscotch pudding
1 3.4-ounce box instant vanilla pudding
2 teaspoons baking powder
1 teaspoon salt
1 cup water
4 eggs, beaten
3/4 cup applesauce
1 teaspoon vanilla

Brown Sugar Pecan Streusel

2/3 cup brown sugar
1/2 cup chopped pecans
2 teaspoons cinnamon
Instructions
Butterscotch Muffins

Preheat oven to 350 degrees.
In a large bowl, whisk together flour, sugar, pudding mixes, baking powder and salt.
Add water, eggs, applesauce and vanilla and stir until just combined.
Using a large cookie scoop , add one scoop of batter to each muffin well.

Brown Sugar Pecan Streusel

In a small bowl, stir together brown sugar, pecans and cinnamon.
Spoon streusel evenly over batter in each muffin well.
Bake for 18-20 minutes or until toothpick inserted into the center of a muffin removes cleanly.
Cool for five minutes before removing muffins to wire rack to cool completely.
7.6.4
426
https://melaniemakes.com/blog/2017/08/butterscotch-muffins-with-brown-sugar-pecan-streusel.html
Melanie Bauer | Melanie Makes