These Loaded Scalloped Potatoes are sure to steal the show at your dinner table.  Sliced skin-on potatoes are layered with butter, chives, bacon and cheddar cheese.  Repeat.  The layers are then covered with an amazing milk and yogurt mixture to create the most delicious creamy sauce.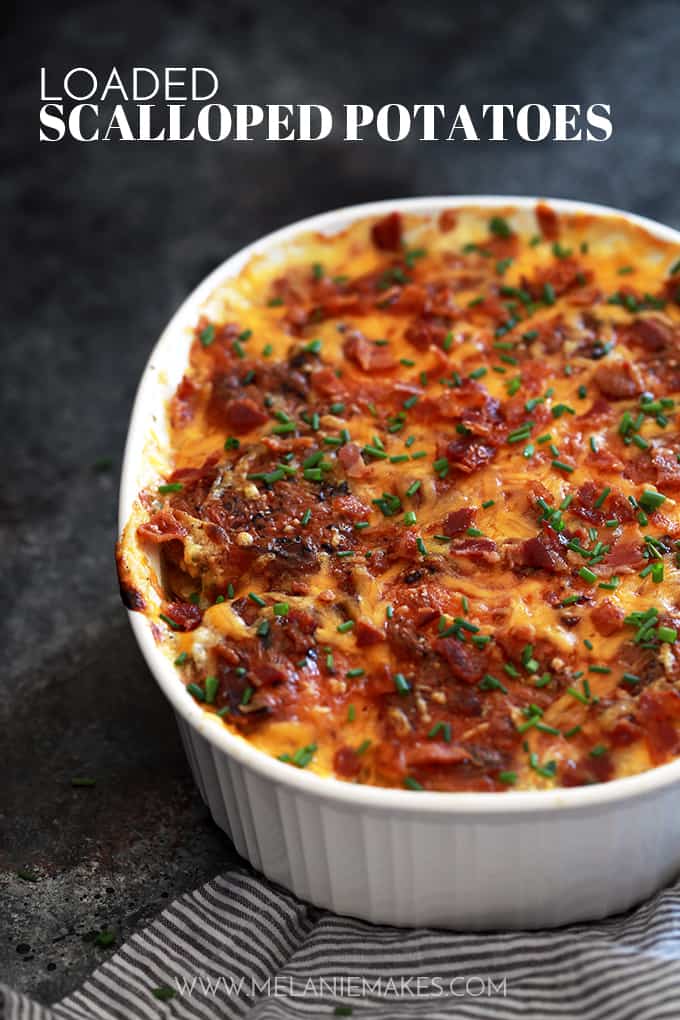 Keep in touch!  Subscribe to receive Melanie Makes recipes direct to your inbox.
This recipe was written in partnership with OXO.  I received their Chef's Mandoline Slicer 2.0 to use for this recipe but received no other compensation.  As always, all thoughts and opinions are my own.  Thank you for supporting this brand that allows me the opportunity to create content for Melanie Makes.
I have this thing for potatoes.  They really should be their own food group and you should be required to eat about fifteen servings a day.  Maybe I'll start a petition so that I can make these life goals happen.  I have a feeling if I walked around my neighborhood with said petition and a casserole dish of these Loaded Scalloped Potatoes I'd have absolutely no trouble in making all my potato dreams come true.  Who's in?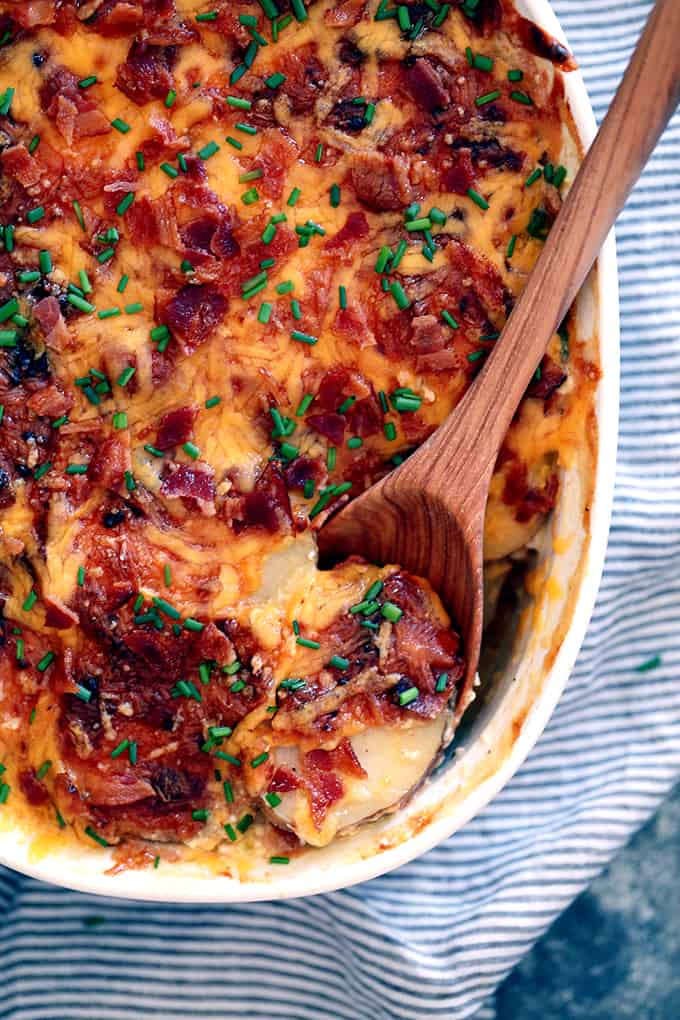 Let's talk about the deliciousness known as these Loaded Scalloped Potatoes, shall we?  Sliced skin-on potatoes are layered with butter, chives, bacon and cheddar cheese.  Repeat.  For like seven more layers.  It's all then bathed with an amazing milk and yogurt mixture to create the most delicious creamy sauce.  Basically I've taken all my favorite baked potato toppings and put them all into these scalloped potatoes.  My only regret?  That I hadn't taken so long to do it in the first place.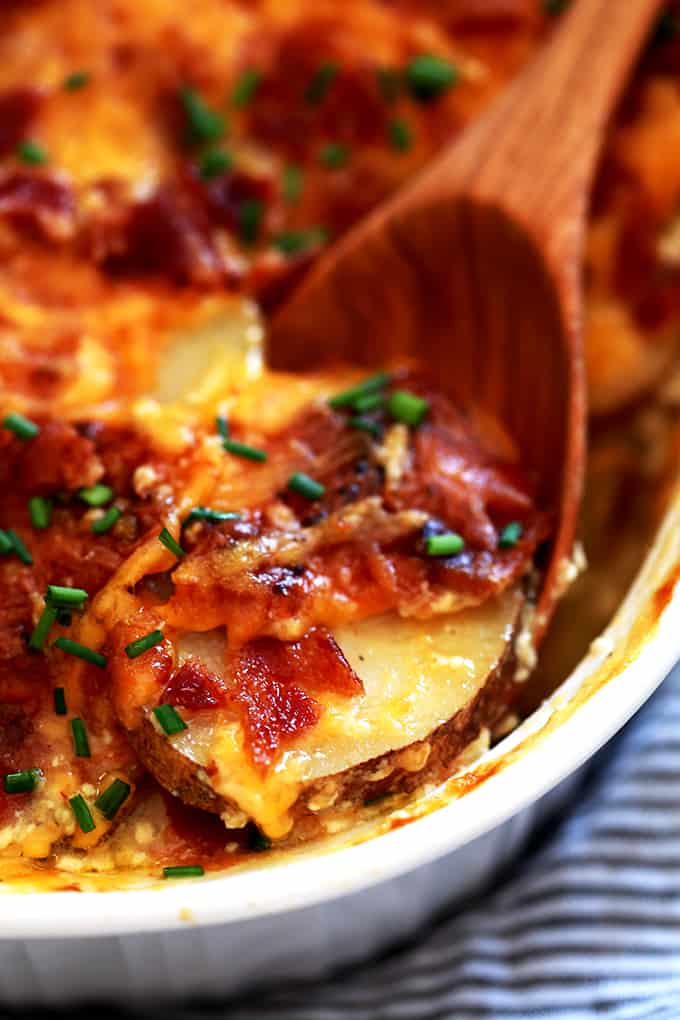 I'll even let you in on a little secret.  The part of the recipe that says to grease the bottom and sides of your casserole dish?  This is where I admit to doing so with rendered bacon fat.  Not only do my potatoes come out of the casserole dish cleanly, I'm also adding another amazing layer of flavor.  Genius, right?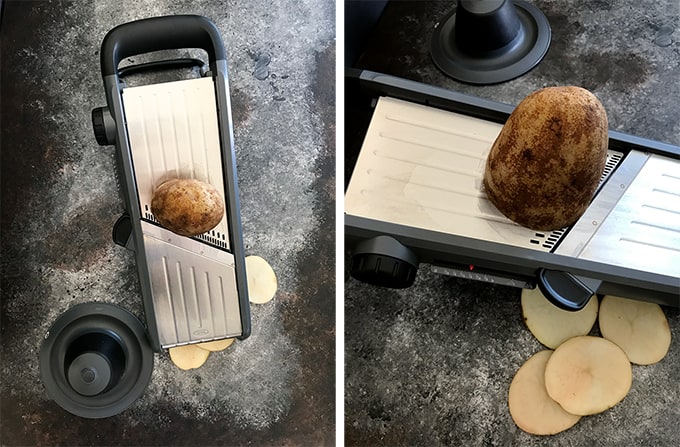 And the other secret that you simply must know about?  The key to making uniform potato slices EASILY is this Chef's Mandoline Slicer 2.0 from OXO.  Unlike other mandolines that I've owned in the past, this one makes it a breeze to get the perfect thickness of whatever you're slicing by simply turning a dial.  In fact, you can reate up to 21 different cuts with thickness settings in 0.5-mm intervals, straight and wavy blades, and built-in julienne and French fry blades.
You know I'm going to be in french fry heaven, now that they've made the process so easy for me!  I'm already planning what I'm going to make first with this list of 25 Fun Ways to Eat French Fries.  These Cheesy Chicken Enchilada Sweet Potato Fries definitely sound like a good place to start.  But then again, I can't imagine how absolutely heavenly the first bite of these BBQ Chicken and Cheese Curd Fries would be!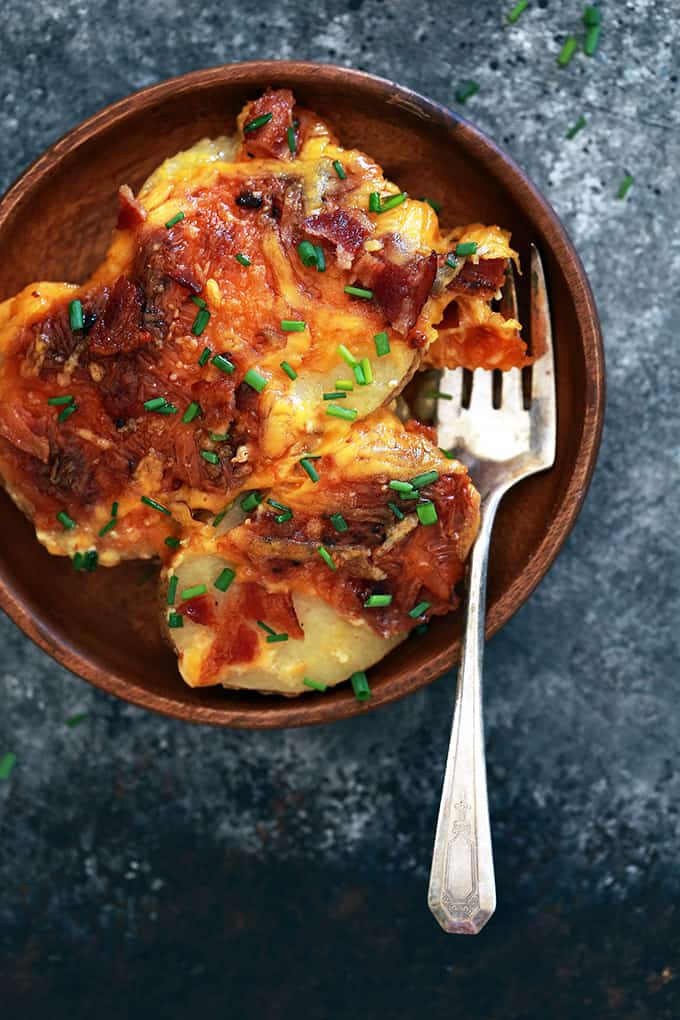 These Loaded Scalloped Potatoes are the perfect side dish alongside my incredibly easy Slow Cooker Honey Mustard Ham.  You could also pair them with my juicy Slow Cooker Cherry Cola Pulled Pork or my super flavorful Honey Nut Sriracha Oven Fried Chicken.  You pretty much can't go wrong with whatever you pair them with!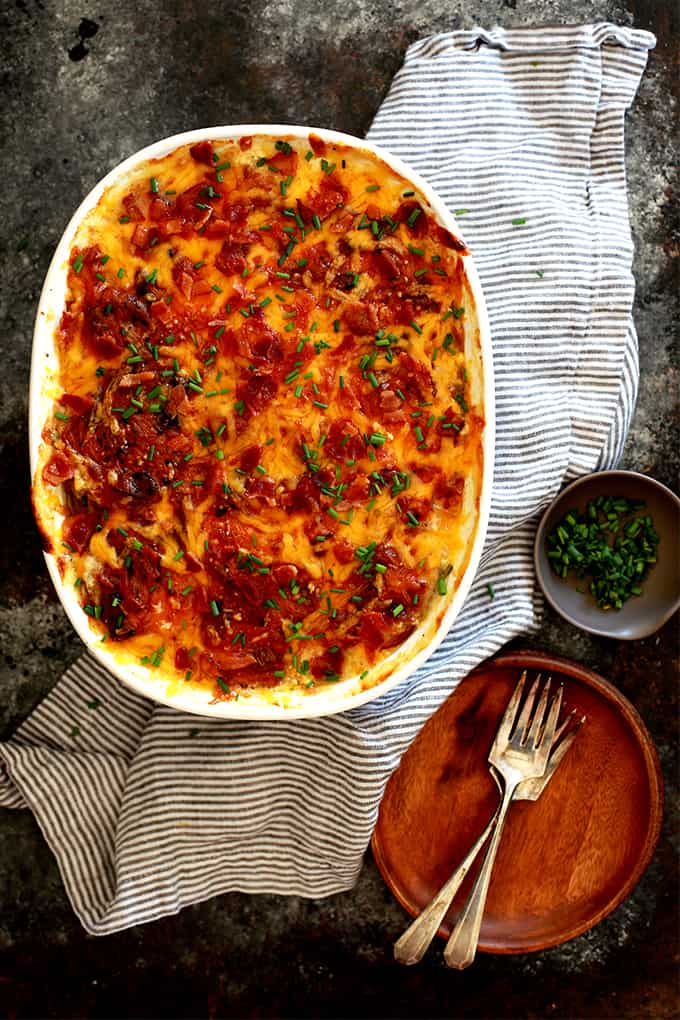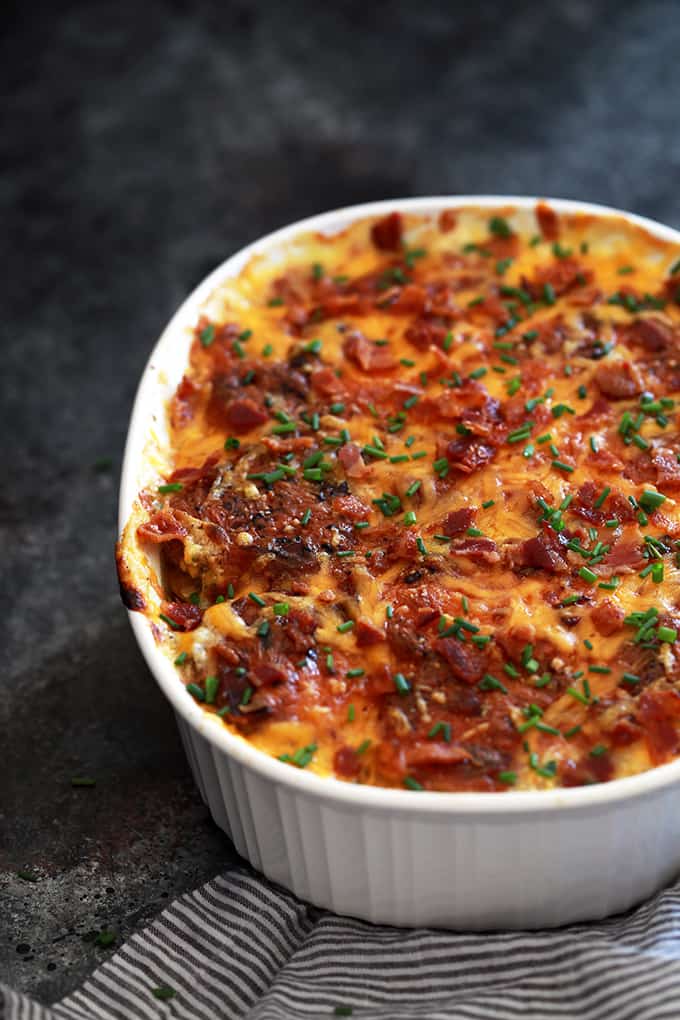 Ingredients
4 large russet potatoes
salt
pepper
4 tablespoons butter
1/4 cup chopped chives
1-1/2 cups shredded cheddar cheese
8 slices bacon, cooked
2 cups milk
1/3 cup plain Greek yogurt
1/4 cup flour
Instructions
Preheat oven to 350 degrees. Prepare two quart casserole dish by greasing bottom and sides.
Using a mandolin, slice potatoes between 3/6" to 1/4" thickness. (I prefer the thicker cut slices as they don't tend to be mushy like many scalloped potatoes.)
Cover bottom of casserole with single layer of potatoes.
Season with salt and pepper and dot with 1/2 tablespoon butter.
Sprinkle with chives, cheese and one slice bacon, crumbled.
Repeat layers until all potato slices are used or casserole is full, ending with layer of potato slices. You will have approximately eight layers.
Season top layer of potatoes with salt and pepper and remaining cheese.
In a small bowl, whisk together milk, yogurt and flour. Pour over potato slices.
Bake for 1 hour and 20 minutes or until potatoes have cooked through and bubbling.
Garnish with remaining bacon and chives and allow to sit for 10-15 minutes prior to serving.
7.7.0.1
112
https://melaniemakes.com/blog/2014/03/loaded-scalloped-potatoes.html
Melanie Bauer | Melanie Makes